Welcome to the 396th Metamorphosis Monday.
I've had several different desk chairs here in my home office over the years. The last one I purchased was this one from Pottery Barn. This is actually my second one of these. The first one I literally wore out. Well, sort of.
What happened was the first few weeks/months I had it, I didn't realize that each time I pushed back away from the desk and spun around in the chair to get up, the back edge of one side was slightly rubbing again the right edge of the desk.
That's one thing that's kind of tricky about the Pottery Barn Bedford corner desk, it kind of wraps itself around you since it has wings coming out on either side. By the time I realized what was happening, it was too late and there was a small tear right through the upholstery on the back edge. It never unraveled or anything so I continued to use it. It was barely noticeable unless you went looking for it.
The next thing that happened to that chair occurred after I put new rollers on it. One day while retrieving something from the floor, as I stood back up and sat down, the new wheels were so "speedy" the chair flew backwards out from under me. I landed right on my tailbone and pretty sure I cracked it, though I never had it x-rayed. It's taken many, many months, but it's almost healed now.
During the months that was going on, I couldn't sit in a normal way, even using a cushion didn't help. So, without realizing what I was doing, I would sit with one leg up underneath me, the same way you might sit casually on a sofa. That took the pressure off the area I had broken. Unfortunately, I didn't realize the buckle on my sandal was rubbing/shredding a spot on the chair seat.
By this point I'd had the chair a few years and it was starting to lose its fluffiness in the seat anyway, so it was time to replace it. I looked online and couldn't find anything I liked better, so I ordered the same chair again. As much as I sit here and work, read, craft, work puzzles, watch movies, etc… I've come to the conclusion that whatever chair I buy, I'm probably going to have to replace it every few years.
When I ordered this chair the second time, I was able to catch it on sale. I just noticed it's on sale again now here: Desk Chair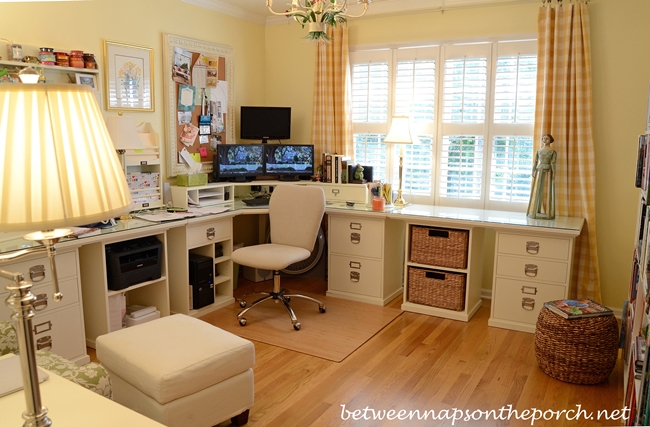 This weekend I stopped into Marshall's to see what they have in for fall. While there I spied this guy. Ummm, I sat in it and it felt pretty good. The price was really good, too: $149. I was super tempted since I know it's just a matter of time before I'll have to replace my office chair again, but I passed it up.
I kept thinking about it though, just couldn't get it out of my head. I loved how it looked! So yesterday I drove the short distance back to Marshall's and brought it home to see it here in the office. I'm not sure yet if it's staying. It sits very different from my other chair. Very glad that it doesn't have arms like THIS chair or I never would have even considered it.
It is pretty, but chairs are like shoes. They can be very beautiful and very uncomfortable at the same time. So, I'm going to try this guy today and if he doesn't feel like a good fit, he's going back, despite his handsome looks!
The style of this chair is a contemporary twist on a traditional design. Do they call that transitional? The nailhead trim gives it a traditional feel, yet the nailheads are spread way out, something I don't normally see on a strictly traditional chair. It also hints at a wingback style with the way the sides are designed.
It has a sassy, playful side, too. There's a silver metallic thread woven through its otherwise, business-like upholstery. It's subtle, but you do notice it. I really like that! If it were too, too traditional in style, it would never work with the sleek lines of the Pottery Barn Bedford desk furniture.
But loving how it looks isn't enough, it has to sit well, too. Today will be the test to determine if this new chair stays or goes. I don't want this to be the Louboutin of chairs–beautiful, but too painful to actually wear, or in this case, sit. 🙂
Metamorphosis Monday
Metamorphosis Monday is a party that's all about Before and Afters. If you are participating in Met Monday, please link up using the "permalink" to your MM post and not your general blog address.
To get your permalink, click on your post name, then just copy and paste the address that shows up in the address bar at the top of your blog, into the "url" box for InLinkz.
In order to link up, you'll need to include a link in your MM post back to the party so the other participants will have an opportunity to receive visits from your wonderful blog readers.
Please observe these few rules:
Only link up Before and After posts that are home, gardening, crafting, painting, sewing, cooking or DIY related.
Do not link up to the party if you're doing so to promote a website or sell a product.
Do not link up a post that was just linked up last week since readers would have already seen that post.
*If a post is sponsored or a product was provided at no charge, it will be stated in post. Some links may be affiliate links and as an Amazon Associate, I may earn from qualifying purchases. *