Welcome to the 291st Metamorphosis Monday!
A couple of years ago, I opened up a big ole fat can of worms. Have you ever purchased something because it was a great price or maybe it was on sale, then before you knew it, it ended up costing you a lot more than you had planned? I'm not sure if the project I'm sharing today is one you would want to undertake or if it's more of a cautionary tale. 😉 I am happy with how it turned out, though. Finally!
My story begins in the Atlanta IKEA two years ago.
On my second ever visit to IKEA, I ran across these nice, heavy, wood hangers. I had always wanted to change out all my wire and plastic hangers so after giving it a little thought and doing some rough math, I took the plunge and decided to gradually replace all my hangers with white Bumerang wood hangers.
I took some photos of my closets showing how they looked with plastic and wire hangers but I couldn't find them today while creating this post. I think they got lost in the great computer apocalypse I experienced a few weeks back.
For the before, just picture a closet full of the type wire hangers cleaners use and the cheapie plastic hangers stores often include when you purchase an article of clothing.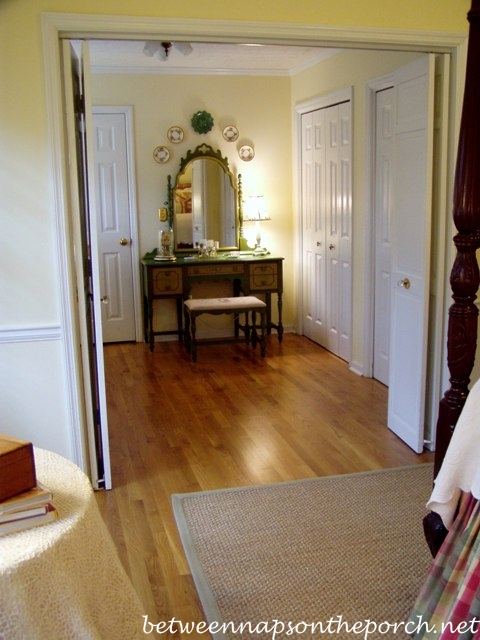 On that day two years ago in IKEA, I had finally reached my limit with the hangers I've been using forever. I was tired of fighting the wire ones that were constantly getting entangled in my closet and I was way past dealing with plastic skirt hangers that broke or locked down so tightly I couldn't open them. Mr. Bumerang lured me in, who could resist 8 heavy, solid-built hangers for just $5.
When I purchased that first batch of hangers, I decided each time I visited the Atlanta IKEA, I would pick up exactly $40 worth of hangers which was eight packages of 8, or 64 hangers. That seemed like an amount I could afford to spend each time and a somewhat painless way to gradually change out the hangers in all my closets. I figured after a few visits I would have enough hangers for all my clothes, both summer and winter.
You caught a little glimpse of my hanger-replacement-quest when I shared how I repaired a large hole in the wall of one of my closets in this previous post: How To Repair A Large Hole In Sheetrock Or Drywall
By the way, let me save you one frustration right now. I learned the hard way that Bumerang hangers in the white paint finish vanish from IKEA stores come winter time, at least they do from the Atlanta store. Last winter I went bopping into IKEA with intentions to purchase another $40 worth of white hangers and all they had in stock were the natural wood ones.
I may have a panicked just a little. You know that feeling when you're midstream collecting something and suddenly it's discontinued? I asked one of the store clerks if they were going to get them back in and she didn't know. I can't remember now if they had them online during the winter, although I'm sure I checked. I would not have wanted to purchase them online anyway because shipping was $15 which will buy 24 hangers in the store.
IKEA did get them back in the store come springtime, thank goodness! Apparently, IKEA considers white hangers to be a seasonal thing. Huh?! So this past spring I counted what clothes I still had hanging on wire hangers and broke my $40 rule and finished buying what I needed, just in case the white ones up and vanished for good.
After buying the Bumerang hangers on several trips to IKEA over the past couple of years, I realized at one point I had a little problem. I wear a lot of skirts. In fact, light-weight, cotton skirts are what I pretty much live in all summer long. They are so comfortable and way cooler than pants or even shorts. I love them!
Over the years I've accumulated a good many and the plastic store hangers I had been using to hold them (see photo below) were continually breaking. After several trips to IKEA over the last couple of years (and a lot of searching of their website online) it slowly sunk in that they did not, and probably never would, carry white, wood skirt hangers that would match the white Bumerang hangers I had been buying on my trips to the Atlanta store.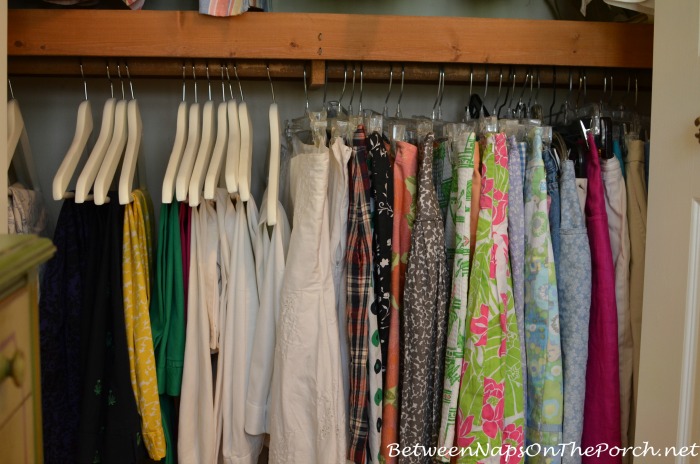 I finally gave up on ever finding them in IKEA and good old Amazon came through–but not without a few hitches. I ordered one set of 25 white, wood, skirt hangers from Amazon knowing that would be plenty.
They arrived quickly and here's how this closet looked after the white-hanger treatment. I finally had white wood hangers for all my summer shirts, pants and skirts. Looking good! The organization freak inside me was smiling!
The Bumerang hangers from IKEA also work great for pants since they have a bar across the bottom for hanging. They are the least expensive of all the options I found. Too bad they don't make white, wood skirt hangers, as well. Are you listening, IKEA?
In the photo below, shirts are across the top, pants are on the left and skirts are on the right.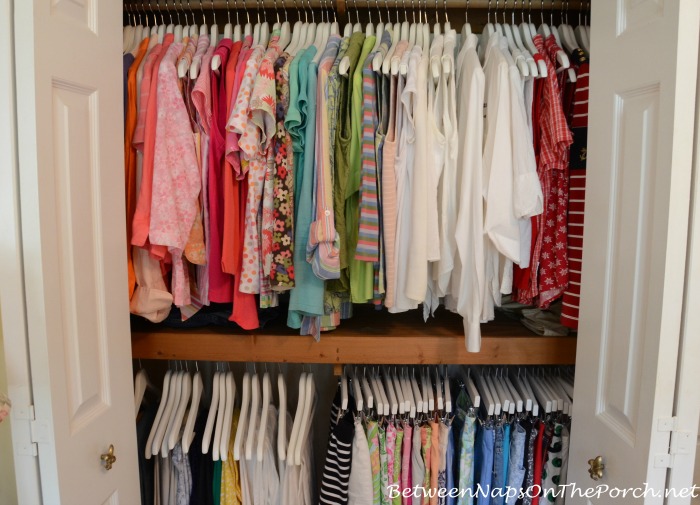 This white, wood hanger odyssey was not over, yet. I had shirt hangers, I had skirt hangers and I had pants hangers, but what I didn't have were hangers for my skirt/jacket suits. Over the years I've purchased around 8-10 skirt/jacket suits. I didn't want to fold the skirts to hang them over the bar of the Bumerang hangers because they would get creases and would most likely fall off anyway.
I searched high and low on Amazon and eventually found white suit hangers. Yipee! They were exactly what I needed! There was just one problem. After placing the order, I got an email from the seller apologizing and saying they were actually out of stock. He had no idea if or when they would be back in stock.
Another Amazon seller was advertising them, too, but their ad said, "No Longer Available." I was beginning to feel like I had a little Hanger-of-Doom cloud following me around. 😉
After mulling the problem over, I came up with another idea. I ordered another set of the skirt hangers shown below.
A few days passed and I got an email from the seller saying they no longer had them in stock. Drat! Over the next few weeks I kept checking and eventually they did get them back in. I ordered one more set.
I was so happy when the second set of skirt hangers arrived. I got right to work using them to hang my suit skirts. When finished I stepped back and took a look at my new closet. Yuck! Not what I had in mind at all.
The skirt hangers looked ridiculous hanging alongside the jackets. I had about 8 or 9 skirt/jacket combinations and below you can see how 5 of them looked in this Bumerang hanger/skirt-hanger pairing. Hmmm, this was not the look I was going for and I was too deep into this closet makeover project to give up and settle.
So, I headed back to Amazon and began searching again. The company that had been showing the suit hangers as being out of stock, had them back in, or at least that's what their ad indicated. Having been fooled a couple of times in the past, I tried not to get my hopes up and placed the order. I couldn't believe it when I actually got a shipping confirmation email a few days later!
So here's how my dress/suit closet looks now. The dresses on the right are hanging from IKEA Bumerang hangers and the skirt/jacket suits are hanging from the suit hangers on the left. The organization freak in me is happy and has just booked a vacation to Hawaii! HA! Don't I wish! 🙂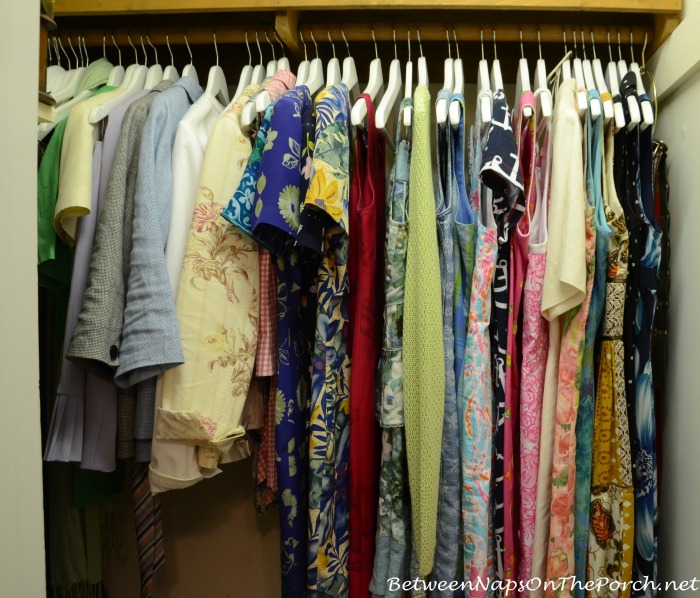 Here's how the suit hangers work for jackets and skirts. You could probably use them for pant-suits too by hanging them from the waist with the clips.
It took two years, several reorders of three different styles of white, wood hangers and more $ than I really meant to spend, but this project is finally completed! Well, almost. I still need to paint all the closets, but that's a project for another day. Maybe this winter. After Christmas.
By the way, during the time I was trying to find suit hangers online, I did find them for sale at a custom-closet store, but they were very expensive. From what I was able to find, it appears IKEA and Amazon have the best prices for wood hangers.
Now if you're looking for natural wood hangers and not white ones, they are a lot easier to find. I saw some today in a popular bed and bath store, but I did notice they were more expensive than what I found on Amazon. The natural wood ones seem to be easier to find online, too.
Below you'll find links to the hangers I ended up using for my closet makeover. The two Amazon links below are affiliate links which means Amazon will pay me a small fee if you use those links when purchasing hangers. Doesn't add anything to the cost, just rewards me a teensy bit for sharing the link.
Bumerang Hanger-Ikea (top left in photo below) I used these for my shirts, dresses and slacks.
Wooden Combo Hangers w/Clips White Box of 25
(top right in photo below) They are currently showing not available at Amazon. They'll probably get them back in again. I noticed they do currently have them in black and bamboo. I used the combo hangers to hang my jacket/skirt suits.
Wooden Bottoms Hangers w/Clips White Box of 25
(bottom center in photo below) These are currently showing in stock at Amazon. I used these for my summer skirts. They could work easily for slacks/pants if you prefer to hang your pants at the waist, instead of folding them over a bar for hanging.
One thing I have noticed, I haven't had any problems with the wood hangers getting all tangled up like the wire hangers used to do. That drove me nuts! And I'm definitely not missing those awful plastic skirt hangers that were always breaking or jamming up.
This was a small, seemingly insignificant makeover that's made my daily life a lot more pleasant. Not only do my closets look a lot better each day when I open back the doors, they function a whole lot better, too. Isn't it funny how little things can sometimes have such a big impact and feel so satisfying when completed!
Looking forward to seeing what you've been working on!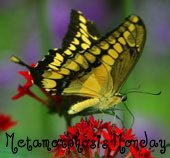 If you are participating in Metamorphosis Monday, you will need to link up the "permalink" to your MM post and not your general blog address. To get your permalink, click on your post name, then just copy and paste the address that shows up in the address bar at the top of your blog, into the "url" box for InLinkz.
In order to link up, you'll need to include a link in your MM post back to the party so the other participants will have an opportunity to receive visits from your wonderful blog readers.
Please observe these few rules:
Only link up Before and After posts that are home, gardening, crafting, painting, sewing, cooking, DIY related.
Do not link up if you're doing so to promote a website or product.
Do not link up a post that was just linked last week since a lot of readers will have already seen that post.


*If a post is sponsored or a product was provided at no charge, it will be stated in post. Some links may be affiliate links and as an Amazon Associate, I may earn from qualifying purchases. *