Welcome to the 592nd Metamorphosis Monday!
A well-designed, well-made bag organizer or bag insert can be one of the best purchases you'll ever make to protect and support your favorite handbag, but a poorly designed or constructed organizer can actually do more harm than good–damaging or warping the shape of your bag. Today I'm sharing my favorite places to shop for bag organizers and one organizer I will never purchase again.
Over the past few years, I've purchased a few totes for travel, and each time I have always purchased a bag organizer to go inside. An organizer not only helps organize your bag but can also help protect the inside of your bag from pen marks or other mishaps like a lipstick accidentally opening up inside the bag.
I've shared some of my favorite organizers here on the blog–like this one I purchased and had modified by a local seamstress to fit inside two Frye tote bags. (This organizer is available in multiple sizes and colors here: Organizer.)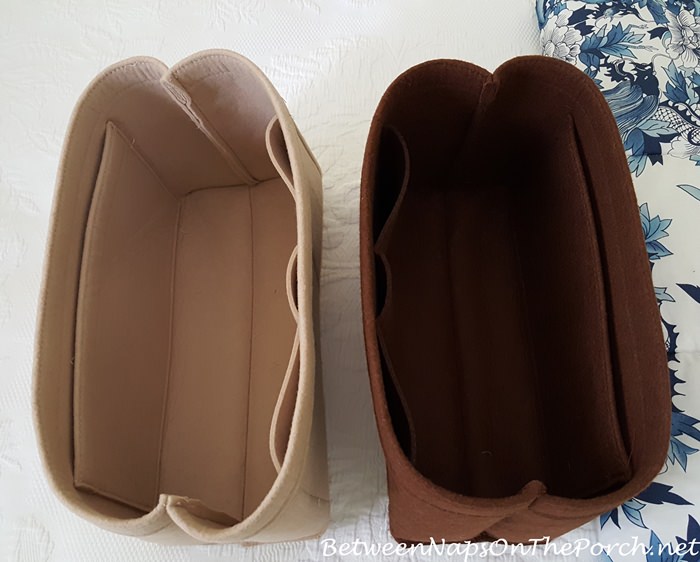 Since this bag organizer wasn't made by the seamstress from scratch, she had to work with what she had, but she did a great job narrowing the organizer to better fit inside my tote.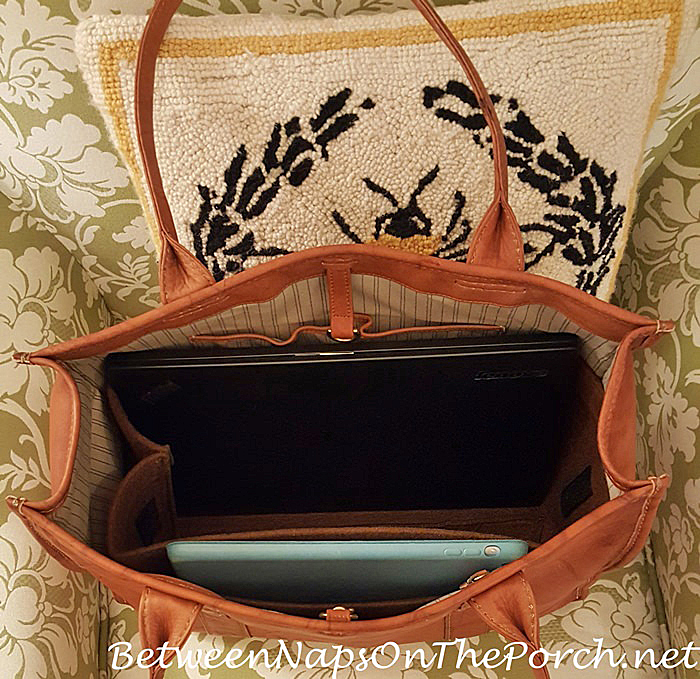 I have a thing for totes, love to use them when traveling. When I purchased this Tiffany & Co. blue and white tote, I wanted to protect its interior with an organizer.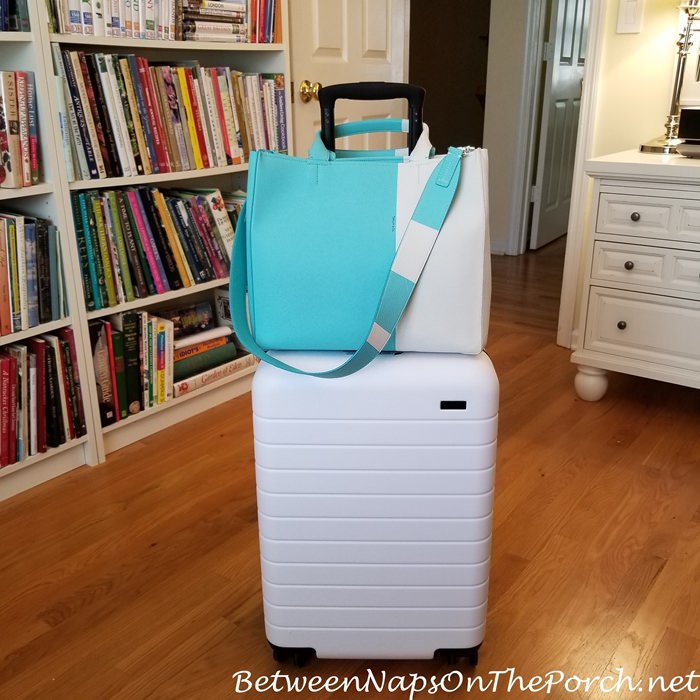 I was amazed when I found one online in the exact blue color I needed. Again, I took it to my seamstress who narrowed it a bit to work inside the tote. You'll find this aqua blue organizer available here: Blue Organizer. This tote is made from really soft leather, so it definitely benefits from having an organizer inside for some additional support.
My Favorite Bag Organizer and One I Will Never Buy Again
But what about those special bags where you want or need a custom organizer that's made especially for the bag? A couple of years back I purchased a leather handbag from my local Hermes. As soon as I purchased the bag, I immediately went online and purchased a couple of organizers/inserts to protect the interior of the bag and give it some additional support.
I purchased one organizer from a well-known company I had frequently heard YouTubers promoting named, Samorga. Since it appeared the organizer wouldn't arrive for many weeks, I ordered a second one I found on Etsy from JennyKrafts who was promising a much faster delivery time of around two weeks. Ultimately, I expected to like the Samorga organizer more since it's the one so many YouTubers and Instagrammers promote online, but I thought the other organizer would be a great stand-in while I waited for the Samorga organizer to arrive. Oh, how very different things turned out!
The 2nd Organizer arrived first as expected. I was very pleased with how well it was made. It fits inside my bag perfectly. In the photo below, you can see how nicely it's designed, tapering inward toward the top on both ends to fit the shape of my bag.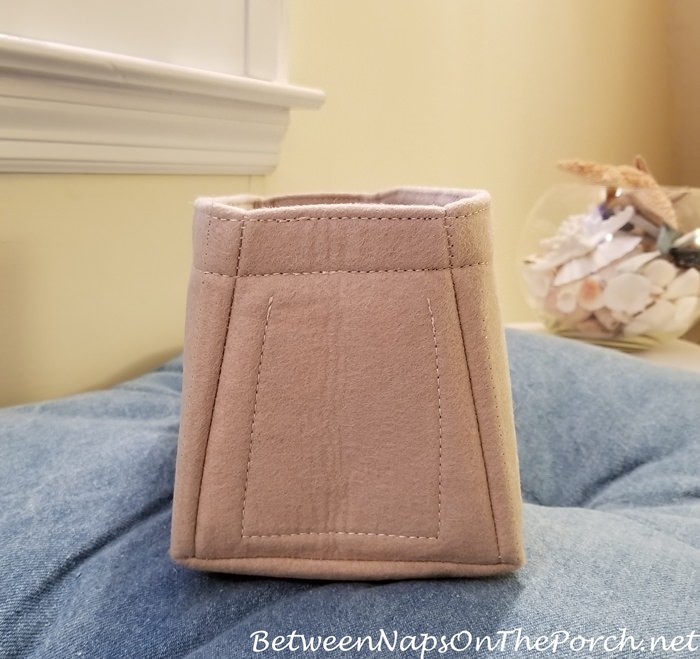 Here's a side view of the bag when it's sitting in an open state, the way I always carry it. You can see how it naturally tapers inward from bottom to top.
When placed inside my bag, the JennyKrafts organizer was the perfect height and didn't block the zippered pocket or slip pocket that's part of the bag. (That's a Hermes perfume atomizer on the left and a House of Sillage Bow Lipstick case on the right. I left those in but removed everything else for this photo below.)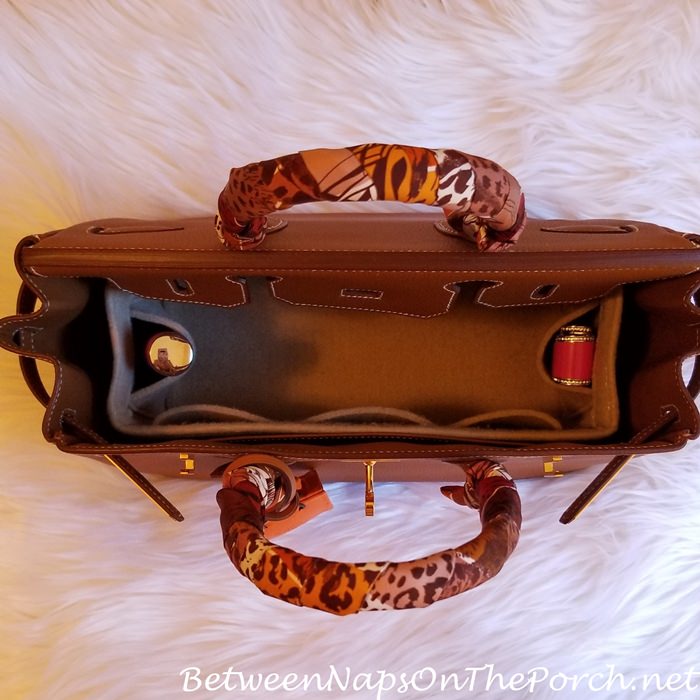 Big Disappointment
When the Samorga organizer arrived, I was so disappointed. One of the first things I noticed was how boxy it looked. Though supposedly designed specifically for my bag, it was not made in the shape of my bag. It didn't taper inward toward the top on the ends the way my bag did. In addition to not tapering inward toward the top, it was badly misshapen.
The other end of the Samorga insert was even worse, super boxy and square, nothing like the shape of my bag–and this organizer was supposedly handmade to exactly fit my specific bag!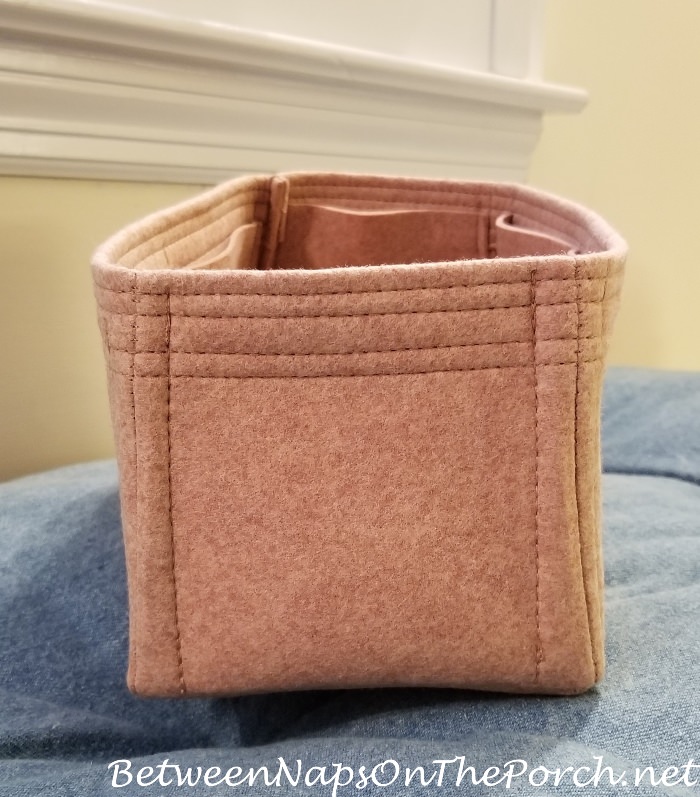 Here's a photo looking down on the Samorga Organizer Insert that is supposedly designed to fit my exact style/size bag. You can really see how boxy and misshapen it is in the photo below. It came with the little yellow-green pouch seen inside, but that "free" gift in no way made up for such a poorly designed organizer, an organizer for which I had paid $53! (The organizer was $41 and Samorga charged an additional $12 for shipping.)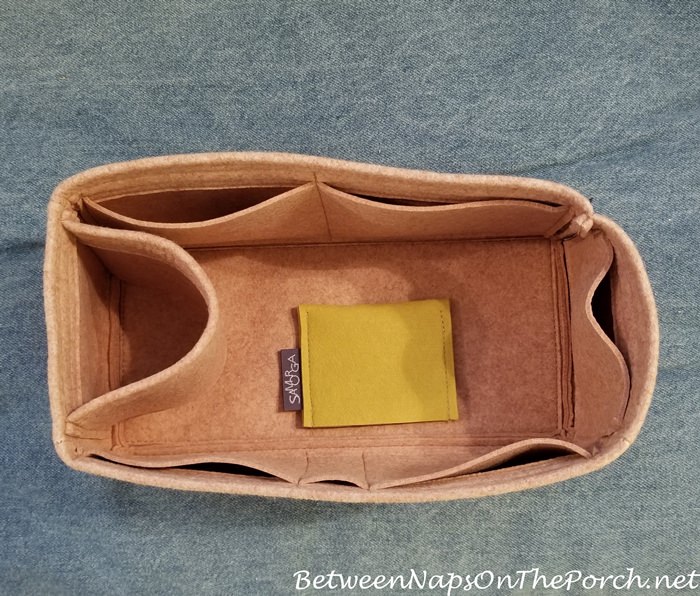 Here's how the JennyKrafts organizer looks from above. Huge difference! The JennyKrafts organizer is much more symmetrical and you can even see the tapering design on the inside of the bag. Note: It came with a long outside pocket that I removed since I didn't need or plan to use that pocket. It was very easy to remove with a seam ripper.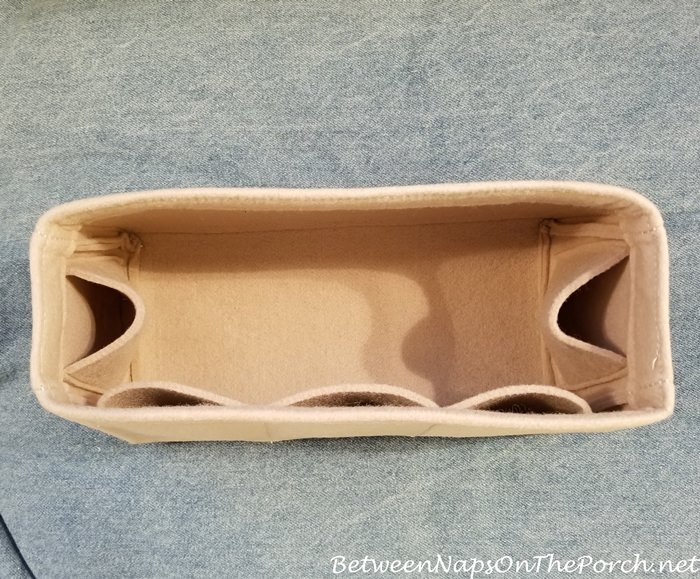 Another big difference between the organizers was the cost. The well-made organizer I ordered from JennyKrafts was $31.85 with free shipping. The highly touted and promoted Samorga organizer cost over $20 more and was a complete disappointment!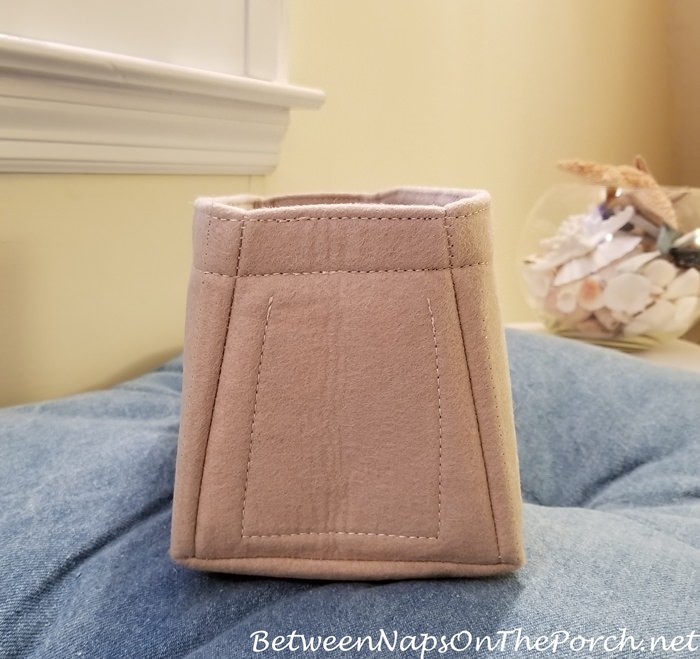 Here's how nice the JennyKrafts organizer looks inside my bag. Notice how it's not putting any pressure on the interior of the bag because it is TRULY designed and custom-made to fit my specific bag. This is how a well-designed and well-made organizer should look.
If you are in need of a bag organizer, you'll find the JennyKrafts organizers here: JennyKrafts. The one I purchased is available here: Tapered Organizer for Birkin Bag. She makes organizers for a lot of very popular bags like the Louis Vuitton Speedy, Graceful MM, Goyard, Longchamp, and many others. (Note: This isn't a sponsored post and JennyKrafts has no idea I'm sharing their organizer. I'm just very pleased with their workmanship so wanted to share.)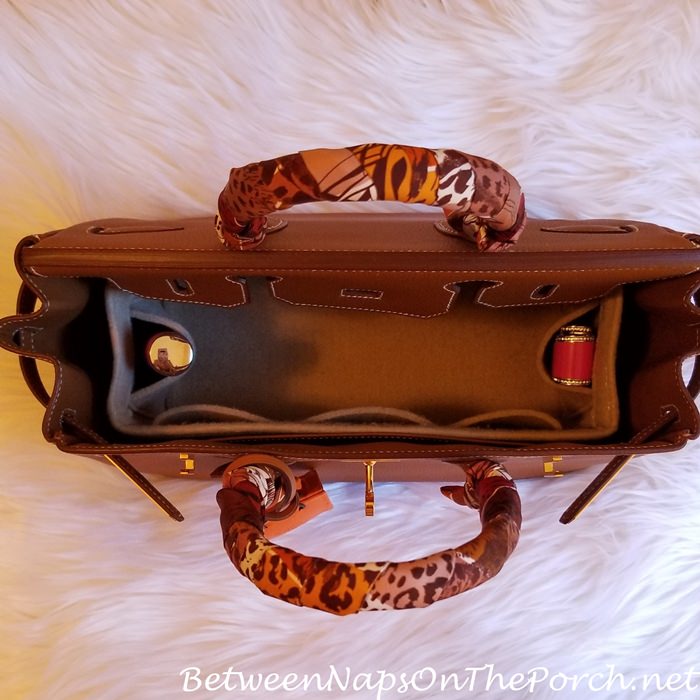 One of the reasons I felt it was so important to write this post is because I've seen so many misshapen leather handbags for sale on eBay and other pre-loved sites. Even though the bags are usually empty in the photos on the preloved sites, often you can literally see the outline or shape of the organizer that was previously used inside the bag! It breaks my heart to see that because I know the bag is now stuck looking like that forever. Once you stretch or warp leather, it will never return to its original shape even if the object that warped it is removed.
When I purchased my bag below from Hermes, my sales associate warned me of this very thing. On a later visit to the boutique, I showed her my JennyCrafts organizer, taking it out of my bag so she could see it in full and how it tapered inward on the ends. She was so impressed by the design, she asked me to email her a link to the shop. I don't know if she planned to buy it for herself or for her clients, but she loved it and thought it was awesome.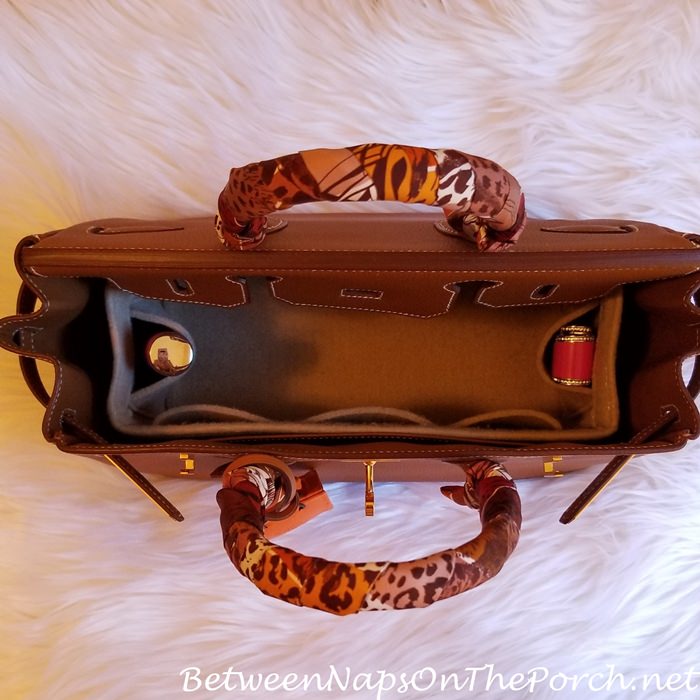 In case you're wondering, I emailed Samorga with photos of their poorly shaped organizer, requesting a prepaid return label and a refund. Their representative, Millie Lee, refused to allow me to return it unless I paid the return shipping. What reputable company does that–forces you to pay return shipping to return their defective merchandise?!
I told Millie Lee that I was not going to waste additional money in order to return it, but would instead use this experience to warn others about the level of customer service they could expect from Samorga if they received a similarly poorly-made product. As you know, I always share both the good and the bad. It's good to know what doesn't work, as well as what does.
Another Esty Shoppe That Makes a Great Organizer
A few months ago for my 63rd birthday, I purchased a pre-loved Lady Dior handbag from my favorite site for buying pre-loved bags–Fashionphile. Unfortunately, JennyKrafts doesn't make an organizer for this bag, or at least they didn't back then when I was shopping for one.
After a bit of research, I found another Etsy shop named Senamon Bag Organizer that did make an insert for the Lady Dior. I ordered the organizer and it fits like a dream! You'll find this Etsy shop here: SenamonBagOrganizer.
I hope this post proves helpful if you are a handbag lover like me and have been in search of a great organizer. Just be super careful when shopping for bag organizers, making sure the organizer fills out your bag but doesn't place pressure on the sides when you're carrying or using it. The organizer should just protect the interior of your bag, not push against it forcing it into a boxy or odd shape that's unlike the shape of the bag.
Looking forward to all the wonderful Before and Afters linked for this week's Met Monday!
Pssst: Did you know Between Naps On The Porch is on Instagram? You'll find me on Instagram here: Between Naps On The Porch.
Like to know when a new blog post is up and available to read? Subscribe for email updates, it's free and your email will never be shared.
Subscribe here: Subscribe for free post updates via email here: Subscribe.
Metamorphosis Monday
Metamorphosis Monday is a party that's all about Before and Afters. If you are participating in Met Monday, please link up using the "permalink" to your MM post and not your general blog address. To get your permalink, click on your post name, then just copy and paste the address that shows up in the address bar at the top of your blog, into the "url" box for InLinkz when prompted.
In order to link up, you'll need to include a link in your MM post back to the party so the other participants will have an opportunity to receive visits from your wonderful blog readers.
This party has ended, click button below for the links to all who participated.
*If a post is sponsored or a product was provided at no charge, it will be stated in post. Some links may be affiliate links and as an Amazon Associate, I may earn from qualifying purchases. *