Welcome to the 216th Metamorphosis Monday!
Recently I made an upgrade most folks would probably not get too excited about, but I'm actually pretty excited! While out shopping a couple of weeks ago, I found myself in the ironing board isle of a local home product store. Guess what I discovered? Ironing boards come in wider sizes! Did you know this? I had absolutely no idea.
I didn't buy an ironing board right then. Instead, I came home and searched on Amazon to check pricing. Amazon's pricing was less.
In the pic below, I've placed my old ironing board in front of the new ironing board so you can see the size difference.
The new one is by Better Homes and Gardens and it's 18 inches wide. That's a full 4 inches wider than my old one. The reason I was so excited about getting a wider ironing board (once I discovered they existed) is because I knew it would make ironing tablecloths a lot easier. Also, I knew it would help when creating napkin folds since some folds require ironing while you're making them.
In the past, the napkins always draped off the side which made the folding process a bit harder. I got to test out the new board when I folded the Clover napkin fold for my recent St. Patrick's Day table setting. It worked great! For the first time ever, the whole napkin fit onto the board. Awesome!
This board below, minus the striped cover, is the closest to how the new board looks when open. It has a shelf underneath which I doubt I'll be using. It also has a shelf for holding the iron, a feature I will definitely be using. (Photo is from Amazon.)
In the past when I finished ironing, the iron sat on the ironing board to cool. Over the years gremlins have bumped into the ironing board, sending the iron crashing to the floor. Not good for the floor and definitely not good for the iron as you can see in this pic below. Now I can rest the iron in the little cradle and avoid future falls. Though my old iron still worked fine, it had become uncomfortable to hold. The broken handle was really sharp to the hand.
This seemed like a good time to replace the iron, too. I went with a Black & Decker Digital Advantage. I contemplated a cordless iron but decided against going that route. So far, the B & D iron is working great. It heats up quickly and I like how it beeps to let you know when it has reached the temp you've selected.
So that's my Before and After for this Met Monday. It may not be the most exciting metamorphosis, but it has definitely made life a bit easier! Do you have/use a wide ironing board? If so, how do you like it? Has it made ironing larger items easier?

Looking forward to the Before and Afters linked for this Metamorphosis Monday!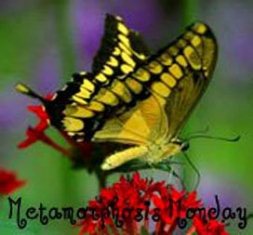 Metamorphosis Monday:
If you are participating in Metamorphosis Monday you will need to link up the "permalink" to your MM post and not your general blog address. To get your permalink, click on your post name, then just copy and paste the address that shows up in the address bar at the top of your blog, into the "url" box for InLinkz.
In order to link up, you'll need to include a link in your MM post back to the party so the other participants will have an opportunity to receive visits from your wonderful blog readers.
Please observe these few rules:
Only link up Before and After posts that are home, gardening, crafting, painting, sewing, cooking, DIY related.
Do not link up if you're doing so to promote a website or product.
Do not link up a post that was just linked last week since a lot of readers will have already seen that post.
Do not type in ALL CAPS. It spreads the links waaaay out.
Let's try something fun today! Please visit the person who linked before you and after you…that way everyone will get some visits.


*If a post is sponsored or a product was provided at no charge, it will be stated in post. Some links may be affiliate links and as an Amazon Associate, I may earn from qualifying purchases. *