Welcome to the 281st Tablescape Thursday!
So, you know how I opened Tuesday's blog post with these words:
"It's snowing a teensy bit in Georgia today, nothing too serious although I do see the cars crawling very slowly on the road back behind my home."
I'd like to retract that statement, please!
If you've been following the news, you know the weather got crazy really fast around here. I rarely watch TV and never watch the news since it's always so depressing. When it first began to snow, I remembered an errand I wanted to run close by. I got about 3-4 blocks from the house and realized the roads were already starting to ice over. How weird, usually that doesn't happen so quickly.
Something inside of me was saying, "GO BACK!" I decided to listen to my intuition and turned around and went back home. I'm really glad I did because the last few days have been unbelievable for the roads around Atlanta.
I still had no clue how bad things were until Wednesday morning when my son called to check on me. We had just talked the night before so I was surprised when he called again the next morning. He said all his friends in Atlanta were on Facebook telling crazy stories about their attempts to get home, so he was calling to make sure all was okay here. Guess I should turn on the news and check the weather once in a while, huh?
Cars are still parked along both sides of the road that runs back behind my house. They have been stuck there for two days now.
I guess the drivers couldn't make it up the slight hill that runs in front of my subdivision. There's just enough room for cars to go through single file, although there's been very few cars going down that road for the last two days. Hopefully, the sun will come out enough tomorrow to warm things up for all those folks who are still stranded in Atlanta and have been unable to get home.
In the meantime, I have a case of cabin fever and apparently it's gone to my brain. I believe in working with whatcha got and Mother Nature blessed me with a sparkly, white tablecloth on the table under the pergola.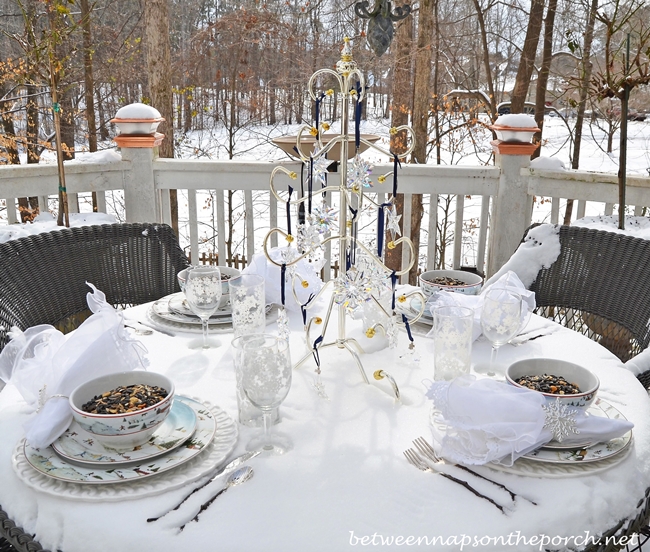 Time for a snowy table setting in honor of Winter Storm, "Leon."
All this snow called for a snowflake centerpiece. Snowflakes have landed on the glasses and napkin rings, too.
With all this snow, I've made sure to fill the feeders and keep fresh water in the heated bird bath. I've also been sprinkling seed all along the deck rails for our feathered friends.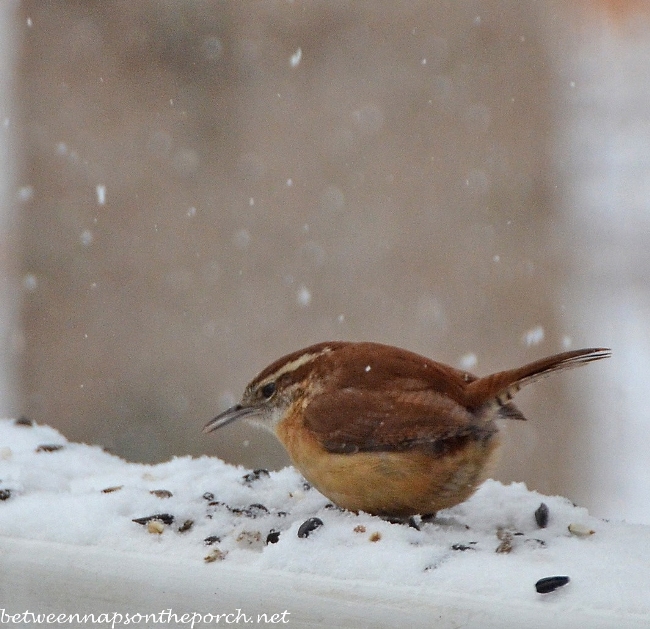 All of the birdie pics in this post were taken earlier in the day through the glass of the bay window in my breakfast room.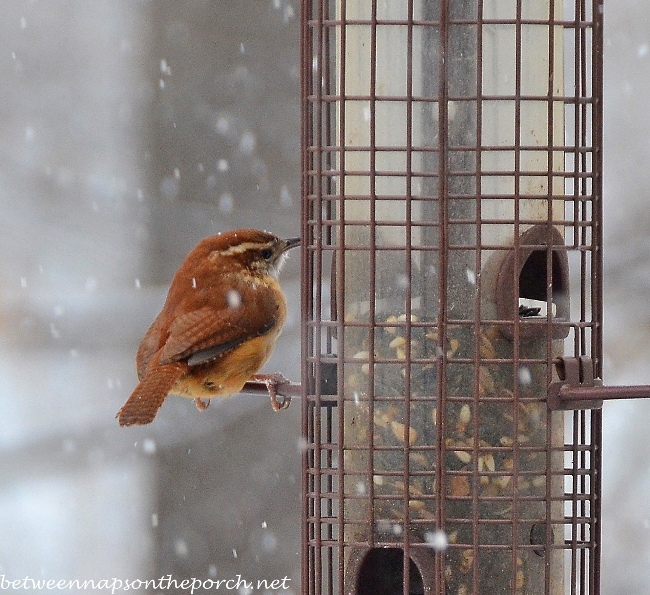 I was surprised the birds continued coming to the feeders hanging just a few feet away as I created this winter tablescape.
They were really interested in checking out the tablescape each time I went back inside for flatware, napkins, and such.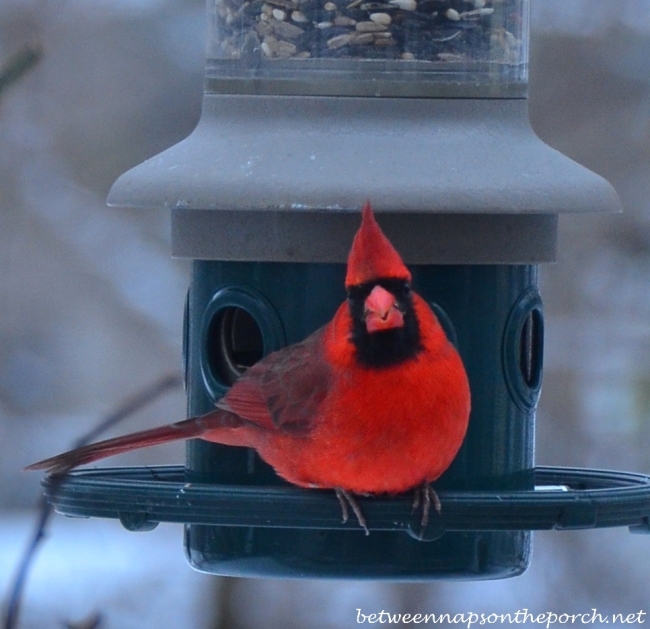 I can't imagine why. 😉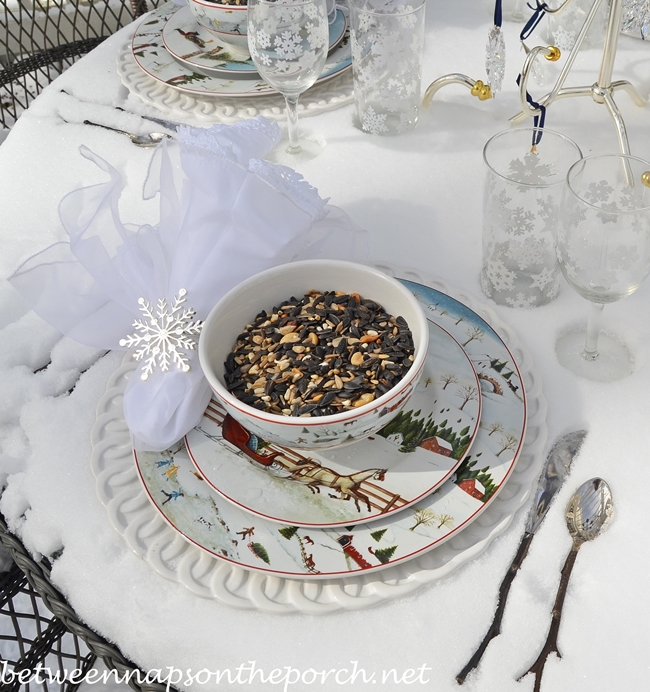 Twig flatware worked well for this snowy, outdoor table setting. (Twig flatware is available here: Twig Flatware)
If you dined here, you would definitely want your snowflake wine glass filled to the brim. A blanket might be in order, too. 😉
Sheer-white napkin sheaths and white, crochet-edged napkins continue the snowy feel of our table setting.
The dishware I chose for this tablescape has a Christmas, snowy winter design.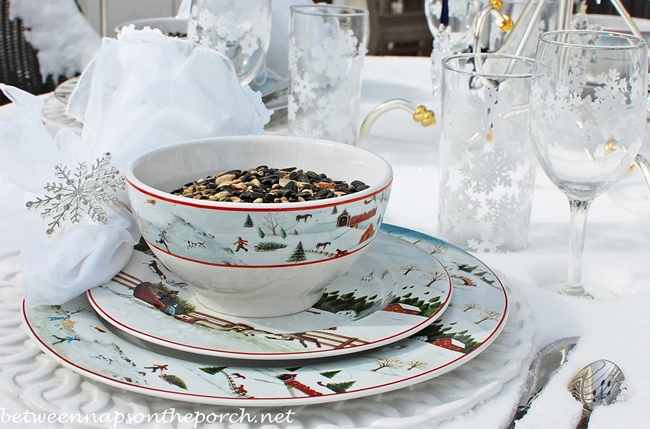 I had never seen this pattern until I came across it in Dawn's wonderful table setting at her blog We Call It Junkin a few weeks ago for Tablescape Thursday. It was love at first sight.
Dawn uses her dishes all winter since the pattern is so perfect for wintertime. I love that idea!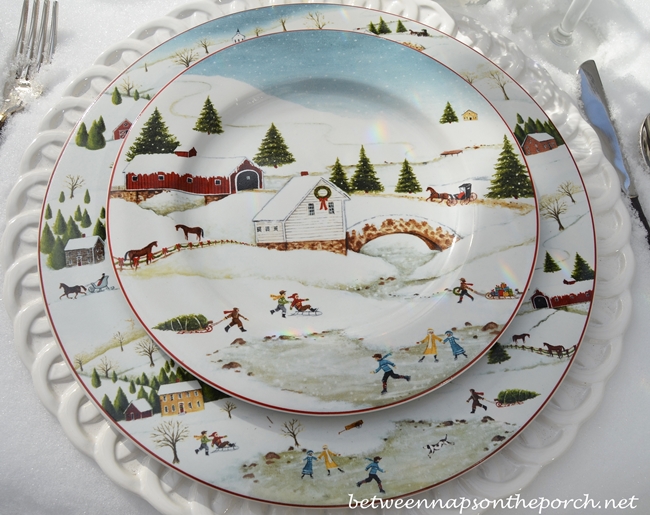 This dishware was made by Sakura (2002) and was designed by David Carter Brown. The pattern is called Christmas Valley. What a wonderful soul Mr. Brown must be to create such a heart-warming, beautiful pattern. Each plate is like a Currier & Ives painting.
Since this dishware is no longer in production, having been released in 2002, I looked on both eBay and Replacements.com to find it. I ended up purchasing pieces from both places. The snowflake glasses are from the dollar store a few years ago.
A bird's-eye view…
David Carter Brown also created a secondary line of salad plates to go with Christmas Valley. It's called Christmas Village. If I thought I loved Christmas Valley, I just about had a hissy fit when I tripped over Christmas Village. The plates are so pretty and decorative, they look like they should be "for display only," don't they? But they're not, they are dishwasher and microwave safe.
There are four scenes in Christmas Village, as shown below. As you might expect, they depict a wonderful, picturesque village. Don't they make you want to track down this village and move there tomorrow?! I'll take the adorable yellow house you can just barely see on the first plate there on the left.
Hope you are inside where it's nice and warm! Hang in there…spring is coming!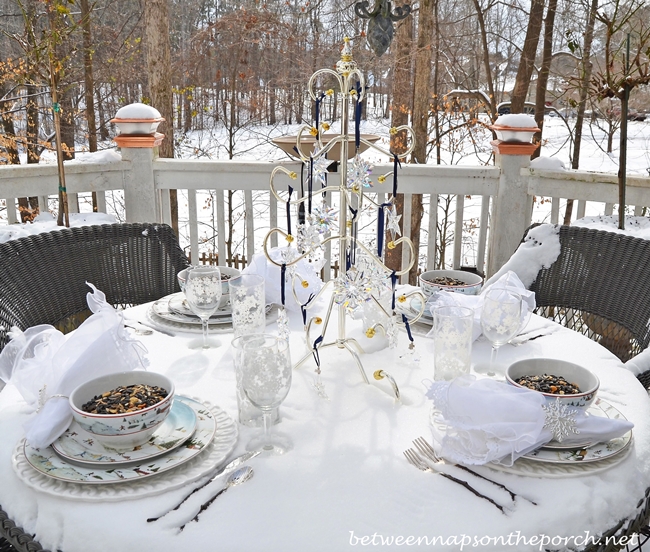 Looking forward to the beautiful tablescapes linked for this week's Tablescape Thursday!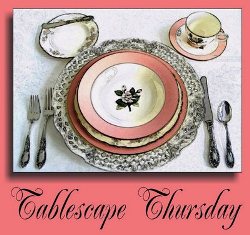 If you are participating in Tablescape Thursday, please be sure to add your permalink below, and not your general blog address. To get your permalink, click on your post name, then copy and paste the address showing in the address bar, into the "url" box when you link up.
You'll need to include a link in your post back to the party in order to link up and participate. That's so visitors to your blog will be able to find the party and the other Tablescape Thursday participants. Requiring a link back also prevents businesses from linking up to sell their products. (Yep, that really happens, unfortunately.)
If you would like to use the Tablescape Thursday logo button in your post, just copy and paste it to your computer and upload it to your post as you would any photo.
Please, don't add your post name/blog name ALL IN CAPS…it tends to create big spaces between the rows of links.
Click on the Blue Frog below to see the links to all the participants in last week's Tablescape Thursday:


*If a post is sponsored or a product was provided at no charge, it will be stated in post. Some links may be affiliate links and as an Amazon Associate, I may earn from qualifying purchases. *