Happy Leap Day! I hope your Saturday is going great! I must have an incredible case of spring fever because I have been cleaning out closets and the garage like a madwoman. I've made two trips to Goodwill and will probably make one more on Monday.
I've made one change in the dining room and I can't wait to share it with you! It's a small change that has made a pretty big impact. I'll share it on Monday for Metamorphosis Monday.
Garage Cleaning and Organizing
I didn't take any photos of the garage cleaning process because garage cleaning is never a fun or photogenic endeavor. But I have to mention the product that made the cleaning process a billion times easier: this Super Cleaner I've raved about in the past.
You know those standard plastic open type shelves that everyone has in their garage for storing stuff? I have two of those shelving units that I've been using to store gardening supplies. After getting rid of so much stuff this past week, I only need one now. I decided to move the other one down to the basement for storage, but unfortunately, it was super dirty from years and years of storing gardening stuff on it. It was nasty!
This Super Cleaner cut through the grease/grime like butter! I love this cleaner, it is nothing short of amazing! You may remember when I used it to remove denim transfer from my car's leather seats.
Anyway, just had to mention it because it's by far the best cleaner I've ever used for just general cleaning and it saved my shelving unit! I was tempted to just toss the old shelves because they were too dirty to even donate, now they look almost new!
See the list of surfaces/items this cleaner can be used on here: Super Cleaner.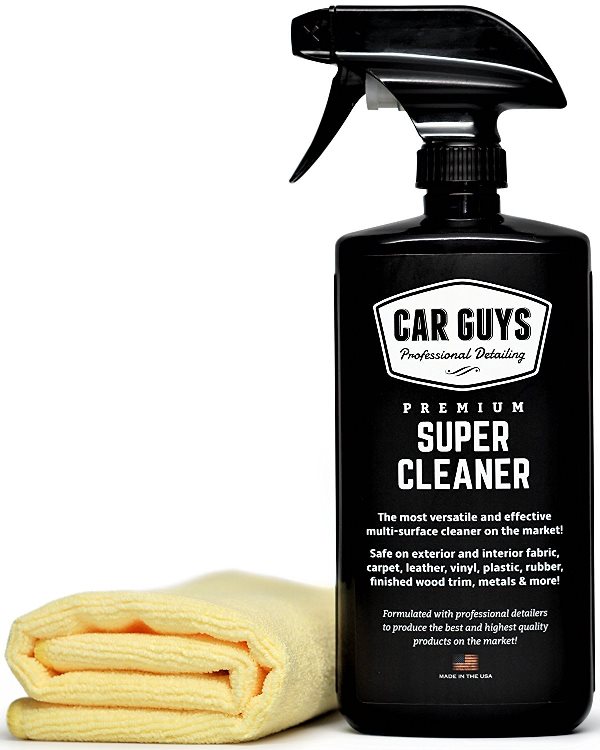 New Found Space in the Garage
Since I've been "one-SUV-load-at-the-time" carrying my son's old bedroom furniture north to Ohio for my two grandsons, I've gained back so much space in my garage. The first trip up I carried the twin beds (that can be made into bunk beds) along with the side rails and two bunky boards. We ordered the mattresses and had those delivered.
The second trip up, I carried the chest-of-drawers. The third trip up, I carried the shelving/drawer unit that my son used for his TV and clothes. I'll be heading up toward the end of March and this time I'll be carrying a small bookcase (not visible below since it's tucked behind the chest of drawers) the ladder and the riser pieces that are used when the beds are assembled as bunk beds.
That only leaves the desk (with hutch) and the large bookcase. I think I can carry the desk up on a future trip. It may take two trips to get both pieces of the desk there, but that's okay. With every trip, I gain back more garage which is super exciting! The large bookcase isn't taking up much space since it's against the wall, but I will be happy to get the desk out of the garage.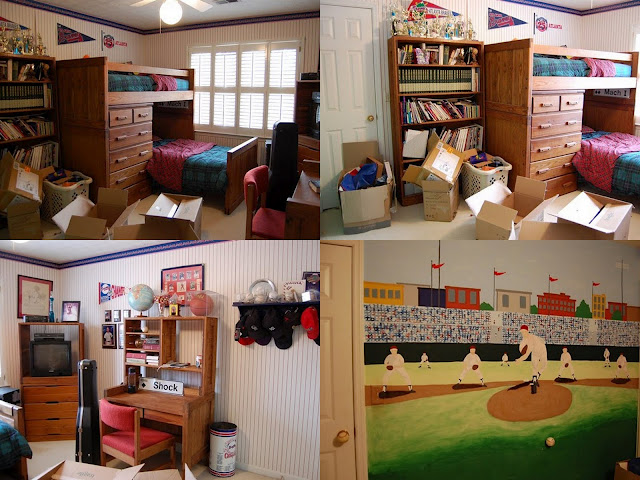 With all this freed-up space, I've decided to add three more cabinets to the garage. This cabinet project/addition below has definitely been one of the best things I've ever done in my home. I LOVE the extra storage and it has been so convenient for access to my breakfast room, kitchen, porch and dining room. If I ever move, I will take all these cabinets with me to my next house, couldn't live without them now!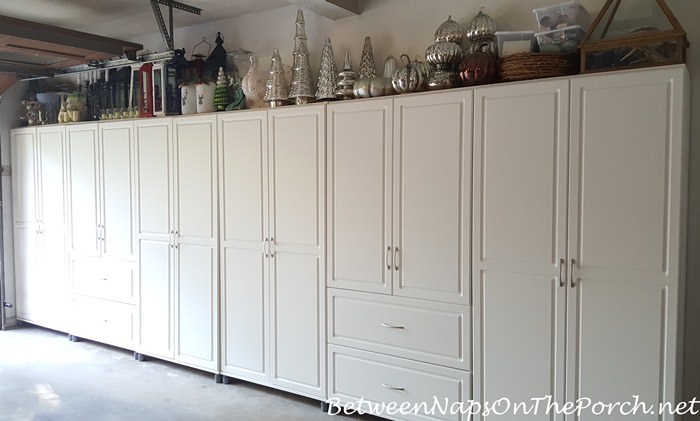 I've ordered two of the cabinet shown below on the left and one more cabinet like the one shown below on the right. They are scheduled for delivery next week. I know this sounds crazy, but I actually enjoy putting these cabinets together. It's great exercise and I always do it while listening to a good book on Audible. And this time it won't be summertime and hot, so that will be good. lol
If you could use some extra storage, you'll find these two cabinets below available here:
Cabinet with shelves and drawers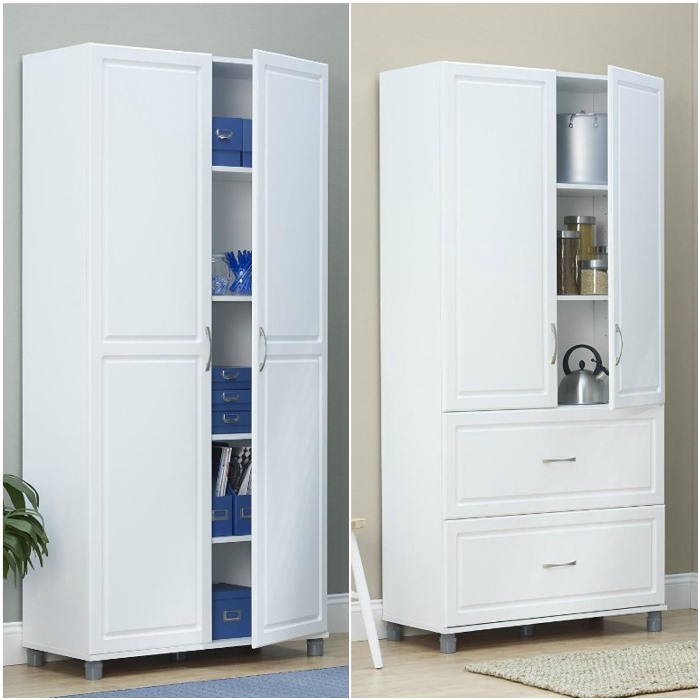 The three new ones will end up across the front wall of my garage, alongside my standing tool chest. I'll probably use them for spreading out some of the dishware/flatware I currently have in my other cabinets.
In the photo below, if you take just the three cabinets on the right of the photo, that's how the cabinets I've ordered will look: two shelving units on either side of the unit with drawers. This will also give me a bit more storage space on top for the items I often use in decorating or centerpieces.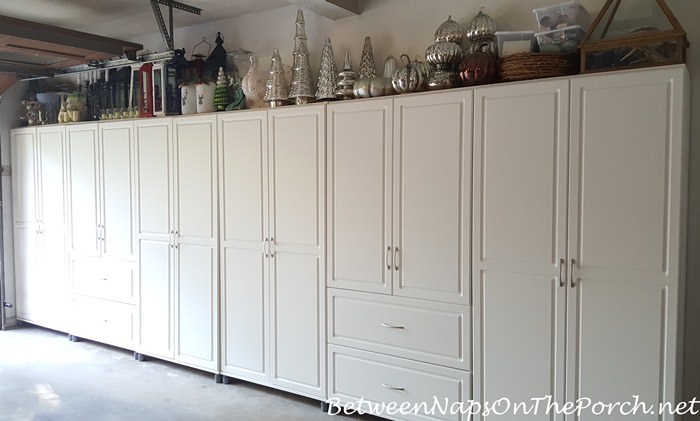 How I Plan to Use These Cabinets
Currently, I have a lot of glassware stored in front of plates–more than you see in this photo below. I don't like having to move it around every time I need to access plates because I'm afraid I'll end up breaking it, moving it so much. I really want all my glassware in one spot instead of so spread out. So one of the new cabinets will probably be all glassware, with room to spare.
I'm not sure what I'll store inside the cabinets with the drawers, although I have some ideas. I think I'm going to use the drawers for my tablecloths that are currently in my upstairs linen closet. I could probably hang them in the cabinet above if I found a rod to install, but I may want to use that space for something else. Not sure yet. Once I have it all assembled and loaded, I'll share how I'm using these three new cabinets. I just hope the boxes arrive in good shape and not battered and damaged. You know my luck with deliveries!
What are you up to this weekend? Are you getting the itch to sort and clean out a bit? What is it about spring that makes us want to do all this spring cleaning and organizing? Maybe it's all that glorious sunshine and the crisp, cool air!
Oh, by the way, I was so excited to find more of the exact same storage boxes I used last time for my flatware and napkin rings! If you use these for storage, you'll find them available here: Storage Boxes. They are great for napkin rings and flatware storage! I have doubled up my flatware in some of my storage boxes, now I'll be able to spread those out into separate boxes…happy about that!
If you would like to read and see more of this cabinet project from a couple of years back, you'll find all the details in this previous post: Tablescaping Storage for Dishware, Flatware, Napkin Rings, Napkins and Glassware.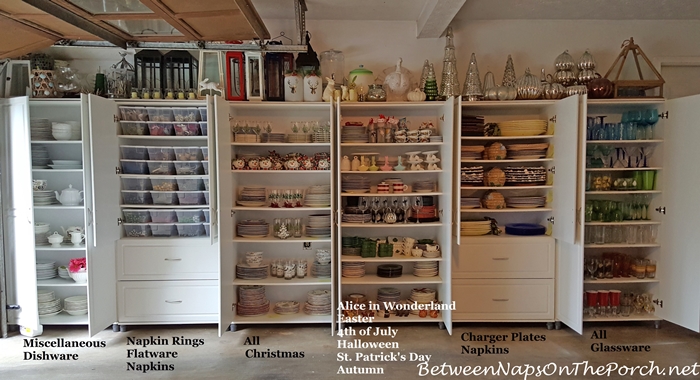 Have a great weekend! See you on Monday for Metamorphosis Monday and my dining room project reveal!
*If a post is sponsored or a product was provided at no charge, it will be stated in post. Some links may be affiliate links and as an Amazon Associate, I may earn from qualifying purchases. *