Welcome to the 210th Metamorphosis Monday!
Last night I happened to turn on the TV while Downton Abbey was on. I can never remember exactly when it comes on so I always end up watching it in bits and pieces over the week as the episode is replayed over and over on PBS. I watched last night until the foreshadowing became too foreboding. An arrogant, know-it-all doctor and talk of swollen ankles was enough to make this chicken-heart turn off the television. It was pretty obvious where things were headed and I didn't want any part of it. Glad I didn't watch now because I heard it was pretty brutal. I hope the rest of the season isn't going to be like last night. It has to go up from here. Right?
Okay, let's focus on to something more fun and lighthearted. You may remember a while back I posted about adding a new mirror to the office. If you missed that post, you can catch it here: A New Mirror for the Office
Speaking of foreshadowing, there was definitely some going on in that previous post. In the mirror post, I mentioned I'd like to find a garden stool or something similar to go in front of what I've been calling the "office library." I wanted something to break up the straight line of the bookcases, something that would add a little interest to that area.
At one time I considered a small round table with a couple of chairs. Ultimately, I decided that was really going to crowd out the office space a bit too much.
I was reluctant to buy another ceramic garden stool since I have one in the guest room just across the hall from the office. (Garden stool post can be seen here: Ceramic Garden Seats, So Versatile for the Home or Garden)
Plus, there's another ceramic garden seat out on the screened in porch, too. (See this post for more details: Garden Seat for Screened-in Porch) There was no rush, so I just waited for the right thing to come along for the office.
Recently, while in Marshall's I came across a little woven ottoman for $49. The tag said, "made from rattan, banana leaf, sea grass and other natural products." I didn't buy it at first. I wanted to come home and check the pricing for similar pieces online.
The closest I found was this seat/ottoman at Crate and Barrel for $119. That $49 price tag was looking pretty good. So, the next day I drove back over to Marshall's which is just a couple of miles away and procured it for the office. Don't you love that word, "procured?" A decorator we were talking to while on a home tour in Atlanta yesterday, used that word several times, so you know I had to work into this post. 😉
So here's how it looks here in the office. I should have "styled" it for its BNOTP post debut. Ha! It's already been put to work, holding some books I've been reading recently.
You may have noticed, there's another little metamorphosis going on in the office. This photo below was taken right after I first assembled the IKEA Billy bookcases here in the office. I decided to use the office shelves for decorating, tables setting, gardening, cooking, crafting and art related books. I thought I had a pretty decent collection of books until I placed them on the shelves. It was looking pretty bare…definitely lots of growing room.
The shelves aren't looking quite so empty now. In addition to the books I've bought, friends and family (thanks Ed and Chip) have helped my collection grow with Christmas and birthday gifts. I have so many good books to share with you…another post for another day.
Back to the ottoman/seat…one of the things I really like about using a woven piece here instead of another ceramic garden seat is the way it ties in nicely with the other natural elements in the office. There's a magazine basket beside my reading chair, barely visible in the pic below.
Plus, there are two Pottery Barn "Savannah" storage baskets in the Bedford desk unit.
Here's how it looks as you enter the office. It's great for holding books I'm currently reading or books waiting to be shelved. It's easily sturdy enough to sit on (I tested it in the store) and it's pretty comfortable, too. I could probably stand on it to reach the top-top shelf, but I have a little foot stool hidden behind the office door for that purpose.
So, that's my little Before and After for this Met Monday. I'm hoping Max doesn't decide it looks like a great scratching post. So far, so good on that front. Other than adding to my book addiction collection, I can't think of anything else I'll be changing in this room in the foreseeable future. Of course, just because I said that out loud here on the blog, you know there's bound to be something now that will pop up. 😉
Looking forward to all the fabulous Before and Afters for this Met Monday!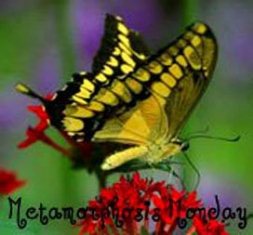 If you are participating in Metamorphosis Monday you will need to link up the "permalink" to your MM post and not your general blog address. To get your permalink, click on your post name, then just copy and paste the address that shows up in the address bar at the top of your blog, into the "url" box for InLinkz.
In order to link up, you'll need to include a link in your MM post back to the party so the other participants will have an opportunity to receive visits from YOUR wonderful blog readers.
Please observe these few rules:
Only link up Before and After posts that are home, gardening, crafting, painting, sewing, cooking, DIY related.
Do not link up if you're doing so to promote a website or product.
Do not link up a post that was just linked last week since a lot of readers will have already seen that post.
Do not type in ALL CAPS. It spreads the links waaaay out.
Let's try something fun today! Please visit the person who linked before you and after you…that way everyone will get some visits.




Welcome! Thanks for coming to the party!
*If a post is sponsored or a product was provided at no charge, it will be stated in post. Some links may be affiliate links and as an Amazon Associate, I may earn from qualifying purchases. *