Yesterday was definitely a day of mixed emotions, first excitement, then some disappointment. Though things didn't go quite as planned, I still have some fun "after" photos to share.
The Zeon Zoysia sod was delivered and installation got underway.
As the day wore on, it became apparent there wasn't enough sod to complete the job. The side yard and a portion of the back still needs sod, so instead of 12 pallets, it's going to take 16! The rest would have been installed this morning but that rain-wish I expressed yesterday afternoon came to pass. The rain was great for the grass but since it continued well into the morning, the remaining sod couldn't be cut from the sod farm. It will be cut in the morning and the other four pallets will go in tomorrow.
This side of the driveway was finished yesterday.
In this view across the front lawn, it looks a bit like a patchwork quilt, doesn't it?
From this angle it looks finished.
Here's the view from the front porch on this rainy day. I had my landscaper leave a nice arched area for some annual color throughout the year. When I plant in that area, I'll share some additional photos of how it looks. I may not plant anything now since it's so late in the summer. Umm, not sure I can wait though since pansy time is still pretty far off.
Since the rain brought everything to a standstill today, I spent the morning picking up another load of mulch. This is my third trip, bringing the mulch total to 77 bags. I think this last trip should finish out the beds and islands. The sun is trying to come out now as I type this so hopefully I can get out there and do some mulching this afternoon.
When the sod was installed, I had them leave an area for some flowers around the lantern. I'll probably plant a few perennials and add a few annuals to it each year, as well. Seems like it would look better with sod down in that pointed corner. I googled for images of landscaping around lanterns but found nothing. How would you landscape around the lantern? You can't see it in this photo but having flowers around the lantern will balance with the flowers around the mailbox at the other end of the driveway. Ummm, I can always add sod later if I decide flowers are too much trouble, right?
So, here's where we started…buried in the trees.
Here's where we were after some trees were removed…
After a few more trees and tall shrubs were removed, the fescue grass was all but gone, chewed up by all the equipment and stump grinding machinery.
Here's where we are today. Still so much to be done but definitely a step in the right direction.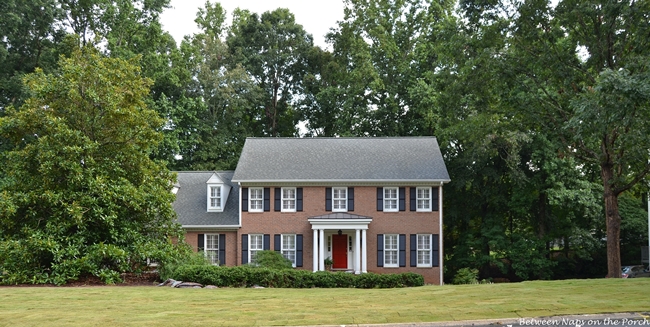 I'll share some photos of the backyard soon, the sod is so pretty back there.
I will be attending the Haven Blog Conference Friday and Saturday but Tablescape Thursday will go up as planned. I have a tasty surprise for you on Friday! You will definitely want to check out Friday's post.
See you tomorrow for Tablescape Thursday!
*If a post is sponsored or a product was provided at no charge, it will be stated in post. Some links may be affiliate links and as an Amazon Associate, I may earn from qualifying purchases. *