Welcome to the 289th Metamorphosis Monday!
So, remember when that awful ice storm hit Georgia this past winter and paralyzed all of metro Atlanta? It was in the news for days since so many folks were stranded on the interstates and roads, unable to get home for several days.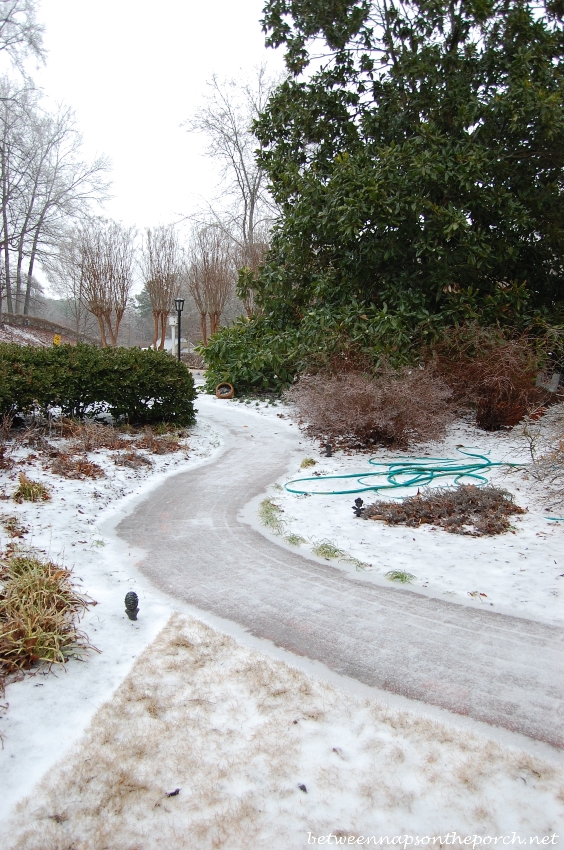 That ice storm did this to my "just-sodded-last-summer" front yard. I shared these pics on the blog in May of this year, dismayed that all the yards around me had greened up but mine still looked like this. I had never had a zoysia yard before so wasn't sure when it would green up, but I knew I had a problem when everyone's yard around me was green and mine wasn't.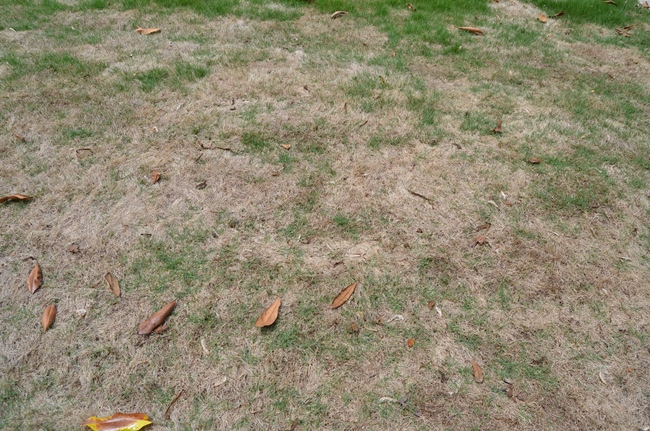 I called my lawn service who told me it was "Winter Kill." Ever heard of that? Yeah, me neither.
They said they were seeing a lot of it due to the bad winter we had here in north Georgia. Apparently, my yard was in worse shape than most because the grass was so new. It never had a chance to put down any really deep roots. The little specks of green I was seeing popping up in the midst of all the dead areas gave me some hope.
Well, I wanted to show you how it's looking today.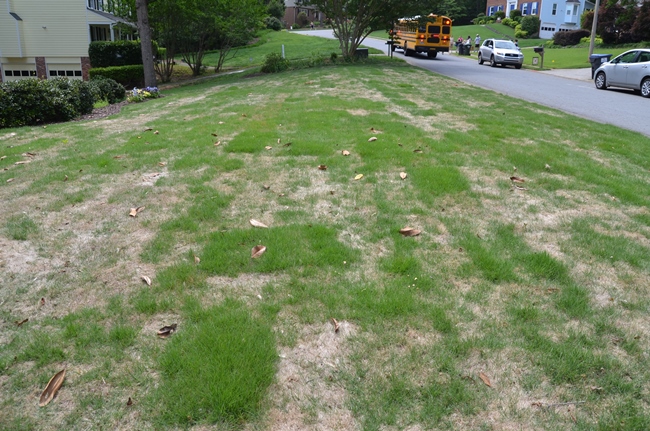 How's that for a before and after?! lol Quite a difference, huh?
It took it all summer but it has almost completely recovered.
This is how the area near the walkway looked in May. Notice my neighbor's established zoysia yard across the street was already nice and green.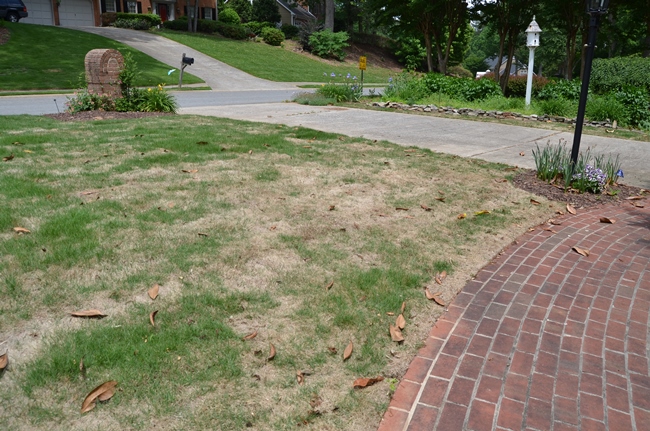 The area closest to the walkway was one of the last areas to recover but it has finally filled in just over the last month. Maybe all that rain we've been getting has helped.
Also, I've have had a fabulous company helping me with it. They have worked really hard to help bring the yard back and I know it would not be looking as it does today without their excellent service. If you live in the Atlanta area and need a good lawn company, email me and I'll be happy to share the name of the company I use.
This area had been completely bare, nothing but dirt showing. It's almost back…getting close now. Just wanted to share these pics since so many folks have left comments asking about the yard and if it ever came back. I never expected it to recover in one season. It was so bad, I thought it would take a few years.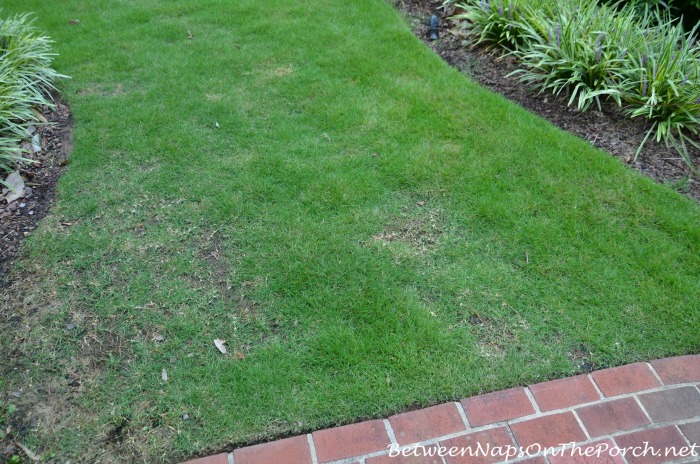 My Own Personal Version of Crop Circles
Remember this picture of the back yard right after the sod was installed last summer? I was sooo happy to finally have grass in my backyard.
About two months after it was installed, it looked like this–a total loss. This area gets a lot of shade so I never expected the grass to be super thick back here, but I didn't expect this. No one could tell me what had happened, why it all died. I thought maybe it was because it rained so much last summer and maybe it had stayed too wet. I'm sure the ice storm didn't help it any this winter, either.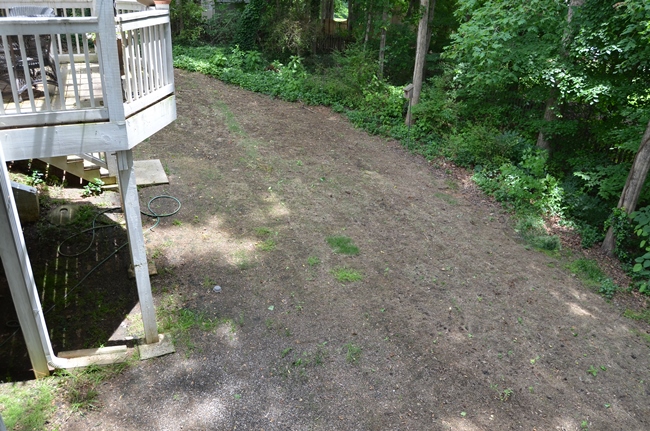 Then about a month ago I awoke to this view! What the hay?! A bunch of the half-dead sod pieces had been flipped up. I suspected this was the work of the raccoons that come around every night hoping I've forgotten to bring the feeders in.
One was even brave enough to visit in broad daylight this summer! He scampered off right after I took this photo. I was shocked he was brazen enough to come raid the feeder in the middle of the day!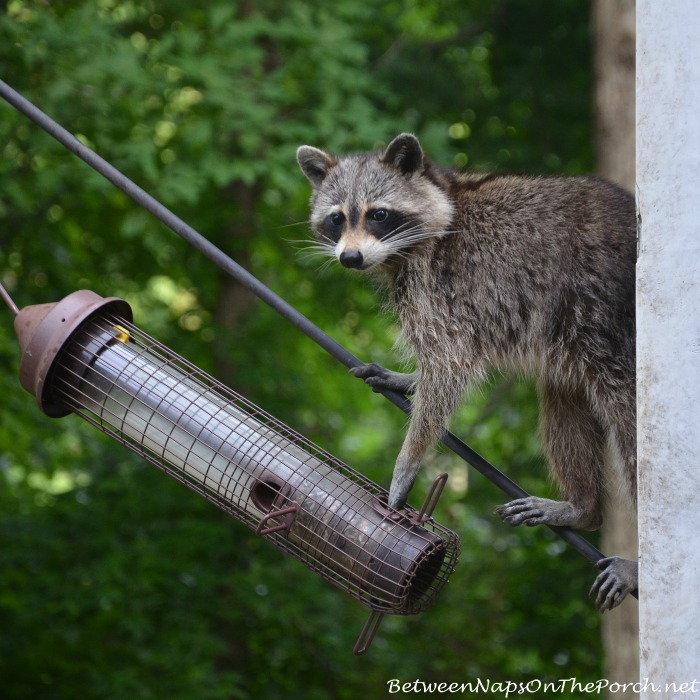 When I found that mess in the yard, I went out and turned all those pieces back over and pressed them back down again. And guess what? Here's how it looked the next day! It was Groundhog Day all over again! All I could think as I stood there looking at all this was I had my own little version of crop circles going on, only it was sod squares instead of circles. lol Is this not crazy looking?!
This went on every night for about two weeks. I even tried buying a sprinkler device that was motion activated, but even that didn't stop them.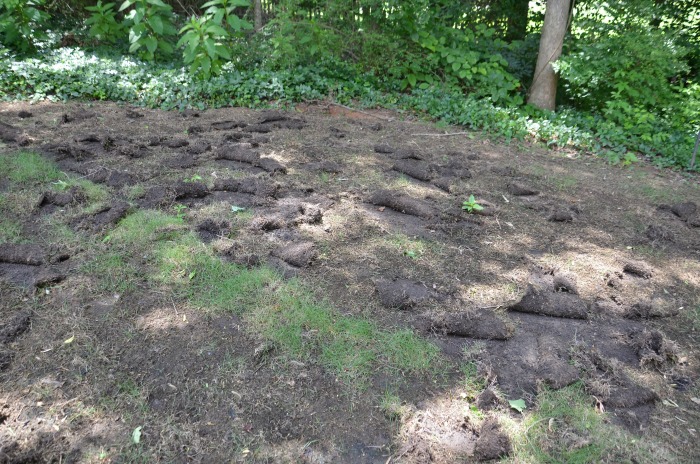 During the time this was happening every single blooming night, I was also in the process of getting estimates for having screens installed over the gable vents in my attic to prevent bats from nesting under the outer part of the vents. If you missed the bat post, you'll find it here: Prevent Bats and Other Critters From Roosting in Attics With Screening.
The guys coming out giving the estimates for the screening were stunned. I had four companies come out and even though all of them remove bats, raccoons and all kinds of critters from attics every day for a living, none of them had ever seen anything like this. The looks on their faces were hilarious!
I knew it had to be the raccoons doing this because I saw one run away from the area when I went out late one evening to bring in the bird feeders. He would make a bad crop-circle-maker, wouldn't he, since those guys are never caught in the act. lol
The sod-flipping antics went on for a couple of weeks and the grass that was trying to come back finished dying off after getting uprooted so many times.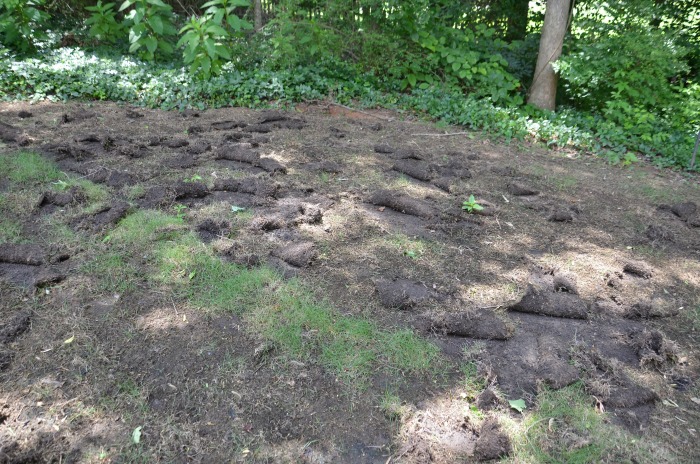 If you search online, you'll find a lot of pictures of newly-sodded yards with this kind of damage. This picture below shows a raccoon that's being relocated because of what he was doing each night to the yard behind him. He looks pretty embarrassed to have been caught, doesn't he. 😉
I also think I know what happened to the sod in my backyard last summer…what made it die. A landscaper told me I probably had grubs when the sod was first put down. He said an infestation of grubs can wipe out an entire yard in a couple of weeks. The grubs eat all the roots of the grass, so it never gets established.
I didn't know that last summer when it died but it all makes sense now because when raccoons flip sod back, they are searching for grubs. Apparently, they love 'em.
So this is all starting to make sense now. I'm going to get the back yard treated for grubs and maybe some of the sod that's left, which isn't much, will start to grow again. Anyone ever experience this craziness? Thank goodness it didn't happen in the front yard, too!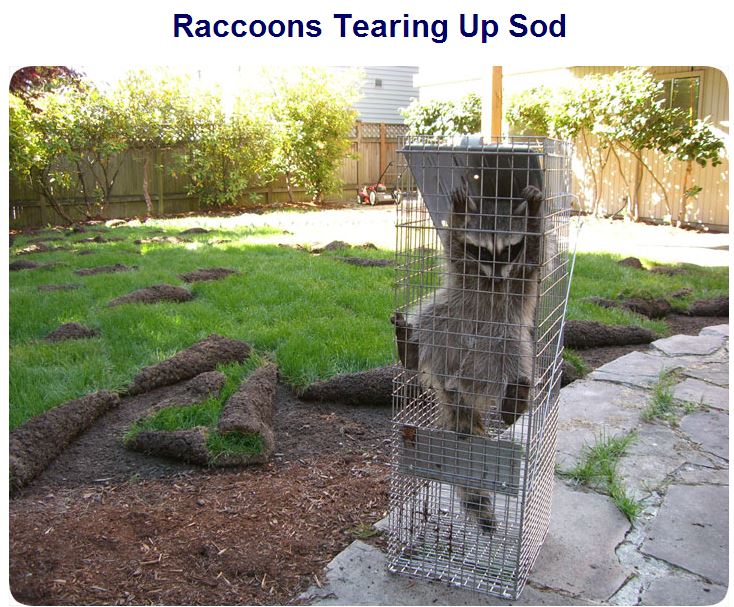 On a separate note, you know the cute Green Mountain boxwood topiaries I planted last summer. They've been doing great and put on a lot of new growth this spring.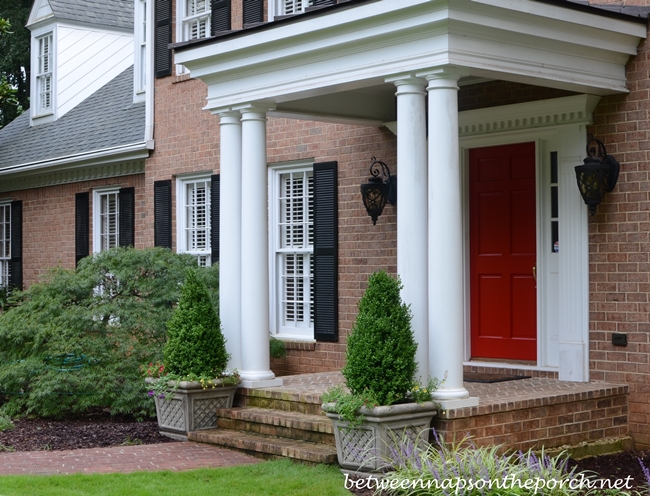 But just recently I started noticing these little whitish spots on them. Not sure if they got a little dry recently or if this is something even worse. Apparently, they can get mites or leaf miners. Ugh. Always something, right?
Have any mysterious sod-flipping, crop-circle raccoons in your neighborhood? You have to laugh at this stuff, you know. It certainly keeps life interesting! 🙂
Looking forward to all the great Before and Afters for this Metamorphosis Monday!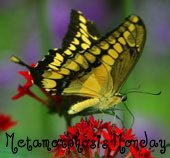 If you are participating in Metamorphosis Monday, you will need to link up the "permalink" to your MM post and not your general blog address. To get your permalink, click on your post name, then just copy and paste the address that shows up in the address bar at the top of your blog, into the "url" box for InLinkz.
In order to link up, you'll need to include a link in your MM post back to the party so the other participants will have an opportunity to receive visits from your wonderful blog readers.
Please observe these few rules:
Only link up Before and After posts that are home, gardening, crafting, painting, sewing, cooking, DIY related.
Do not link up if you're doing so to promote a website or product.
Do not link up a post that was just linked last week since a lot of readers will have already seen that post.


*If a post is sponsored or a product was provided at no charge, it will be stated in post. Some links may be affiliate links and as an Amazon Associate, I may earn from qualifying purchases. *