It's a conspiracy, I'm convinced. I really am doing my best to just enjoy these last warm days of summer. After all, this is how the weather in Georgia looks during the month of September. Fall doesn't even really think about arriving here for another month.
But try as I may, I keep stumbling across beautiful scenes like this and I'm suddenly thinking of autumn. Doesn't this room just lure you in with its warm, rustic charm?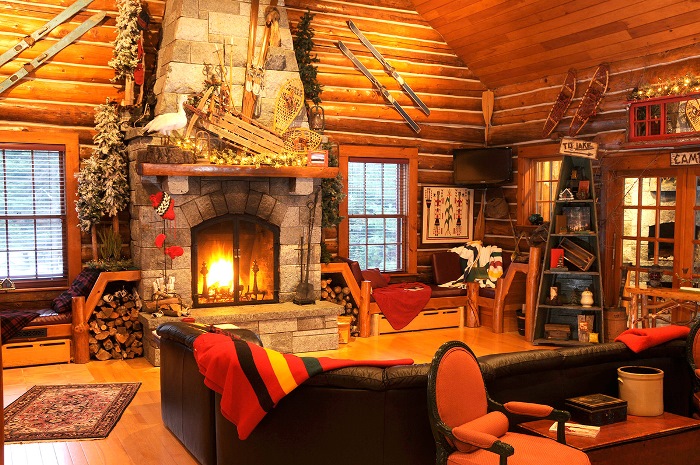 That room resides inside this wonderful historic lodge located on the shores of Lake Placid high in the Adirondack Mountains.
The cabin was originally built in the 1920's by European craftsmen. It was built on the eastern tip of Long Island, then later it was carefully disassembled and moved to its current location on Lake Placid. So amazing that they could do that!
In this view of the back, you'll notice it has a screened-in porch. I love the big windows we see open across the top. Let's go inside and take a tour!
I was intrigued by the front door, looks almost medieval, doesn't it? I wondered about those black, iron thingies and why they were there because the pattern seems a bit random.
Then I saw the other side! Now those are some serious hinges! That door isn't going anywhere, is it?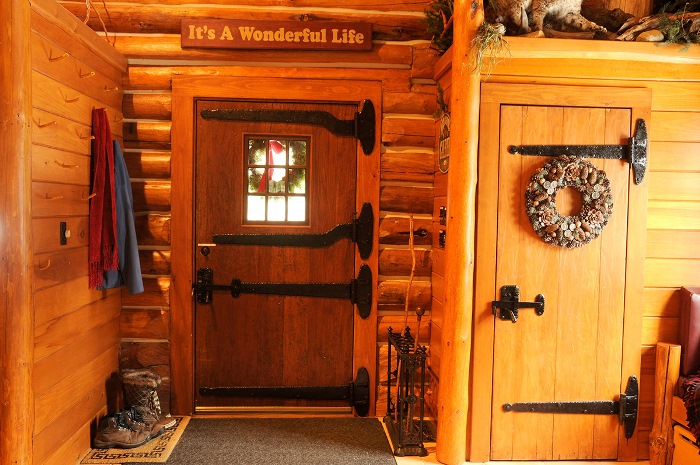 This cabin saw a restoration in 2001 which included in-floor radiant heat on all three levels and the addition of air-conditioning. I love this room!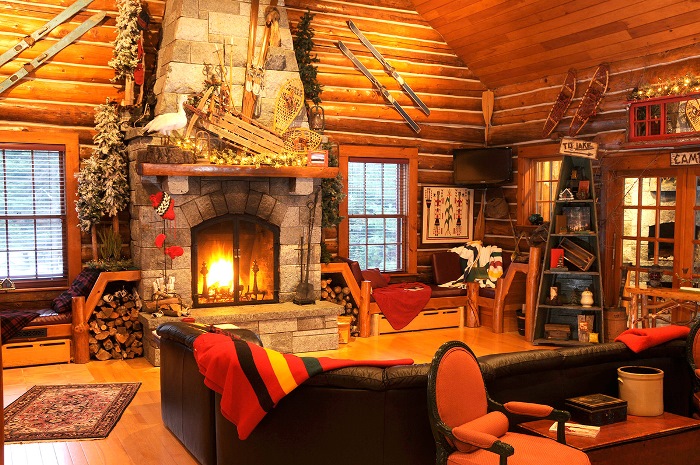 Love how the mantel was decorated for Christmas. In a room this size with big, soaring ceilings, you really need large-scale pieces when decorating the mantel and surrounding walls.
Love the design of the staircase that leads to the upstairs bedrooms. The screened porch is visible through the windows/doorway on the left.
A view looking into the kitchen…
There's a stone fireplace out on the screened-in porch, too.
Perfect spot for autumn dinners by the fire. This almost makes the thought of winter bearable, doesn't it?
The master bedroom…the home has four bedrooms and three full baths.
A bath…
There's also a lovely old boathouse.
Boathouses always amaze me, the way they are perched out on the water.
The inside is amazing…look at all that beautiful wood!
The boat house still gets used even in the wintertime. Imagine playing pool with that view just outside the window.
Love the view of it lit up at night.
You'll find additional pictures of this cozy lodge where I found these here: Lake Placid Historic Waterfront Home
*If a post is sponsored or a product was provided at no charge, it will be stated in post. Some links may be affiliate links and as an Amazon Associate, I may earn from qualifying purchases. *