Welcome to the 364th Tablescape Thursday!
I have the most delightful, imaginative table setting to share with you today! Wait until you see the dessert! 🙂
This table is one I especially enjoyed looking at again since I'll be heading off to Africa this Tuesday. If you would like to come along on my adventures during my week-long trip to Kenya, sign up to receive daily blog post updates via email here: Daily Post Updates Since I should have wifi available in camp, I plan on posting every day while there. (As always, your email will never be shared.)
If you would like to follow along on Instagram (I hope to post there a couple of times each day) you'll find BNOTP on Instagram here: BNOTP Instagram.
Celebrating a Special Birthday With an African Safari Themed Tablescape
With my trip to Africa coming up soon, I had to share once again, this fun birthday celebration Laura and her daughter, Claire created for Paul, Laura's hubby and Claire's dad. Paul served for several years in Africa while in the military.
Laura said, "Every year my daughter makes my husband's birthday cake and I decorate it. My husband is retired military and one of his previous assignments frequently took him to several African countries. He'd purchase gifts for our daughter, usually carved animals, whenever he went. When I saw a zebra cake in blogland, I was struck with inspiration—why not a safari tablescape for his birthday?"
"The centerpiece came together after a quick raid of the hubby's man cave where I got the mask and carved pieces. The African tribal mask took center stage among African busts and hand-carved animals that my husband brought back from trips to Africa for our daughter."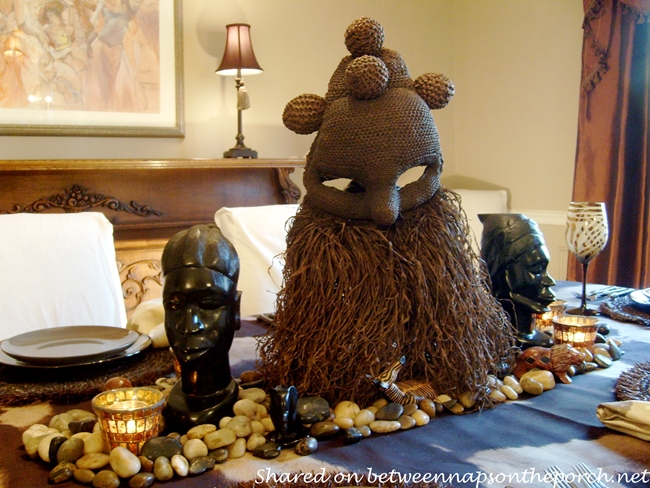 "River rock from Dollar Tree surrounded the animals and busts to anchor the vignette."
"A chubby hippo peeked out from among the river rock. Hippos should be comfortable around river rock, don't you think? Votive holders are from Pier 1."
"I ordered a two-and-a-half yard piece of ultra-suede, hide print fabric from an online fabric store for the tablecloth."
"The raffia-fringed placemats I already had and thought they were a great complement to the mask."
"Dinner plate in zebra pattern is from Pier 1. Flatware is from Horchow. Napkins, napkin rings and salad plates are from Target."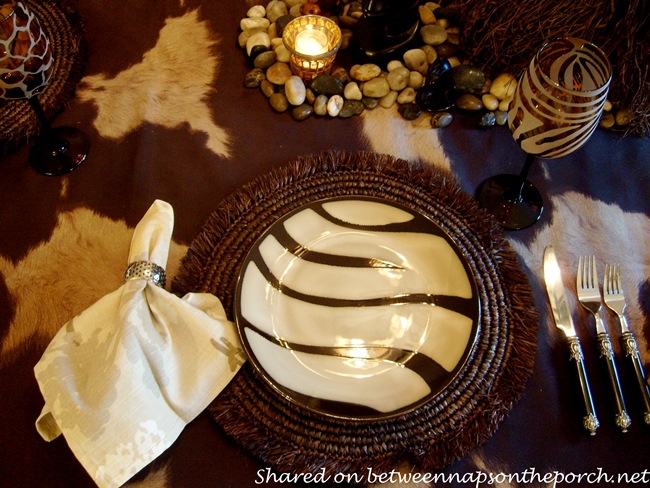 "I thought with the various organic textures that the table needed a bit of sleek metal. The silver from the napkin rings provided that. Wine glasses are from Pier 1."
Laura and Claire made the most amazing cake for Paul! I love it! I wonder if they serve anything like this at Giraffe Manor? 🙂
Look how it looks inside once cut! So perfect for this safari themed birthday celebration!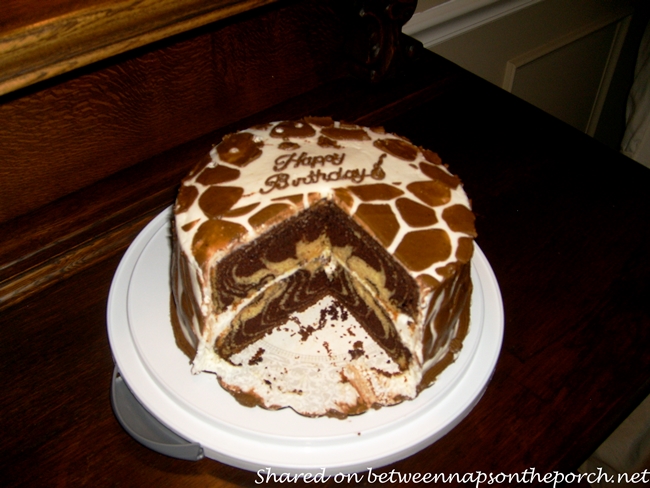 Thanks again to Laura for sharing this wonderful African Safari theme table with all of us! I know Paul must have felt so special to have been given such thoughtful celebration, especially one honoring his military time in Africa.
This table setting always makes me think of the movie, Green Card with Andie MacDowell and Gerard Depardieu. I've actually downloaded that movie from iTunes onto my laptop to watch on one of the long plane rides I'll be on. Do you remember that movie and the music? The music would be perfect for a dinner party with a safari theme.
Resources:
Tablecloth fabric – Anatol's Fabric, housefabricdotcom
Placemats – purchased years ago from Hobby Lobby, I think
Zebra dinner plates – Pier 1, last year
Salad plates – Target, last year
Flatware – Horchow, last year
Napkins & Napkin rings – Target last year
Wine glasses – Pier 1, last year
River rock – Dollar Tree
Votive holders – Pier 1, last year
Looking forward to the wonderful tables posted for this Tablescape Thursday!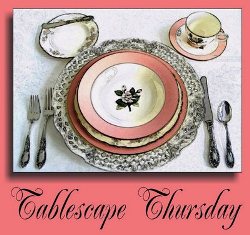 If you are participating in Tablescape Thursday, please be sure to add your permalink below, and not your general blog address.
To get your permalink, click on your post name, then copy and paste the address showing in the address bar, into the "url" box when you link up. You'll need to include a link in your post back to the party to link up and participate.
That's so visitors to your blog will be able to find the party and the other Tablescape Thursday participants. Requiring a link back also prevents businesses from linking up to sell their products. (Yep, that really happens, unfortunately.)
Please, don't add your post name/blog name ALL IN CAPS…it tends to create big spaces between the rows of links.
Please do not link up table settings that were just recently shared in the last few weeks for Tablescape Thursday.
*If a post is sponsored or a product was provided at no charge, it will be stated in post. Some links may be affiliate links and as an Amazon Associate, I may earn from qualifying purchases. *