Remember all those pictures I had stuck on my phone, the ones I couldn't download to share? Among them was a shopping trip I took to Ikea back in December.
Ikea is only about 30 minutes away from my home, but I so rarely drive in that direction it feels like it's in another state sometimes. Do you ever shop there? I love checking out the unique pieces they get in. I had never been there around Christmas and the store had a lot of things in stock that they don't carry during the rest of the year.
Here are just a few things I saw and snapped pics of with my cell phone. I'm always thinking about you and wondering, is this something you would like to see? See, you go with me everywhere, whether you know it or not! 🙂
Pretty blue and white bedding. It reminded me of…
…the bedding in my guest room.
Love the paisley comforter.
It looks like the reverse side is a cream and tan/khaki stripe.
Wouldn't this be cute in a little girl's room? Cute bed, too!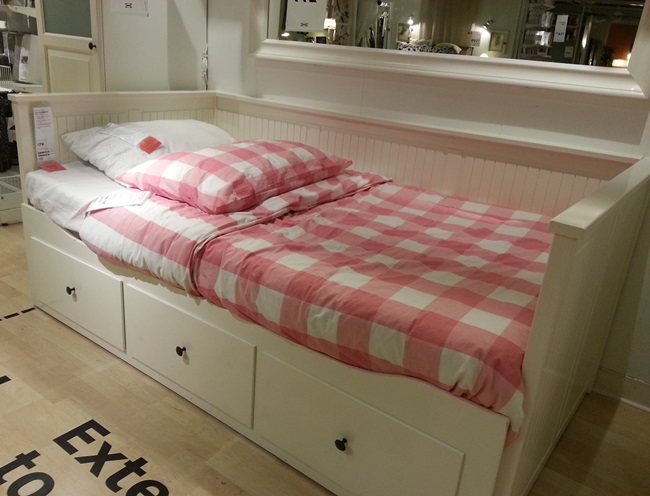 I'm always drawn to their white sofas, they are super reasonably priced.
I wish IKEA had been around when my son went off to college and we were looking for a reasonably priced sofa for his first apartment there. This plaid one was much prettier in person than it looks in this picture. This would be great in that first apartment at college or in a man's study…or even in a family room with active children. Just looks like it would hide dirt very easily.
A leafy chair…not sure about that upholstery but the shape of the side table is perfect for placing between two chairs in a grouping where the chairs slant slightly toward each other.
I was tempted to bring one of these window box/plant stands home. I've thought about putting something like this in the bay window of my breakfast area.
Remember these pillows I purchased a year or two ago from Ikea for my porch swing? Each year Ikea has a different style pillow. They are wonderful pillows with soft down inserts and only $19.99 each. I'm always curious what the pillow of the year will look like.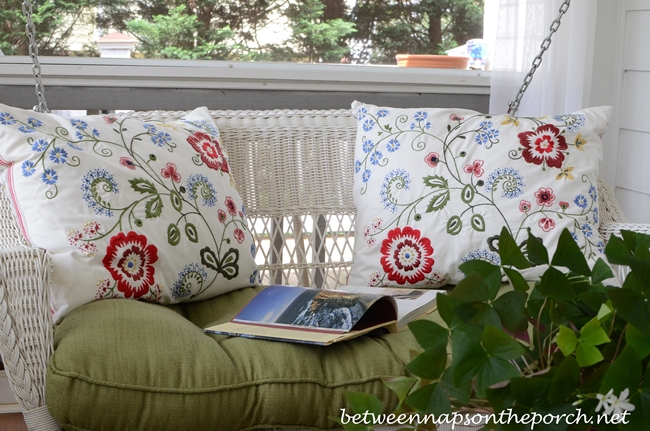 Here's this years. It's called: Akerkulla. Actually, this may be the pillow for 2013. I'm not sure when they get their new pillow in each year…does anyone know?
Of course, you know I had to take some pics of a tablescape I saw while there!
Look closely at the pillar candle holders. Notice anything?
They are overturned wine glasses with a rose inside. Perfect for Valentine's Day.
Pretty silvery candle holders.
I was tempted by their cute Christmas ornament glasses.
Does anyone know what this is? It looks like soda, doesn't it? It says "Swedish Festive Drink" on the bottle.
Here's a great table display, string lights inside lanterns. This would be really cute for a 4th of July party or cookout, especially late into the night after the sun goes down.
Here's the same lantern in white. I think the string lights were battery operated. You can see they were kinda snowflake shaped, which was perfect for Christmas. They had them in different shapes.
These cuties caught my eye. I kept trying to pick one up and they were pinned to the thing you see behind them, which I think was a blanket or throw…hard to remember now..
Okay, I just looked on their website and apparently you can purchase them separately without the blanket, too. The ones I saw were all attached to either a throw or blanket, I never saw the singles. Online, they have a panda bear, fox, dog, rabbit, and some other adorable critters.
So that was my Ikea shopping trip. What would you have brought home?
They didn't have the white, wood hangers I was looking for (only had them in a natural wood color) so sadly I left empty-handed. I'll go back in a month or two to see if they have them back in stock for summer. I'm gradually changing out all my wire hangers to pretty wood ones.
*If a post is sponsored or a product was provided at no charge, it will be stated in post. Some links may be affiliate links and as an Amazon Associate, I may earn from qualifying purchases. *