Have you ever been inside a Pottery Barn Teen/Kid store? Since I ordered a desk chair from them years ago for my home office, I occasionally get their catalogs in the mail. (If you're new to reading BNOTP, to see the office/chair, just click on the category My Nest and then click on Office/Craft Room where you'll find links to bunches of office posts.)
Every time a PB Teen catalog arrives, I wish I was 30 again with a house full of kids so I would have the need to decorate about 2 or 10 children's bedrooms. Seriously! I love the bedrooms they always show in the catalogs and online.
Recently, I was in Lenox Square Mall in Atlanta and I stopped by the PB Teen/Kid store to just soak in all the fun. I snapped some pics since I knew there were hardly any actual locations/stores around. There used to just be three and Atlanta was one of the lucky spots with a store.
Well, apparently that is rapidly changing because when I got home and Googled to see where they have stores now, they have a lot more. I almost didn't create this post when I saw how many more stores there are now but what the hay, I already had the pics and I decided you might enjoy a little tour anyway.
They were featuring this cute 4-poster bed in one of their store windows. I love the "Call Home" pillow on the bed. lol Think giving that to a college student would make them remember?
Love the rug! You know, that rug could go anywhere, not just in a kids room. Wonder how it would look in my office? Ummmm.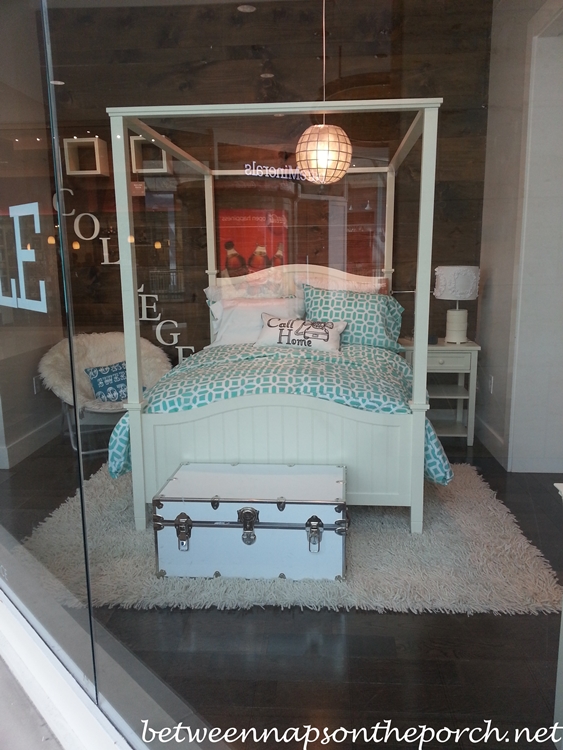 These pics were all taken with my cell phone, so please excuse some of the dim lighting. I loved this bedding!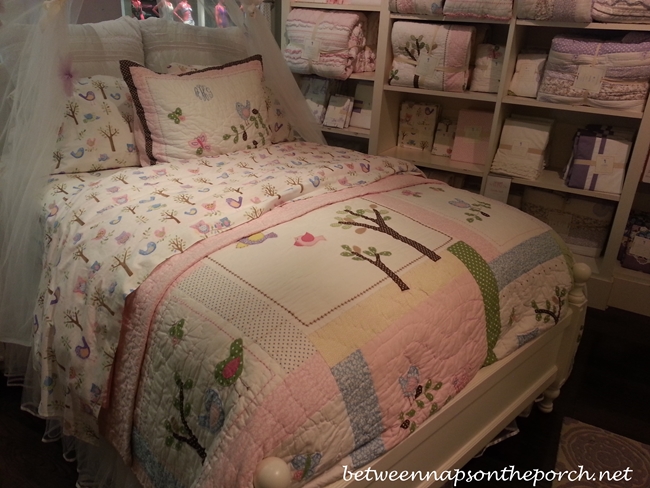 For a split second, I was trying to figure out if it would look ridiculous in a grown woman's room. I could get away with the sheets, right? They would be hidden under my grown-up bedding. 🙂 No, I didn't buy the sheets, but I was tempted!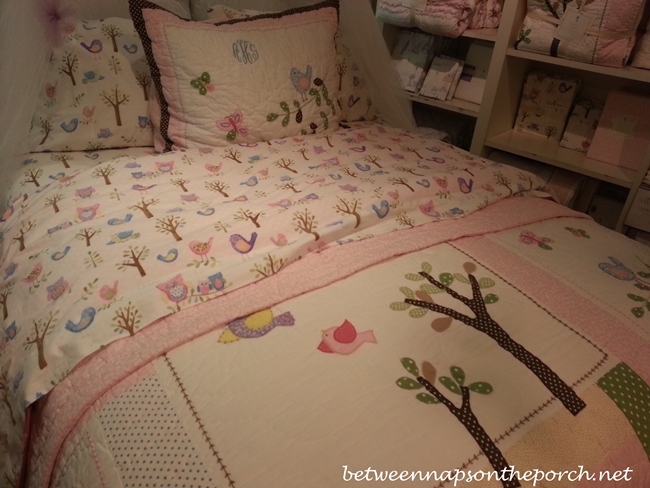 The bedskirt was really cute. Now this could totally be used on any bed, not just in a teen or kids room. Looks like you could just sew a white bedskirt with an overlay of organdy or organza and then trim it with satin ribbon or some kind of satin trim. Really loved this look! It reminded me of the burlap and organza tableskirt I posted about in this post: Burlap and Organza Tableskirt.
When my son was small, I could never, ever find bedding that I liked. They have great stuff for boy's rooms now.
I'm especially fond of madras.
Really I just love the whole "Ralph-Lauren-I-own-my-own-sailboat-and-wear-boat-shoes" look. 🙂 Hey, we may not own a sailboat or a yacht, but we can dress our bodies or our beds that way, right? lol
Such a great rug for a boys room! It looks really good against dark hardwood flooring, doesn't it?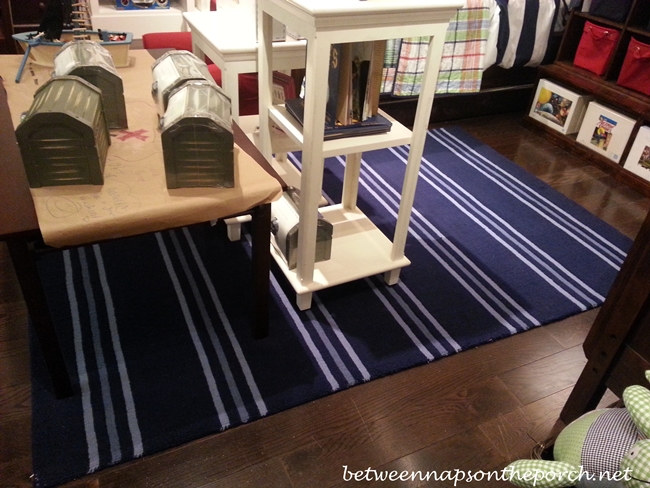 More cute girls stuff…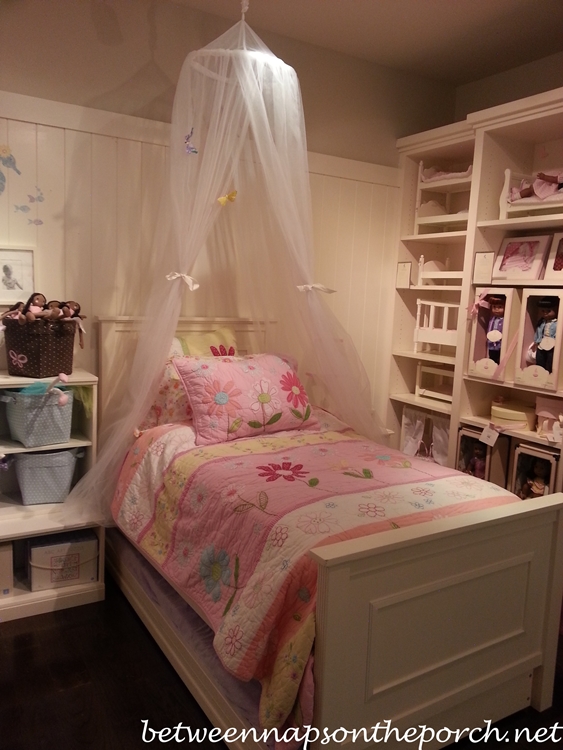 Actually, this store is split and one half is "Teen" and the other half is "Kids." I'm pretty sure this was over on the "kids" side.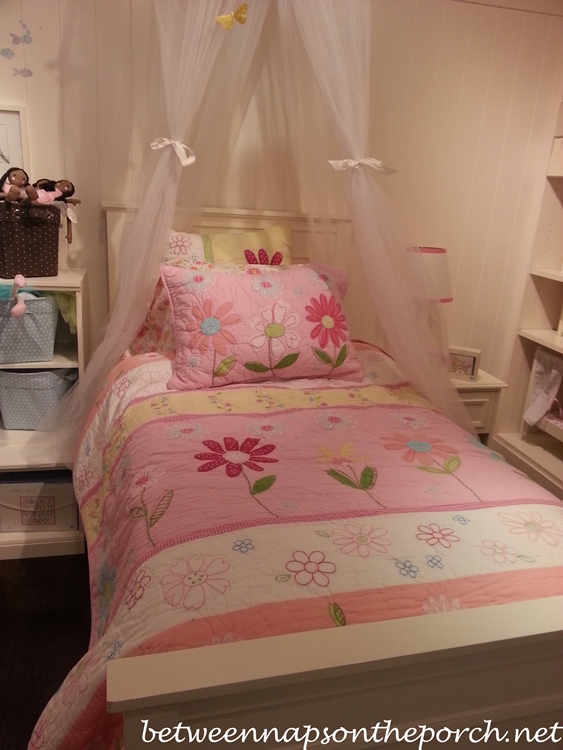 A pink owl lamp…cute, cute, cute!
Cute bathroom display…
I've always loved this set-up for a kid's room. It would feel pretty cozy working under there, like you had your own little study room.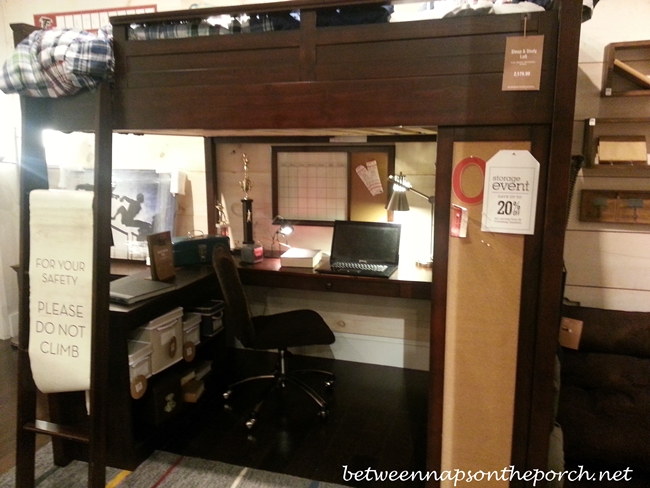 The ends are designed with lots of storage/shelving.
One last bed space before I quit gawking at all the cute spaces and headed back home.

Hope you enjoyed this little impromptu tour.
Oh, one more picture. After I left Lenox Square, I drove over to a neighborhood in Atlanta where the company I'm considering using to install sod in my yard, had installed Empire Zoysia. I liked the Empire but I'm leaning toward Zeon because I've read it's more shade tolerant. Anyway, that's another post for another day.
After I left the neighborhood which was very close to the North Fulton Golf Course, I turned to look across the golf course and saw this. Looks like a toy tree that just fell over, doesn't it? It was surreal seeing it laying there…kind of shocking and surreal.
You can tell it didn't have much of a root system. The constant unending rain we've been getting just loosened it up, I guess. Probably a big gust of wind took it over.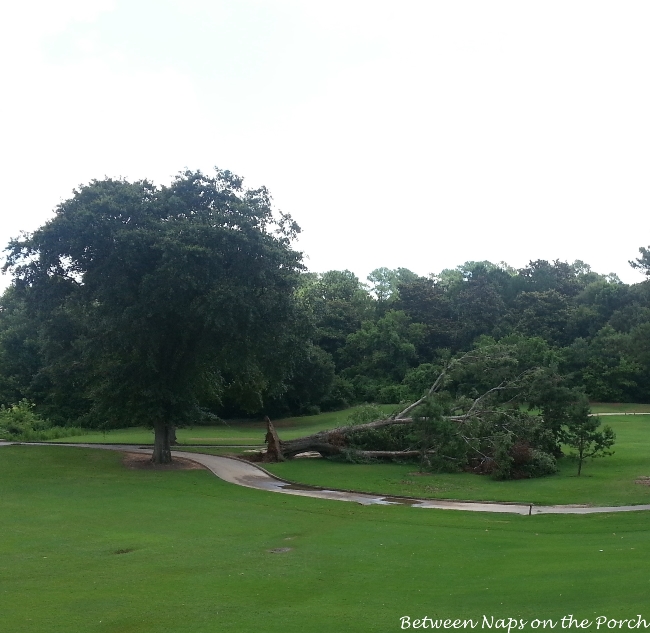 See you tomorrow for Tablescape Thursday!
*If a post is sponsored or a product was provided at no charge, it will be stated in post. Some links may be affiliate links and as an Amazon Associate, I may earn from qualifying purchases. *