A month or so ago, I was in Marshalls and came across these lanterns. I love shopping in there this time of year because they always get in the cutest holiday goodies and you literally never know what you'll stumble upon.
I'm not sure if these will end up in a table setting or on one of the porches for a little Christmas decorating. They may just show up in both.
These lanterns came with a battery-operated candle inside, supported by a metal carriage/support thingy that hangs from the rim. When turned on, the glow is pretty dim. You can actually see the metal showing through the deer silhouette. Plus, the bottom half of the lantern isn't really lit at all since the faux candle is near the top of the lantern. Ummm.
For the other lantern on the right, I turned off the faux candle and added three real votive-style candles to the bottom. Big difference! I definitely prefer how the lantern looks with a real candle inside, placed along the bottom of the lantern.
At first I tried a short pillar candle and you could see it through the deer silhouette. That wasn't working too well since the flame kind of obliterated the silhouette to the point where it was hard telling what it was. The votive candles definitely worked better because they are short and hidden from view. I guess faux votive candles could be used–if they were bright enough.
Just sharing this in case you buy a lantern with a ready built-in faux candle. You may want to place a real candle inside just to see how it looks.
Fun Idea for Wrapping a Gift When You're Short on Ribbon
A while back I wrapped a gift for a friend and I didn't have quite as much pink ribbon as I would have liked for the bow. I improvised by snipping a couple of blooms from one of my Limelight Hydrangeas out front. I actually liked how it looked better than just using more ribbon. So, if you find yourself running a bit short on ribbon when wrapping a gift, check to see what you have blooming in your garden. 🙂
A Visit to the Pottery Barn and Williams-Sonoma Outlets
Back before Halloween, I was shopping online for a red Burberry scarf. Before committing and buying the one I saw online, I decided to take a trip up to the Burberry Outlet in the North Georgia Premium Outlets in Dawsonville, Georgia. I'm not a very big fan of outlet shopping for a number of reasons, so I wasn't too optimistic that I'd find what I wanted there, and I didn't. While I was there, I visited a few more stores, snapping a few pics to share of some of the interesting things I did find.
Inside the Pottery Barn Outlet, I was surprised to see a fair number of the desk units/cabinets from their Bedford Office line of furniture.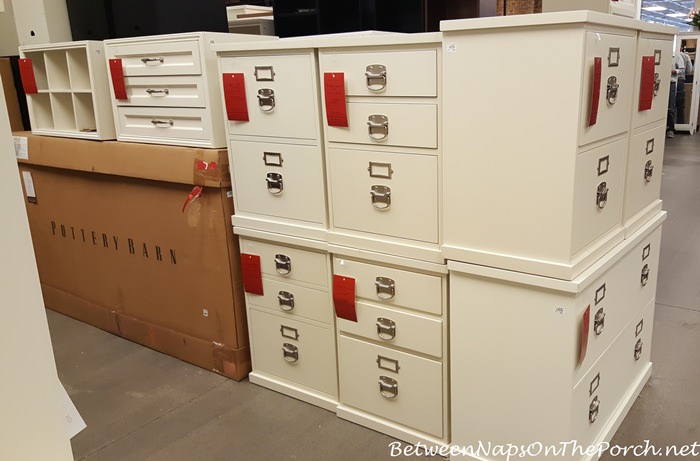 They had a lot of their Christmas decorations out.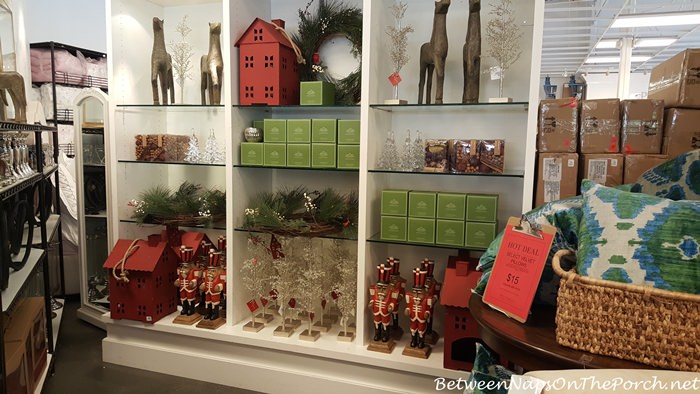 The Pottery Barn Outlet was connected to the Williams-Sonoma Outlet so I checked it out, too. Cute plates!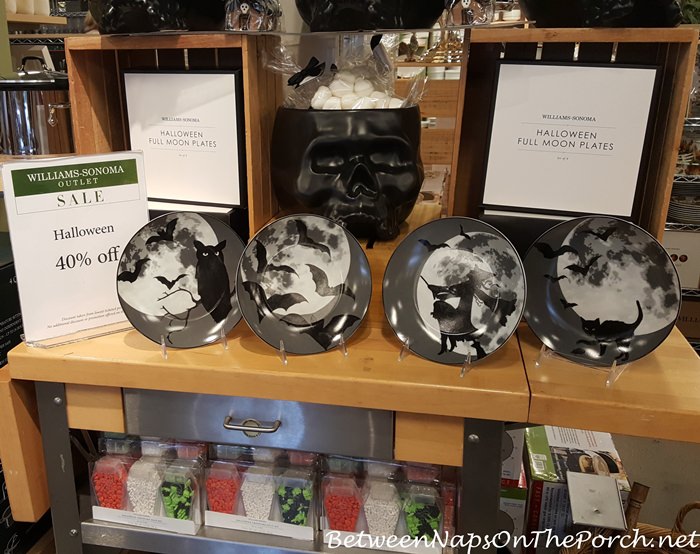 They had some really cute Christmas dinnerware on sale.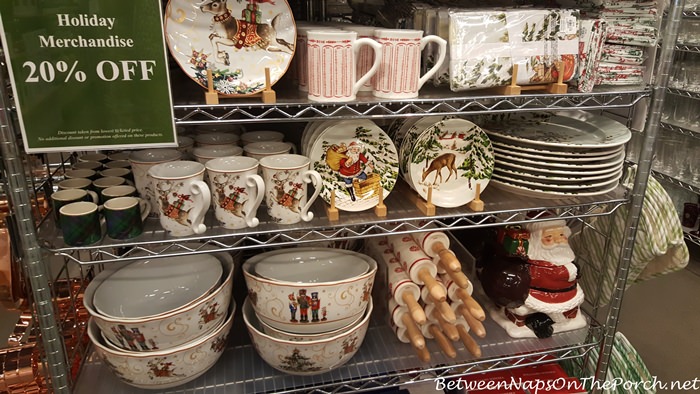 If I didn't already have white pumpkin tureens, these would have been very tempting.
Lots of Thanksgiving goodies, too. I didn't buy anything, had scarf shopping on the brain, but it was fun looking.
Amazon Prime Now
Has anyone tried Amazon's Prime Now? I'm not sure how long Prime Now has been underway, but I got an email today that included a promotion for $10 off your first time using it. The email said if I ordered, my items would be delivered within 2 hours at no extra charge. Apparently, this is a new benefit for Prime customers.
I decided to check it out and was surprised by how many products were available. You can order from just about any category including Grocery, Electronics, Household Essentials, Home, Kitchen, Office, Toys, Books, Pet Supplies, etc…
I ordered a few groceries along with three books for my oldest grandson for Christmas. When I placed my order, it was just a few minutes before 6 PM. I was given the choice of a 6 PM to 8 PM delivery or an 8 PM to 10 PM delivery. I chose the 6 to 8 PM window but my confirmation showed it would arrive between 8 PM and 10 PM. I wasn't surprised since it was almost 6 PM when I placed my order.
Under the "special instructions" section, I asked that the packages be left on my front porch. Shortly after 9 PM I received a text message that they had been delivered. I hurried downstairs and there they were! The driver was backing out of my driveway so they had just been left moments before.
Oh, one thing you should know, they do add on a $5 tip automatically for the driver. I didn't mind because I didn't have to spend my time or my gas to go shop. It's almost like having a personal shopper or assistant at your fingertips. I could get used to this!
I absolutely love Amazon's prime membership features. They just keep getting better and better! So my first experience with Prime Now was very good! Has anyone else tried it?
*If a post is sponsored or a product was provided at no charge, it will be stated in post. Some links may be affiliate links and as an Amazon Associate, I may earn from qualifying purchases. *