Happy Friday! Are you looking forward to the weekend? I have some projects to work on so it will be a busy one. I have a little catching up to do around here. I was out of town visiting family (my son and, his family) and I just returned last night. It was a fun trip and the days flew by.
My son and DIL purchased a beautiful, older home a while back and this was the first time I've visited since they moved in. Their home was built in 1929, per my daughter-in-law and I was captivated all week by the many charming features the previous owners had left intact. What a treasure!
With their permission, I'm sharing some of the wonderful details, details we no longer see in most homes today. Starting here at the front door, this door must have been a precursor to our ugly, metal/modern storm doors of today. It's a heavy wood door containing a true divided-light glass panel that's removable and can be replaced with a screened panel during the summer. The screened panel was stored in the basement, ready for use. The door leading out to their screened porch is the same way. Loved this!
Loved the front door handle…soooo glad the previous owners never got rid of this, but then I could say that about every vintage thing in their home. You can't go out and buy patina like this. Well, actually you can buy handles with fake patina, but it will never look like this.
These adorable lanterns were on either side of the front door. I loved them so much! I see reproductions like this in high-end catalogs and they are always so expensive.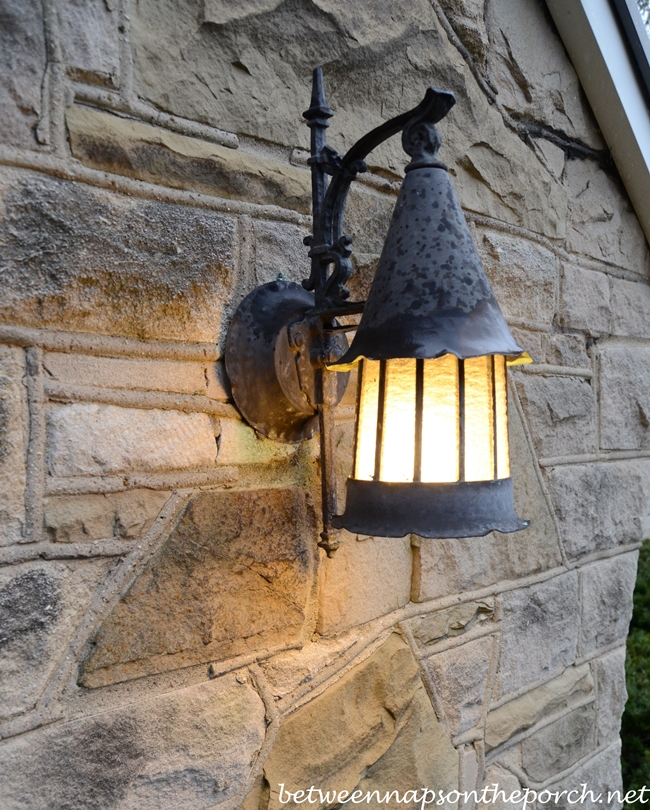 All week I felt like I had been transported back to another time. I was in nostalgia heaven the whole time. For example, the mailman still brings your mail right up to the front door and inserts it into the mail slot beside the door. When you have outgoing mail, you just stick it out of the slot like this and the mailman picks it up.
I was also tickled to see the trash is still picked up right at the home. You just put your trash in normal trash cans hidden on the back side of the garage. That's it! There's no pushing a giant ugly bucket to the curb where it sits in all its unsightly plastic glory the live-long day until garbage pickup occurs and you return home from work to push it back.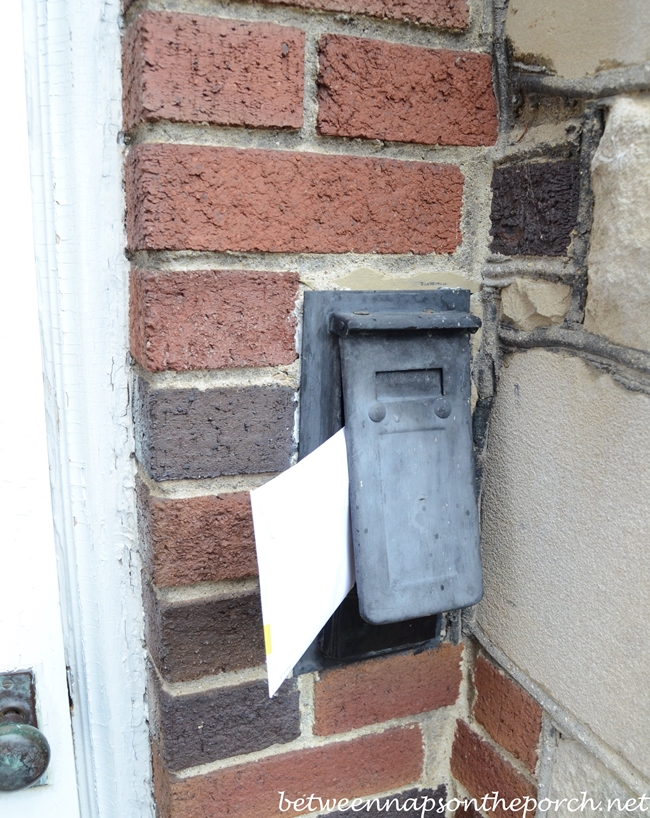 Here's how the mail slot looks from the inside. 🙂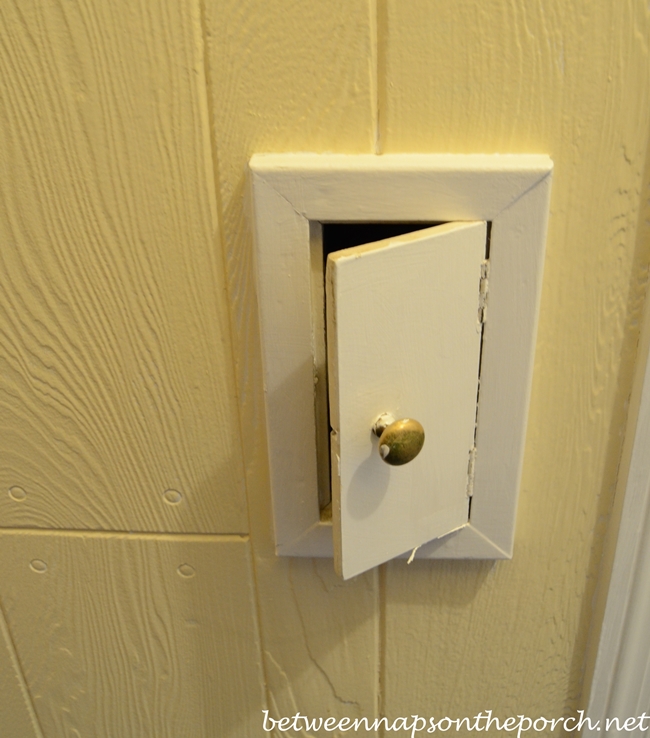 I loved the front door with its decorative window.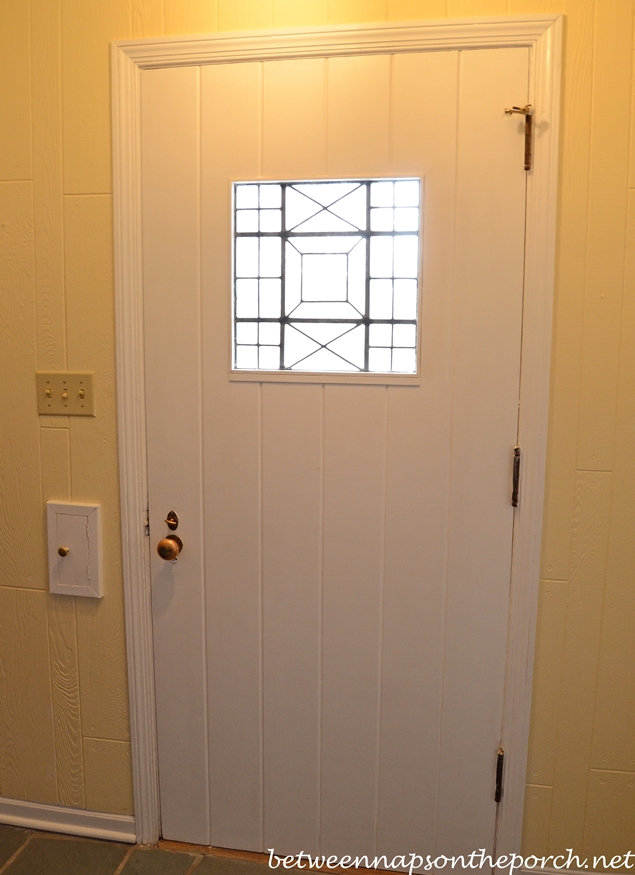 All week long I was ooohing and ahhing over all their interior doors. I've been on many historic home tours in my time and I don't think I've ever seen doors I liked as much as the ones in this 1930's home. I should have taken a close-up because each panel in the door is multi-leveled or grooved. Not sure what you call that but it's beautiful. I think you'll be able to see it in some other pictures further down in this post.
Surprisingly, it wasn't just the main doors that were like this. Every single door in the home is like this, including the closets! Speaking of closets, this home was way ahead of its time. Two of the upstairs bedrooms were built with double "his and her" closets!
You know how so many folks are now buying and installing the reproduction ORB knobs? Every door in the home had these beautiful old knobs and plates, even the closets.
And many of them still had keys sticking out of them!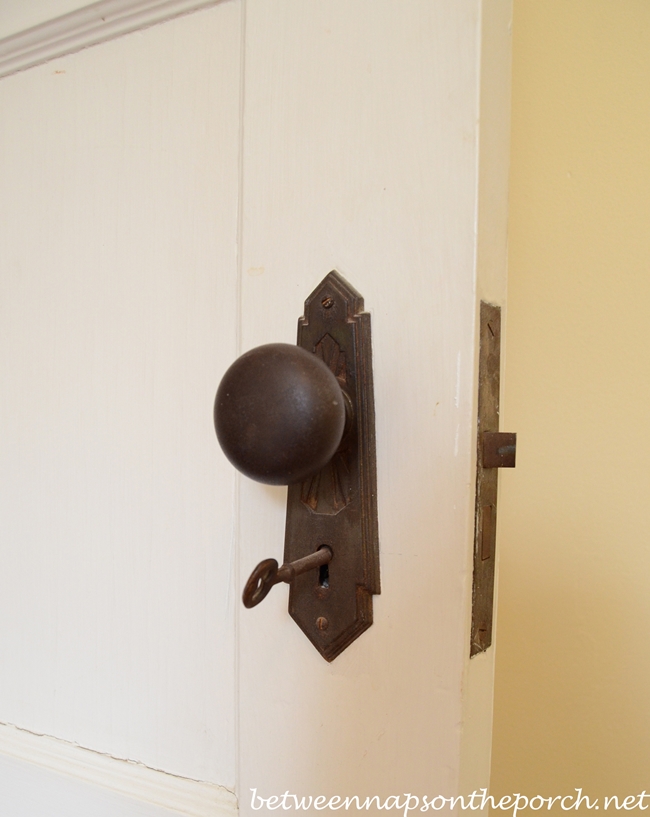 I forgot to capture it but several of the doorways leading from one room to the next were arched. I loved the main staircase leading up because it went up to a landing that was beautifully lit by a large window. The staircase turned and continued up. Love staircases that aren't a continuous long staircase but are broken with a landing. They are also safer for little ones when they are just learning to navigate stairs.
Beautiful hall light…
All the floors throughout the home (downstairs and upstairs) were hardwood, hidden under carpet. They were able to be refinished and turned out beautifully. So wonderful to move into a home already designed with hardwood flooring throughout. I've been gradually adding it to my home and I still have two rooms to go.
Two of the three bedrooms had dormer windows on both sides of the room…love me a dormer window!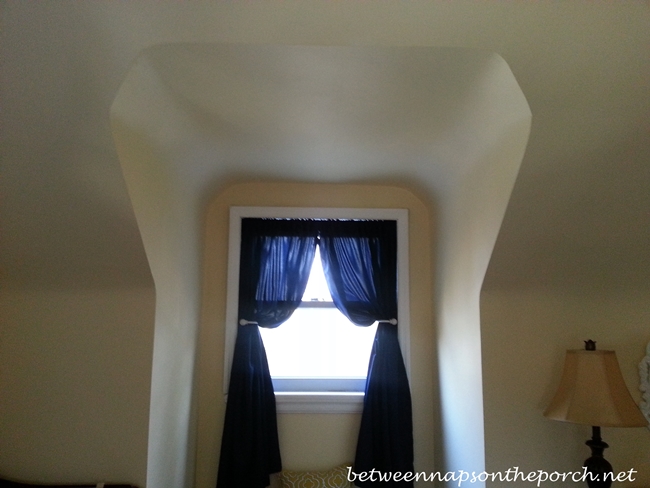 Many (maybe all—I didn't check) of the window sills throughout the home were marble.
Two of the three bathrooms had these wonderful old wall heaters and amazingly they still work! So, in addition to the central heat and air, you can make things nice and toasty when bathing. Love that!
I got a little chuckle because my modern toothbrush was too fat to fit inside the vintage toothbrush holder. If I lived here, I think I'd have to buy some of the flat skinny retro-looking toothbrushes to tuck inside.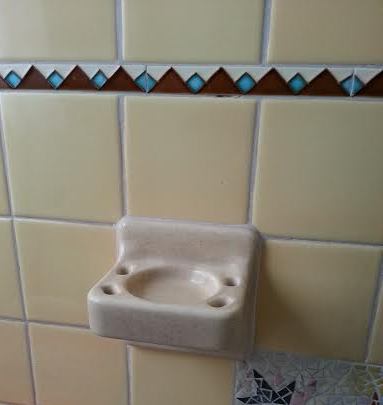 Two of the bathrooms were sporting laundry shoots for transporting laundry directly down to the laundry room. I asked my son and DIL if they do use them and they said yes, all the time. See what I mean…I was dying all week over all these cute vintage features! I know they thought I was crazy! lol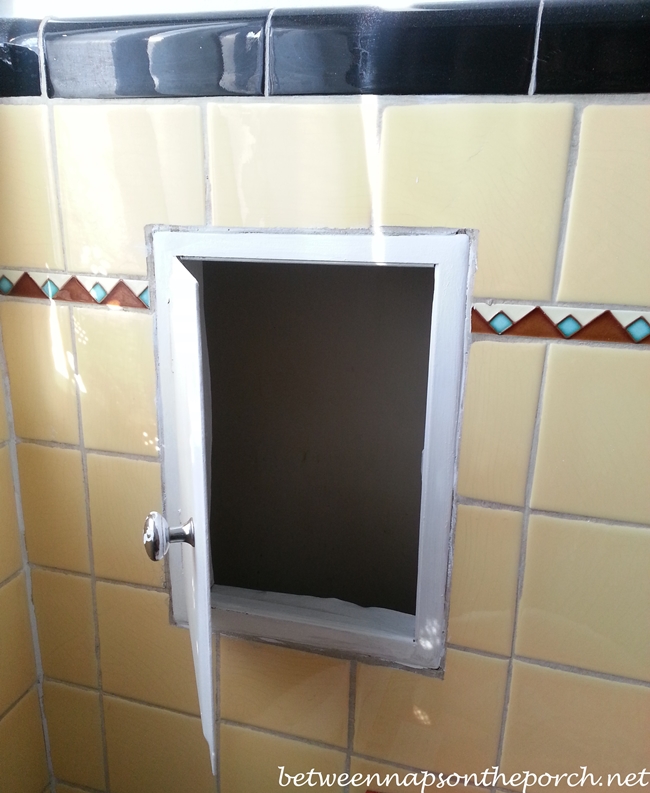 The basket-weave tile floors in one of the bathrooms was soooo beautiful!
Are you as completely smitten by older homes as I am? Do you ever wish you could be transported back to a simpler time and place? Okay, I don't want to give up my iPad but I could sure do with some of this vintage charm. Having my mail delivered right to my front door wouldn't be so bad, either! 🙂
*If a post is sponsored or a product was provided at no charge, it will be stated in post. Some links may be affiliate links and as an Amazon Associate, I may earn from qualifying purchases. *