It's Friday! How about another fun movie house tour? This weekend I'm taking you on a tour of my second favorite Christmas movie house, Rosehill Cottage from the movie, The Holiday. The home in Home Alone will always be my first "movie house" love. 😉 The Holiday, hit the theaters in 2006. Did you see it? I am a total sucker for romantic comedies but it was the cottage in the movie that completely stole my heart.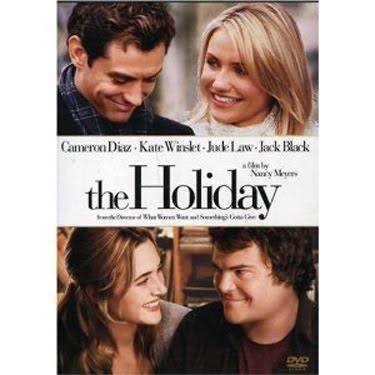 A Little Background:
The Holiday is a "romantic comedy" written, produced and directed by Nancy Meyers. Mrs. Meyers is amazingly talented..she also gave us the hit movies, Somethings Gotta Give and It's Complicated.
If you saw The Holiday, you can skip the part in italics below. If you didn't, here's a quick synopsis from Wikipedia:
The two main characters are Amanda (Cameron Diaz), a highly successful movie trailer editor in Los Angeles, and Iris (Kate Winslet), a lovesick society column editor for The Daily Telegraph in London. The story is set in motion when each of them suffers a heartache: Amanda discovers that her boyfriend has cheated on her, while the object of Iris' unrequited love announces his engagement at the office Christmas party. Seeking an escape, Iris proposes the home swap on the internet, posting an ad about her quaint cottage in Surrey in the British countryside. Her offer is eagerly accepted by Amanda, who lives in a luxurious home in L.A. but is stressed over her break-up. There are also hints that Amanda is a workaholic; there is a running gag that she imagines her life as being narrated by movie trailer narrator Hal Douglas.
At first, the swap seems uneven; Iris revels in the luxury of Amanda's L.A. home, while Amanda suffers a series of disappointments in Surrey. Things turn around for Amanda when she meets Iris' brother Graham (Jude Law). Both Amanda and Graham intend to have a one-night stand, but a romance develops. Things get complicated as only one day remains until Amanda's flight is scheduled to leave to L.A. While in the cab, leaving for the airport, Amanda realizes she loves Graham, so she runs back to the house, where she recently left Graham, and hugs him.
Meanwhile, Iris befriends movie composer Miles (Jack Black) and elderly Arthur Abbott; Arthur, it turns out, worked as a screenwriter during the Golden Age of Hollywood. The friendship between Iris and Miles turns romantic after Miles learns of his girlfriend Maggie (Shannyn Sossamon)'s infidelity.
So, basically Amanda (Cameron Diaz) and Iris (Kate Winslet) swap houses for a holiday. Iris heads off to California to stay in Amanda's huge, modern home, while Amanda takes a flight to Surrey in England to stay in Iris's centuries-old, cottage. One of the first glimpses we get of Iris's cottage is when Amanda stumbles across it while looking for vacation spots online. Yep, it's adorable!
Rosehill Cottage by day…
And at night~~~Big SIGH~~~
There's a cute cottage called Slatters Cottage in the Cotswolds and some folks think it was the inspiration for Iris's cottage. What do you think? Sadly, we'll never be able to rent Rosehill Cottage (you'll find out why soon) but it is possible to stay at Slatters Cottage.
Just before Iris takes off for California, we get a view of her quaint kitchen. What is it about painted cabinetry that just totally cozies a place up?! Can you imagine cooking on that tiny stove? As little as I cook, that would work pretty well. lol
Oh, to have a fireplace like that in my kitchen! Oh, to have ANY fireplace in my kitchen! Note the little spice rack on the wall and the other cooking sauces on the narrow shelf between the stove and the fireplace. Simple and sweet.
A little closeup of the area above the fireplace. The garland appears to be made from acorns.
Once Amanda arrives, she gets busy settling in. Here are a few views of the bedroom…the only one in this tiny house. I think the pillow in the chairs says, "Be the person your dog thinks you are."
Love the bed, love the bedding…LOVE!
It looks so much larger in this professional shot than it did in the movie! Notice how the mismatched furniture makes the room feel real and adds so much personality.
Remember Slatters Cottage…here's one of the rooms you can rent there. Those beds look similar, don't they?
Amanda has quite the time adjusting to a home that's heated via fireplaces only. She makes the best of it by snuggling down into the bed. Don't you just love the alcove over by the window with the bookcase?! It's those little things that make this home feel extra inviting.
When Amanda first arrives at Iris's, she takes a little tour of her new digs for the week. Her comment once she sees the bathtub is so funny, "THAT, will be interesting!" Look at that tiny sink!
And here she is later in the movie…making the best of it. Doesn't look so comfy does it?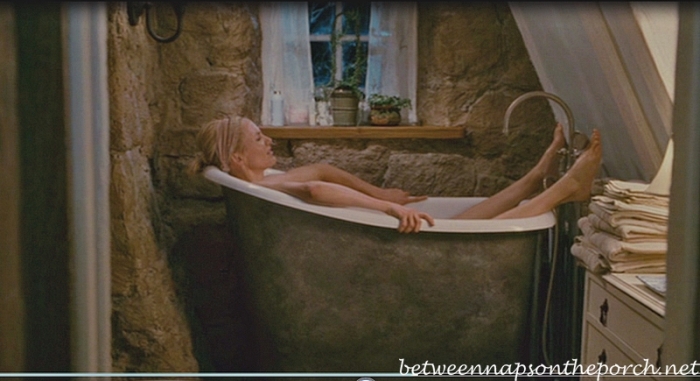 While staying in Surrey, Amanda meets Graham, Iris's brother who is played by Jude Law. He stops by for a visit not realizing Iris has rented out her cottage and left the country. Here are a few more views of the kitchen with Iris and Graham…
Amanda and Graham go out for dinner to this restaurant in the movie…
Wow! What an amazing place for a restaurant!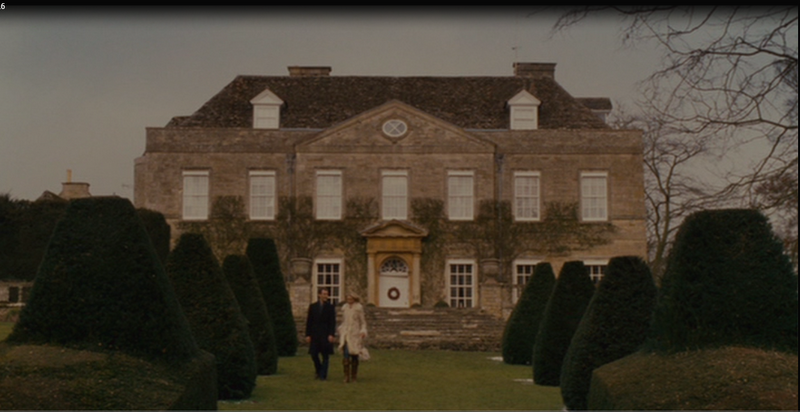 Back at Iris's house… This hallway from the kitchen leads to a room we see very little of in the movie.
Here's a little view of the foyer with a great bamboo hall tree. Amanda is freezing and is beginning to wonder about her vacation choice. She tries to warm up with an adult beverage.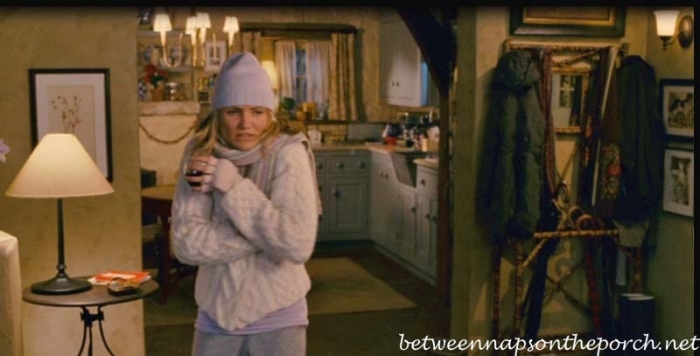 The front door to this cottage is so charming!
The other side of the front door…
We get a brief glimpse of the living room here and a view of Iris's china hutch in the kitchen…
Isn't it a wonderful space? I love that velvet ottoman/coffee table. Completely impractical and oh, so fabulous! It would last about a week at my house before something was spilled on it.
This house appears to be built of stone/rock, doesn't it? Hold that thought.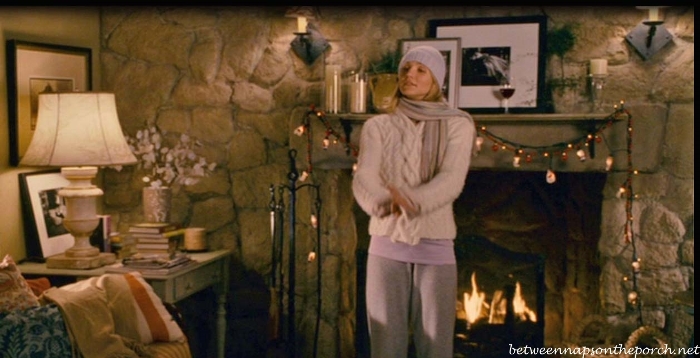 Here's another view of the living room looking toward the stairway. Amanda has had a bit too much to drink (can you tell?) and is singing and dancing…sort of.
From this angle, you can see the cute, little alcove across the room. How do you like the drum table between the chairs? What do you suppose is in the basket on the stair landing? Looks kind of like firewood…perhaps for the upstairs bedroom fireplace? On second thought, I think it's rolled up magazines. Notice the branch stairway handle. Ummm, are you getting a bit suspicious yet about this cottage? Is it seeming a bit too fairytale-charming to be real? If your answer is, yes…sadly you are correct.
It turns out this darling cottage that looks for the world like it's been here a gazillion years, was built in the space of a few weeks just for the movie! The village shots were filmed in Godalming and here you can see snow being "created" for the movie.
Rosehill Cottage was built over the course of about a week.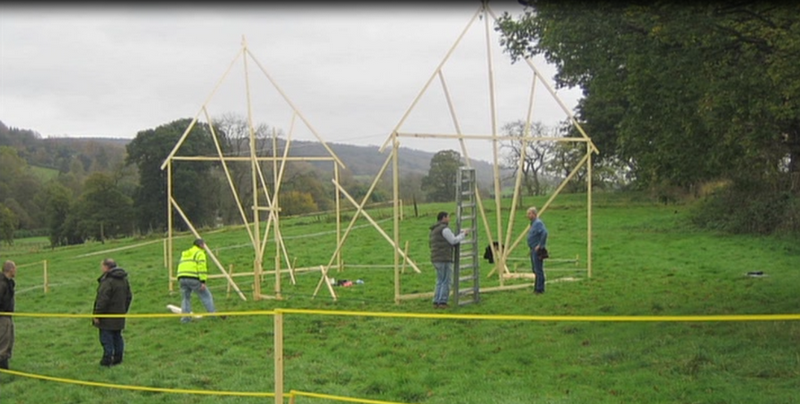 Though it appears to be made of centuries-old stone, it was actually constructed of wood and fiberglass. You can just see the beginnings of that "ancient" stone wall that encircled the home in the movie.
The landscaping took 4 weeks to complete…that's 3 weeks longer than it took to actually build the cottage.
See the tree on the right…yep, it's fake, too.
Even though the home was created just for the movie and was torn down once the movie was finished, I still adore it. It could be the blue-print for a real cottage, couldn't it?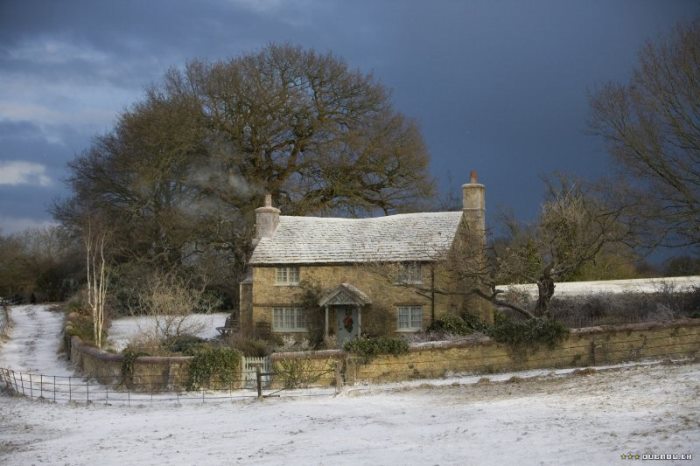 Thanks for coming along for the tour. If you enjoyed this post, appreciate so much if you would give it a Google +1. Thanks in advance!
You'll find tours to all your favorite movie houses (like the beach house in Something's Gotta Give, stately home in Home Alone and the Victorian in Practical Magic) here: Tour Your Favorite Movie House
(A few of the pictures in this post are from Cote de Texas with Joni's permission. Thanks, Joni!)
I post almost daily to Instagram. Follow Between Naps on the Porch on Instagram here: Between Naps On The Porch.
*If a post is sponsored or a product was provided at no charge, it will be stated in post. Some links may be affiliate links and as an Amazon Associate, I may earn from qualifying purchases. *