One of the chief components to ensuring a newly installed lawn takes root and establishes well is water, lots and lots of water. I was told by my landscaper and the sod farm to water it at least twice a day for the first two weeks. If we were having a really super hot August (thankfully, we're not) I'd probably have to water even more.
Fortunately, when I moved into this house 22 years ago, I installed an irrigation system. Unfortunately, I talked my husband into making it a DIY project. Yep, that's me–the crazy woman who tried to install her own irrigation system. Never, ever again!
Here's how that story went: My husband and I were attending a party with couples around our age and one couple was going on and on about how they had just installed an in-ground sprinkler system for their yard. Really? Installed it themselves? They must have said a half-dozen times how EASY it was! I guess I had some DIY spirit even back then because I left the party all excited, raring to go home and install our own irrigation system!
My husband wasn't near as excited but to make me happy, he went along with the idea. We were getting ready to do some serious landscaping and I envisioned a beautiful lawn that I'd easily be able to keep watered during our hot Georgia summers.
To make a long story short, our attempt to install our own irrigation system was a complete disaster. The machine we rented to dig the holes was huge and operating it was like trying to control a 500 pound gorilla. My husband was able to get all the trenches dug with the machine but at some point we realized we were definitely in over our heads. Neither one of us knew anything about irrigation systems.
We had bought all the piping and sprinkler heads we needed at a local hardware store but when we came to our senses and called in a professional, we returned all that unused product. Cape Cod Irrigation came to our rescue. Barry (owner of Cape Cod) was wonderful and he gave us a break on the cost since we had already dug so many of the trenches that would be needed for the system.
After allll that, over the years I have hardly ever used the irrigation system. Our weather has been a story of extremes. We've either had severe, severe drought where watering was prohibited, or monsoons where it definitely wasn't needed. For a while Georgia was in such a severe drought and water restrictions were so tight, we were prohibited from watering outside at all. At one point, we were on the verge of water rationing here in Metro Atlanta. The mayor of Atlanta (or was it our Governor?) was even telling folks to not flush every time–it was that bad! The rationing was already occurring in counties north of us. Imagine only having access to water a few hours each day! Amazing how things have changed. We are now in a surplus state, fighting flooding in some areas of our state.
Over the years I've turned on the irrigation system every so often just to see if it still works. It does. At some point, maybe during the tree removal process, one of the irrigation heads near the road was crushed. When I fired up the system recently to water all this new Zeon zoysia, I noticed one section didn't seem to be getting watered as well.
I checked online and discovered Cape Cod Irrigation is still in business. That says a lot about the company. So many companies tanked during the drought years, even the irrigation companies since you couldn't water the yard anyway. Cape Cod came out to service my system and installed a new head where the old one had been crushed. Several heads were starting to leak due to age. The heads had lasted 20 years, but it was definitely time to replace a few.
It wasn't very expensive to replace the leaky heads. Now everything is up and running beautifully again and the system is finally getting a good workout! As soon as my grass was installed, the rain we've been having ceased. Figures, right? I dread seeing my water bill next month, I'm sure it will be a shocker.
I called my water company to let them know that my usually low water bill was going to go up because I just had 16 pallets of sod installed. I asked them if they gave folks a break on the sewer portion of the bill when the usage is due to watering newly installed grass. The answer was a big fat, NO. 🙁
Oh well, I have to keep it watered, sod is too big an investment to not keep it watered. The good news is, once it's established, it's very drought tolerant, much more so than fescue. Fescue hates our hot Georgia summers. Update: since I started writing this post a few days ago, we've been getting a little rain. Yay!
It has been wonderful having the irrigation system and I haven't missed dragging hoses all over the yard. My system has 4 zones: front yard, foundation area, other side of the driveway and the backyard. The arrows below mark where the heads are located in the front yard. I had the system running at the time I took the photo below so you many be able to see the water spraying out across the lawn.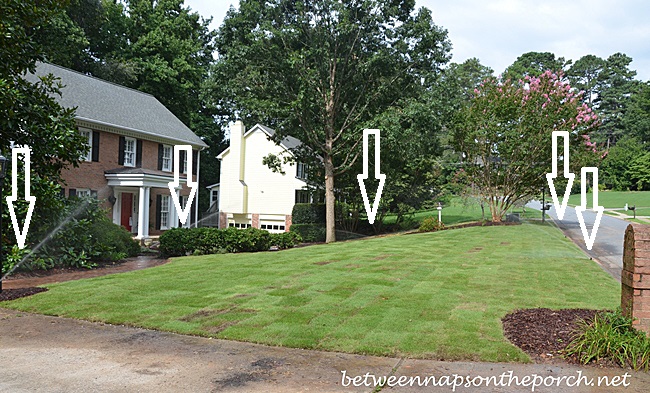 Do you have an older irrigation system? I had no idea my heads were leaking until my irrigation guy showed me. I wish I had taken a photo of how it looked when leaking. Since I didn't think to take a picture, I'll just describe it so if you do have an irrigation system, you'll know what to look for.
Down around the base of the sprinkler head, water was pooling all around the head itself. In the picture below with the new replacement head, note how the only water you see is being sprayed out. Water isn't pooling around the base of the head where it enters the ground. This is the way it should look. Apparently the seals (or whatever they're called) wear out over time. So, if you have an old system, check the heads to see if they are leaking. If they are, you'll want to replace the leaky ones before using it. All that pooling wastes water and your hard-earned money.
Rain Shut-Off Device…Love this thing!
Have you ever been out driving on a rainy day and passed a house or the entrance to a business or subdivision where the sprinklers were running? Dumb, right? Paying money to water the grass while it's raining!
This problem can be prevented with a rain shut-off device. Cape Cod Irrigation installed this one 20 years ago when they installed my irrigation system and it still works! I had my system scheduled to run yesterday but it didn't due to the rain shut-off device. Here's how it works: When it rains, water collects in the cup and a little sensor realizes it doesn't need to run. This saves you money if you have your system set to run automatically at a set time each day or week. When the water evaporates, the sensor detects that and your lawn will get watered when it's next scheduled to run. Love having this little device!
Sod Replacement
My landscaper came back out yesterday and replaced those questionable looking pieces of sod.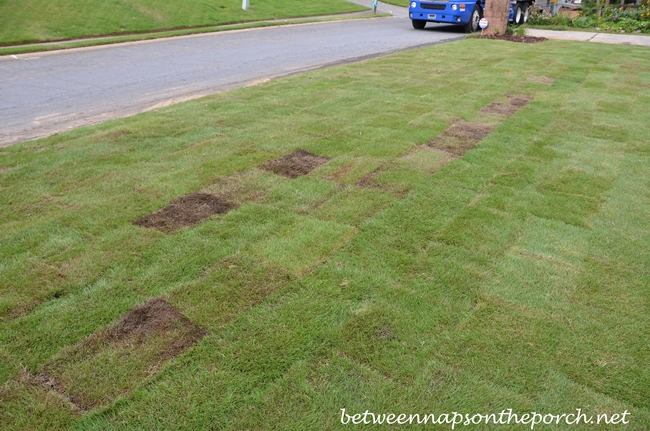 They appeared to have grass growing up through them, so they may have been okay. But since they were so ugly against the green of the rest of the grass, he went and ahead and replaced them. You can easily spot where they were replaced, the new pieces are a much lighter green.
Unfortunately, about 20-25 other pieces have this going on—see picture below. My irrigation guy noticed it first. It's nutsedge and depending on the type of nutsedge it is, it can be really invasive. The tuber types of nutsedge are really bad. You can't tell what type it is at this stage. When inspectors visit sod farms, if they find this, they shut that field down until it's eradicated. Google nutsedge and you can read all about it.
So, now my landscaper will be replacing those pieces, too. Kind of makes me sad because just as my yard is greening up and growing together, new pieces keep being brought out and the process begins again. The new pieces to replace the nutsedge will be installed this Saturday.
Ever had nutsedge in your yard? If so, how did you get rid of it?
Update: Just talked with the sod farm and they said a great product for fighting nutsedge is Certainty. Just Google Certainty for nutsedge and you'll find it. They are replacing my nutsedge sod pieces tomorrow, but I'm filing this info away in case it shows back up one day.
Be sure to stop in tomorrow. I have a fun little DIY project I'll be posting and I think you're going to like it. 🙂 You may even want to make some for your home!
*If a post is sponsored or a product was provided at no charge, it will be stated in post. Some links may be affiliate links and as an Amazon Associate, I may earn from qualifying purchases. *