Today as I was dusting and tidying up the office, I realized it's been a long time since I shared any photos of this room. Not a lot has changed in here, but I thought it would be fun to post a little tour of this space where I spend so much of my time.
Pssst: To view other rooms in my home, click on the category "Home Tours" at the top of the blog, then click "My Nest" where you'll find links to every room. Click on any room in that list, and you'll find quite a few posts there sharing pics or projects in that particular room.
Next to my living room, I think my office may be my favorite room in my home. I spend a lot of time in this space and it fits me like a well-loved sweater. It never feels like "work" when I'm in this space, probably because I do so many non-work related things here like watching movies, working a puzzle and reading a favorite book.
The one thing I don't do in here is watch TV. I just ditched cable TV a few weeks ago after my cable bill went up, yet again. I finally realized it was nuts to pay for something I was watching maybe 10 minutes a day, and some days, not at all.
Have I missed it? Not one bit–kicking myself for not disconnecting it a long time ago! Loving Acorn TV, though! If you have Acorn TV, check out Agatha Raisin…such a fun mystery series! I just recently read they are filming a second series/edition, so we'll get to see more of Agatha's antics very soon. lol
As you can see in the photo below, the desk space that's normally open in front of the windows, is currently occupied by a large puzzle board. I've placed another one of THESE wood floor/chair mats down so when I'm done working on a puzzle, I can just roll back over to my desk to check email or work on a new blog post.
The puzzle board doesn't stay up all the time, just when I'm working on a puzzle. It's easy to close back down to place the cover on top whenever I need to move it out of the way, or I've finished a puzzle. I love how it tilts and is adjustable to several different heights. Often I'll stand to work a puzzle if I've already been sitting a lot that day. This puzzle board is available here: Puzzle Board.
If you walked into the office and looked to your left, you'd find a cozy reading corner. The door in the photo below leads to a closet since this was once a bedroom.
It's a small walk-in closet that I was just able to squeeze (and I do mean SQUEEZE) an Ikea Expedit into. (Read more about that here: An Expedit Miracle." This pic is from when it was first installed. Now all the shelves are filled with craft stuff, camera supplies and other office-type stuff.
Back out in the office in this little reading corner, you'll find a small chest that's the perfect height to place beside a chair or bed. I dreamed this chest up in my head when I first converted this office from a child's bedroom to a home office. I had just about given up hope of ever finding it when I stumbled across it here: Chest. That was one happy day because it was exactly what I had imagined for this spot. It offers so much great storage and is so well made, even has dove-tailed drawers as shown in this previous post: Another Piece of the Puzzle.
Alongside the chest, I have a floral chair that gives this space some cozy cottage vibes. Home offices can feel so sterile sometimes, so I loved adding a bit of floral and ruffles to make the room feel more cozy and relaxing.
The vintage dress form was a find while antiquing over 20 years ago. It used to live in the guest room, but I moved it to the office to add a bit more playfulness to this room.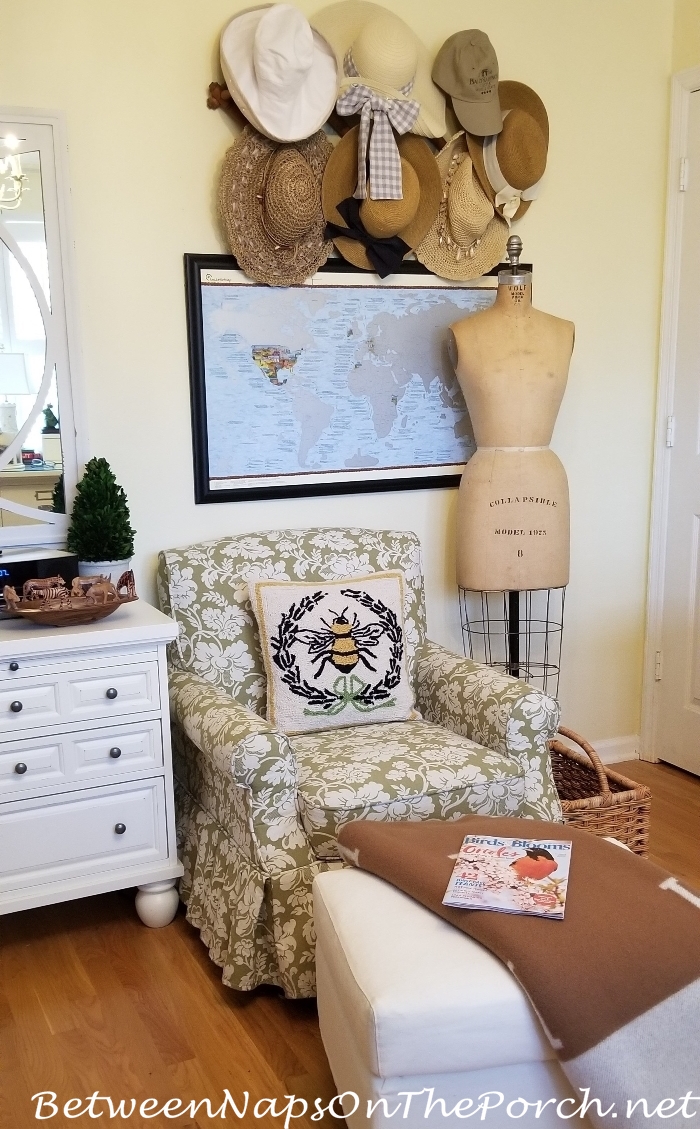 The vintage, wood hat rack that's hiding under all the hats was a find on Etsy. I love keeping summer hats here above my travel bucket-list map because they often accompany me when I travel. The one with the navy-blue bow…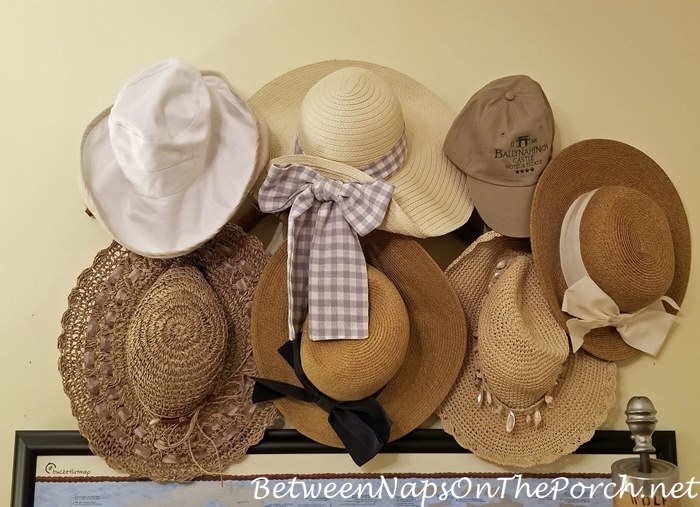 …kept the hot Moroccan sun at bay during a ride through the Sahara Desert.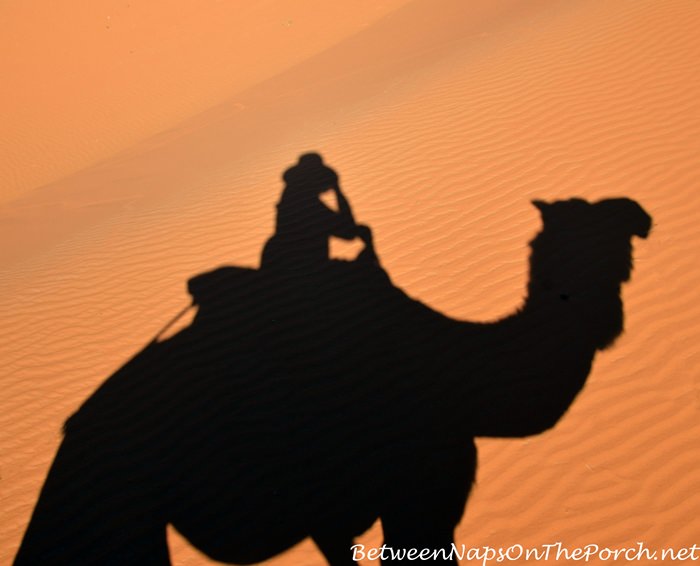 The one with the white bow traveled all through Egypt with me. Hats are a blessing in hot, sunny climates!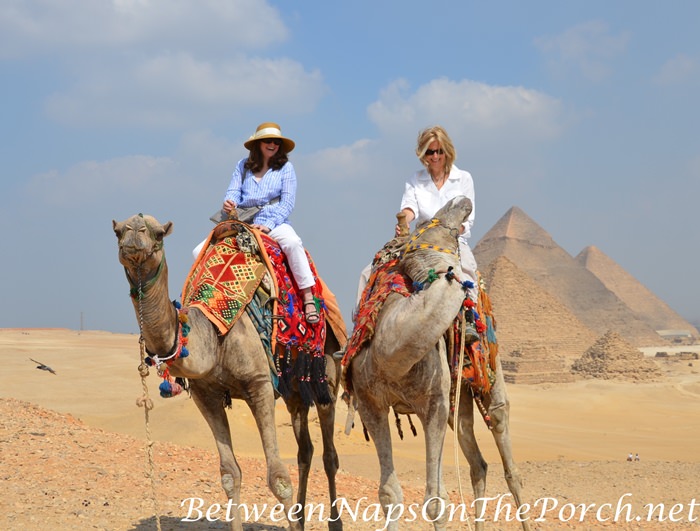 A month or so after I returned from Germany, I realized I had never scratched that country off my travel map. I should have been able to scratch off France, too–but all I saw of France when I pulled my achy, flu-ridden body from the bed and pulled back the curtains in my cabin, was the dock we had pulled up alongside. Technically, I've been to France, but I'm not scratching it off until I've really strolled its lovely streets.
Here's what was hiding under Germany when I scratched it off. I just realized I need to scratch off the rest of the gray part down one side of Italy because that's just water. Funny the things you don't see in person, but notice in a photo! This travel map is still available here: Travel Map.
Following on around the room, this wall holds a gift-wrapping station, purchased from Pottery Barn when I was first furnishing the office.
I've really enjoyed having it here. In addition to wrapping paper, it holds ribbon, gift bags, and greeting/birthday cards.
You can see it here at Pottery Barn, but it appears it may not be currently available: Gift Wrap Organizer.
Alongside the wrapping paper organizer, you'll find this sweet girl. I found her while antiquing, though she isn't an antique. I later discovered she's a Santos. I just love her sweet face. I like to think she's keeping watch over me as I work each day. ♥
Beneath the gift wrapping center, I have a well-used charging station. I don't know what I'd do without it, it always in use. In an earlier photo in this post, you may have noticed I was charging my iPad and Kindle.
It's also where I charge my Fitbit, Go-Pro, a couple of Bluetooth speakers and the headphones I use for listening to Audible books while vacuuming. I didn't have a Fitbit until a few weeks ago. When I discovered they had come out with a pink one, I was hooked. I like how it tracks the number of steps you take each day, even how much time you spend in each of the various sleep stages at night. I purchased my pink one here: Fitbit. If you're in need of a charging station, you'll find one similar to mine, here: Charging Station.
The bulletin board was looking pretty messy before I took these photos. This post gave me a good excuse to go through everything and clear off all the stuff that no longer needed to be there. I promise it's not normally this bare, or this neat! I found this board greatly reduced in a Ballard Designs outlet several years ago.
On the other side of my desk, you'll find two silly frogs holding up a few books. The frogs are from Pier 1 several years ago. The orange book is Bringing Home the Birkin by Michael Tonello. It's engaging, funny, shocking, inspiring, and a tale of survival.
In the book, Michael shares his crazy adventure of moving to another country (Barcelona) for a great job opportunity, only to have the job vanish right after he signs a year-long lease on an apartment. Yikes! What he does next is life-changing and takes him on a hilarious, wild journey. Once I started the book, I couldn't put it down. Check out the reviews here for more information: Bringing Home The Birkin.
Just on the other side of the books, you'll find the castle lamp I ordered while touring Belleek Pottery during a trip to Ireland.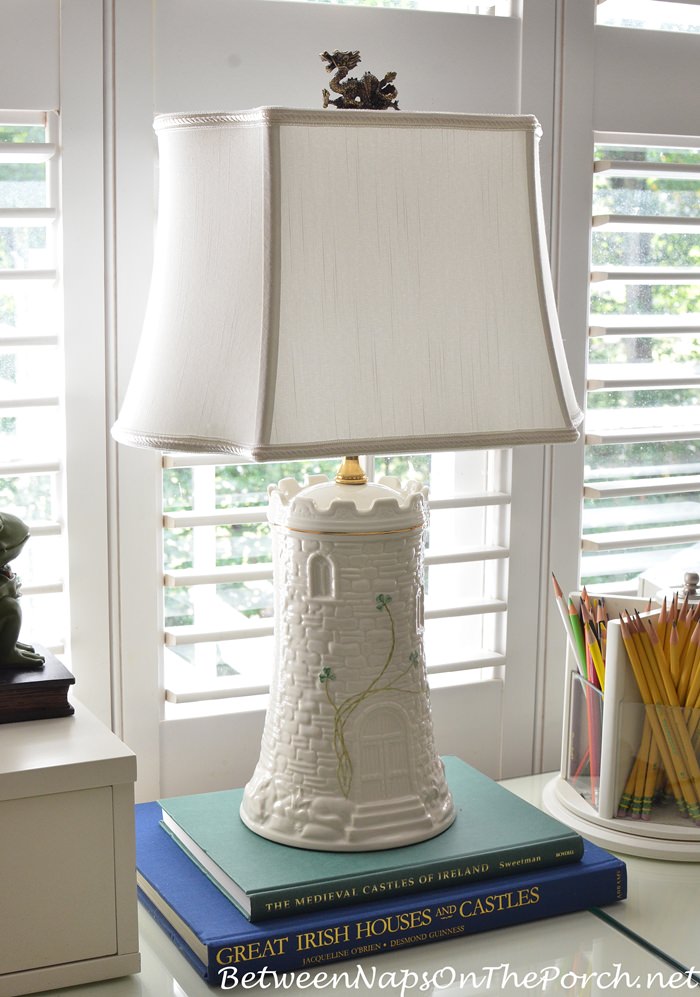 To the right of the lamp is where I currently have a puzzle board set up.
As mentioned, it's super convenient having it here since I can just roll right over when I'm in the mood to work a puzzle. Love doing that while listening to music, a podcast, or an Audible book. Sooo relaxing! The just-finished puzzle that's currently still on the board is available here: Puzzle.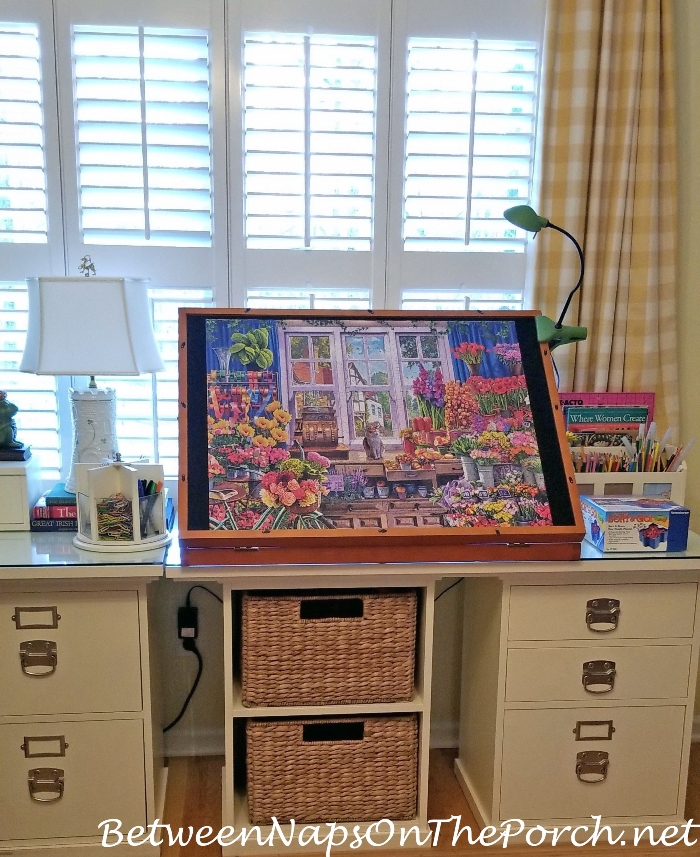 On the last wall, you'll find my little decorating library that's bursting at the seams. Before long I'll need to cull through and donate some books to make way for new faves.
Snapped this photo this evening after it had gotten dark outside. I love this little office, and though it almost killed me to take apart my son's old room when I created it, I've loved every moment I've spent here.
Which is your favorite room in your home? Do you have a favorite spot for reading or relaxing?
*If a post is sponsored or a product was provided at no charge, it will be stated in post. Some links may be affiliate links and as an Amazon Associate, I may earn from qualifying purchases. *