Welcome to the 571st Metamorphosis Monday!
Toward the end of 2017, after years of buying a new agenda/calendar at the start of each year, I decided to make a change for 2018. I decided to purchase an agenda cover that I could refill each year.
Having just fallen hard for Louis Vuitton after seeing one of their amazing antique trunks in an LV store while vacationing in Maui, I decided to go with an LV agenda in their historic monogram design.
I chose their larger GM size (A5 size) since I had no plans to carry it with me in my handbag during the day and wanted an agenda that would lay open on my desk 24/7. I also wanted the date squares/boxes on the calendar pages to be large enough to jot down appointments and other info on each date.
I was a little nervous about this purchase since I'd never had an actual agenda before and hoped I wouldn't regret it. After using it daily for a full year, I can unequivocally say, I love it! I especially love the "notes" section in the back where I can store those things I need to refer to on a regular basis. This agenda even accompanies me on trips when I travel. I consider this agenda to be one of my best purchases for 2017-2018.
Update: If you're interested in purchasing an LV agenda and would like to save a bit on the cost, you'll find them both New and Pre-loved in various sizes (including the size I have) here: Louis Vuitton Agendas. (Note: This is the only place I shop preloved since authenticity is verified AND you can return an item during the first 30 days if it's not what you expected or wanted as long as the tag is still attached.)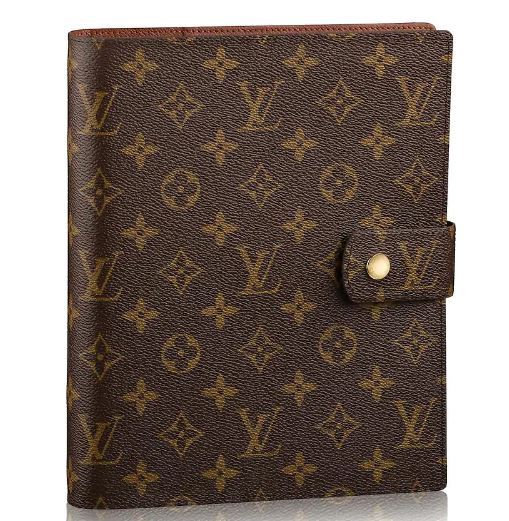 One of the reasons I love using my agenda so much is due to the layout/design of the calendar insert I purchased back in December 2017 when I bought my agenda. I found the cutest LV inspired insert here: LV Inspired Calendar Insert. Mel, the owner of the shoppe, has so many beautiful inserts for all kinds of agendas.
Besides the calendar inserts, I also purchased a bunch of her Louis Vuitton inspired dashboards. Dashboards are the little dividers you can place between the months of between other sections of your agenda. All the LV inspired dashboards were purchased in 2018. This is the one I used in front of January…love it so much! Please note, the colors of the agenda dashboards are much prettier/bolder in person. My camera doesn't really capture the vividness of the colors. The red is actually closer to a deep red than shown below.
Also, toward the front of my agenda, you'll find this Year-at-a-Glance calendar. I always like having one of these at the front of my agenda.
Here are a few more of the dashboard dividers you'll find sprinkled throughout my agenda. Again, the colors are much prettier/bolder than they appear in my photos. I think the protective finish of each dashboard created glare and that's why my camera had a hard time capturing the true colors.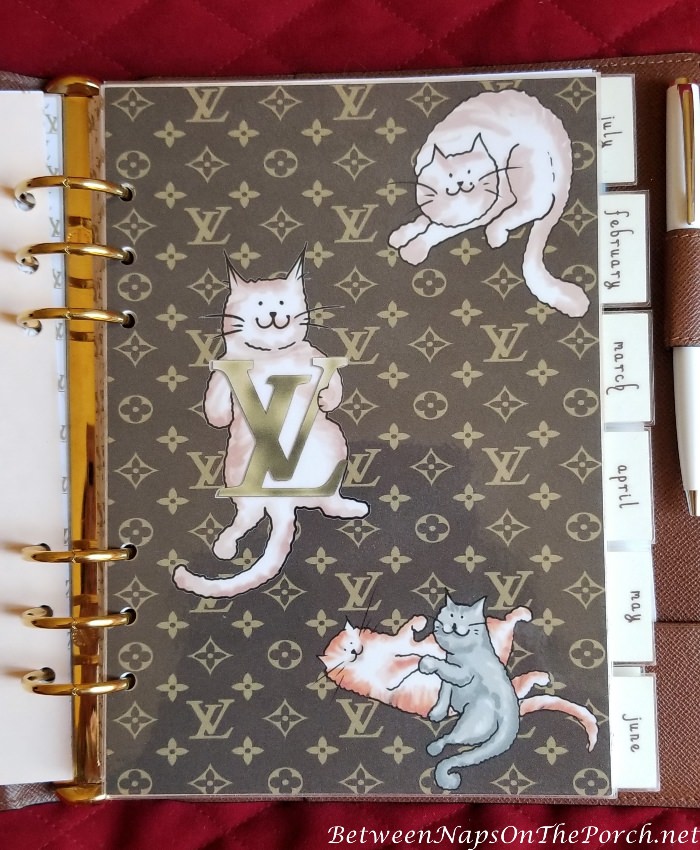 Love the individual monthly dashboards, again LV inspired.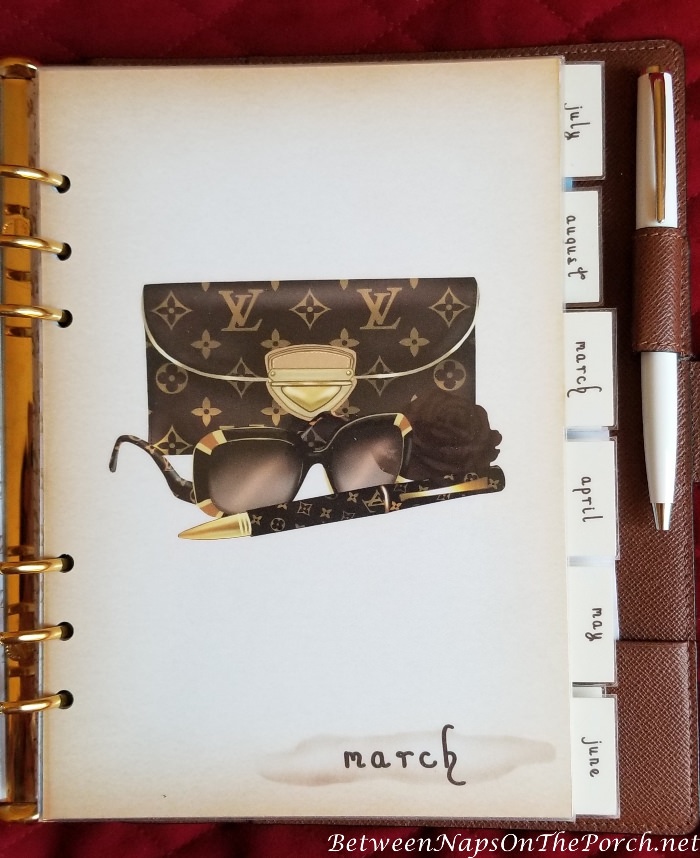 Sooo cute! Love that Speedy!
Several of the dashboards are designed where they can be personalized, like this one where Mel added my name to the little heart bag charm.
Arggg, love these dashboards so much!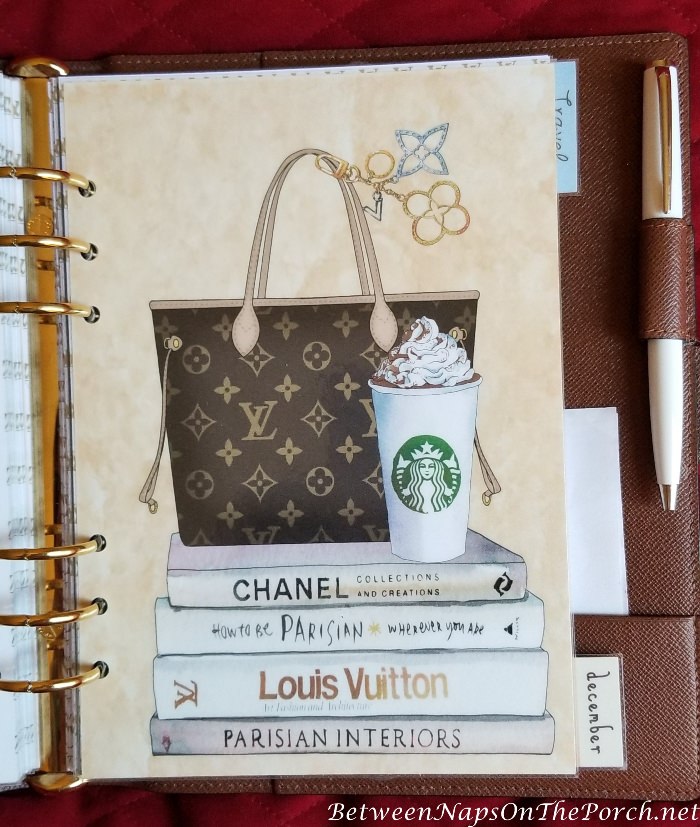 I'm a big Tiffany and Co. fan so I had to include a few of those dashboards in my agenda. A girl can dream, ya know?! 😉 Again, this dashboard is much, much prettier in person!
At first, I thought this might be a quote from the movie, Breakfast at Tiffany's, but it's actually a quote by Dorothy Parker. In any case, it gave me a giggle.
I just purchased this dashboard a few months ago right before Halloween. As you would expect, I placed it in front of the October section in my agenda. I LOVE the design and the colors are gorgeous in person! When ordering a dashboard, in most cases you get to pick the hair color of the woman depicted on each dashboard.
Had to get this one since I have a passion for travel these days. It's before the note section I created for Travel ideas in my agenda.
Mel makes the calendar inserts and the dashboards for different size agendas. You'll find her calendar inserts and dashboards here: Calendar Inserts and Dashboards.
Note: Look to the left of the page at that link to see all the different categories/items she has available. If you don't see one that you want, contact Mel by clicking on "Contact" at the top of her shoppe/website and she may be able to make it for you.
I purchased these stickers last year to use throughout my agenda and they add so much fun to each page. I had enough left over for this year, I didn't need to buy them again this year. You'll find these adorable stickers here: Stickers for Agenda or Calendar.
I also purchased these to highlight dental/doctor appointments: Stickers for Appointments.
Hope you find these ideas helpful as you plan ahead for 2020!
Happy New Year to you!
Looking forward to all the wonderful Before and Afters linked for this week's Met Monday!
Pssst: Did you know Between Naps On The Porch is on Instagram? You'll find me on Instagram here: Between Naps On The Porch.
Like to know when a new blog post is up and available to read? Subscribe for email updates, it's free and your email will never be shared.
Subscribe here: Subscribe for free post updates via email here: Subscribe.
Metamorphosis Monday
Metamorphosis Monday is a party that's all about Before and Afters. If you are participating in Met Monday, please link up using the "permalink" to your MM post and not your general blog address. To get your permalink, click on your post name, then just copy and paste the address that shows up in the address bar at the top of your blog, into the "url" box for InLinkz when prompted.
In order to link up, you'll need to include a link in your MM post back to the party so the other participants will have an opportunity to receive visits from your wonderful blog readers.
This party has ended, click button below for the links to all who participated.
*If a post is sponsored or a product was provided at no charge, it will be stated in post. Some links may be affiliate links and as an Amazon Associate, I may earn from qualifying purchases. *