Welcome to the 530th Metamorphosis Monday!
Spring has really come to Georgia. The Bradford Pear trees are in full bloom and the daffodils are beginning to wane, having bloomed for weeks now. Spring flowers and warmer temps have a way of motivating us to get going on some of those repairs and projects we've been putting off.
A few months ago I shared how mice or rats had decided to create little doors in the screen on the screened-in porch. They were trying to camp out in my grill on one of the decks and were using the porch as a route to the grill. Thankfully they didn't do any damage on the porch other than to the screening and screened doors.
I gave away the grill and stuffed all the holes they had created in the screening with paper, just to make sure they were really gone. The paper remained and no new holes appeared this winter, so it was time to get busy repairing the damage.
The screens in the windows were replaced a few days ago. While I was having that done, I discussed another issue with my repair guy. When my porch was built, I remember the contractor telling me that he would install all my screens on the inside of the porch so they would be easy to reach if they were ever damaged and needed to be replaced. That sounded great since the porch is two stories up.
But it's not so great in the fall when the trees lose all their leaves and the leaves get trapped between the balusters and the screening. That requires unscrewing each of the screens and lifting them out to get rid of the leaves.
My repairman suggested using shorter molding, saying that would make it easier to blow out the leaves and they wouldn't get trapped so easily. I liked that idea, but I'm not really happy with the molding he chose. It looks great in these photos, but it's metal and it looks like metal up close. Probably no one else would notice, but it's kinda bugging me. Maybe I just need time to get used to it.
The other thing I don't like is now there's no molding running in front of the porch supports and it looks really unfinished where the porch flooring meets the supports. Quarter round can't be added to the new molding because it has a little lip on it…sort of its own quarter round built into it.
So this week I'm going to see if I can find short baseboard, but without a lip and preferably something that just looks nicer than this metal molding. So this may get redone. Maybe I just need to caulk where the porch and support columns come together…not sure. Either way, I need to do some sanding and touch up painting out here.
A Lamp for the Console
The other little project I've been working on is finding a lamp for the console table in the dressing room/exercise space off my bedroom.
I have this thing for brass candlestick lamps. Many years ago a local lamp manufacturer would periodically hold warehouse sales. During that time I collected quite a few of their beautiful candlestick lamps. I have them all throughout my home.
A few months ago, I moved the lamp you see below from my upstairs family room to a different spot in my home. (Photo below is from THIS previous post.)
I placed it on the far right end of my desk here in the office. I had never had a lamp in that spot and one day realized how nice it would be to have one on that end of the desk.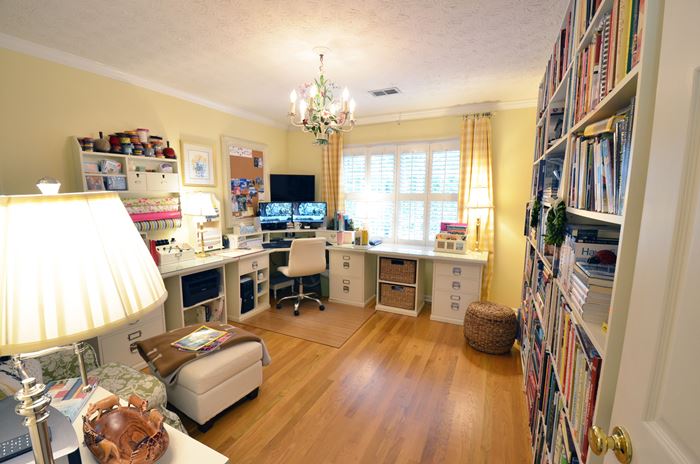 Since I needed to replace the one I took from the family room, I searched on eBay for another brass candlestick lamp. They are impossible to find in the stores these days. I love the height they add to a space and how they don't take up a lot of room on a chest or table since the shade is higher up than on a regular lamp.
I ended up finding this beautiful Baldwin Brass lamp. It was exactly what I wanted, only it was lacking a shade. I have been forgetting to shop for one.
This weekend I once again stole the upstairs family room candlestick lamp (the one I purchased on eBay) to place here on the console in the dressing room. So now I need another candlestick lamp for the upstairs family room! lol
Since I'd never gotten around to buying a shade, I took a shade from one of the other candlestick lamps I have elsewhere in the house. I've ordered a new shade and it should arrive today, so I'll make the swap once it arrives.
A brass lamp may be a little fancy for this area, but that's okay. If I happen to run across a more casual style candlestick lamp online or while I'm out shopping, I may put this one back on the chest in the upstairs family room. But for now, this one is working out very well here.
Psst: In case you're wondering why I leave my shoes on my bike, there are three reasons: 1. It's easier to get onto the bike it's pretty far up if they are left on the bike. 2. I'm hoping it will prevent the cleats/pedals from wearing out and having to be replaced anytime soon which happens when you're popping them in and out of the pedals. 3. I don't have to worry about accidentally forgetting and walking on the hardwood floors since cleats can damage wood flooring.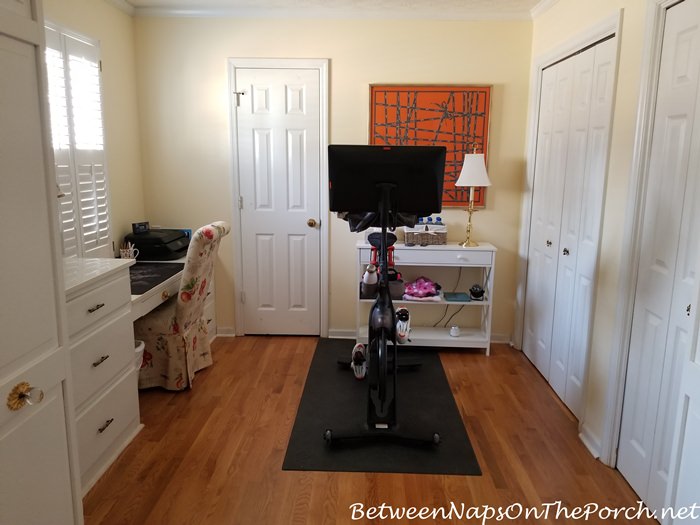 Here's how the lamp looks here in the evening. It gives me the light I need without having to turn on the overhead lighting. I'm not a fan of overhead lighting and avoid using it unless I'm cleaning or doing some task where I really need a lot more light.
So that's what I've been working on this week. I'll be sure to share the porch updates once they are done. Hopefully, that won't be much longer.
How is your week going? What spring project(s) do you have going in your home?
Pssst: You'll find Between Naps on the Porch on Instagram here: Between Naps On The Porch on Instagram and on Facebook here: Between Naps On The Porch on Facebook.
Metamorphosis Monday
Metamorphosis Monday is a party that's all about Before and Afters. If you are participating in Met Monday, please link up using the "permalink" to your MM post and not your general blog address. To get your permalink, click on your post name, then just copy and paste the address that shows up in the address bar at the top of your blog, into the "url" box for InLinkz when prompted.
In order to link up, you'll need to include a link in your MM post back to the party so the other participants will have an opportunity to receive visits from your wonderful blog readers.
Feel free to link up Before and After posts that are home, gardening, decorating, crafting, painting, sewing, cooking, fashion, travel or DIY related. Please do not link up to the party if you're only doing so to promote/sell a product.
To those linking up, if you notice a shop or online store linking up to sell products (yes, unfortunately, that happens) please let me know so I can remove their link and block them from participating in future parties. No one wants to visit a link expecting a Before and After, only to find a spam link to an online business/store.
This party has ended, click button below for the links to all who participated.
*If a post is sponsored or a product was provided at no charge, it will be stated in post. Some links may be affiliate links and as an Amazon Associate, I may earn from qualifying purchases. *