Welcome to the 532nd Tablescape Thursday!
Today I'm wishing I had a table that seated 12. I'd love to share all 12 place settings of this pattern with you for this week's Tablescape Thursday.
I had planned to place this table in the breakfast room, but at the last minute I decided to set it here in the dining room.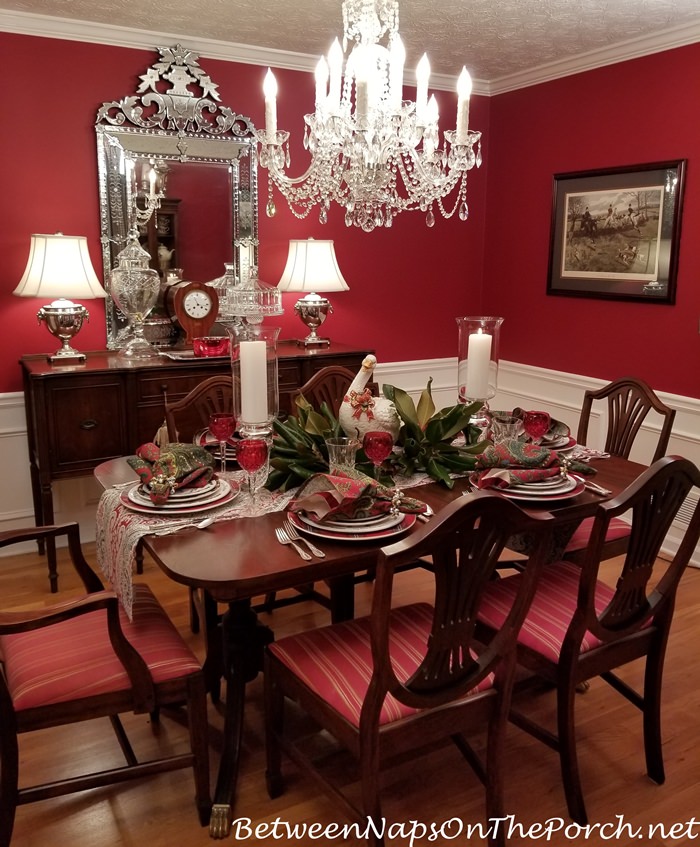 I took these photos late, late last night. Picture taking was delayed a bit while I polished the silver-plated lamps on the sideboard. They hadn't been polished in quite a while and badly needed it.
I wish there was a way to have them sealed so they would never tarnish again. They need it yearly and I'm worried I'll wear away the silver. I can tell that's starting to happen on a few of the raised edges which doesn't look bad since it kinda accents those edges. But I don't want the same thing to happen all over the lamp. Any recommendations?
A sassy goose has joined us for this Christmas celebration. She heard it's a 12 Days of Christmas dinner party and she's here representing the "6 Geese a-laying." Wish I had thought to add a little greenery/berries inside the lanterns around the base of each candle. I always think of these things after the photos are taken. lol
The green and red table runner is from Marshalls a couple of months back. I'm not normally a big fan of table runners, not sure why, but I do like how this one works in this tablescape.
Miss Goose is surrounded by magnolia leaves, cut from the magnolia tree in my front yard late yesterday evening. This is the time of year the branches start taking over the front walkway, perfect timing for a little Christmas decorating.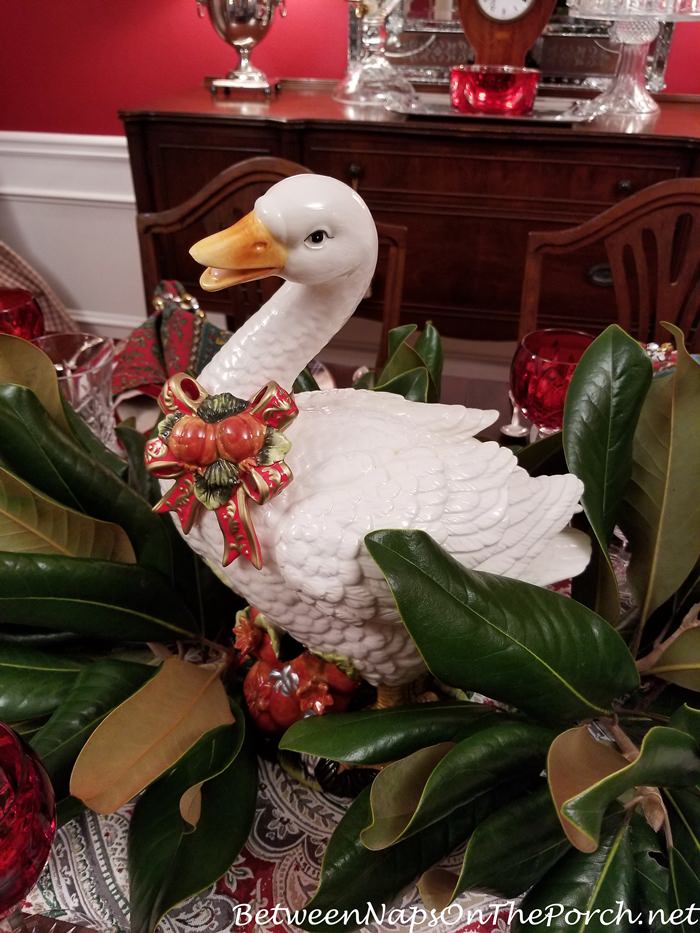 Paisley napkins are layered over red velvet-edged linen napkins. Velvet-edged napkins are from Pier 1 several years ago. Can't remember now where I found the paisley napkins, was probably Marshalls, HomeGoods or Tuesday Morning.
The water glasses are Waterford in the pattern Araglin. The red ruby hock wine glasses are also Waterford. The silver is Towle, King Richard–the pattern I chose back in 1978 as a bride-to-be.
The plaid salad plates at each setting are a recent purchase. They are currently on sale with free shipping here: Plaid Salad Plates. Use the code JINGLE to get 25% off.
Many years ago I was out antiquing and I came across a set of Valerie Hill Parr's 12 Days of Christmas dinnerware. Unfortunately, the dealer only had days 1-8 of the set. I purchased all she had and from time to time checked on eBay hoping to find days 9-12.
A couple of times I came close to completing my set but there was always a glitch–like the seller was selling each piece individually, making the cost way too high…or the set included the pieces I already had.
I eventually forgot about looking, the search seemed futile. Then the nicest thing happened a few months ago! I received an email from Heather, a lovely BNOTP reader, letting me know she had tripped across the pattern on eBay. What?! I was on it!
The seller had all 12 Days and was selling each place setting individually. I snapped up days 9-12 without hesitation. After many years of waiting, at last my pattern was complete!
If you would like days 1-8, it appears they are still available. You'll find them here: Valerie Parr Hill's 12 Days of Christmas, Days 1-8.
Thanks so much to Heather for remembering I needed days 9-12 and emailing me when she saw the pattern on eBay. I'm thrilled to finally have this pattern completed!
In this week's table, I'm sharing the newly acquired pieces–days 9-12. I'm also using two other "days" (Days 6 and 8) in this table for six.
I went with a lot of layers this week. We have tartan chargers as our base. These chargers are currently on sale here: Tartan Chargers. That's followed by the dinner plate, a plaid salad plate and the salad plate from the 12 Days of Christmas pattern is acting as our "appetizer" plate.
On the 9th Day of Christmas…
Nine Ladies Dancing…
On the 10th Day of Christmas…
10 Lords a-leaping…
On the 11th Day of Christmas…
11 Pipers Piping…
On the 12th Day of Christmas…
12 Drummers Drumming
I pulled two more settings from my previous collection to complete this table for six. I had to use the 6th Day or Miss Goose would not have been very happy with me. 😉
On the 6th Day of Christmas…
6 Geese a-laying…
And finally…
On the 8th Day of Christmas…
8 Maids a-milking…
If you would like to see the other "days" for this pattern, you'll find a previous post where I set a table with this 12 Days of Christmas pattern and shared days 1-8 here: 12 Days of Christmas Tablescape.
Thanks again to Heather for making this tablescape possible! Merry Christmas and Happy Holidays!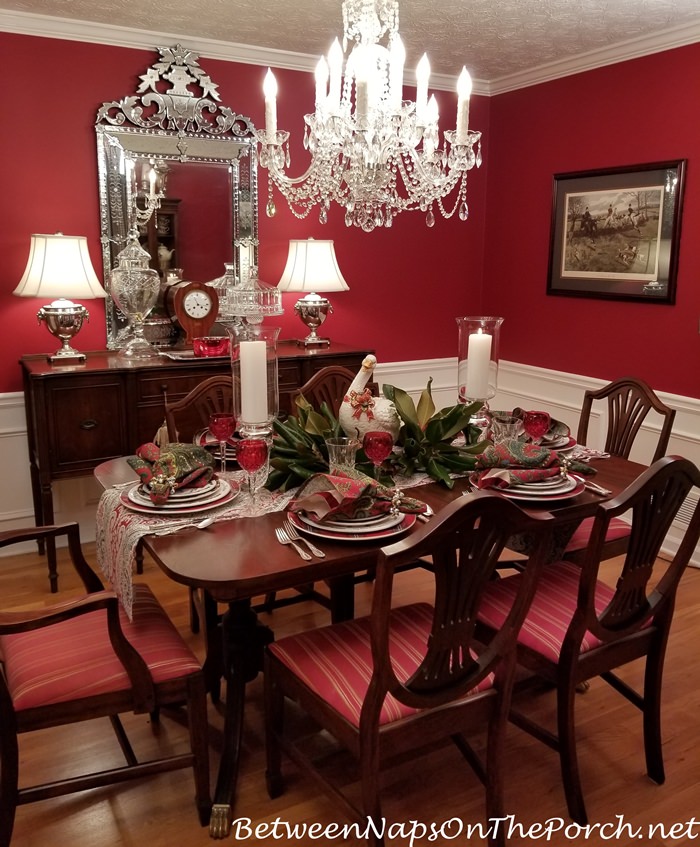 Looking forward to the beautiful tables linked for this week's Tablescape Thursday!
Pssst: I post almost daily to Instagram. Follow Between Naps on the Porch on Instagram here: Between Naps On The Porch.
If you enjoyed this post, subscribe for free email updates when a new post is up here: Subscribe for post updates.
Tip: Please do not use a Hotmail e-mail address to subscribe if you can avoid it. Hotmail is notorious for filtering out perfectly good emails. I've found Gmail to be awesome, it's what I use and it's free! Plus, they don't filter out good e-mails in error.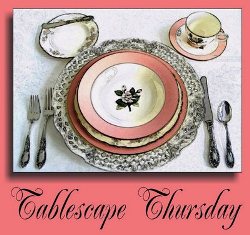 Tablescape Thursday
If you are participating in Tablescape Thursday, please be sure to add your permalink below, and not your general blog address. To get your permalink, click on your post name, then copy and paste the address showing in the address bar, into the "url" box when you link up.
You'll need to include a link in your post back to the party to link up and participate. That's so visitors to your blog will be able to find the party and the other Tablescape Thursday participants. Requiring a link back also prevents businesses and scammers from linking up to sell their products. (Yup, that really happens, unfortunately.)
*If a post is sponsored or a product was provided at no charge, it will be stated in post. Some links may be affiliate links and as an Amazon Associate, I may earn from qualifying purchases. *