Welcome to the 466th Tablescape Thursday!
While away in Ireland, I created a post sharing a few pics inside the Belleek Pottery Gift Shoppe located inside the Belleek Pottery Factory in County Fermanagh. If you missed that post, you'll find it here: Shopping in Belleek Pottery.
Today, I thought we would go back inside to tour the "factory." I put factory in quotes because it's not very factory-like at all. Far from it! Unfortunately, I had trouble hearing much of the presentation and don't have the greatest memory anyway, but hopefully the photos in this post will give you some idea how Belleek Pottery is made. I was shocked and delighted to discover in the year 2017, everything is still crafted carefully and painstakingly by hand.
This might be a good time to answer a question I've been asked quite a bit: if we toured the Waterford Factory on this trip. No, we did not visit the town of Waterford. Our guide told us that Waterford Crystal is no longer made in Waterford, instead, it's all being made in Slovenia, except for a few specialty pieces like awards, etc…We did see a lot of Waterford Crystal available in the stores throughout Ireland, though.
Below our guide was explaining the process for making the mold for each piece.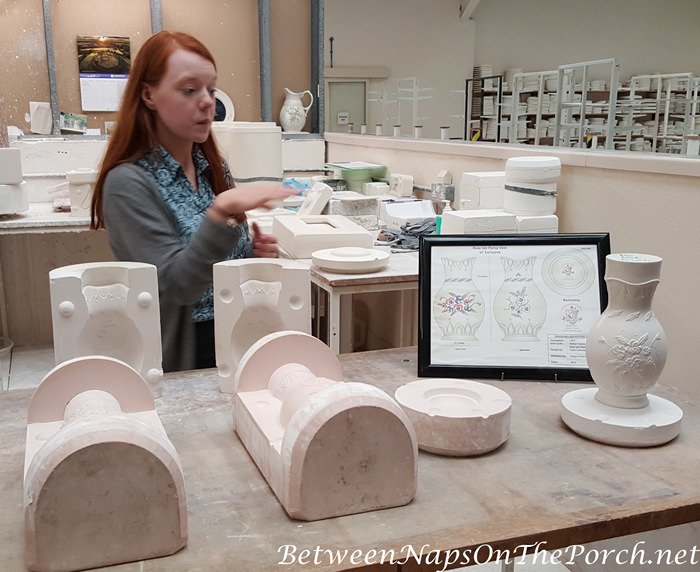 Belleck Pottery is more than a factory. In fact, it doesn't feel or look like any factory I've ever been in. It's feels much more like an art studio or perhaps the art department in a large university.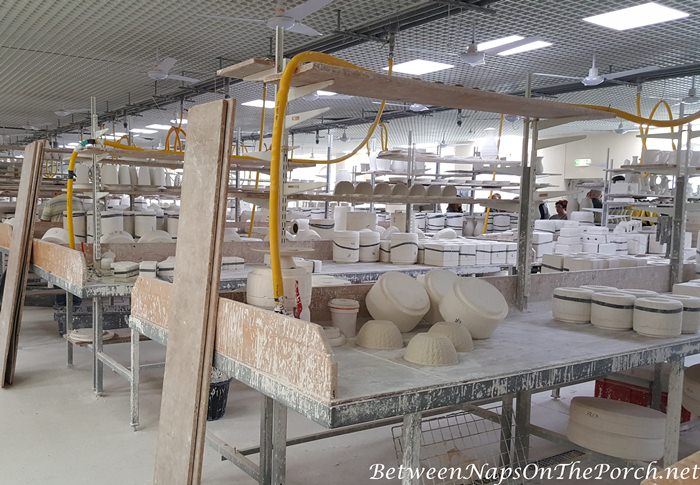 All throughout the building you'll find artists working meticulously and with great care on a beautiful Belleek Pottery piece.
It was wonderful getting a glimpse of each craftsman at work.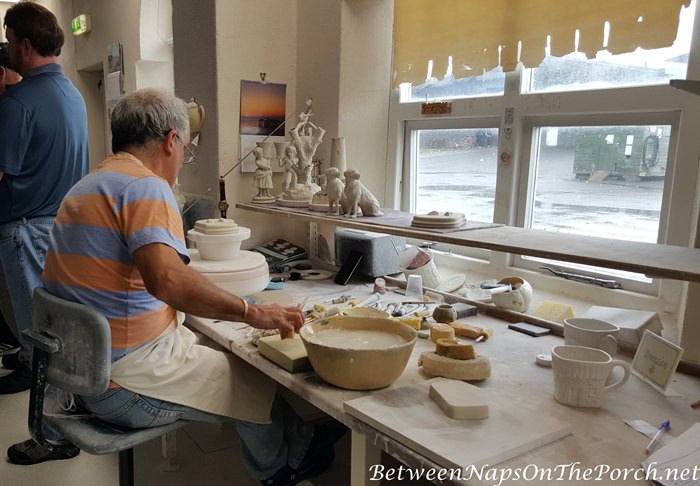 You can see the care and pride that goes into each piece of Belleek Pottery.
If a piece is found to have a flaw, it's never made available for sale. Instead, it will be broken and recycled. So you'll never find Belleek "seconds" available for purchase.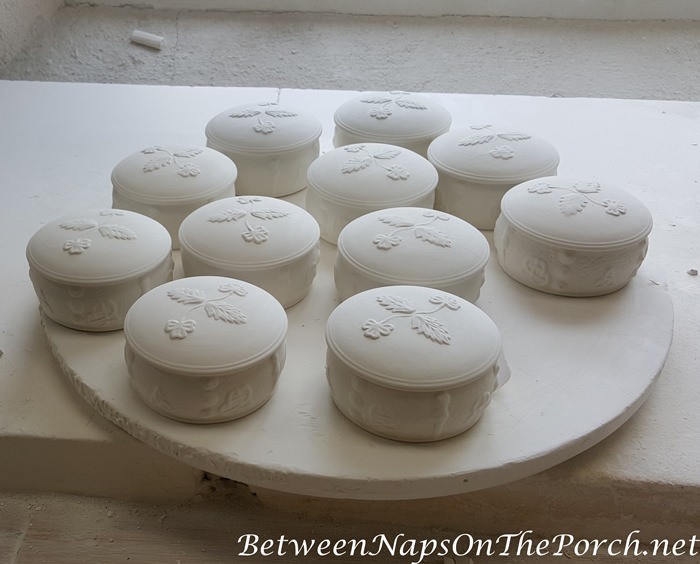 It was fascinating watching how the delicate Belleek baskets are made, each little basket strand being carefully laid into place.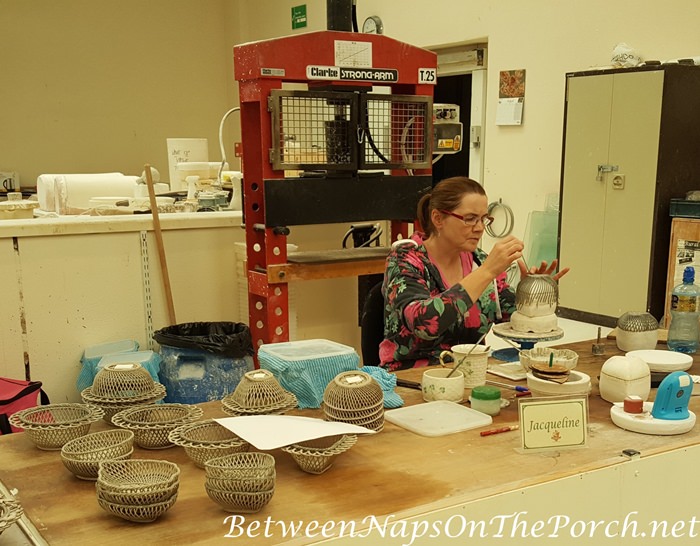 In this photo, you can see the little individual strands of pottery (on the white board) that are used to make the bowls. Each one of those is placed by hand in a slanted position, overlapping/crisscrossing to create the finished bowl shown below. And oh, my gosh–the process for making each delicate flower…just amazing!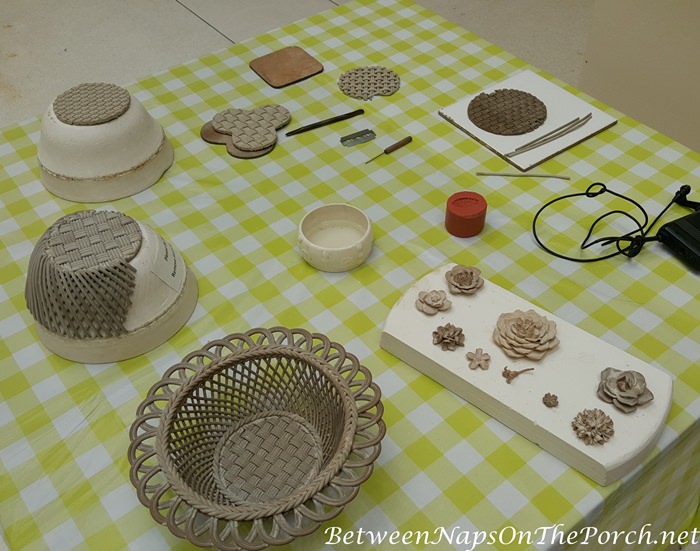 Here's a few finished pieces waiting to be painted/fired and one piece already completed. Love the little floral and butterfly embellishments. No wonder Belleek Pottery is so well-loved!
Some finished pieces…
This Belleek artist was making flowers in various sizes. You can see some of the flowers on the lamp bases on the right.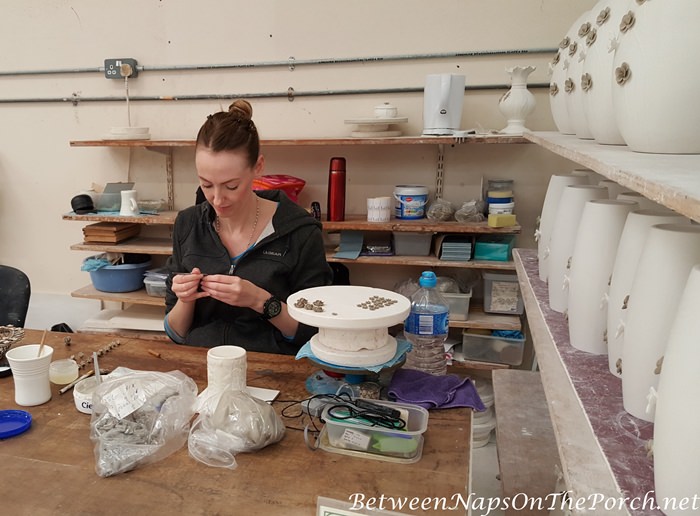 This artist was hand-painting sweet shamrocks.
When the pieces are complete, they are placed on long racks and this large kiln slides on a track over the racks. You can just barely see the shelves/racks on the right in the photo. So instead of attempting to roll the racks into the kiln which could lead to breakage, the kiln slides over/atop the racks of pottery.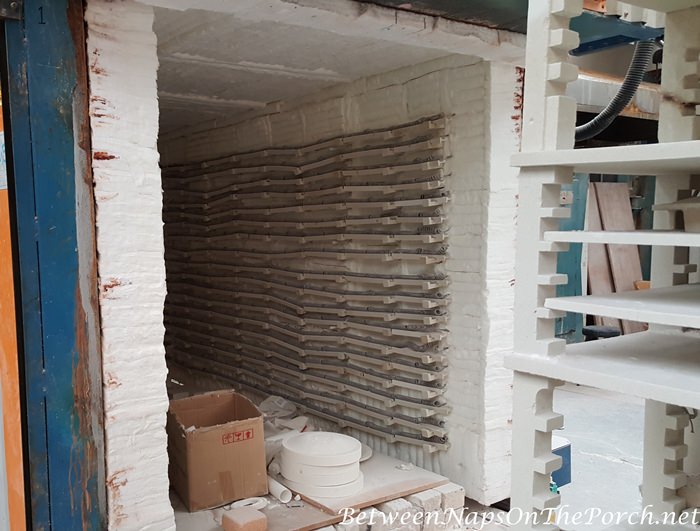 Here's a lamp vase before painting/firing.
Here's how it looked inside the gift shoppe where it was available for purchase.
A closer view…so lovely! All those little flowers and butterflies were hand-crafted and hand-painted!
A few more scenes from the gift shoppe…
Beautiful!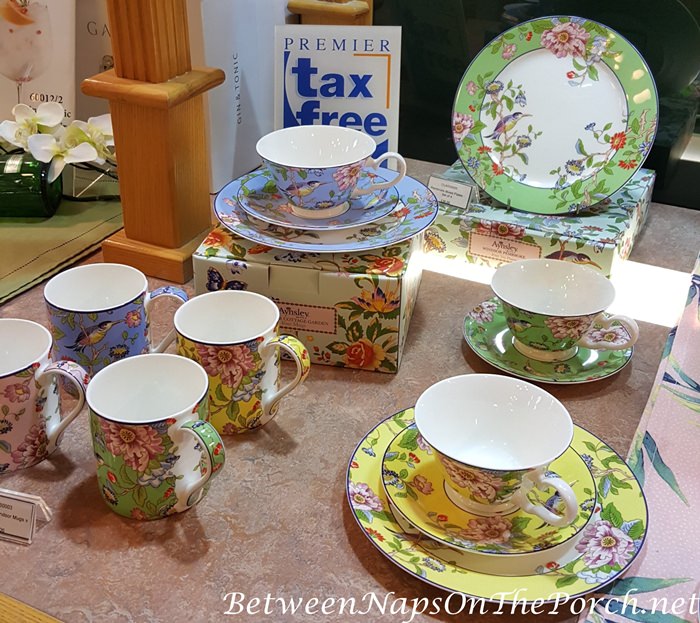 To see the three items I purchased during my visit, check out this previous post: Shopping in Belleek Pottery. Everything is being shipped and should arrive in 5-7 weeks. I think I know where I'll be the placing the castle lamp I purchased during this "Deluxe Castle Tour" to Ireland.
I'm hoping it will work on the desk here in the office, replacing the one I currently have in front of the windows or maybe the brass lamp near the wrapping paper organizer. If not there, perhaps I can find another location for it in this room. I'd really love to have it here in the office where I spend so much of my day.
Update: Just noticed this lamp is also available HERE and HERE.
The little green shamrock vines climbing up the castle should work well with the green floral pattern of the chair in my reading corner. Looking forward to sharing where that lamp ends up, once it arrives!
Looking forward to all the tables linked for this week's Tablescape Thursday!
Pssst: I post almost daily to Instagram. Follow Between Naps on the Porch on Instagram here: Between Naps On The Porch.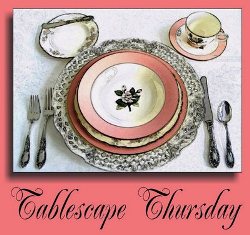 If you are participating in Tablescape Thursday, please be sure to add your permalink below, and not your general blog address.To get your permalink, click on your post name, then copy and paste the address showing in the address bar, into the "url" box when you link up.
You'll need to include a link in your post back to the party to link up and participate. That's so visitors to your blog will be able to find the party and the other Tablescape Thursday participants. Requiring a link back also prevents businesses and scammers from linking up to sell their products. (Yup, that really happens, unfortunately.)
Please Note: After 1 week, party links are still available to view by clicking on the blue button below.
*If a post is sponsored or a product was provided at no charge, it will be stated in post. Some links may be affiliate links and as an Amazon Associate, I may earn from qualifying purchases. *