Remember the ice storm we had a couple of weeks ago–you know, the one we had right before we had two earthquakes? Yeah, life's been interesting around here lately.
I kept worrying during the storm that my magnolia would lose its top for the third time. Ice storms are its only nemesis.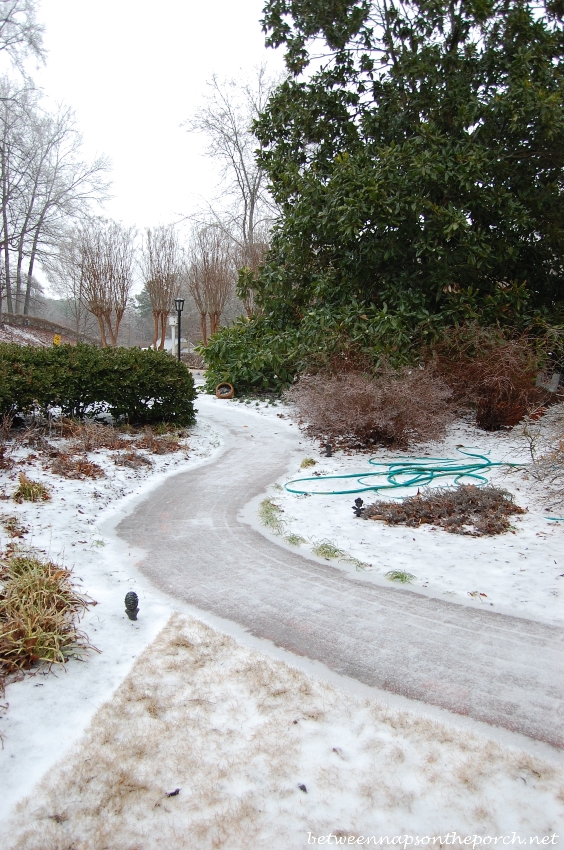 It fared much better this time, only lost one small limb. Not bad at all.
My clay pots on the deck normally weather our winters just fine. Not so, ice storms. Looks like I'll be shopping for a new clay pot this spring. Fortunately most of them were already in the garage where I've been trying to over-winter a few plants.
During the ice storm I ventured outside and braved the ice to take a few pics, and got fussed at by you! Thanks for caring enough to fuss at me! 😉 Remember this pic I shared of one of the boxwoods topiaries out front. I was really worried if it would be okay because it looked like a boxwood popsicle.
Both boxwoods did great except the strangest thing occured. I noticed a few days ago, it looked like someone had taken the clippers to them. Some branches in front were literally sliced right off. They were just sort of hanging there and when I lifted them away, it left a bare spot. You can see down to the stem, now. Ummm, how did that happen?
The boxwood topiary on the other side had the same issue…a random chunk of boxwood cut out right in front. It was a mystery until….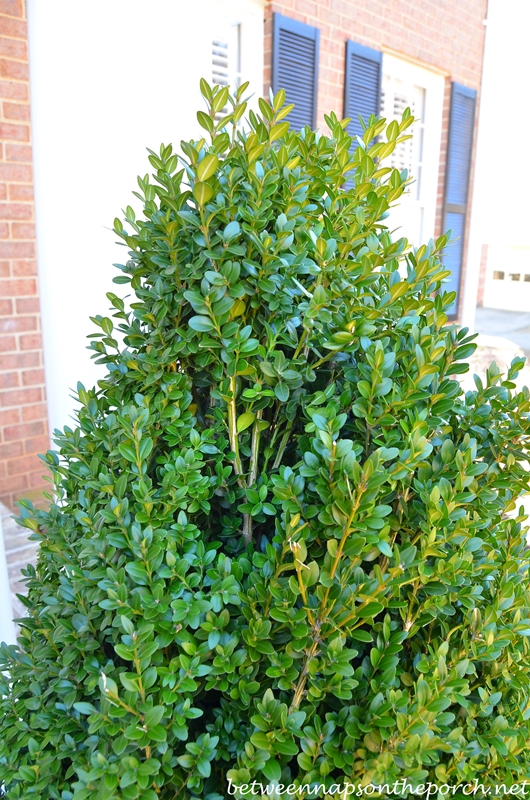 I looked up. Apparently sheets of ice slid right off the roof and gave the boxwoods an unwanted trimming. I guess the boxwoods will grow back out in those spots. Since we rarely get bad ice storms, I'm hoping that won't happen again anytime soon.
So that's all the ice storm damage I had, at least that I've discovered so far. I think I got off pretty easy this time around.
I've been working on a project the last couple of weeks and I'm looking forward to sharing it real soon. It's one that has taken me completely out of my comfort zone. I don't want to go into too much detail because I want to surprise you. But I can say, it's got wheels! 🙂
Today I ORB'd the shiny, silver part of the wheels. You can see in the pic below how the wheels looked before I spray painted them with Rustoleum's Oil-Rubbed Bronze. Three are sprayed and one is still silver in the picture. I love how they turned out.
When I was shopping for the ORB paint, there was a nice customer in the paint section of the hardware store who seemed really knowledgeable. In fact, the employee who was helping me asked him some questions…they apparently knew each other.
He told me I should remove any oil residue on the silver part of the wheel with denatured alcohol or acetone before spray painting them. So glad he was there because I never would have known or thought to do that. I didn't have either product so I purchased some acetone, which is similar to nail polish remover but stronger. Just sharing that in case you ever need to spray paint something that may have a bit of oil residue on it.
I'll be back in the morning with a Mardi Gras table setting…see you in just a few hours for Tablescape Thursday!
XO
*If a post is sponsored or a product was provided at no charge, it will be stated in post. Some links may be affiliate links and as an Amazon Associate, I may earn from qualifying purchases. *