Whenever I visit my son, daughter-in-law and grandchildren, I get a bit restless during the daytime while they are all at work and at school. I start looking for something to do and inevitably end up in the garden. I don't know why, but I find it way more enjoyable pulling weeds in their garden than I do at home.
They have this one particularly evil weed that has the thorns from you-know-where! It grows 3 feet tall in the space of a few weeks and is absolutely covered with vicious thorns from top to bottom.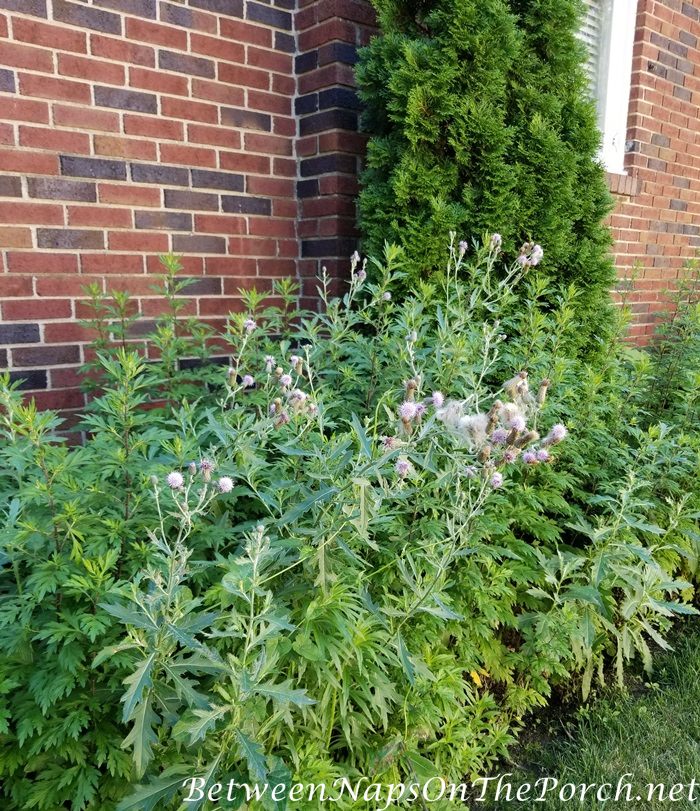 The first pair of gloves I purchased on Amazon that were supposed to be designed for working with thorny roses, didn't cut it. The thorns managed to find their way through the sides of the gloves. I finally found some that were rubberized all around the fingers. Even with those, the occasional thorn finds its way in. OUCH!
In this picture below, you can see the evil weed growing on the side of their home where I haven't yet weeded. This weed's only saving virtue is that the honey bees love it. If you look closely, you can see a bee zooming around one of the blossoms below.
Here's a close up…recognize it? My daughter-in-law called it by name but I've forgotten it now. It's a bad weed, a very bad weed!
Here's the area in front where I've already pulled it out. I still have a few tiny weeds to remove, but the evil weed is at least gone.
This is the other area where I've already removed it.
I purchased this fabric weed block at a local Ace Hardware. I was thinking of placing it in the areas up front where I've already weeded, then covering it over with additional mulch. I know fabric weed block can be annoying if you want to plant something later, but there are no plans for that right now.
As I recall, weed block fabric comes in different thicknesses. Hopefully, the type I purchased will block this nasty weed from coming back in the places I spread it.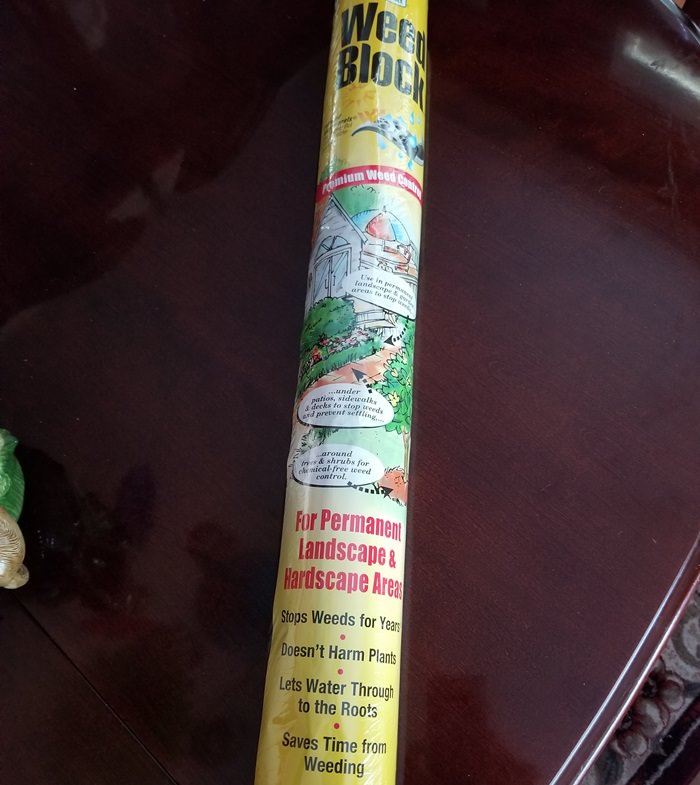 Have you ever had a super thorny, fast-growing weed in your garden? How did you get rid of it? Have you used the fabric weed block before and did it work?
While you're here, is this plant below a weed? I have a feeling it is but the foliage is so pretty, I wasn't sure. I don't want to pull it out if it's a real plant and not a weed plant. lol I have a feeling it's just a weed. It's growing in a couple of places here on the side of the house.
I hope you are having a weed-free summer, thus far! Appreciate your suggestions for fighting this nasty weed above and getting rid of it for good!
*If a post is sponsored or a product was provided at no charge, it will be stated in post. Some links may be affiliate links and as an Amazon Associate, I may earn from qualifying purchases. *