I have a dirty little secret, actually it's more like a weedly little secret. While I've been working on this side of the yard…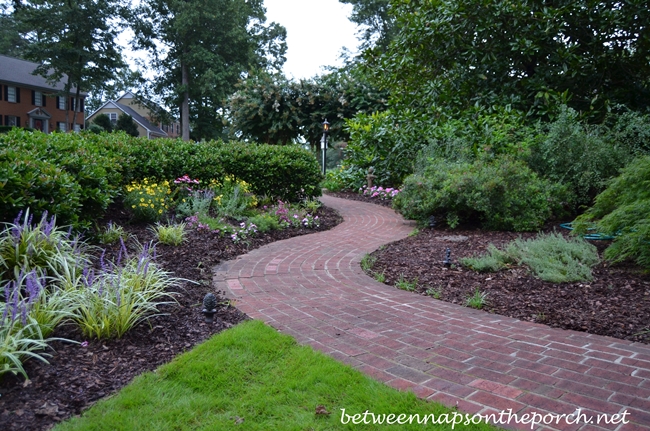 I've been trying hard to ignore this side. I just wasn't ready to face the disaster that awaits on the other side of the driveway. Years ago my perennial garden contracted a terrible weed infestation. I'm talking super-dooper, on steroids, kind of weed infestation.
I've weeded it numerous times but there's some kind of vine or weed in there that no matter how many times I pull it out, I can never get rid of it. It always comes back with a vengeance.
I think I may even have some poison ivy, poison sumac and poison oak in there. I'm highly, highly allergic to all that kind of stuff so today I dressed in long pants, a long shirt and gloves and started pulling the weeds, yet again.
Besides the vine weeds, another hard-to-get-rid-of-weed I've been battling is this one—Chamber Bitter.
May I just say, I'm super bitter about having Chamberbitter in my yard! The back of each frond is covered with wall-to-wall seeds, so sometimes as you pull out one weed, it scatters seeds and replants 200 more! If you have that plant in your yard, the info online suggests pulling it out and then putting out a preemergent to try and stop the seeds from growing new plants.
I filled up an entire large trash bag and half of another one with the weeds from this area.
But I realized the situation was hopeless when I started pulling out all the weeds and vines in the rest of the garden. As I pulled out the viney weeds, they all kept breaking off at the ground level, leaving the roots firmly in the ground.
I need a better plan. I've been here and done this before. Many times. It obviously isn't working.
When I was having the front yard sodded with Zeon Zoysia, I temporarily thought of just giving up the perennial garden and letting my landscaper dig it all up and sod over it. But I loved this garden for many years before the super invasive vine-weeds took over. So I've decided to rebuild it from scratch. You can see it in its "glory days" in this post: Creating a Perennial Garden
I have someone coming out on Wednesday to discuss the trees and shrubs I'll be planting around the front of the house and in the back this fall. I'm going to ask her about this area. I think what it needs is someone coming in with a small bulldozer thingy and basically digging everything up. Not sure I'll even try to keep any of my existing plants. I'll only do that if I can make sure none of the weeds are staying with them.
While I was working, I discovered I wasn't alone.
Someone is out here working full time trying to keep the garden bug free.
This is the second one of these spiders I've seen this week. I looked it up online and it's called a "Black and Yellow Garden Spider." Uh, duh—we kind of knew that, right? 🙂 It's scientific name is Argiope aurantia, just in case you wonder about those kinds of things.
This spider feeds on small flying insects like aphids, flies and grasshoppers. The info I found said they can bite people, but rarely do. And if they bite, it doesn't normally cause any real problems. Good to know, right? I know they are beneficial since they eat the bugs we don't want in our gardens. I'm so glad I didn't try to weed that end of the garden first!
Before I end this post, I have to tell you about these awesome garden gloves! I was in Walmart a couple of weeks ago and came across these. You know how garden gloves can be kind of expensive? Well, these were only $2.97 for a pack of three! I didn't expect much from $1 gloves but they are awesome! I liked them so much, a few days later I drove back and bought 9 more packs. So I'm set for gloves for a long, long time.
I always like garden gloves that are rubbery on one side and have stretchy, breatheable fabric on the top side. The sleeve part is long enough and snug enough, it keeps dirt from getting down inside the glove. The fingers aren't too long either so you don't get all that empty finger space at the end that can make gardening really hard while wearing gloves. The mediums were perfect for my hands. I love 'em and you can't beat the price at a $1 a pair! Just wanted to share this find in case you need garden gloves and don't like paying big bucks for them.
Have you seen any Black and Yellow Garden Spiders in your garden this year? Ever been bitten by one?
Are you living in the Garden of Weeden, too?
*If a post is sponsored or a product was provided at no charge, it will be stated in post. Some links may be affiliate links and as an Amazon Associate, I may earn from qualifying purchases. *