I'm working on a little project inside one of the closets in my bedroom, and as usual, I've run into a little snag. It wouldn't be one of my projects without at least one complication popping up involving a need for a mere 1/4 inch. It's always those little quarter inches that get me! lol Looking forward to sharing this little update soon.
In the meantime, let's go visit my friend, Marie! Marie decorates her home for Halloween in the most amazing fashion. Kids come from everywhere to experience walking under the lit orbs hanging overhead in the trees and to visit her beautiful home each year. Marie's circular driveway is literally a non-stop stream of cars on Halloween night.
Ghosts, zombies and all kinds of frightful apparitions will soon glide down the front walkway calling out, "Trick or Treat, Trick or Treat!" What an exciting night it is each year!
But today it's our turn to visit and experience what it must be like to be 10 years old again, trick or treating on All Hallows' Eve. Are you afraid of dragons? These guys come to life on Halloween, beating their wings furiously, trying to hoard all the candy for themselves! 😉
Witches have gathered on the lawn in anticipation of our visit. Eeek!
I think I see ghosts, too!
I love the lanterns Marie added this year…aren't these amazing! They are even more beautiful at night!
The walkway is lined with luminaries to light the way. A very large spider waits overhead for those brave enough to make it all the way to the porch.
Past the ghosts….
Past the witches circling their brew…
…under the spider up onto the porch where another witch comes to life, talking and stirring her cauldron when anyone comes near. Ha!
Everything is even more magical after dark, especially against a blue hour sky!
The trees glow purple and orange overhead.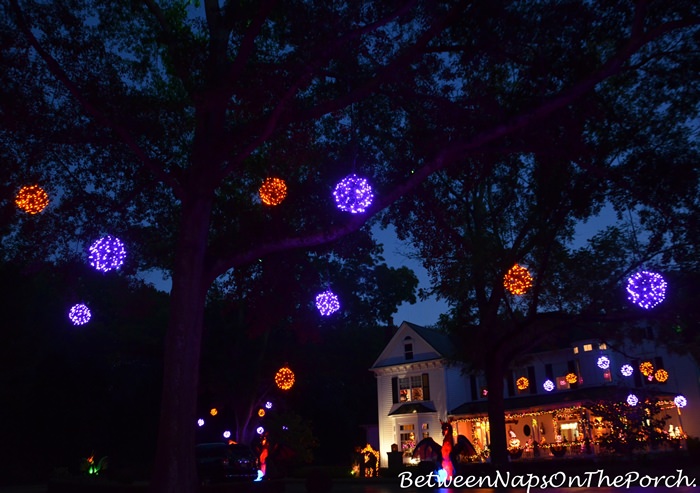 The house glows with a warm Halloween welcome.
Dragons beat their wings, adding to the excitement of the night.
So pretty against the blue-hour sky!
Ohhh, the lanterns! I need to ask Marie where she found these.
Here's a better photo of the ghosts from last year…sooo spooky!
My camera can't completely capture this wonderful fantasy! It all makes me wish I was 10 again!
Happy Halloween, dear Friends!
*If a post is sponsored or a product was provided at no charge, it will be stated in post. Some links may be affiliate links and as an Amazon Associate, I may earn from qualifying purchases. *