Welcome to the 472nd Tablescape Thursday!
We've decided to skip fall and winter here in Georgia this year. As you can see, the trees are still green and leafy in my back yard, and yesterday was in the 80's. Today we'll reach 85! I'm really not complaining, though. I love summer and love the heat. I wonder when fall arrives, if it will just hit all at once and all the leaves will change and fall off the trees overnight.
The deck work, painting, staining was supposed to get underway on Monday, but the rain we had earlier in the week delayed things a few days. The guys are here now pressure washing and working, so it's going to be a busy day. I hurriedly moved a lot of things in from the porch and decks this morning, just to get them out of the way as they pressure wash the decks and exterior parts of the porch.
Yesterday, while I was out fetching flowers and little pumpkins for my table, I got a call requesting I meet with the project manager to finalize all the plans. So unfortunately table-making and picture-taking was delayed to late afternoon when the lighting isn't the greatest for photos.
I love how blue and orange look when paired together. Such a wonderful combination that makes my heart sing! I only had four of one style napkin, so I used a different napkin for the place settings on either end of the table–still blue and white, just a different pattern.
The china I'm using in this setting is one of my every day patterns, Churchill Blue Willow. Many years ago, probably 15-16 years ago, Publix had a promotion going on where when you purchased a certain $ amount of groceries, you could buy a place setting of Blue Willow for $2.50. The place setting included a dinner plate and a cup/saucer. They had all the other pieces, too at very reasonable prices.
I bought a bunch of groceries over a few months, collecting all the pieces I really wanted. I'm really glad I did because this set wears like iron…no babying or hand washing. I have really enjoyed it.
I had planned to use white chargers but decided to try the new bark-edged chargers I recently added to my charger collection. (Wood chargers are available, HERE.)
The wood created such a pretty contrast against the Blue Willow plates, and I love the idea of pairing something elegant, like the Blue Willow, with the rustic look of wood. I'm loving these wood chargers! I have a feeling you'll be seeing them a few more times this fall and winter.
Sunshine struggles to reach the table this time of day, especially with all the trees surrounding the porch. But one little ray got through and lit up the flatware on one side, showing its true blue color. Flatware is available in several colors HERE and HERE.
I filled a pumpkin with fresh flowers from Publix for this colorful centerpiece.
I love these colors so much…such happy colors! I would love to have found a bouquet with orange flowers but the only ones I could find were mums and they were a really harsh, burnt red color…not what I wanted for today's table.
Using a pumpkin as a vase for a floral centerpiece is really easy to create. Just buy a pumpkin the size you would like for your arrangement, then hollow it out.
Once you've cleaned out the inside of the pumpkin, place a small bowl inside and fill it 3/4th full of water. Then add your flowers. I've found cutting the stems fairly short works best for this arrangement, but experiment around with different lengths to see which one creates the look you want for your pumpkin floral centerpiece.
I love these little pie pumpkins for decorating for fall and Halloween. They are such a cute size!
Happy fall, dear Friends!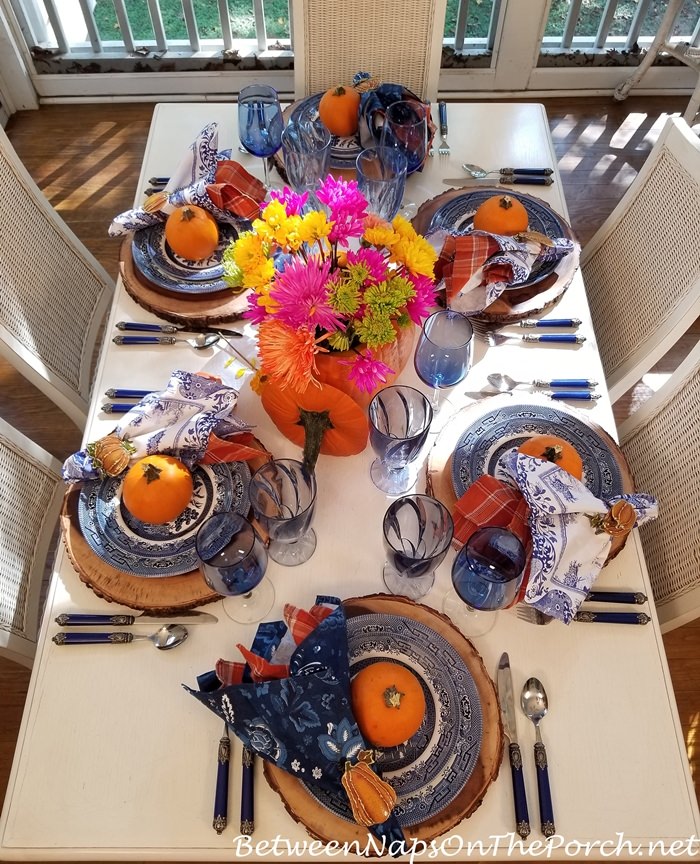 Looking forward to all the beautiful tables posted for this week's Tablescape Thursday!
Pssst: I post almost daily to Instagram. Follow Between Naps on the Porch on Instagram here: Between Naps On The Porch.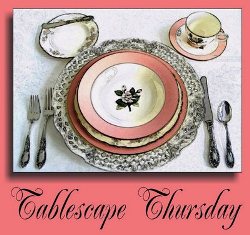 If you are participating in Tablescape Thursday, please be sure to add your permalink below, and not your general blog address.To get your permalink, click on your post name, then copy and paste the address showing in the address bar, into the "url" box when you link up.
You'll need to include a link in your post back to the party to link up and participate. That's so visitors to your blog will be able to find the party and the other Tablescape Thursday participants. Requiring a link back also prevents businesses and scammers from linking up to sell their products. (Yup, that really happens, unfortunately.)
*If a post is sponsored or a product was provided at no charge, it will be stated in post. Some links may be affiliate links and as an Amazon Associate, I may earn from qualifying purchases. *