This week I'm being a tourist in my own city. Have you ever done that when family or friends were visiting? Yesterday a friend and I visited the World of Coca-Cola in Atlanta, Georgia. I've only been there once before and that was many years ago before it moved to its current location. It's HUGE now!
We had a great time, it was almost like a visit to a mini-theme park, part museum, part Back to the Future meets Harry Potter. It's definitely an interactive, hands-on experience.
WOC is very close to the Georgia Aquarium, so close this was my view standing in front of the building.
The tour was fascinating as we got a peek into how Coke is manufactured.
My favorite part was learning about the history of the brand which was like boarding a time machine for a trip back in time. Coca-Cola was first invented by pharmacist, John Pemberton. Unfortunately, he passed away before the drink became a huge hit.
I loved seeing the old, antique signs–absolutely fascinating and so nostalgic!
Soda machines have definitely changed through the years.
This one was designed to serve both hot and cold beverages: hot beverages are displayed above the red lined shelf and the cold ones were on the blue shelf.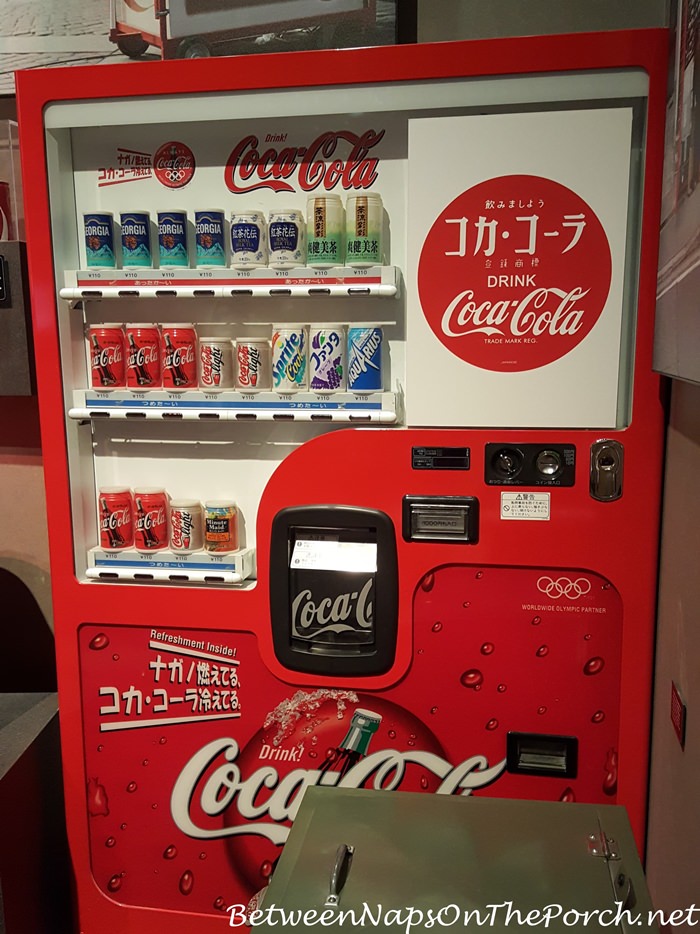 I think my favorite antique was this wonderful, old soda fountain; it's over 130 years old! Did you ever get to sit at a fountain like this? Sadly, I never did but would love to have seen one in action.
Apparently, the person serving the drinks would mix the different flavors you had requested into your drink by jerking down the handle that dispensed each of the ingredients/flavors, thus giving him the name, "Soda Jerk."
Ever heard of Ida Bailey Allen? Our guide, Anne, told us she was the "Martha Stewart" of the day and at one point was featured in some of Coca-Cola's advertisements. I'd love to read more about her.
With lots of fanfare and drama, the secret vault where the recipe for Coca-Cola is "supposedly" stored, was unveiled. Do you think the secret recipe is really stored here? Not sure I'm buying that. lol
Our visit to World of Coca-Cola ended with an exciting "trip" around the world in "rock and roll" seats. Tip: Sit on the back row if you have a bad back.
We had fun shopping in the gift store at the end of our tour. The only thing I purchased was a magnet. I've started buying little magnets for my refrigerator whenever I travel anywhere, just a little something to remind me of the trip. Do you collect a specific, little souvenir or treasure whenever you travel somewhere new?
*If a post is sponsored or a product was provided at no charge, it will be stated in post. Some links may be affiliate links and as an Amazon Associate, I may earn from qualifying purchases. *