Welcome to the 494th Metamorphosis Monday!
I don't have a typical "Before and After" to share this week, so I thought I'd share some products that could definitely transform the way you travel, making your travels a lot easier.
Recently Zenda left this comment below on this post: My 5 Essentials for Traveling Internationally.
Susan, I wanted to thank you for recommending the anti-theft travel bag. I bought it just before our trip to Scotland in late May. I LOVE this purse. It was the perfect travel companion with enough room for my personal travel items as well as my camera. The crossbody style helped me be comfortable and confident. Thank you again for a great recommendation!
I have two of the anti-theft travel bags and love using them both when traveling. I tend to use the one Zenda was referring to more often because it's the larger of the two and holds more, including my large Nikon camera. To read more about why I like this bag so much, check out this post: My 5 Essentials for Traveling Internationally. You'll find this bag available in several colors here: Anti-theft Travel Bag.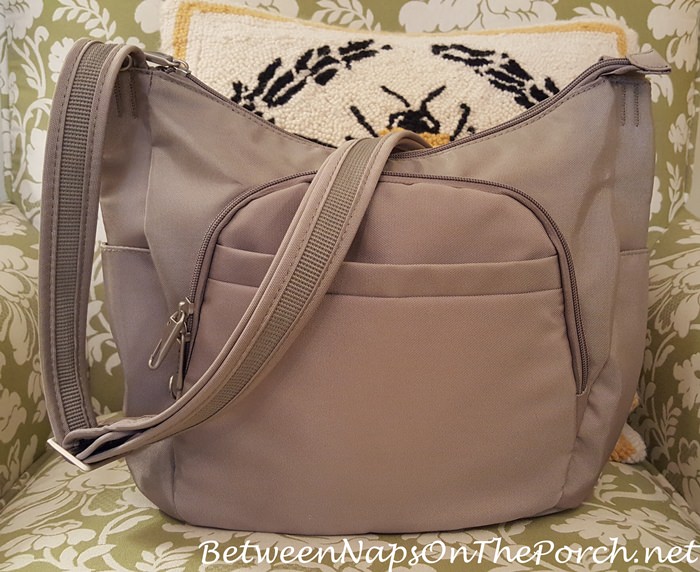 RFID Blocking Card Holder/Wallet
The bag above has three credit card slots that are RFID protected, meaning if a bad guy walking by tries to scan your handbag to steal your credit card numbers, he will fail. I've been thinking of buying some of the individual RFID sleeves for everyday use, but I like this much better. It's an RFID Blocking Wallet and in addition to holding several cards, it has a spot for your Driver's License. It also has a center zipper pouch for storing away cash or change. So it will hold everything. If you don't have a travel purse with built-in, RFID credit card slots, you may want to consider using an RFID card holder/wallet like this one whenever you travel.
You'll find this wallet with RFID blocking technology available in several colors here: Wallet.
Earbud Storage
Do you carry your own earbuds when you travel? Or, perhaps you keep them available in your handbag for whenever you may need them. This has to be one of the most clever ways for storing earbuds and keeping them tangle-free! I wish I had thought of this!
To store your earbuds, you simply wrap them around as pictured in the lower photo, then once you have them wrapped around the center section, you flip up the bottom and they are all tucked away inside their own little storage container.
Then you just drop them into your bag. Love this! They would make great stocking stuffers for Christmas.
You'll find them available in a bunch of different colors here: Tangle-free Earbud/Earphone Storage System.
I just purchased one of these pretty travel jewelry boxes for my daughter-in-law this evening. I would have purchased one for me but I have already have a travel jewelry box purchased a while back. I love this one because it includes a mirror. The mirror actually serves two purposes because it holds everything in place when the lid is closed.
This jewelry box comes in several colors and in a couple of more styles/configurations. You can see those all here: Jewelry Box.
I also like THIS ONE that has little tabs across the back for securing necklaces. I really liked them all and had trouble choosing which style to get.
Make-up Bag That Let's You See All Your Makeup At Once
A Vlogger I follow on YouTube shared this awesome bag recently and I'm seriously thinking of ordering one. I think this would be much better for carrying makeup than how I currently carry it when traveling. The way it works is–you put all your makeup inside the bag.
Then when you arrive at the place you're traveling and you're ready to put on your makeup, you just open the bag up on the bathroom counter and you can see everything all at once. There's no digging around inside a bag to find what you need. There are little elastic sections in the center for holding mascara, make-up brushes, etc… There's even a little zipper pocket for stashing away smaller items. When you're done, you just close up the bag as it was before.
I definitely want to try this bag. I think it will be much more convenient than the bag I"m currently using. I love how it opens up completely so you can see everything at once! I think it would make a great Christmas gift for anyone who enjoys traveling, too. You'll find this travel bag available in 14+ colors here: Travel System for Make-up.
The final thing I wanted to share isn't exactly travel related, but I love the idea! I have an Infusion Pitcher and I really enjoy using it. This is an Infusion Water Bottle. I drink a lot of water during the day so I think it would be fun to have a water bottle that functions the same way as an infusion pitcher. It also comes with an insulated sleeve that keeps the water cold. You'll find this Water Bottle Infuser in a bunch of different colors here: Water Bottle.
This is a second one that I was also tempted by…like them both! This one is available here: Water Bottle.
By the way, today is Prime Day at Amazon. So if you're a Prime Member, you may want to scope out the sales that will be running for the next 24 hours. I'm sure there are going to be some amazing ones!
Looking forward to all the great Before and Afters for this week's Metamorphosis Monday!
I post regularly on Instagram. Follow Between Naps on the Porch on Instagram here: Between Naps On The Porch.
If you enjoyed this post, subscribe for free email updates when a new post is up here: Subscribe for post updates.
Metamorphosis Monday
Metamorphosis Monday is a party that's all about Before and Afters. If you are participating in Met Monday, please link up using the "permalink" to your MM post and not your general blog address. To get your permalink, click on your post name, then just copy and paste the address that shows up in the address bar at the top of your blog, into the "url" box for InLinkz.
In order to link up, you'll need to include a link in your MM post back to the party so the other participants will have an opportunity to receive visits from your wonderful blog readers.
Please observe these few rules:
Please link up Before and After posts that are home, gardening, decorating, crafting, painting, sewing, cooking, fashion or DIY related.
Be sure to include a link back to the party in your post, so your readers will be able to find and visit the other bloggers who are participating.
Do not link up to the party if you're only doing so to promote or sell a product.
To those who are linking up: If you notice a shop or online store linking up to sell products (yes, unfortunately, that does happen) please let me know so I can remove their link and block them from participating in future parties. No one wants to click a link expecting a Before and After, only to find a spam link to an online business/store.
*If a post is sponsored or a product was provided at no charge, it will be stated in post. Some links may be affiliate links and as an Amazon Associate, I may earn from qualifying purchases. *