A few weeks ago, I traveled to Adairsville, Georgia and toured the hauntingly beautiful, Barnsley Gardens with two good friends. I'd been there before, but it was many, years ago. The story of Barnsley Gardens is a bittersweet one.
From the Barnsley website online:
"Behind Barnsley Gardens Resort's storybook setting is a true story filled with as many twists and turns as a work of fiction. The original manor, called Woodlands, was an estate built by a man—Godfrey Barnsley—for the love of his life, his wife Julia. Godfrey Barnsley began construction on his Italianate villa in the 1840's in the north Georgia foothills, on land that had once been inhabited by the Cherokee Indians.
Godfrey Barnsley
Julia Barnsely


Both the home and its elaborate gardens were formed by the work of Andrew Jackson Downing, a pioneering landscape designer and proponent of Italianate and gothic revival architecture. Julia never saw the completed home, as she fell ill and passed away.
Through the years, the estate has witnessed much history and intrigue, including the Civil War. Today, it emerges as an award-winning destination resort, welcoming guests into a uniquely historic landscape that still echoes with the vision of Godfrey Barnsley.
Below are some historical highlights. To learn more, visit the Barnsley Museum, which is open daily. There you will hear fascinating stories of love, loss and even murder compiled by Barnsley's Historian and Museum Director, Clent Coker.
Timeline
• 1824 Godfrey Barnsley comes to America from Liverpool, England. He becomes one of the 10 most affluent men in the South through the shipping business and cotton trade.
• 1828 Barnsley weds Julia Scarborough of Savannah.
• 1840s Barnsley purchases some 4,000 acres of Northwest Georgia land to build Julia a grand mansion.
• 1845 Sadly, Julia, mother of six, dies of a lung ailment and Barnsley ceases construction of the estate.
• 1846 Barnsley returns to the estate and Julia's spirit appears to him in the formal garden, instructing him to finish the estate for their children and future generations.
• 1848 The estate and gardens of Woodlands are eventually completed, with gardens modeled after the architectural designs of Andrew Jackson Downing, and a luxurious manor house featuring modern plumbing, marble from Italy and France, and furnishings from around the world.
• 1861-1865 The Civil War rages. Situated directly in the path of Sherman's advance, the estate witnesses a battle on May 18, 1864 and suffers irreparably during occupation of troops commanded by U.S. Gen. James McPherson.
• 1906 A tornado damages the home, tearing away the roof.
• 1906-1942 Descendents of Godfrey and Julia occupy the estate until it is auctioned in 1942. The gardens and manor house fall into disrepair.
• 1988 Prince Hubertus Fugger purchases the estate, reviving and expanding the Historic Gardens so that more than 200 varieties of roses thrive. The remains of the Manor House Ruins are restored and Barnsley Gardens Resort is born.
• 1991 Barnsley Gardens opens to the public as a historical gardens and museum.
Today Barnsley is a new kind of resort destination, with luxurious cottages, world-class amenities, attentive service and quiet serenity. Amenities include an 18-hole championship golf course, three restaurants, the Outpost and a full-service spa."
This is the view as you're walking toward the ruins of the beautiful manor home. Do you see it there in the distance?

The home is more visible now. This is such a gorgeous area…truly beautiful!

Sad that this is all that's left…

Here's what it looked like in 1890 before the roof was ripped off by a tornado and the house began to fall into ruin…

And here it is today…

They were setting up for a wedding scheduled later that evening. You'll see a lot of tables, chairs, lanterns, etc…. in preparation for the wedding.

Hauntingly beautiful…

Here's where the wedding will take place…

An actual wedding at Barnsley…pic is from the Barnsley Garden website…so romantic…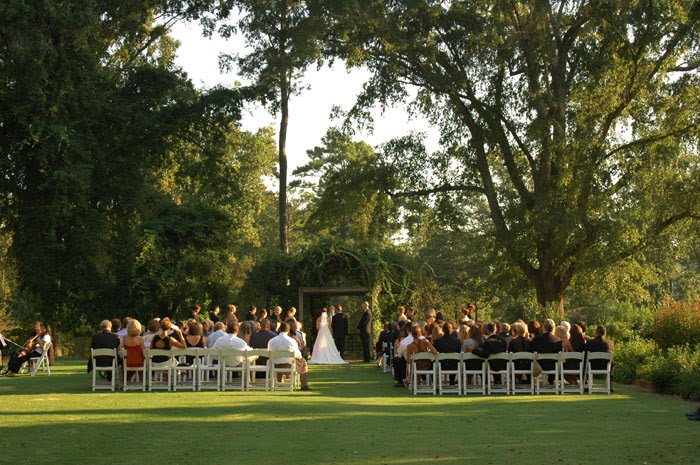 Not a lot was blooming in the perennial garden this day….

I'd like to go back again later in the season to see what might be blooming then…

Do you see the headstone off to the right? That belongs to Colonel Earle who is buried in the back garden behind the home. He was a good friend of Godfrey's and he was killed riding to the home to warn the family of approaching northern soliders. Mourning his friend, Godfrey buried him behind the manor home.

Many believe Barnsley Gardens is haunted…you can read more about that HERE and HERE.

Looking out what would have been the front door…

Let's go down and get a closer look at the boxwood parterre gardens…

There's a huge fountain in the center…you can just barely see it in this pic. A lot of the ghostly sighting have taken place in this garden.

This pic is taken from the Barnsley Garden site…it shows the fountain in the parterre garden.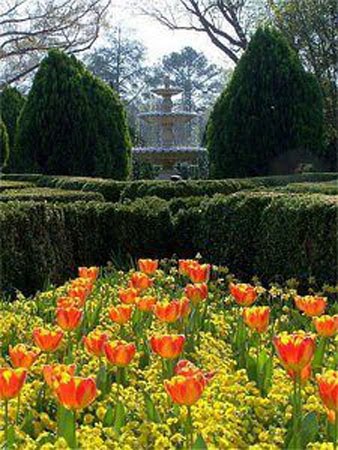 If you travel to Barnsley Gardens (now a 5 star resort) and wish to stay overnight, you will most likely stay in one of these darling English styled cottages. They line narrow little streets in sort of a mini-village on the resort. They are really cute and are all very different in appearance.

More information about Barnsley Garden is available in a book by Clent Coker,
Barnsley Gardens at Woodlands
and at the Barnsley Gardens Resort website.

Bonus Pics:
A friend who went on the Barnsley trip sent along a few additional pics to share. Thanks, Ed…
The parterre gardens and fountain:

Mom and Dad swan with their baby, sooo cute!

Have a wonderful weekend!
*If a post is sponsored or a product was provided at no charge, it will be stated in post. Some links may be affiliate links and as an Amazon Associate, I may earn from qualifying purchases. *