Welcome to the 699th Metamorphosis Monday!
Thank You! I want to say Thank You to the lovely blogs who link up to the Metamorphosis Monday Party each week. I hope you see a lot of new and returning visitors to your blog. Important: Please be sure to reciprocate and show appreciation for your fellow Bloggers who link up each week by including a sentence in your post saying that you're participating in the Metamorphosis Monday Party with a link back to the party. That way your fellow bloggers who have linked up will also see visits from your lovely readers.
When everyone links back to the party, the party is truly a party and benefits all who participate. If for some reason you're not able to include a sentence stating you're joining the Metamorphosis Monday party and are unable to link back to the party in your post, please do not link up to the party.
So How Did Those Watering Spikes Work Out?
So how did my plants weather me being away for 2 weeks? Here's how they looked when I left.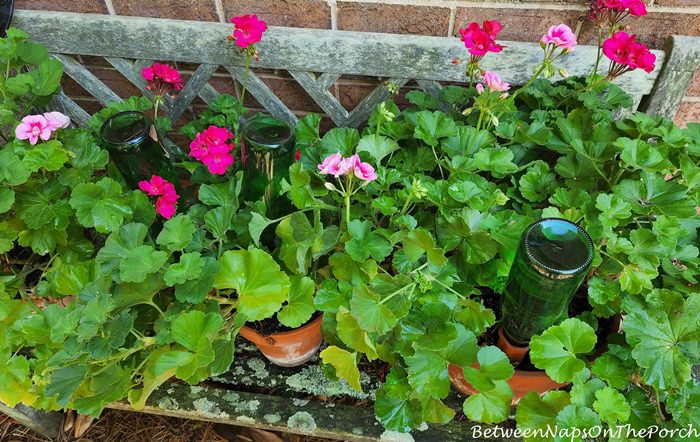 You may remember that I placed clay spikes with bottles filled with water in each of my potted outdoor plants before leaving for my trip.
Here's how they looked upon my return…not too bad. I had placed all my geraniums here on the front of the house where it's not quite as sunny as where they normally are on the south side of the house. As expected, the bottles were all completely empty of water when I returned. A few days after I left, it dawned on me that I did a dumb thing. I should have pulled the bench I placed them on, out and away from the house! The bench was partially underneath the eaves while I was gone, which means the plants couldn't fully benefit from any rain we had while I was away. Arggg. I don't know why I didn't think of that when I first placed them here.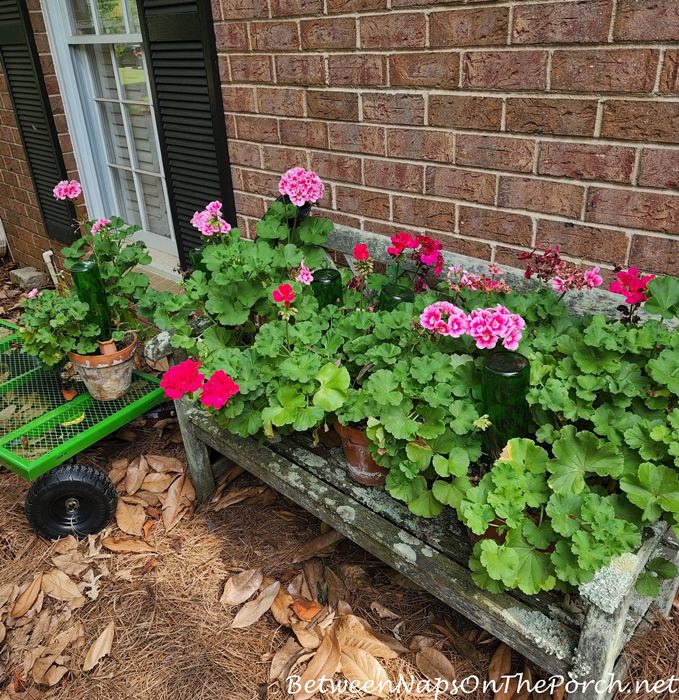 You can't really see it in the photos but I had a lot of dead leaves underneath and one smaller geranium there on the back row in the center of the bench faired worse than the others. It obviously didn't get a lot of rain because it was the furthest up under the eaves.
My honest feelings on this watering system are that it probably works better for indoor potted plants and if you're only going to be away for a week or so. I think indoor plants would do well, but outdoor plants receive a lot of sun, which of course dries them out much faster. I just don't think the bottle/spike method would work that great if you live where the weather is really, really hot. I think the reason my plants did as well as they did is because we did get a little rain while I was away, so that helped when the bottles emptied out, whenever that was.
If you wish to try this with your indoor plants while away, I purchased the clay spikes here: Terracotta Watering Spikes.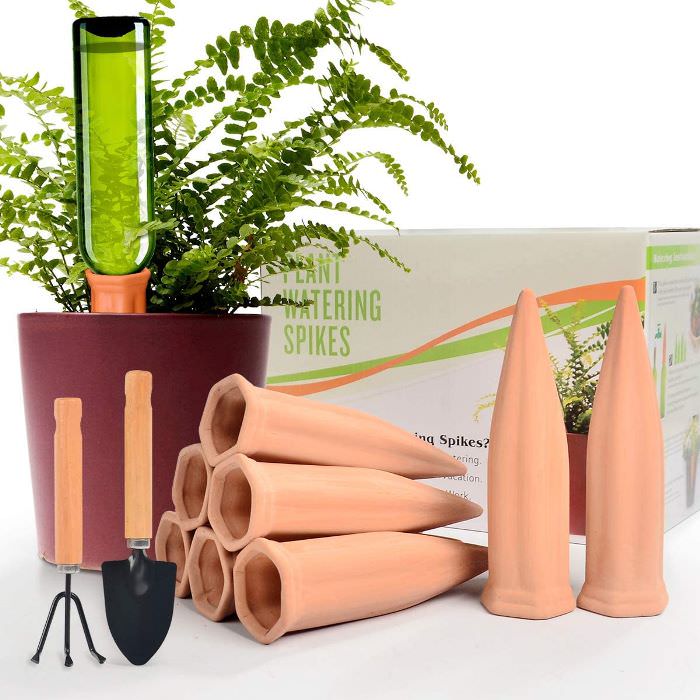 Looking forward to all the wonderful Before and Afters linked for this week's Met Monday!
Pssst: Did you know Between Naps On The Porch is on Instagram? You'll find me on Instagram here: Between Naps On The Porch.
Like to know when a new blog post is up and available to read? Subscribe for email updates, it's free and your email will never be shared. Subscribe for free post updates via email here: Subscribe.
Metamorphosis Monday
Metamorphosis Monday is a party that's all about Before and Afters. Please link up your Before and After projects like DIY projects, room makeovers, craft projects even recipes. Any Before and After is great! Please do not link up Table Settings, save those for our Tablescape Thursday party on Thursday.
If you are participating in Met Monday, you'll need to link your post to the party using the "permalink" to your MM post and not your general blog address. To get your permalink, click on the name of your post, then copy and paste the address that shows in the address bar at the top of your blog, into the "url" box for InLinkz when prompted.
NOTE: Please do not link up more than 3 posts from your blog. In order to link up, you'll need to include a link in your post back to the party so visitors to your blog can find the other party participants. When linking up to the party, give the InLinkz system time to find the link in your post to avoid having your link held for moderation/approval. Thanks!
This party has ended, click button below for the links to all who participated.
*If a post is sponsored or a product was provided at no charge, it will be stated in post. Some links may be affiliate links and as an Amazon Associate, I may earn from qualifying purchases. *