Happy Sunday! How's your weekend going?
I wanted to pop in and share how the heated bird bath looks installed out on the deck. I attempted to install it yesterday but it was late in the day and getting dark quickly. It has a tilt feature so when you want to dump the old water and add new, you just lift it up and tilt. I couldn't get the tilt mechanism to catch yesterday and since my light was quickly fading, I gave up for the evening.
This afternoon I headed back out to give it another go. May I just take this moment to say thank-you to the person who invented gloves. I think gloves may be one of the best inventions everrrrr!
It was 38 degrees outside when I was installing it today, way too cold for this southern girl. Here's how it looks installed, as seen from the kitchen/breakfast area.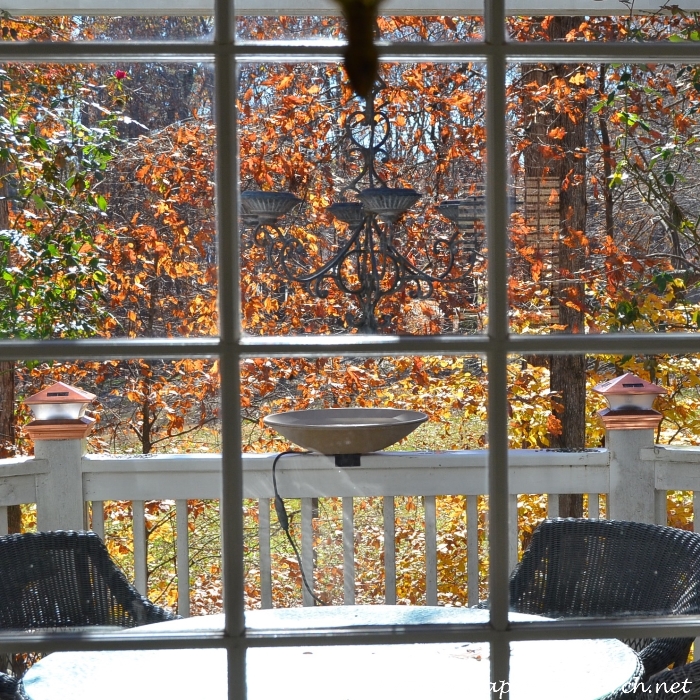 A little closer view…
See that black thingy down there toward the bottom. I could never get it to latch properly. You're supposed to unlatch it to tilt it outward to empty old water or for cleaning. The weird thing is that if I had been able to get it to latch, the whole bird bath would have been greatly tilted forward. So I finally just gave up. It's plenty stable for the birds to land on, I'm just worried what will happen when Mr. Raccoon pays a visit tonight. I'm sure he will be delighted to find his own private hot tub and will climb in or at least on top of it.
Mr. Racoon always comes around for a visit between midnight and 2:30 AM. I'm often still working in the office which is located above this deck, so I hear a big racket as he leaps onto the deck rail to access the feeder that hangs on the left side of the deck. From the sound of it, I think he's climbing onto one of the wicker chairs out there and leaping from the chair to the deck rail. I think the noise I hear each night is the chair thumping against the deck when he makes his leap. At least that's what it sounds like.
A couple of nights ago, when I heard that familiar sound, I crept downstairs with the camera. I put it on auto so it would flash since it was pitch black dark out that night. I opened some louvers on the shutters in the breakfast window and pressed down on the button but not far enough to actually take the picture. The flash lit up but when I looked out again, all I could see was the feeder swinging like crazy. I think the flash scared Mr. Raccoon and he jumped off to the ground below.
I need to find a way to sneak up on him so I can get a pic to share with you. I'm pretty sure it's a raccoon that's visiting because in the past he has taken a glass globe off the outdoor chandelier in that area and placed it down on the deck, unbroken. The guys at Wildbirds Unlimited where I buy my seed tell me that only a raccoon has that kind of dexterity–apparently they have thumbs. lol
I could treat the seed with the hot pepper stuff they sell to keep squirrels, etc… away from seed, and after a while he would probably quit visiting, but I don't mind feeding him each night. I just hope he doesn't wreak havoc on the bird bath since it isn't latched down in front.
I'll let ya know how the birds like their new bird bath. Today's a good day to put it out since it's getting down to 26 degrees tonight. It will be 27 degrees at 7:00 AM so I think the birds will appreciate some non-frozen water tomorrow morn, that is if Mr. Raccoon hasn't made a mess.
*If a post is sponsored or a product was provided at no charge, it will be stated in post. Some links may be affiliate links and as an Amazon Associate, I may earn from qualifying purchases. *