Welcome to the 704th Metamorphosis Monday!
Choosing paint, at least for me, is one of the most stressful tasks ever! I hate it, I really, really hate it. Here was my thinking for the garage: I wanted a neutral color for the walls, definitely no red, blue, green, yellow, purple, etc… just something neutral and light, but dark enough that it would contrast with the white cabinets here in the garage. I was also hoping to avoid the ubiquitous gray that is the latest trend in all things walls, cabinetry, and trim. I'm just not into the color gray for my home–no offense if it's your fave color. We all like different things, right?
I was also trying to avoid choosing a color that was almost the same color as the cabinets–but not quite. Put two whites together and most likely one of them (cabinets or walls) is going to look dirty or dingy. There needed to be enough contrast between the cabinets and the wall so the cabinets stayed looking nice and white.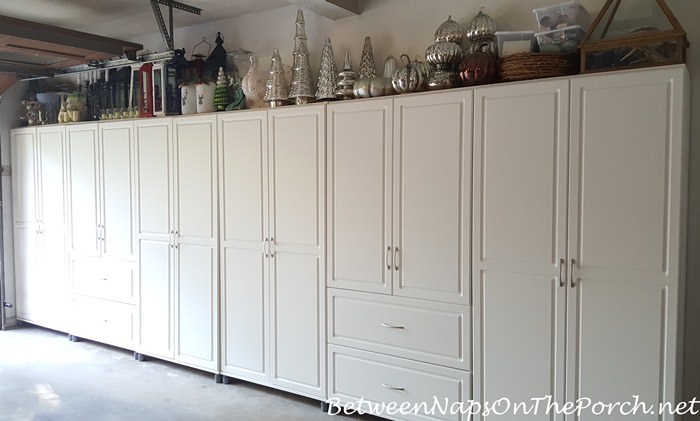 I looked at a lot of neutral colors and at one point settled on a Benjamin Moore color called Edgecomb Gray that's sort of a greige color. It's a popular color that I've seen used throughout Blogland. Ultimately, I decided it would be too dark for the garage which doesn't get a lot of natural light due to a huge magnolia growing right in front of both garage windows.
I decided to go with Sail Cloth. It looked nice and neutral and paired well with the flooring I had chosen for the garage. I should have purchased a sample to try but things were so hectic by the time I picked that color, I never got a chance to do that. The last few days prior to the first day or painting were spent moving things out of the garage and scrubbing down molding to get it as clean as possible before the painting began. After the first day of painting, I found out the paint company I had chosen could also paint the plantation shutters in the garage. The shutters had aged a bit over the years and though they cleaned up nicely, I knew they weren't going to match the window trim paint once it was freshly painted again. So that meant another day/night scrubbing down shutters.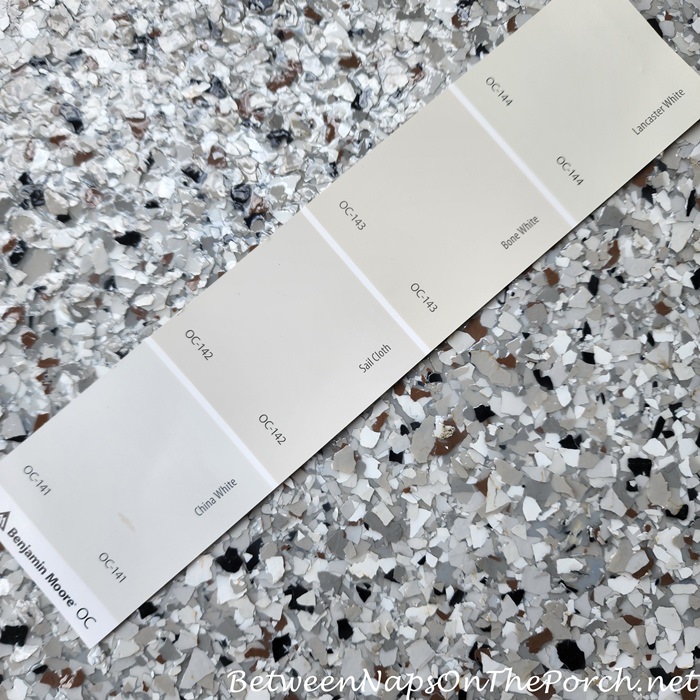 With all that was going on with the painters here and the last-minute changes, I decided to trust the photos I was seeing online that showed how this color looked in rooms. I found 4-5 photos online of rooms painted in Sail Cloth and they all looked like a nice neutral except for one that looked surprisingly yellow. Since all the other photos looked fine, I decided to ignore that one yellow-looking photo, thinking it was the lighting in the room.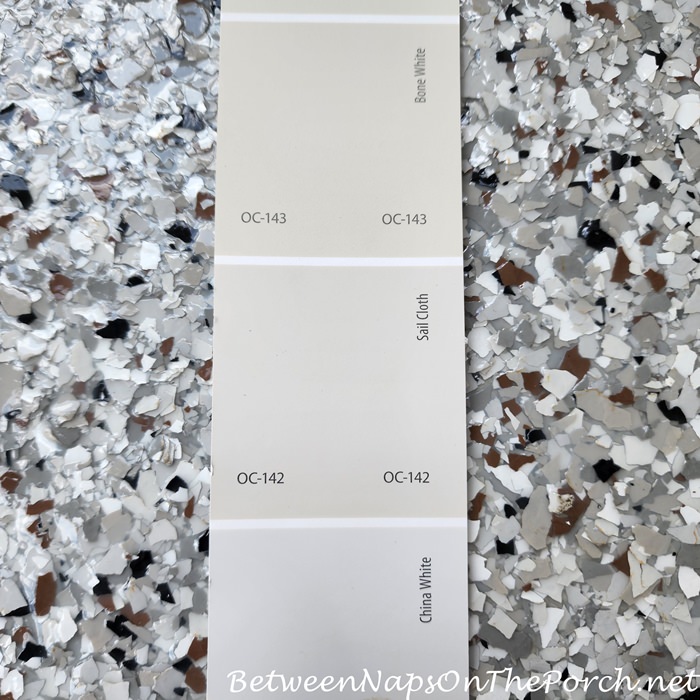 I popped into the garage mid-day while the painters were cutting in/painting. They had stopped for lunch and this is what I saw. Gasp! One of the painters sitting nearby said, "It looks yellow!" Arghhh!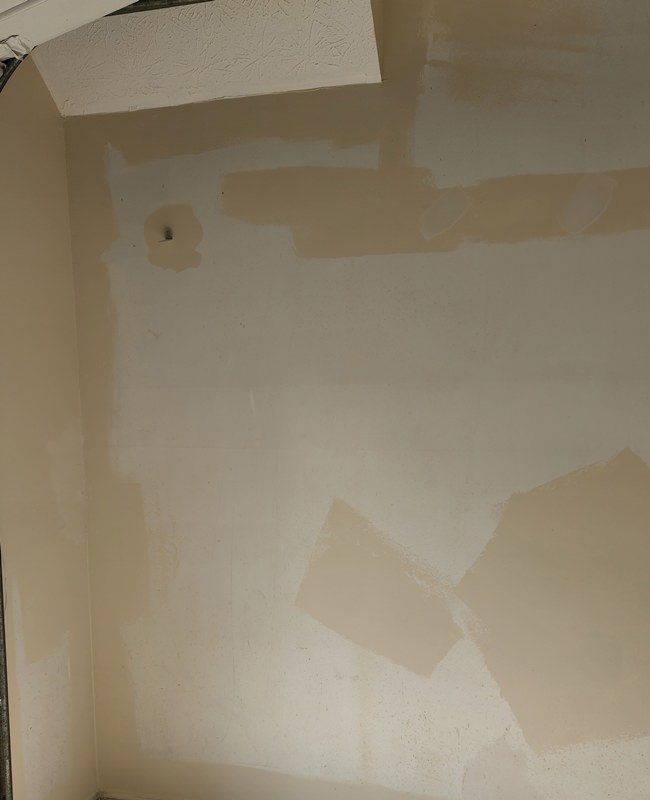 How did this Sail Cloth color…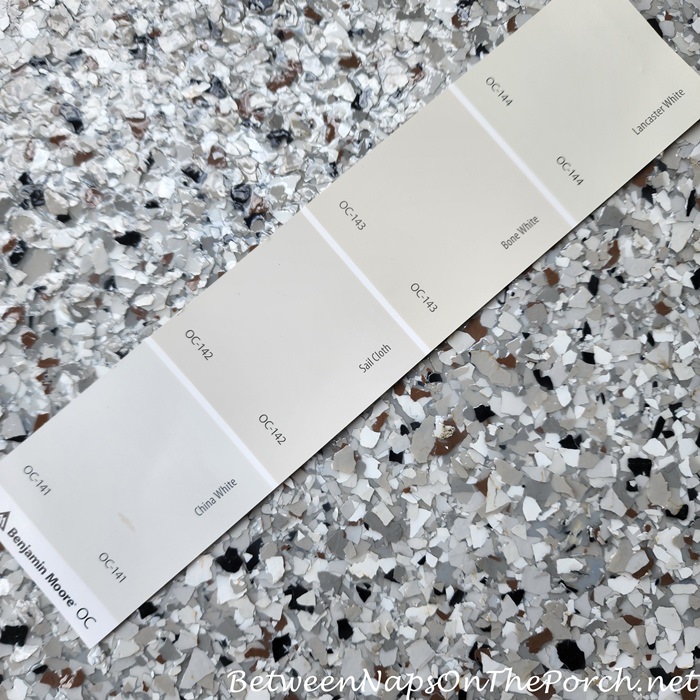 …turn into this?!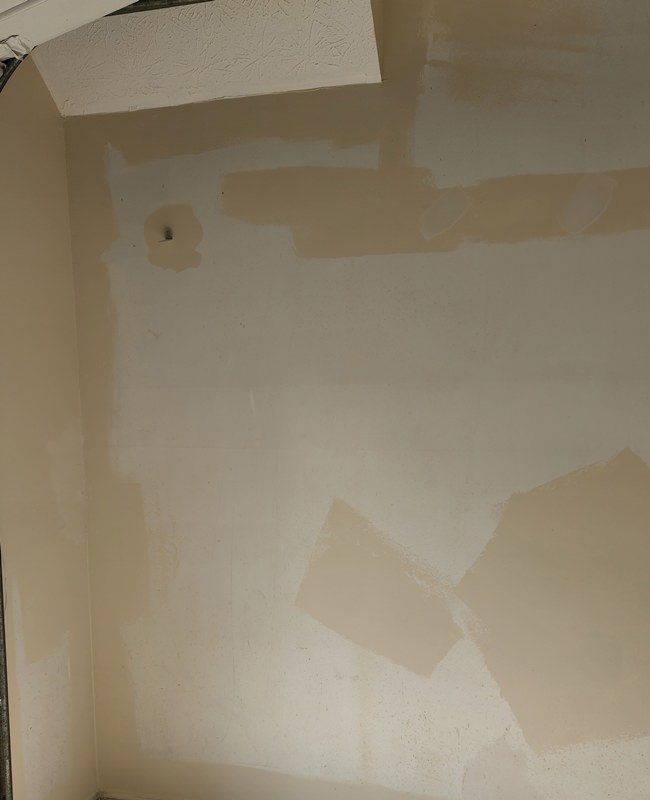 As it dried, it did get better…not assss yellow.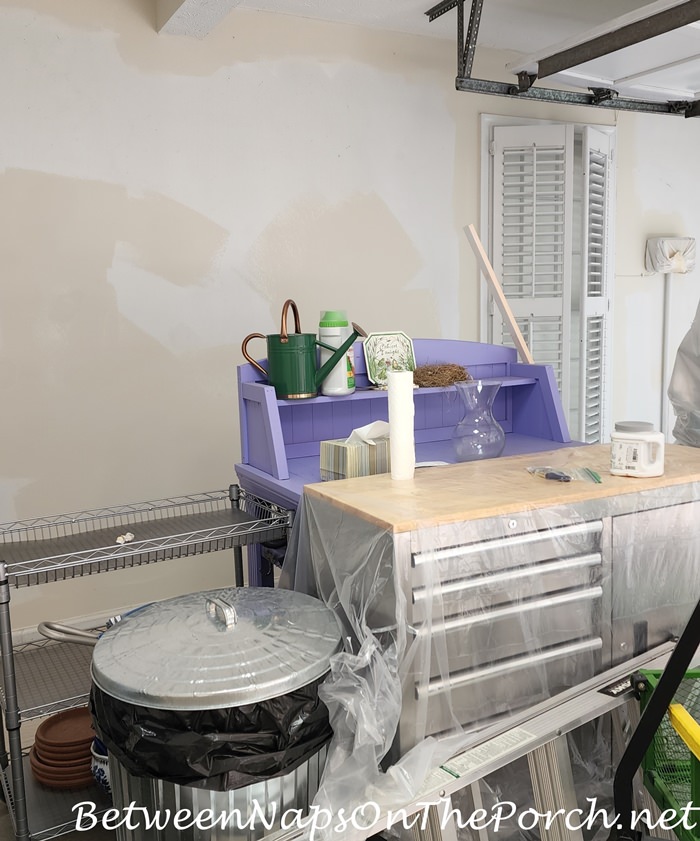 This was definitely looking better but after the shock of seeing it when it was initially applied, I could never get that image out of my head. It's not a bad color but it was definitely darker and more beige than I had expected.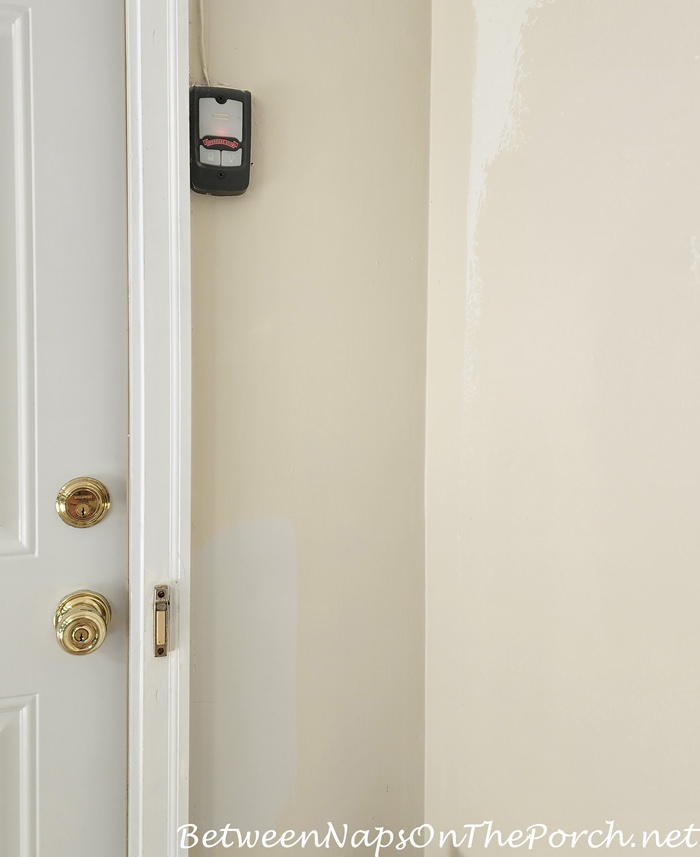 I was also concerned that it was going to darken the garage too much once all the walls were painted.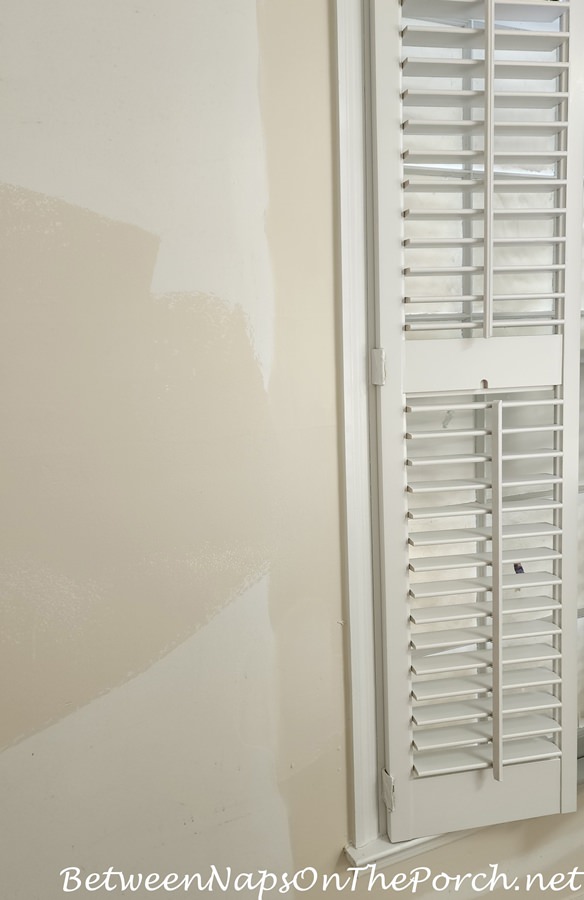 Another painter who works for the company I was using had just painted a garage in Sherwin Williams Eider White and said it looked great. I purchased a sample that day and decided to go with it even though it definitely appeared to lean more toward gray than I wanted. Here's how it looked once the garage was painted. Eider White actually looks closer to how I had expected Sail Cloth to look!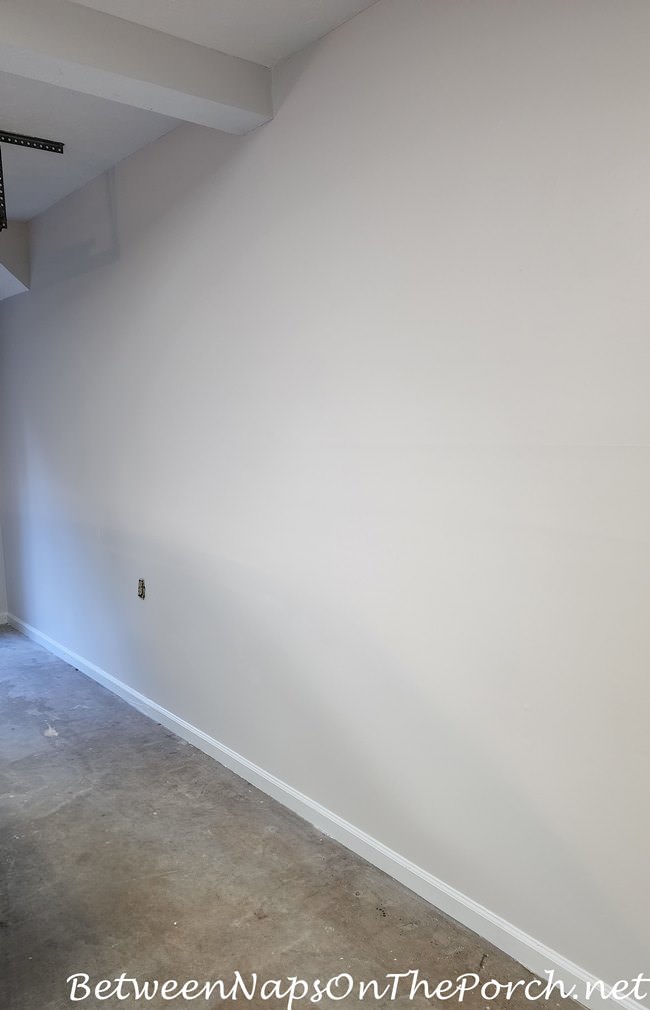 There's enough contrast that the trim still looks nice and white.
Of course, it looks a bit darker in the shadows, but still neutral. You wouldn't think painting a garage would be that disruptive to everyday life, but it is. You can't park in the garage, you have to enter your home through another door and there are frequent interruptions throughout the day when issues pop up. It's a relief to have this much of the garage renovation done and to finally be able to park in the garage and enter the house once again via the garage.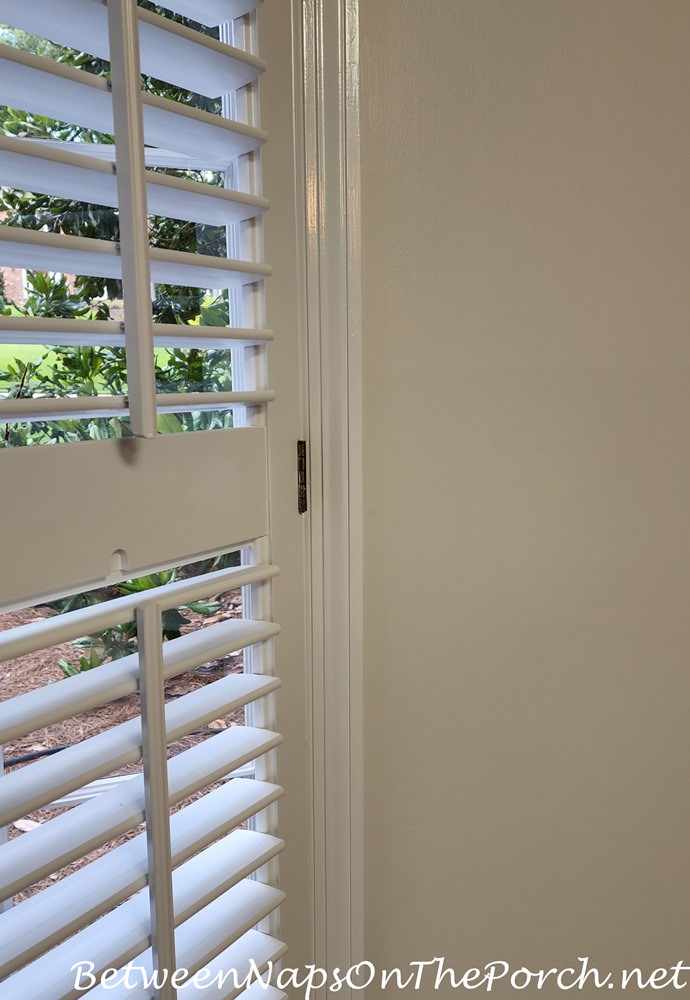 Amazing how paint changes depending on the lighting. Though the painting only took 3 days, I swear it felt like at least a week! I think it's because there were so many changes made during those three days regarding the paint color, adding in the shutters, and dealing with ceiling primer that wasn't actually covering as it should. One of the biggest issues in this paint job was the ceiling. The initial primer chosen for the ceiling (by the estimator, not by me) didn't cover as it should. To his credit, the painter pointed this issue out and didn't just ignore it. A better quality primer had to be chosen and the ceiling had to get primed all over again.
In many ways, I think garages are way more complicated than rooms. You are dealing with so many variables: interior doors, exterior doors, exterior paint on garage doors, interior paint on garage walls, grime/grunge on ceilings from 40 years of cars being cranked up, shutters/window treatments that have aged and changed color–something that doesn't happen inside like it does in a garage, dents and gouges in the walls from lawn mowers, bikes, etc, wiring from garage door openers and sprinkler systems, lighting…I could go on and on. I think having an interior room painted is easier after this experience!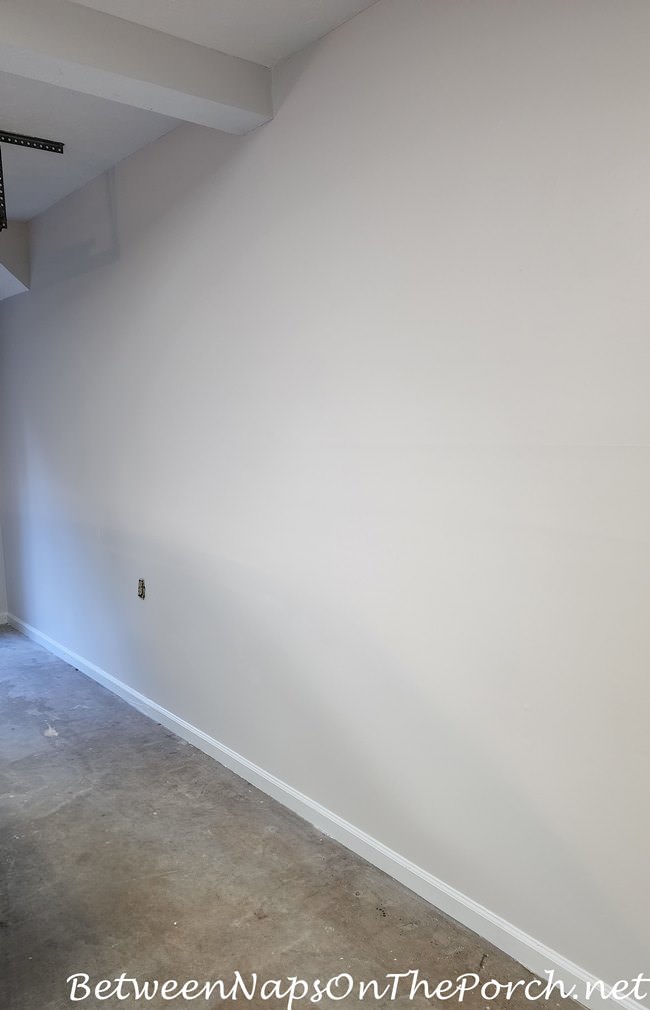 The flooring is next–scheduled for the first week of August, then we'll be done! I'm looking forward to sharing the final look with you in a couple of weeks! I hope following my experience proves helpful if you take on a garage project in your home in the future.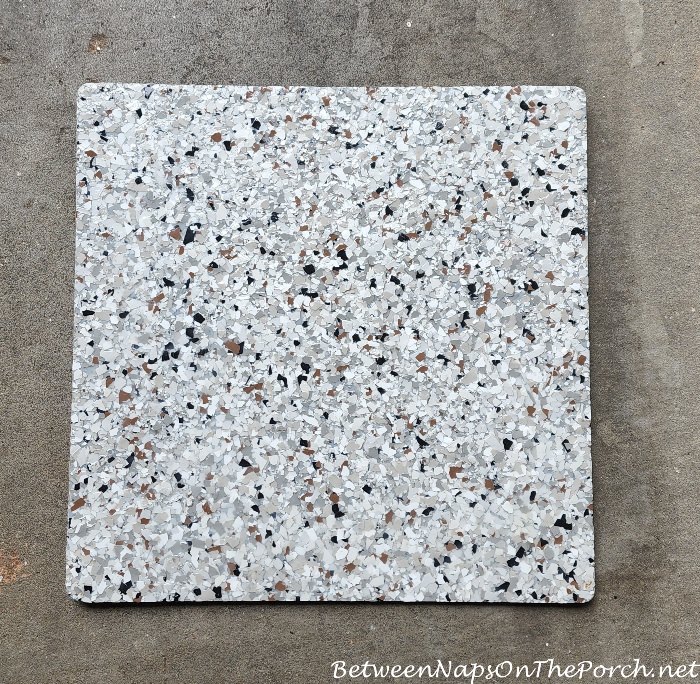 Looking forward to all the wonderful Before and Afters linked for this week's Met Monday!
Pssst: Did you know Between Naps On The Porch is on Instagram? You'll find me on Instagram here: Between Naps On The Porch.
Like to know when a new blog post is up and available to read? Subscribe for email updates, it's free and your email will never be shared. Subscribe for free post updates via email here: Subscribe.
Metamorphosis Monday
Metamorphosis Monday is a party that's all about Before and Afters. Please link up your Before and After projects like DIY projects, room makeovers, craft projects even recipes. Any Before and After is great! Please do not link up Table Settings, save those for our Tablescape Thursday party on Thursday.
If you are participating in Met Monday, you'll need to link your post to the party using the "permalink" to your MM post and not your general blog address. To get your permalink, click on the name of your post, then copy and paste the address that shows in the address bar at the top of your blog, into the "url" box for InLinkz when prompted.
NOTE: Please do not link up more than 3 posts from your blog. In order to link up, you'll need to include a link in your post back to the party so visitors to your blog can find the other party participants. When linking up to the party, give the InLinkz system time to find the link in your post to avoid having your link held for moderation/approval. Thanks!
This party has ended, click button below for the links to all who participated.
*If a post is sponsored or a product was provided at no charge, it will be stated in post. Some links may be affiliate links and as an Amazon Associate, I may earn from qualifying purchases. *