Welcome to the 488th Metamorphosis Monday!
Last week I shared some deck updates I was working on. In between all the big storms we've been having this past week, I've been working on spiffing up the deck for summer.
Before
In this photo from last week, you can see the decking was super dirty from all the yucky stuff that had fallen from the giant tree whose trunk you can see there at the end of the deck. Also, the bottle tree was looking pretty ragged with rust spots appearing here and there, and the grill cover had seen better days.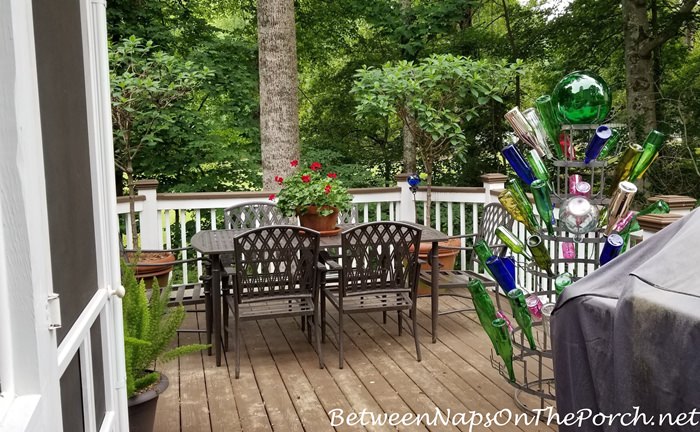 After
Here's how the deck is looking now. Unfortunately, it rained right before I took photos. I wiped down the table, but you'll probably notice the deck, rails and grill cover look wet in the photos.
I brought out the seat cushions for the chairs but didn't take time to bring out the back cushions. I kinda like how this dining set looks with just the seat cushions in place.
I also washed the deck flooring with 30 Seconds Outdoor Cleaner. The yucky stuff that had fallen out of the trees was really, really stuck onto the deck surface, so I used a stiff broom to sorta scrub the decking after I sprayed on the cleaner. It took two applications, but it worked great. If your deck isn't under a tree and the dirt isn't stuck on like glue, one application will probably work fine. This cleaner is available here: 30 Seconds Outdoor Cleaner.
Repainting the bottle tree was a bit of a challenge since it's way too heavy to take down into the yard to paint.
So I had to spray-paint it here on the deck, trying to not overspray. Here's how it looked before painting with rust spots here and there. It's held up very well considering it has been out here exposed to the elements full time for the past 7-8 years.
So remember my fancy footwear from THIS post. After I sprayed the first coat of paint onto the bottle tree, I discovered the bottoms of my feet were completely coated in black paint! I didn't realize as I was walking around and around the tree, spray-painting it, I was stepping in the overspray on the dropcloth beneath the tree.
I'm STILL trying to get all of the black paint off the bottom of my feet. lol I've managed to get most of it off now. Goof-off helped! Learn from me, wear old socks you can toss out, or at least put bags on your feet when spray painting something. When I went back out the next day to spray the tree a second time, I placed grocery bags over my feet and it worked great!
Here's a photo I took after the first two coats of paint. I ended up using 2-1/2 cans of paint. I chose Rust-oleum's Oil Rubbed Bronze for the color. Before I painted the tree, it was a dusty, faded gray color. It didn't fade out to that color, it was that color when I first purchased it.
I didn't want to go solid black with the new color, so that's why I chose the ORB paint. I went with the one that has the paint and primer, in one. (It's available here: Rust-oleum.)
I really like the paint that has both the paint and primer built in since it cuts out the step of having to prime first. Two coats of paint, which took two cans of the ORB paint, pretty much did the job of covering the whole bottle tree, but I went ahead and used about 1/2 of the third can to touch up a few spots that I thought needed a tad more paint.
Here's how it looked after the paint had dried. Definitely like this color better than the dusty gray it was originally.
And here's how it looked dressed out with bottles…still need more! I purchased a few more of the pink bottles at Old Time Pottery yesterday, so that helped fill in a bit more.
A view from the other side…
I usually keep a garden stool here on the deck so when I'm using an umbrella in the table, it gives me a spot to place the large geranium that's usually in the center of the table. This is the garden stool I normally have on the deck. It still looked fine in this photo taken a few years back, but now it has badly faded. So I moved it to the garage until I can find time to paint it. Need to decide on a color, first.
In the meantime, I moved this green garden stool from the porch out to the deck and brought down a white garden stool for the porch.
I love garden stools and use them all over my house. They are one of the most versatile pieces you can buy for your home.
They make a great side table for areas where a full-size table will not work.
I have them stashed all over my house and keep finding spots for new ones. If you're in need of a garden stool for extra seating or to use as a plant stand or as a small side table, you'll find tons of beautiful ones here: Garden Seat. Pier 1 has a pretty green one on sale here: Green Garden Stool. I'm tempted to buy another one to use in my master bathroom.
The new grill cover looks so much better than the old one that was so badly faded. I purchased this grill cover here: Grill Cover. It's a "universal" style so doesn't have any branding on it, which I really like. If you have a long/wide grill like mine, I'm pleased with how this one fits my grill. Best to measure before purchasing a cover since grills come in so many different sizes.
A Bit of Whimsy for the Deck
A few weeks ago I came across something in Marshalls that sparked a memory and had me laughing. It reminded me of this card that I purchased for a friend several years ago. His birthday is in February and mine is in January. When January came around that year, I opened up the card he had bought for me and immediately burst out laughing. He had purchased the exact same card I had bought for him for his birthday the following month!
We couldn't believe that we had each purchased the exact same card to give to each other! So we started a fun tradition of giving each other that same silly card year after year, writing a new birthday message inside each time. We kept that up for many years until we both managed to misplace the cards. I found one of them in a drawer recently, so we can get the tradition going again. lol
This is the card and inside it says: "Am I naked? Is this my front yard? Who are these people? And why are their necks so long?" 🙂
So when I came across this guy in Marshalls recently, I had to buy one for myself and one for my friend who just added a new deck to his backyard. He's been traveling so I haven't had a chance to give him his gift, but I think he will get a kick out of it…a little whimsy for the garden, or in my case, the deck. 🙂
If you need a flamingo for your deck or garden, I found one that's pretty close to the one I have here: Flamingo.
Remember this sad fern I wintered over in the garage? It looked so bad when I brought it out this spring, I was tempted to toss it, but I just couldn't bring myself to do it.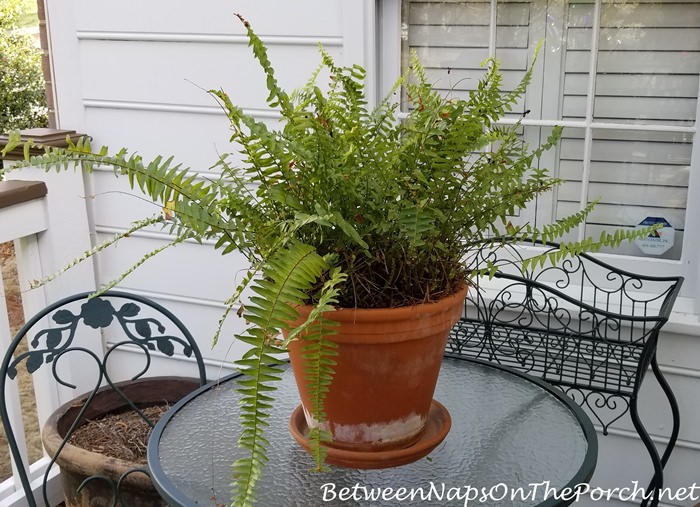 It's making a happy comeback, so glad I didn't give up on it! Amazing how fast they grow!
So that's where we are so far, still need to add some flowers to the other end of the deck, will work on that soon. Happy spring (almost summer) to you!
Looking forward to all the great Before and Afters for this week's Metamorphosis Monday!
I post almost daily on Instagram. Follow Between Naps on the Porch on Instagram here: Between Naps On The Porch. If you enjoyed this post, subscribe for free email updates when a new post is up here: Subscribe for post updates.
Metamorphosis Monday
Metamorphosis Monday is a party that's all about Before and Afters. If you are participating in Met Monday, please link up using the "permalink" to your MM post and not your general blog address. To get your permalink, click on your post name, then just copy and paste the address that shows up in the address bar at the top of your blog, into the "url" box for InLinkz.
In order to link up, you'll need to include a link in your MM post back to the party so the other participants will have an opportunity to receive visits from your wonderful blog readers.
Please observe these few rules:
Please link up Before and After posts that are home, gardening, decorating, crafting, painting, sewing, cooking, fashion or DIY related.
Be sure to include a link back to the party in your post, so your readers will be able to find and visit the other bloggers who are participating.
Do not link up to the party if you're only doing so to promote or sell a product.
To those who are linking up: If you notice a shop or online store linking up to sell products (yes, unfortunately, that does happen) please let me know so I can remove their link and block them from participating in future parties. No one wants to click a link expecting a Before and After, only to find a spam link to an online business/store.

*If a post is sponsored or a product was provided at no charge, it will be stated in post. Some links may be affiliate links and as an Amazon Associate, I may earn from qualifying purchases. *