Welcome to the 585th Tablescape Thursday!
Everywhere I look, there are reminders of how special Thanksgiving was this year. The last time my son, daughter-in-love and grandchildren were here for Thanksgiving, one grandson was still just a twinkle in his parent's eyes and the one that was here was very small, too small to really understand where he was or what was going on.
This time was so different, they understood everything. It was so much fun watching them explore the house and seeing their joy in discovering and playing with all their's Dad's old toys I had brought up from the basement.
When my son was young, he loved eating gumdrops from this little gumdrop tree. Two little boys worked it over pretty good the four days they were here. 🙂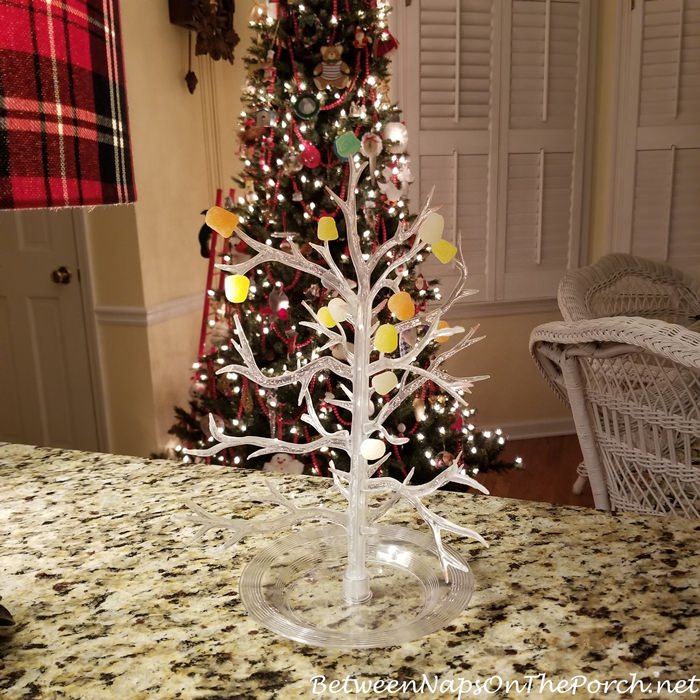 I brought in the little tree I had out on the screened porch to use it as the centerpiece for this week's table.
The tree in the background is covered with ornaments collected over the years, many handmade like the little cross-stitched ornament I made for my son for his first Christmas.
I love how the trees reflect in the French door that leads out to the screened porch. It makes it feel like there are three trees.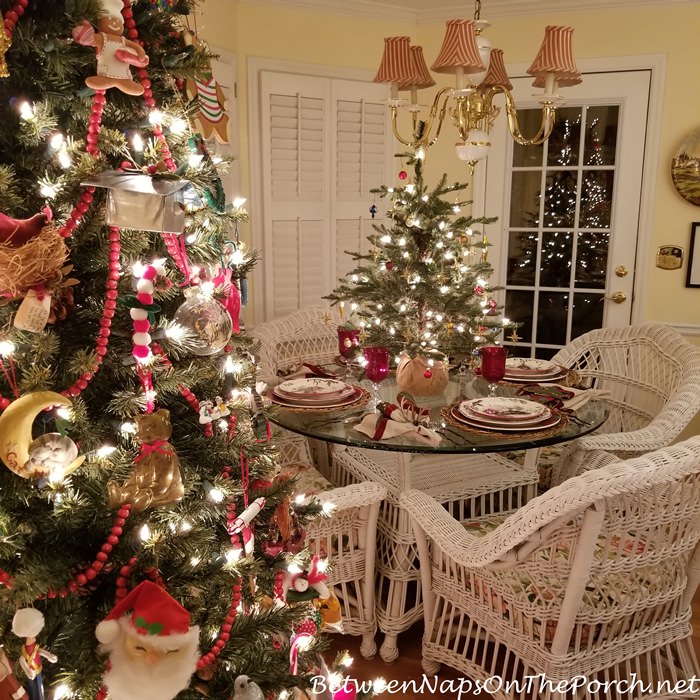 If I were dining here with family or friends, when we sat down to eat I would move the tree centerpiece to the kitchen counter. I love a tall centerpiece and it's easy to just move them to a sideboard or counter when you and your dinner guests sit down to eat.
This morning I snapped a few photos with the shutters thrown back. I love how a table looks in natural lighting, shadows and all.
Love this Better Homes and Garden Christmas dinnerware! The plaid chargers I'm using are currently on sale here: Plaid Chargers. The twig/woven chargers are from Crate and Barrel (I think) many years ago. I caught them on sale for a very low price. I rarely use them because they are so big, most dinner plates look lost on them. They work great and create a nice contrast underneath plaid/tartan chargers.
This is one of B & G's new patterns for this year. I love trains so had to pick up a few of these. If you don't live near a Walmart, you can buy this pattern online here: Better Homes and Gardens Heritage Dinnerware.
This year's 12-piece set depicts 4 different scenes on the salad plates: a reindeer, a snow-covered tree with a bunny nearby and the two new patterns which are two horses and a fox near a stream and the Christmas train that I'm using in today's table. You can see all the patterns at that link above. I hope B & G never stop making new patterns for this dinnerware. I love seeing what they come out with each year.
Since I was going for a woodsy feel with today's table, I pulled out my twig flatware. I love this silly flatware so much! I've been asked if it's comfortable to use/hold and the answer is yes. It quite comfortable and I love using it.
I layered a velvet-edged linen napkin atop a paisley napkin and the napkin ring holding them together is actually an ornament I purchased many years ago in Wal-mart. I purchased several of these antler ornaments which are composed of two faux antlers held together with jute yarn. To use as napkin rings, I wrapped them around the napkins and then around each other to hold them in place.
Tip: The ornament department is always a great place to find unique pieces that work well as place card holders or napkin rings.
You may remember when I used these sleigh ornaments as place card holders for a Christmas tablescape several years back. These were also a find in the ornament department in Wally World. They would make a sweet gift for dinner guests to take home, as well.
Hope you enjoyed this table as much as I loved putting it together!
Merry Christmas to you!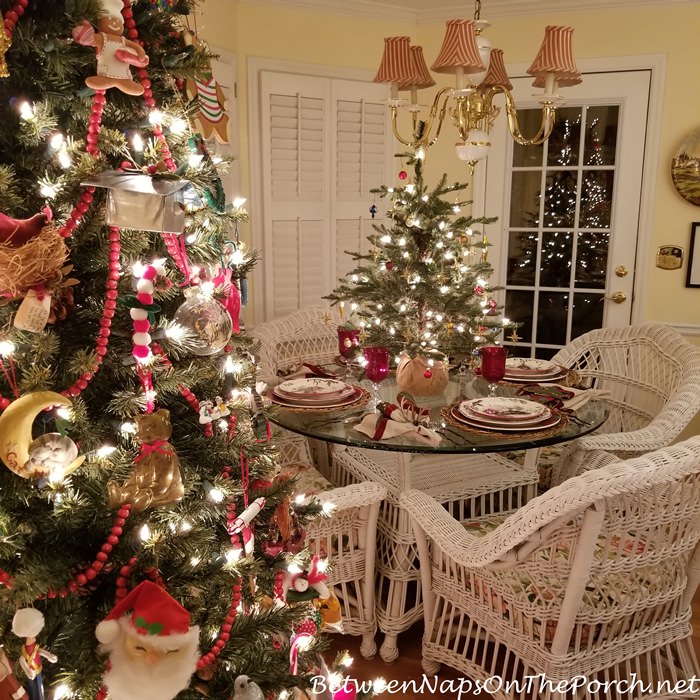 Looking forward to all the beautiful tables linked for this week's Tablescape Thursday!
Pssst: Did you know Between Naps On The Porch is on Instagram? I would love to have you follow me on Instagram here: Between Naps On The Porch AND here: Under Moonlight and Magnolias.
Like to know when a new blog post is up and available to read? Subscribe for email updates, it's free and your email will never be shared.
Subscribe here: Subscribe for free post updates via email here: Subscribe.
Tablescape Thursday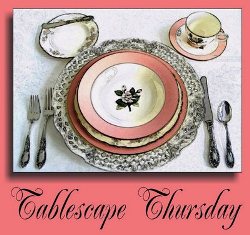 If you are participating in Tablescape Thursday, please be sure to add your permalink below, and not your general blog address. To get your permalink, click on your post name, then copy and paste the address showing in the address bar, into the "url" box when you link up.
You'll need to include a link in your post back to the party to link up and participate. That's so visitors to your blog will be able to find the party and the other Tablescape Thursday participants. Requiring a link back also prevents scammers from linking up to sell their products. Please let me know if you click on a link and find it isn't a tablescape or table related so I can remove it.
This party has ended, click button below for the links to all who participated.
*If a post is sponsored or a product was provided at no charge, it will be stated in post. Some links may be affiliate links and as an Amazon Associate, I may earn from qualifying purchases. *