Happy Weekend to you! Do you have some Christmas shopping planned today? I think I'm going to visit my nearby Williams Sonoma and Pottery Barn today just to see what's all on sale. I LOVE shopping in both stores this time of year.
Before I get into my November favorites, just wanted to share a quick photo of the greenery I used on the mantel this year. I was so busy getting ready for family to arrive for Thanksgiving, I never got around to adding anything else. But you know what–I actually loved how it looked just like this. I just loved the simplicity of it.
I picked up the fresh greenery for free from Home Depot. You may remember in a previous post I mentioned that I always stop by one of the local tree lots each year to pick up a few of the scraps they cut off the Christmas trees that have been purchased. This year Home Depot had a big bin with a sign on it encouraging shoppers to take as much as they wanted. They love it when people take the scraps because it's great recycling and leaves much less for them to burn later.
The scraps are always a good size, so they are perfect for decorating around the house. The greenery was so beautiful and so fresh! I could have taken all I wanted, but I just took one large bag which was enough to completely cover my mantel with a little leftover for other areas. If you have an artificial Christmas tree, this is a great way to get that wonderful Christmas tree smell!
In mid-November, I was shopping in Pottery Barn and came across this beautiful bed. It was love at first sight! I was so tempted to get it and redo the guest bedroom for my family I had coming for the Thanksgiving holidays. I barely resisted since it wasn't on sale.
Well, it's on sale now! I love, love, love the plaid! You'll find this bedding currently on sale here: Duvet Cover and Shams.
I love the red, velvet quilt they paired with it. This is the epitome of luxury! Wouldn't guests feel totally spoiled sleeping in this bed?! The velvet quilt is also currently on sale here: Red Velvet Quilt. I also love this one: Red Velvet Quilt/Shams.
As if all that plaid and velvet goodness wasn't enough, they had woody car sheets on the bed! Gahhhh! I was dying! lol It was all I could do to not buy it right then, but I really wanted to wait for a great sale. The Woody car sheets are currently on sale here: Woody Car.
If you're looking to update your guest room for the holidays, this would be perfect! The plaid duvet and red velvet blanket would really work all fall and winter, not just for the holidays. I love this look!
November Favorites
I had so many favorites for November, too many to share them all in one post. I love this little mini vacuum I purchased for my desk and keyboard. I have a huge mouse pad that stretches across my desk and this cute little vacuum works great for keeping it clean so my laser mouse works great.
It's also great for cleaning keyboards and keeping them free of dust. It would make a great stocking stuffer, too! You'll find it here: Mini Desktop/Table Vacuum Cleaner, Great Stocking Stuffer
I purchased these oven mitts to use during Thanksgiving, thinking my grandsons would get a kick out of them–and they did! 🙂 They work great and actually fit my hands. Most oven mitts are way too big and bulky to really be usable. I love these! You'll find them here: Fun, Bear-Paw Oven Mitts.
I have to mention this fun dinosaur pancake maker since it was such a big hit for Thanksgiving. I love the pancakes that came out of it, as well. They were delicious! If you have some dinosaur loving little ones coming for Christmas, you'll find the waffle/pancake maker here: Dinosaur Pancake Maker.
You'll also see other fun pancake makers at that link, including a spiderman one and a bunch more.
I've raved about this waffle/pancake mix a few weeks ago. It's delicious and officially my favorite, especially the blueberry! You'll find it here: Pancake Waffle Mix.
I have to mention both the napkin holder and paper towel holder that I purchased last month. I've enjoyed both so much over the last few weeks! They are beautifully designed where you only get one napkin or paper towel each time. Definitely recommend these and you'll find them here: Napkin Holder AND Paper Towel Holder
I purchased a pair of these ultra-thin silk thermal pants a couple of years ago. This year, I purchased a second pair because I like them so much. The first pair has held up beautifully, I just wanted a second pair as a backup. These cost a little more than cotton thermals, but they are so worth it because they are very thin, thus don't add any bulk underneath your pants. I even wear mine with my jeggings, they are that thin! It's amazing how much warmer I am when wearing them, despite how thin they are.
You would think being so thin, they would tear or run easily, but I haven't gotten the first run in either pair that I own, and I've worn them a lot! I do hand wash them since I want them to last.
Definitely recommend these if you're looking for some thin thermal pants to go under your everyday slacks or jeans. You'll find them here: Silk Thermal Pants
Had to mention my puzzle board since I've been using it so much! I've been working so many puzzles lately, just find it so relaxing while I listen to a book on Audible. If you love doing puzzles or need a great gift idea for someone who does, you'll find this puzzle board here: Puzzle Board
I shared these merino wool socks shortly after I purchased them. I've been living in them over the past month. Even though they are super warm, they are not overly thick or bulky, so they fit nicely inside all my winter boots/shoes. They aren't scratchy at all since they are Merino wool.
I liked mine so much, I purchased another six for myself and for my daughter-in-love, as well. She loves them, too! The price is amazing: 6 pairs of merino wool socks for just $23.98! Plus, right now, there's a 5% off coupon available. Unbelievably great price and would make a great gift or stocking stuffer. You'll find them here: Merino Wool Socks.
When my grandsons were here for Thanksgiving, they kept asking for hot chocolate every day. I kept wondering why they were sooo into hot chocolate and then realized it was because each time I made it for them, they were allowed to choose two snowman marshmallows, one to eat and one to drop into their hot chocolate.
Of course, one must drink hot chocolate from Moose Mugs at Christmastime!
Non-breakable moose mugs (a la Christmas Vacation) are available here: Moose Mugs for Kids.
They were obsessed with these adorable snowman marshmallows! It was so funny watching the youngest (age 3) carefully and thoughtfully choose which two he wanted to have each time with his hot chocolate. 🙂
I noticed today they are currently on sale, so I just purchased more to take with me when I head to Ohio for Christmas. You'll find these adorable marshmallows on sale here: Marshmallow Snowman.
Again, these would make cute stocking stuffers.
This was the hot chocolate I made for them…the one in the middle in the brown tin. They loved it! You'll find it currently on sale here: Hot Chocolate. Great time to stock up while it's on sale! A tin of the hot chocolate with the marshmallows would make a great gift for someone this Christmas. Would also make an excellent hostess gift if you're invited to a party or friend's home for the holidays.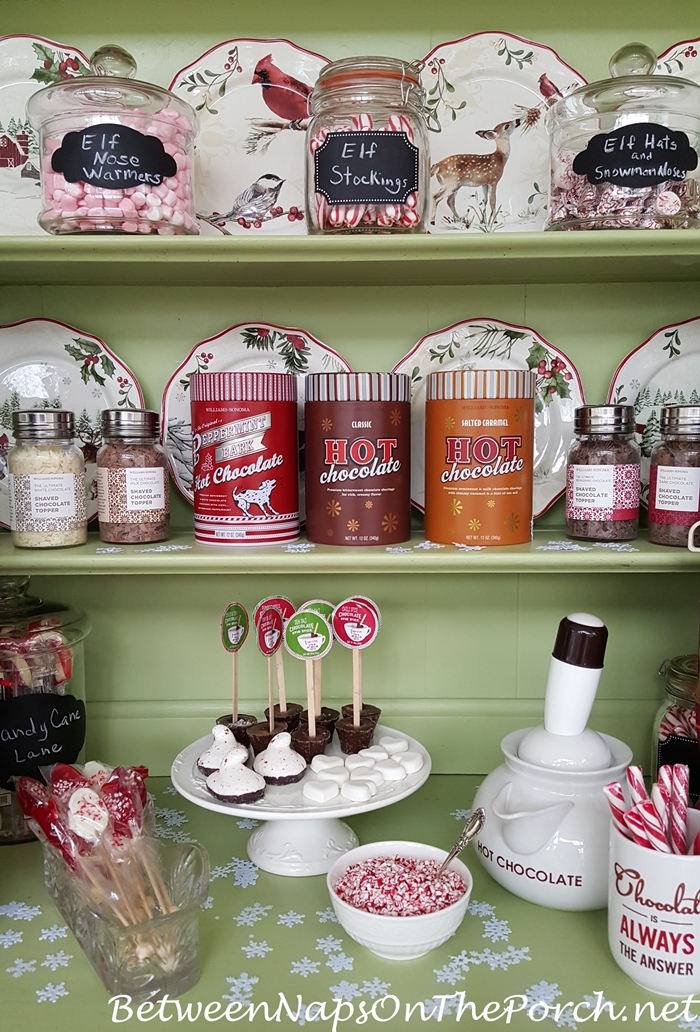 Those are just a few of my favorites for the month of November! Love this time of year so much! Happy Holiday shopping to you!
*If a post is sponsored or a product was provided at no charge, it will be stated in post. Some links may be affiliate links and as an Amazon Associate, I may earn from qualifying purchases. *