Happy 4th of July!

Do you have any big plans for today? I'll be celebrating this evening with friends atop the Sundial in Atlanta. Whooo, Hooo! Really looking forward to seeing the fireworks from there! Have you ever spent the 4th dining inside the Sundial? Where's the highest spot from which you've ever viewed fireworks? Any recommendations for a great fireworks show or is the best show going to be in your own backyard tonight?
A Deck for Partying!
Recently, Donna kindly shared some photos of her deck all decorated for summer fun. Oh my Gosh! I love it! Note the striped rug, awesome double-tiered umbrella and the comfy seating throughout the deck.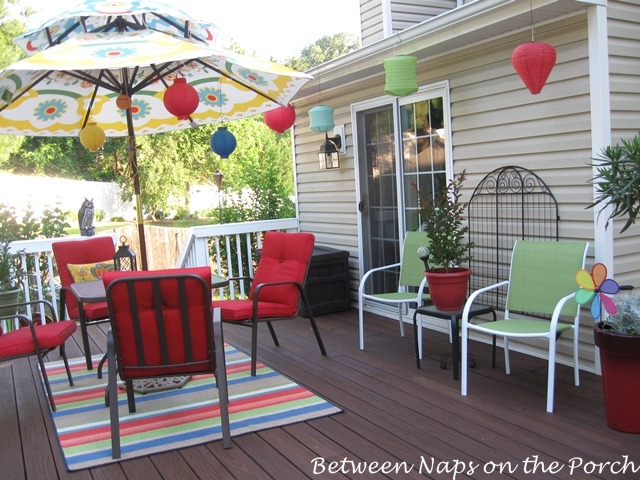 You know there will be some serious 4th of July celebrating going on out here today!!! Donna, would you mind if we all came and joined you? We'll bring our own hotdogs and hamburgers for the grill! 😉
A "Lifesaver" floater make a fun, inexpensive decoration. Can't wait to see the tiki torches lit after dark!
Love these! So fun!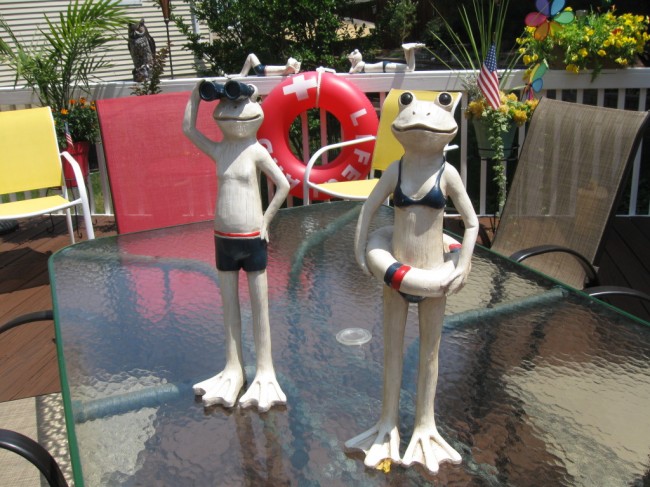 Send me some pics of your porch or deck decorated for summer and I'll try to share them here on BNOTP. I love summertime…let's party!
Having trouble accessing posts under the categories?
When BNOTP moved to WordPress a month ago, I wanted the transition for everyone to be as painless as possible. I wanted you to still have access to old posts via the category headings at the top of the blog. Since I knew it would take weeks for me to get 900+ posts "categorized, tagged and titled" here at BNOTP's new home, to provide immediate access to those old posts I have been using the same system I used when BNOTP was at Blogger, the InLinkz Link Manager. After getting all the categories set up into Menus, I just copied and pasted over the old InLinkz code. For the most part that has worked well, but unfortunately, there's a big old glitch.
I'm not sure why, but the thumbnail picture links will not work for those folks who live outside the United States. In a nutshell, all those old InLinkz thumbnail links still link back to the old blogspot address for each post, but that isn't a problem because when someone clicks on the link, they are redirected to the post's current home here at WordPress…except if they happen to be outside the United States. 🙁
In about 2-3 more weeks (hopefully sooner) I will switch over to a different system and this problem will go away. If you live outside the United States and have found the category picture links do not work for you, please use the search box at the top of the sidebar to find an older post for now. I promise to have this issue corrected soon. I'm staying up into the wee hours each night, categorizing and tagging 900+ posts for a new system I'll be switching over to soon. If you have any trouble finding an old post, just email me at betweennapsontheporchatgmaildotcom and I'll send you the direct link to the post.
Have a wonderful Independence Day my Friends!
*If a post is sponsored or a product was provided at no charge, it will be stated in post. Some links may be affiliate links and as an Amazon Associate, I may earn from qualifying purchases. *