Welcome to the 65th Tablescape Thursday!
With Thanksgiving only a week away, I thought I'd share a "hunt themed" Thanksgiving tablescape this evening. This tablescape is similar to the one I did last year, but I've changed quite a few things and added a bit more whimsy.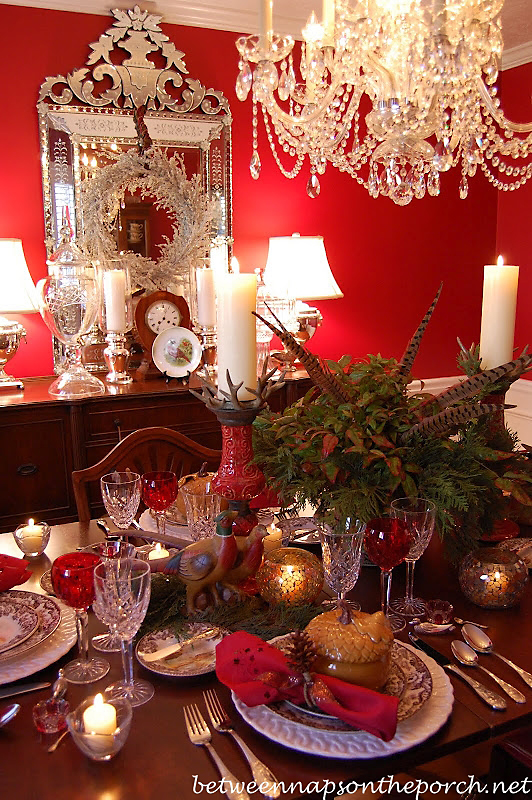 Let's dim the lights a bit…
Acorn tureens from Williams-Sonoma are just right for a hearty Butternut Squash Soup.
Click HERE for the recipe from Williams-Sonoma…
Our place setting…
Salad plate…
Dinner plate…
Candlelight didn't do the colors in the Woodland china justice, so I took these next two pics during daylight hours so you could see the true colors.
Quite a difference, isn't it?
Flatware is by Spode, and is in the Woodland pattern. It was especially created to coordinate with this Spode Woodland china but really looks beautiful paired with almost any china.
Another addition to my Thanksgiving table this year are these little silverplate duck knife rests…I just love 'em.
Recently I found three Waterford, Araglin wine glasses for $20 a stem in a local antique store. I was definitely doing my happy dance since Araglin is the pattern I collect. This is the first table I've created for a Tablescape Thursday where I've used three pieces of stemware at each place setting…going fancy for this one.
Pine cone napkin rings continue our woodsy, hunt theme. I've added a little piece of glittery ribbon for just a touch of glamour. Do you see the leaf cut-work design surrounding the edge of our napkins?
I loved using Leyland Cypress and Nandina (Firepower) in my Thanksgiving tablescape last year, so I decided to use it again.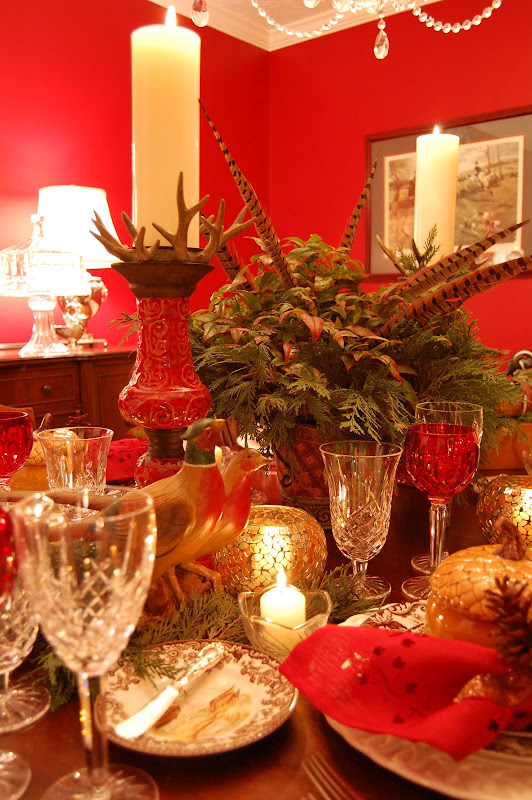 This year I've stepped it up a bit with the addition of pheasant feathers…perfect for our Woodland china.
I used a pretty cachepot I already had for this centerpiece.
You may remember these tall red candlesticks. I've used them in tablescapes many times before. For our hunt themed tablescape, I've topped them with faux antler pillar holders from Kohls. Looking at this pic I'm thinking I should have tucked a little greenery in around the candle…an idea for next year.
These guys were on my table last Thanksgiving, too. This year I filled in around them with a little Leyland Cypress. They look as if we've caught them walking through the woods.
Mr. Duck looks as if he just came ashore to rest a bit.
I have a small, wood box collection…love the warmth of the old boxes.
The box provided some additional height for our feathered friend.
Thanks so much for coming by for Tablescape Thursday. This Thanksgiving, I want each of you to know how very thankful I am for your visits, comments and much-cherished friendship!
I pray that each and every person reading this has the most blessed and wonderful Thanksgiving ever! Love y'all!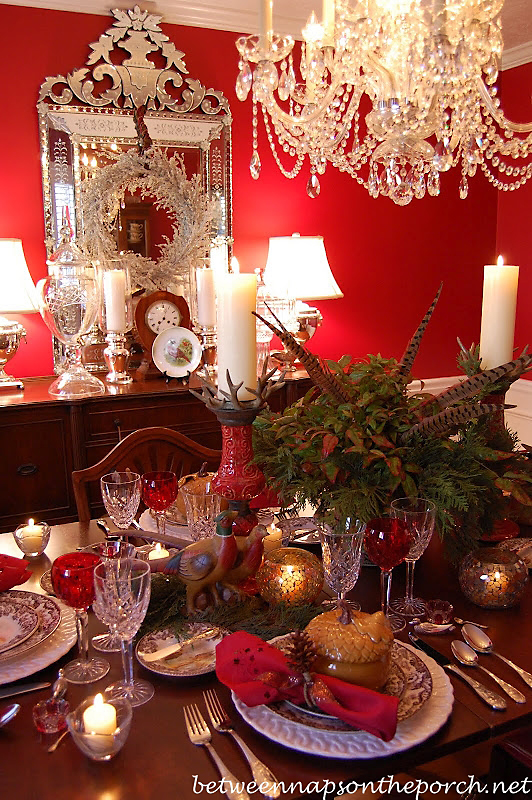 China: Spode, Woodland
Crystal Stemware: Waterford, Araglin and Crimson Hock
Acorn Bowls/Tureens: Williams-Sonoma
Flatware: Spode, Woodland (except butter knives & salt spoons, which are Towle, King Richard
Duck Knife Rests: Amazon
Ruby Flash Salt Cellars: eBay
Napkins: Marshalls this fall
Napkin Rings: Pier 1 on clearance, recently
Pilgrim S & P Shakers: Publix Grocery Store
Squirrel S & P Shaker: Cracker Barrel Gift Shoppe
Pheasants: Hobby Lobby, a year or two ago
Tall Red Candlestick: Hobby Lobby, two years ago
Mosiac/stained-glass-looking votive holders: Kohl's, over a year ago
Centerpiece: Nandina 'Fire Power' and Leyland Cypress are from my yard
Pheasant feathers: Hobby Lobby…they are available on eBay, too
Looking forward to seeing all the tablescapes posted for this Tablescape Thursday!
If you are participating in Tablescape Thursday, please be sure to add your permalink below, and not your general blog address.
Please copy and paste the Tablescape Thursday logo button to your computer. Then you can upload it to your side bar and use it in your tablescape post so your visitors will know you are participating.
Please link back to the host blog, Between Naps on the Porch. This is important because it helps those who are visiting your blog, find the other wonderful tablescapes posted for this Tablescape Thursday.
Please do not add your link below, until your tablescape post is actually published to your blog.
The following blogs have lovely tablescapes awaiting your visit:
*If a post is sponsored or a product was provided at no charge, it will be stated in post. Some links may be affiliate links and as an Amazon Associate, I may earn from qualifying purchases. *