Welcome to the 303rd Metamorphosis Monday!
Have you ever thought of downsizing to a smaller home? Tonita who blogs at Shabby Chic Tiny Retreat first got bit by the small-house bug when she walked into a tiny straw bale home at the California State Fair. Giving up her cell phone, Tonita took that money and began to save a $100.00 each month. After 7 years she had saved up enough to buy her own small cottage.
Tonita told me, " Believing that it is never too late to have a happy childhood I decided I wanted to have a playhouse with many of the features of a real home, a retreat, a place to celebrate, a gift to myself." I love Tonita's philosophy on life…that it's never to late to have a happy childhood!
Tonita's small home was built by Scott Stewart, the owner of Slab Town Custom Homes in Arkansas. Her particular home is the AnneMarie Model. In the picture below it's being delivered. In a post on her blog Tonita said the day it arrived, she was waiting with paint brush in hand. She had a plan and couldn't wait to get started transforming her tiny home into the home of dreams!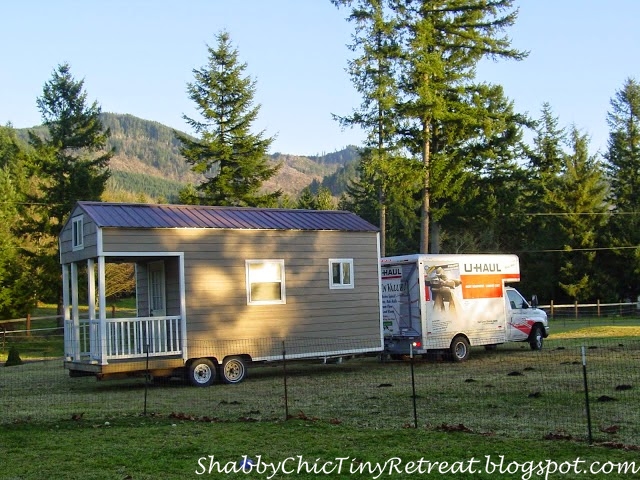 Is this not the cutest, most adorable little cottage ever?! This is how it looks during the spring and summer.
And here she is at Christmastime. I love the garland and wreaths running along the white picket fence.
Tonita has chickens! They are as adorable as her home and they are definitely living the good life in their custom chicken coup!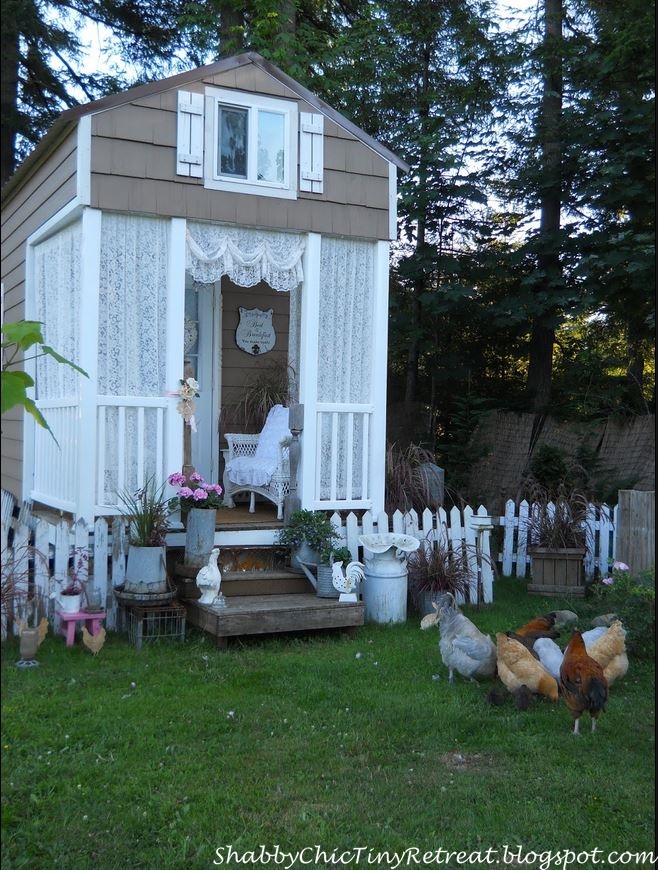 The Chicken Château is located there to the right of Tonita's cottage, in between her home and a garden/storage shed. Look at all those beautiful flowers spilling from the window boxes of the Chicken Château and the garden shed!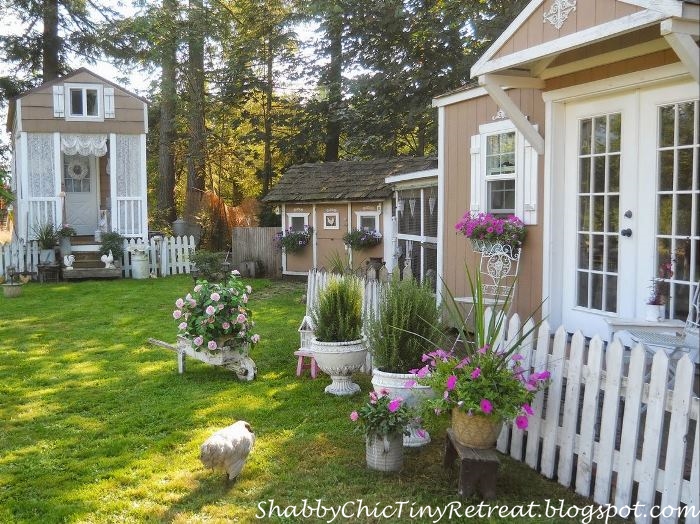 Tonita found the perfect wallpaper for the Chicken Château, it has a chicken wire design with little pink roses. So cute and so perfect! Tonita had only purchased one roll of paper thinking it would be enough to cover the walls of the coop, but it wasn't. After some extensive searching online, she located one more roll. Meant to be!
Tonita stores organic chicken feed inside the antique milk can which does double-duty as a place to sit and watch the baby chicks.
The nesting boxes are filled with organic hay. Are you thinking what I'm thinking…let's come back as one of Tonita's chickens in our next life! They are living the good life, aren't they?
Tonita stenciled their names above their boxes so there would be no fussing or confusion about who nests where. 🙂 Tonita named her chickens after favorite Aunts and other dearhearts who were "mother hen" figures in her life and have since passed away.
When Tonita's chickens aren't busy nesting in the Chicken Château, they can be found free-range sunbathing in the garden. 🙂 Aren't they beautiful! You can see more of the Chateau in this post at Tonita's blog: Chicken Chateau: By Reservation Only
Ready to go inside and tour Tonita's sweet retreat? Let's go!
Love the sign…it says: Bed & Breakfast…You make both! 🙂 Tonita found the wonderful wicker sette for a song on Craig's list.
It's a perfect fit for her front porch! This picture was taken when Tonita had decorated her cottage for Valentine's Day. If you are thinking of downsizing but dread the idea of not having enough storage space to decorate for the holidays and special occasions, take a page from Tonita's book and purchase a storage shed to store those special decorations you use throughout the year.
About her tiny cottage home, Tonita said, "It comes complete with a master loft, a guest loft, a full bath with sink, shower and tub. The great room will seat four people comfortably for dinner, and there is cozy reading or sleeping nook on the main floor."
You can see the guest loft there above the sleeping/reading nook in this picture below.
Such a darling cottage and what a lovely place to celebrate with good friends.
Tonita's attention to details is wonderful. You'll want to visit her blog to see all the special touches she's added to this darling cottage.
I love how she decorated her home for Valentine's Day, adding touches of pink throughout.
Wood counters stained in a dark stain contrast beautifully with the sounding white cabinetry.
Tonita said, "There is a closet, storage area, 2 burner stove top, apartment size frig with freezer, a built-in ladder and bookshelf and plenty of storage space and shelves. Many free roadside finds fill the walls and shelves of the tiny retreat. I love to upcycle discarded items and give them a new life."
Tonita created a wonderful table for Valentine's Day to share with some very special friends.
I love how she mixed different silver patterns for her beautiful tablescape.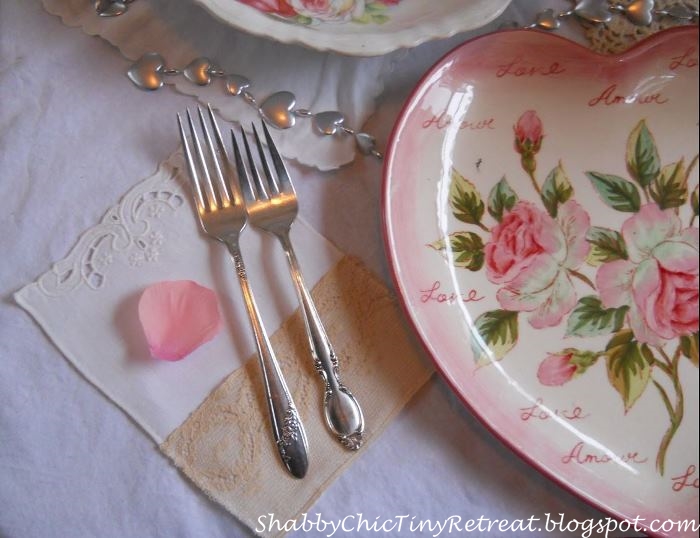 This may be my favorite spot of all…a cozy reading nook, perfect for an afternoon nap.
Have you been noticing all the wonderful chandeliers? Tonita said, "A collection of 9 chandeliers, add charm to the vintage inspired tiny house that measures just 8 feet wide and 18 feet long. A 6 x 8' attached front porch adds outside living space. It is a great tiny home that has a zero mortgage and it provides me with current and future living options."
Park your pink boots right here beside the fireplace and they'll be toasty warm when it's time to head back out. Love these!
Let's check out the loft bedrooms!
This is the master bedroom and it sports one of those 9 fabulous chandeliers!
And here's the cozy guest room. Small but luxurious!
Guest are treated to fairy lights at Christmastime. 🙂
Come Christmastime, Tonita decorates her tiny home with lots of natural greenery.
What a great idea for decorating shelves!
Bright red apples, pine cones and natural greenery are wonderful Christmas touches for this cottage retreat. Notice the roll of "Wish" tickets…they must work because this sweet cottage home fulfilled all Tonita's wishes.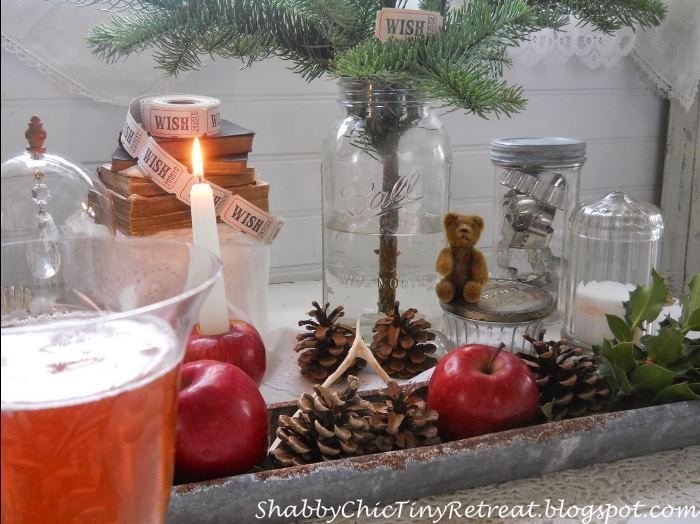 Do you have any special dreams or wishes?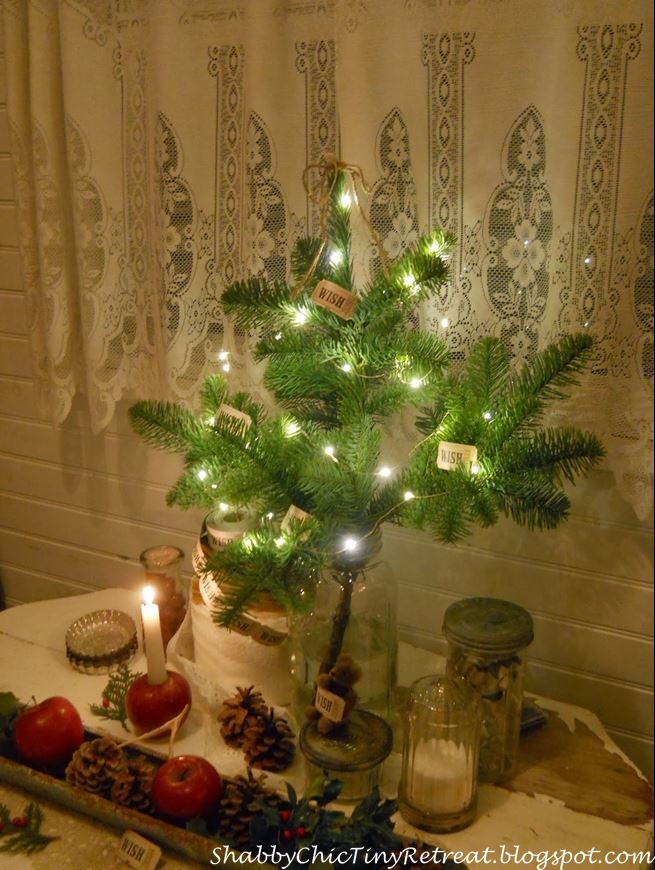 With a little planning and saving, Tonita made her dreams and wishes come true. This cottage home is the embodiment of her wish come true! Such an inspiration for us all!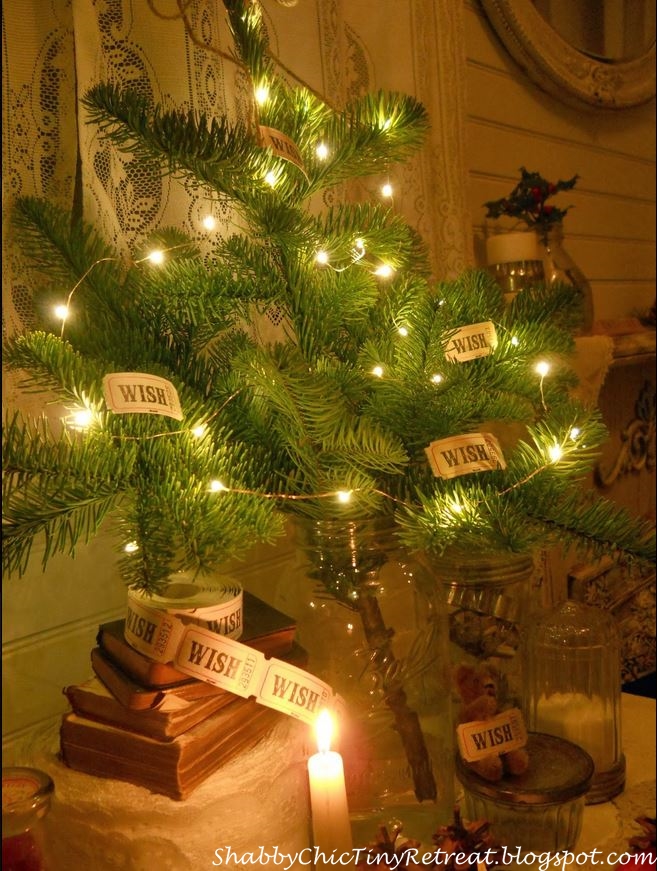 I'll leave you with a sentiment Tonita often leaves with the readers of her blog:
"As always, I want you to remember that it is never too late to have a happy childhood.
Love and Blessings,
Tonita"
Love a darling little cottage home? Check out Sandy's sweet streamside studio previously featured here: Rugged Hunting Cabin Becomes Beautiful Victorian Retreat
Looking forward to the other Before and Afters for this Met Monday!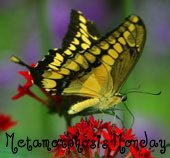 If you are participating in Metamorphosis Monday, you will need to link up the "permalink" to your MM post and not your general blog address. To get your permalink, click on your post name, then just copy and paste the address that shows up in the address bar at the top of your blog, into the "url" box for InLinkz.
In order to link up, you'll need to include a link in your MM post back to the party so the other participants will have an opportunity to receive visits from your wonderful blog readers.
Please observe these few rules:
Only link up Before and After posts that are home, gardening, crafting, painting, sewing, cooking, DIY related.
Do not link up if you're doing so to promote a website or product.
Do not link up a post that was just linked last week since a lot of readers will have already seen that post.
Please do not link up more than 2 Before and Afters each week. Thanks!

*If a post is sponsored or a product was provided at no charge, it will be stated in post. Some links may be affiliate links and as an Amazon Associate, I may earn from qualifying purchases. *