Welcome to the 309th Metamorphosis Monday!
How was your holiday? Did you spend it with family? Did Santa bring you a new toy or two? 🙂
I was with family in New Hampshire for the week so there was a fair amount of time spent in airports, on airplanes and in rental cars on the way there and back. The in-between part with family was wonderful, though.
I loved my time in New Hampshire. Have you ever been to the beach there? It looks so different from the beaches here in Georgia and those I've visited in Florida. It was high tide when this picture was taken in Rye, so the beach was almost non-existent. The water was really that color blue!
The historic homes in the Rye area are wonderful! I was oohing and ahhing around every bend in the road! I only had my cell phone with me and it was almost dead, but I snapped a few pics before it totally croaked. I want to go back during the summer and do some house stalking. Such a beautiful area!
I hope your Christmas was wonderful! Leave me a comment and tell me about it. I missed you so much while I was gone!
Farmhouse Kitchen Renovation
You know that old saying about turning lemons into lemonade? That's exactly what Christy did when the now-infamous, defective polybutylene pipe in the walls of her master bedroom burst, gushing water into the master bath and raining down into the kitchen below. Christy was thankfully able to shut the water off at the street before it got to the hardwood flooring in the other rooms of her home, but the bath and the kitchen had to be gutted back to the studs.
Christy said, "The kitchen and the master bath were a total loss – torn out to the studs to replace the soaked insulation in the walls and ceiling."
The photo below was taken after the collapsed ceiling was removed and before the restoration/renovation got fully underway. The walls were previously wallpapered and the countertops were white laminate.
The previous cabinets were a light-colored stained.
You can see the old cabinets a bit better behind Christy in this photo taken on her birthday. Christy said, "The ceiling collapsed in the kitchen, the cabinets were warped, but the silver lining is that I have my dream kitchen and master bath now!
AFTER
A set of Fire King Jadeite coffee mugs inherited from an aunt was the inspiration for the color scheme Christy chose for her kitchen. Christy said, "These mugs set the whole color scheme for my kitchen, which is usually decorated in jadeite green and soft blue. I also collect Luray dishes from the 50's in these two colors." Christy went with a beadboard ceiling in her farmhouse style kitchen.
Over the years, Christy had been collecting photos of her favorite kitchen designs, so though this was completely unexpected, she knew the direction she wanted to go with her renovation. Christy said, "I call my kitchen "modern farmhouse" and the showpiece is my Big Chill retro refrigerator.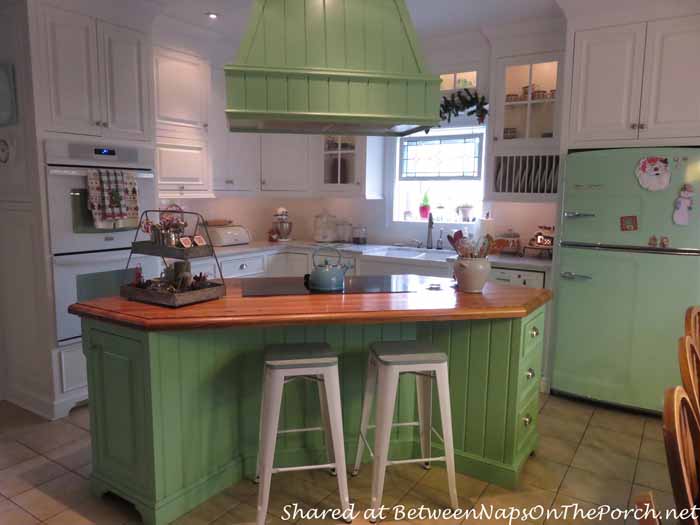 "I had seen the Big Chill brand in several magazines and then in Rachael Ray's kitchen. The color of my refrigerator is called Jadeite." Christy had the kitchen island and range hood painted a custom color to match her Big Chill refrigerator!
Christy chose honed marble for her countertops and white, subway tile for her backsplash.
I love the honed marble…so beautiful! I asked Christy if she has had any issues with stains on her marble. She said her countertop is really well-sealed so after 5 years, it still looks great. Love the Santa mugs and pitcher peeking through the glass cabinet door.
I asked Christy what was hiding behind this door. Can you guess? If you guessed a microwave, you're right! The door lifts up and slides back when needed. Love that the microwave can be made to completely disappear whenever it's not in use.
As you might expect, Christy chose a farmhouse sink for her new kitchen.
This time of year, the kitchen window holds a tiny Christmas village. Love the greenhouse window, perfect spot for an herb garden!
The kitchen has a built-in plate rack for convenient storage of everyday dishes..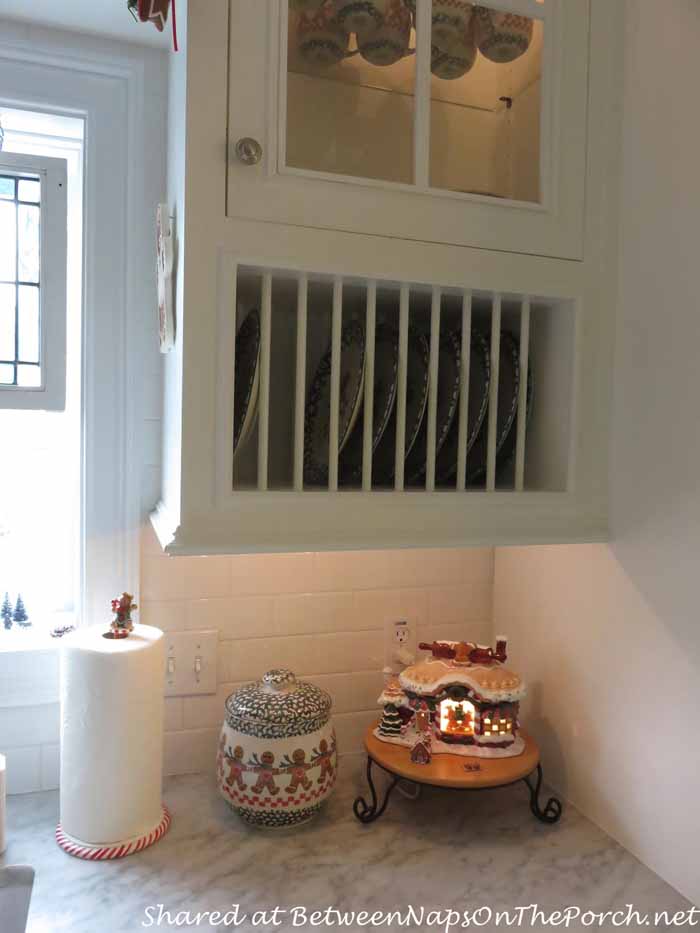 The soft, blue wall color chosen for the kitchen is Sherwin Williams, "Something In Blue." Christy chose pine for the island countertop.
Christy changes out this two-tiered tray found in Target, for the holidays and seasons. I love that idea!
The light fixture over the kitchen table is from the Martha Stewart Collection.
At Christmastime, Christy decorates her kitchen in a gingerbread theme.
A mason jar centerpiece is perfect for a farmhouse kitchen. Gingerbread-house placemats adorn the table.
Christy's adorable Christmas dishware is Folk Craft Gingerbread by Tienshan.
Christy decorates her hutch in a gingerbread theme in keeping with the other decorations in the kitchen.
No details were missed in this beautiful restoration/renovation. A beautiful honed-marble desk with built-in bookshelves adds great function to this corner of the kitchen.
I'm in love with this kitchen makeover! You know that cottage I'm always dreaming of…wouldn't it be perfect with a Big Chill refrigerator! 🙂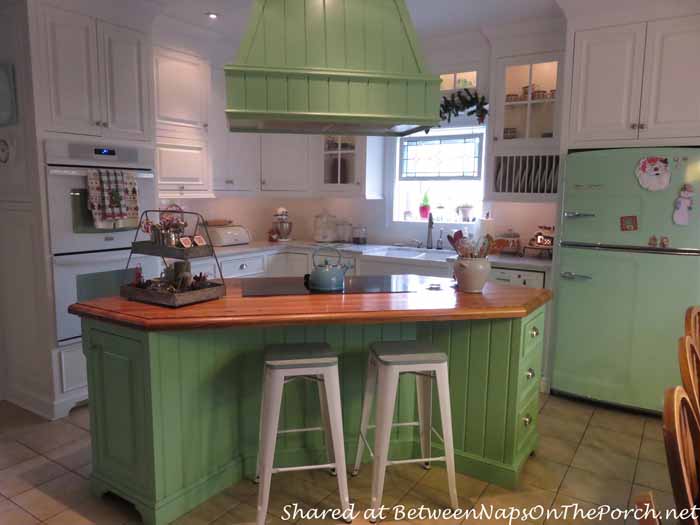 Thanks so much to Christy for sharing this amazing kitchen makeover! I couldn't wait to share it with you for Met Monday!
Have you renovated your kitchen or another room in your home in recent years? Send me 5-10 large, bright, clear pictures taken without a flash, and if possible, I'll share them here on BNOTP. Photos can be e-mailed to [email protected]. I always love seeing and sharing your fabulous renovations!
Looking forward to seeing all the wonderful Before and After for this Met Monday!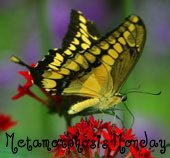 If you are participating in Metamorphosis Monday, you will need to link up the "permalink" to your MM post and not your general blog address. To get your permalink, click on your post name, then just copy and paste the address that shows up in the address bar at the top of your blog, into the "url" box for InLinkz.
In order to link up, you'll need to include a link in your MM post back to the party so the other participants will have an opportunity to receive visits from your wonderful blog readers.
Please observe these few rules:
Only link up Before and After posts that are home, gardening, crafting, painting, sewing, cooking, DIY related.
Do not link up if you're doing so to promote a website or product.
Do not link up a post that was just linked last week since a lot of readers will have already seen that post.
Please do not link up more than 2 Before and Afters each week. Thanks!
*If a post is sponsored or a product was provided at no charge, it will be stated in post. Some links may be affiliate links and as an Amazon Associate, I may earn from qualifying purchases. *