Welcome to the 612th Metamorphosis Monday, a blog party sharing fabulous Before and Afters!
If you've been reading BNOTP for a while, you probably know I spent much of summer and the start of the school year helping with my grandchildren in Ohio. School is still just 3 hours a day there so it definitely makes it challenging for working Moms and Dads. Once I returned back home, it was full steam ahead! I had just been diagnosed with pneumonia 5 days before I returned home, but the antibiotic was doing its job, so it was time to get busy and make up for the lost time.
I've been back home for about a month now and during that time I've had the whole house, decks, driveway, walkway, brick mailbox pressure washed, a deck restained, some touch-up painting done in areas that needed it and the front porch completely repainted.
I replaced all the window locks throughout the whole house, purchased and learned how to cook in an Air Fryer, purchased a retro refrigerator for my home office and managed to get it out of my SUV and up the stairs into my home office by myself. lol That was a challenge! I can't wait to share it with you in a post…it's sooo cute!
I also loaded up the large desk and chair from my son's old bedroom and drove it back up to Ohio where I'm currently writing this post. It's been a busy month!
While I was home, the screened doors that were being custom made in Ohio for the porch, arrived. You know my history with jinxed deliveries. Well, this one was no different. One door arrived with the entire end of the crate missing! The sides of the crate were flapping like a loose sole on the bottom of a shoe!
Since the whole end of the crate was missing, all the hardware for that door was missing, as well. Thankfully the Wooden Screened Door Company replaced the missing hardware.
Both doors are currently awaiting installation in my garage. I may wait until spring to have that done. I need to do a bit of research to determine who I'll be using for the installation. I want to make sure it's done carefully since these doors were an investment, for sure.
There was some damage to the doors during shipment. The door housed in the badly damaged crate, the crate that was missing its entire end, was chipped slightly and scrubbed in a few places. Fortunately, that should be hidden once it's installed and painted.
The other door arrived with a torn screen. The screen is currently being rescreened in a local screening shop.
The other project I worked on this past month involved the window sash locks throughout my home. I'm a big fan of Baldwin Brass, love their polished brass in their Lifetime finish. All my exterior doors have Baldwin Brass hardware in the Lifetime finish and they have held up beautifully.
Psst: Find a tutorial for adding bats to your front porch/door here: Eeek, Add Bats for a Fun Halloween Entry.
Here's a bit better view of the handle/lock on the front door.
(See more of this front porch decor and how to hangle triple wreaths here: Decorate with Triple Wreaths for Christmas and here: Easy Way to Hang Triple Wreaths.)
Last year when I was hanging all the wreaths on the windows a few weeks before Christmas, one of the sash locks snapped right in half. It was late at night and suddenly I found myself with a window that didn't want to stay up and I had no way to lock it. Ugh. The majority of the window locks in my home were original with only a few having been replaced over the years as they've snapped from old age.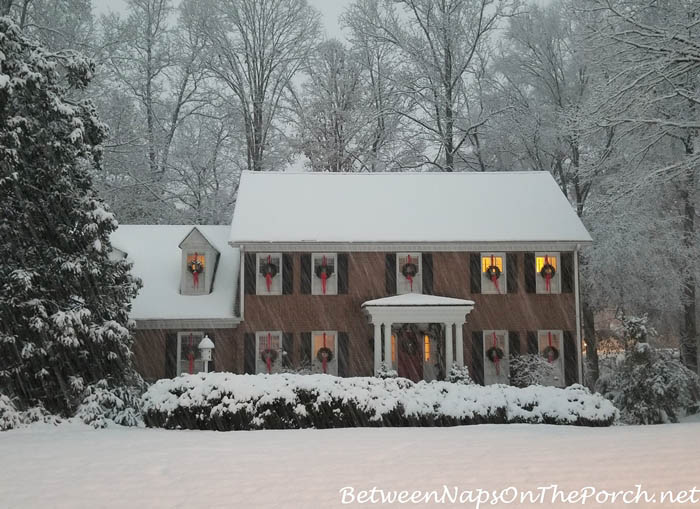 I didn't want a repeat of what happened last year when I start hanging the wreaths this year, so I decided to replace all the sash locks with Baldwin Brass Lifetime-Finish locks. Those are the old ones in the bag below. I'll donate those to Goodwill just in case someone can use them. That's one of the new ones in the top right of the photo.
I had purchased a single Baldwin Brass Lifetime Finish lock from Amazon last year, but this year they weren't available. I ended up finding them at Suwanee Decorative Hardware online. At $12.39 per lock, it cost a little over $300 to replace all the locks throughout my home, but at least I don't have to ever worry about another surprise broken window lock when I'm hanging wreaths.
The Lifetime Finish locks come in all styles/colors. I stayed with polished brass since I love how that looks against the white paint of my windows and plantation shutters.
I really haven't done a lot of fall decorating this year since there was so much going on with the pressure washing and painting. I've kept it simple with just a fall wreath on the door.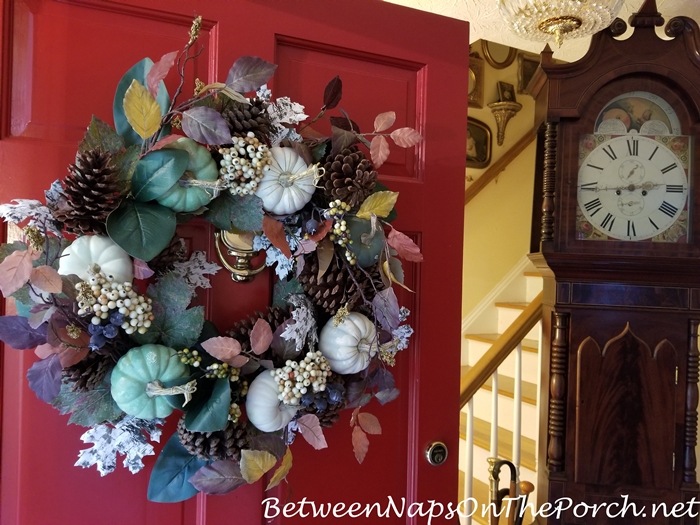 Inside, I added a few cozy pumpkins here and there. I also purchased this leopard print throw that had excellent reviews. The reviews indicated that it was very similar to the Barefoot Dreams throw for a lot less $$$.
I love how it looks with my tartan bedding and it is super cozy! I purchased the throw in Queen size so I could use it here on my bed or as an oversized throw. You'll find it available in several sizes, colors and prints here: Throw.
BTW, the tartan bedding is back again this year and it's currently on sale! I always like to pick up another piece in this tartan pattern each year. I'm never sure how long they'll keep bringing it back, I'm amazed they've brought it back as many years as they have! If you love tartan, you'll find it currently on sale here: Tartan Bedding.
I'll be decorating the front porch as soon as the painters are completely finished with their work on the front porch. Looking forward to sharing that real soon.
Looking forward to all the wonderful Before and Afters linked for this week's Met Monday!
Pssst: Did you know Between Naps On The Porch is on Instagram? You'll find me on Instagram here: Between Naps On The Porch.
Like to know when a new blog post is up and available to read? Subscribe for email updates, it's free and your email will never be shared.
Subscribe for free post updates via email here: Subscribe.
Metamorphosis Monday
Metamorphosis Monday is a party that's all about Before and Afters. Please link up your Before and After projects like DIY projects, room makeovers, craft projects even recipes. Any Before and After is great! Please do not link up Table Settings, save those for our Tablescape Thursday party on Thursday.
If you are participating in Met Monday, please link up using the "permalink" to your MM post and not your general blog address. To get your permalink, click on your post name, then just copy and paste the address that shows up in the address bar at the top of your blog, into the "url" box for InLinkz when prompted.
In order to link up, you'll need to include a link in your MM post back to the party so the other participants will have an opportunity to receive visits from your wonderful blog readers.
Update: Please do not link up table settings/tablescapes for Metamorphosis Monday. Please save those for our Tablescape Thursday party on Thursdays. Recipes are fine because that's definitely a "Before and After" but please save your beautiful table settings for Tablescape Thursday. Pretty vignettes (transformations) you've created on atop a chest or somewhere in your home are great for our Before and After party, but let's save the actual table settings for Tablescape Thursday.
This party has ended, click button below for the links to all who participated.
*If a post is sponsored or a product was provided at no charge, it will be stated in post. Some links may be affiliate links and as an Amazon Associate, I may earn from qualifying purchases. *