Welcome to the 655th Metamorphosis Monday!
A few years back I shared these absolutely gorgeous lipstick cases by the House of Sillage. I think I first came across them in a post on Instagram and I was smitten!
House of Sillage periodically comes out with new additions and they are always beautiful. Over the last few years, I've added to my collection and I use them all the time. I use them in a similar fashion to the way I enjoy my perfume atomizer collection. I keep the House of Sillage lipsticks that fit inside separate from the cases. When I'm headed out the door, I'll choose whatever lipstick I'm wearing that day and pop it into the lipstick case I want to use for the day.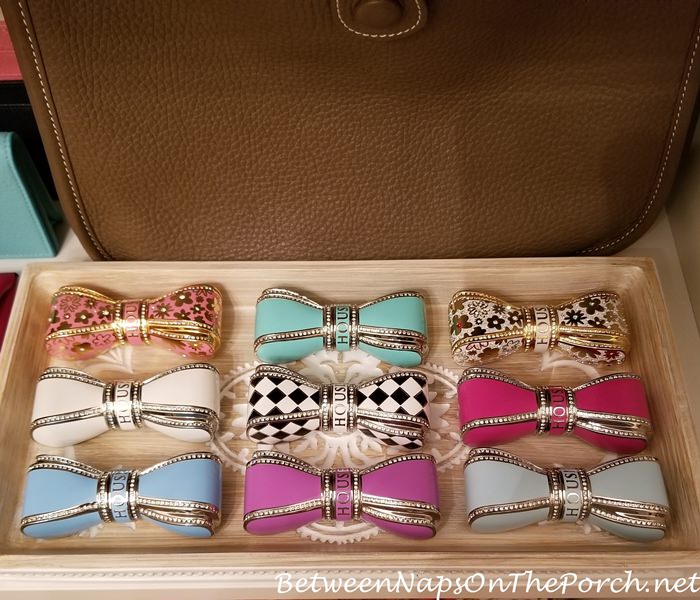 A year or so ago, my daughter-in-love and I both noticed we had a missing Swarovski crystal from our limited edition cases. She noticed one missing from her case first and I contacted House of Sillage who promptly sent out a replacement case with a return label so she could return the case with the missing stone. A few months later when I noticed a missing stone from my case, rather than go through the process of returning it, I asked if they could just send me the missing stone and a few extras in different sizes in case another stone fell out down the road.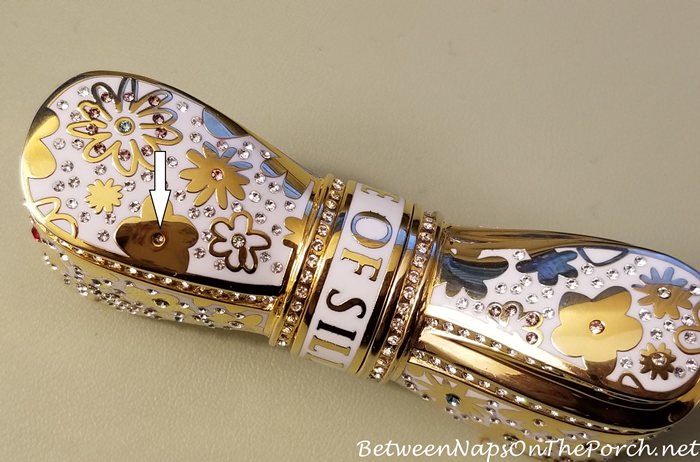 In the meantime, I did a bit of research on what would be the best permanent glue for reinstalling my missing crystal. This Beacon Gem-Tac glue had great reviews so I decided to give it a try. (Glue is available here: Gem-Tac.)
Here's how the case looked after the repair. I was very happy with how the Gem-tac worked and glad I didn't have to go through the return/replace process. If you have jewelry or pieces that are missing crystals, don't use regular glue to replace them. Use an adhesive that's designed for crystals or gems so the finished result will be clear and beautiful.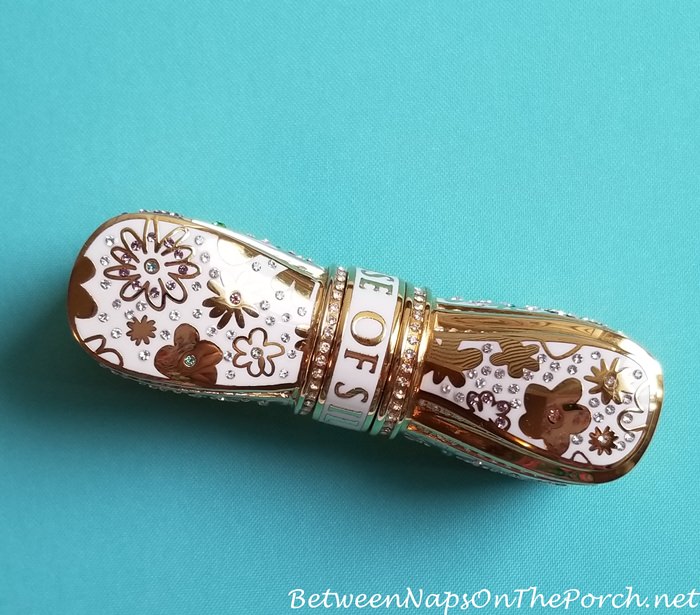 Later I noticed I had a stone missing from another one of my limited edition cases. Again, the repair was easy with the Gem-tac glue. I don't have an "After" photo to share since I didn't bring that case with me to Ohio, but it turned out great!
Would I still buy these lipstick cases in the future? Definitely! The only bow case that I've had an issue with a stone falling out are the limited edition cases that are completely covered in crystals. Those are the two you see at the top of the tray: the one on the far left and the one on the far right. I've never had a stone come out of one of their regular bow lipstick cases.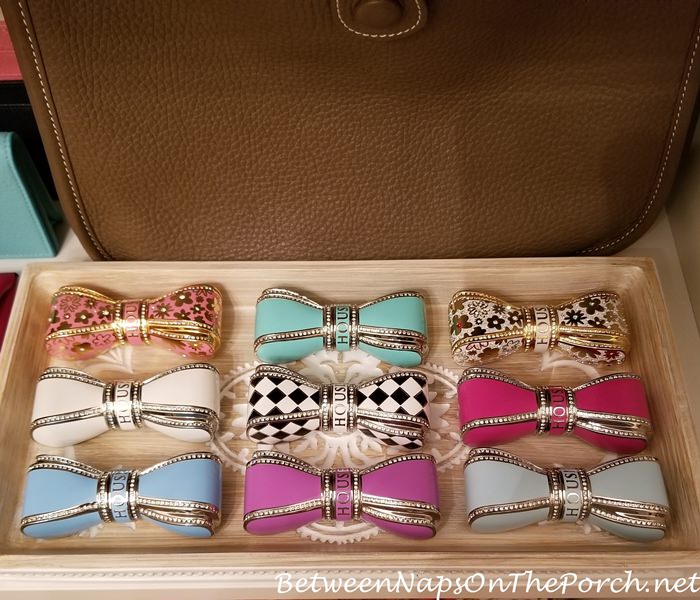 If you're interested in one of these cases, I've purchased most of my bow cases here: Bow Lipstick Cases. The others have been purchased directly from House of Sillage online. I really love how I can change the lipstick I carry in the case each day–based on whatever I'm in the mood to wear that day. I also love the quality of H of S lipsticks. They go on beautifully and I've never noticed any feathering which is a huge factor for me when it comes to lipstick. It has to stay put!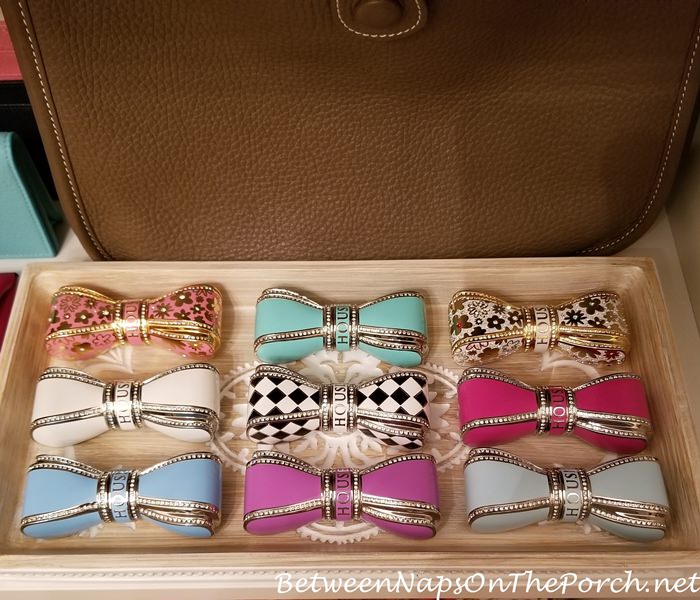 A Tale of Two Throws
Before I end this post (which is taking a lot longer to write this morning because a sweet 5-year-old keeps interrupting me to play and ask for snacks 😉 ) I wanted to share an awesome find I made this weekend.
Several years ago, I purchased THIS Pottery Barn throw for my daughter-in-love, Nancy, for Christmas. She loved it and wouldn't let any of the boys in the house abscond with it which is what normally happens with her favorite throws. Each time I've visited, this is the throw she always has upstairs in the master bedroom, away from the sticky fingers of two rambunctious boys.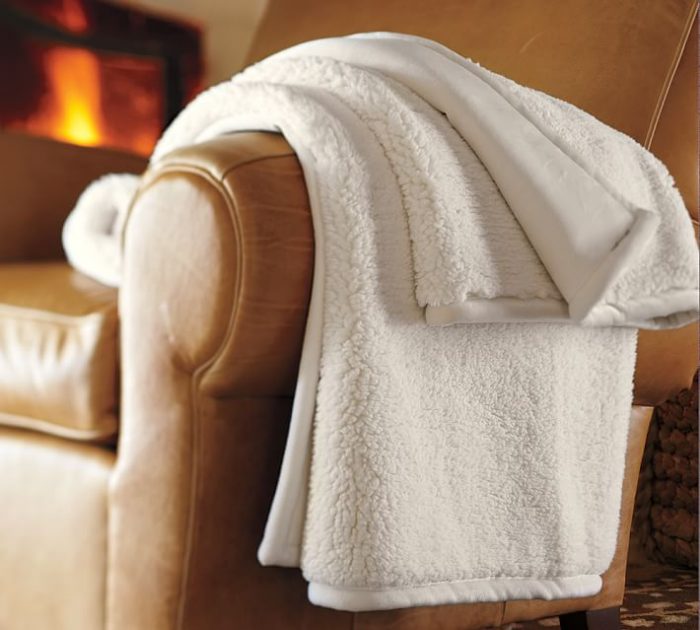 Later I found a very similar throw that was about half the price. My dil purchased a couple of those for downstairs. The one below that's was less expensive was a little less plush and not as heavy as the PB throw, but still very nice. A while back, Nancy wanted to purchase them again to replace the old ones, but they were no longer in stock.
I decided to look online this weekend to see if they were back in stock and they were, but now the price is more than double what they were before! Before they were $39.99 each and now they are more than double that at $99.99! That price is approaching the original Pottery Barn price and the PB throw is definitely the heavier and woolier-feeling throw of the two.
On a whim, I decided to see if PB still carried the original throw I purchased for Nancy a few years back. I was thrilled to find that it's currently on clearance for less than half price here: Sheepskin Throw.
Since it's on clearance right now right before fall, I'm afraid that means they won't be stocking it for this fall–winter. That price is so awesome, I went ahead and purchased two since it's Nancy's favorite throw of all. Just wanted to share this awesome find since I know these throws won't last for long at that price. If you need a wooly, plush, throw for fall or you're starting your Christmas shopping early, you'll find this beautiful throw for less than half price here: Sheepskin Throw.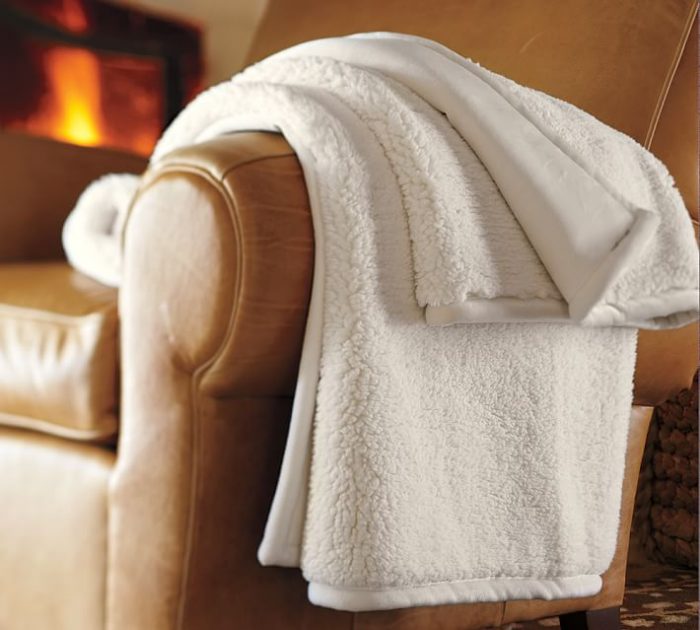 Looking forward to all the great Before and Afters linked for this week's Metamorphosis Monday!
Pssst: Did you know Between Naps On The Porch is on Instagram? You'll find me on Instagram here: Between Naps On The Porch.
Like to know when a new blog post is up and available to read? Subscribe for email updates, it's free and your email will never be shared.
Subscribe for free post updates via email here: Subscribe.
Metamorphosis Monday
Metamorphosis Monday is a party that's all about Before and Afters. Please link up your Before and After projects like DIY projects, room makeovers, craft projects even recipes. Any Before and After is great! Please do not link up Table Settings, save those for our Tablescape Thursday party on Thursday.
If you are participating in Met Monday, please link up using the "permalink" to your MM post and not your general blog address. To get your permalink, click on your post name, then just copy and paste the address that shows up in the address bar at the top of your blog, into the "url" box for InLinkz when prompted.
In order to link up, you'll need to include a link in your MM post back to the party so the other participants will have an opportunity to receive visits from your wonderful blog readers.
This party has ended, click button below for the links to all who participated.
*If a post is sponsored or a product was provided at no charge, it will be stated in post. Some links may be affiliate links and as an Amazon Associate, I may earn from qualifying purchases. *