Welcome to the 758th Metamorphosis Monday! I hope you had an awesome weekend!
For this week's Met Monday, I wanted to share a recent discovery I made that has really helped so much with my never-ending sinus issues. I've had sinus problems for many years, so long I can't even remember when they first started. If I catch a cold, I'm guaranteed a sinus infection will follow, but even when I don't have a cold, my sinuses are always blocking up on one side or the other. It seems to especially happen when I lay down at night to go to sleep. I've tried various things over the years to help with this issue and to try to avoid getting sinus infections, but nothing seems to work consistently. I even tried the infamous Neti pot. I only tried it once because it gave me an excruciating headache that lasted for several minutes. I was too terrified to ever use one again after that awful experience.
Thankfully, right now, I do not have a sinus infection and I've been hoping to find a way to avoid getting another one. A few weeks ago I started wondering if anyone had invented a steamer for sinuses. After doing a quick search online, I discovered that there is such a thing! I ordered this one below since it had such great reviews. I'm happy to say, it has helped tremendously. I try to remember to use it at least once a day since I've seen such a big improvement. I also find it a pleasant experience to use–it kinda feels like I'm getting a nice, steamy facial. It only takes a few minutes to use and I normally do it while watching a video online. I've been using distilled water with it since I know that's always better for machines like humidifiers. It uses so little water to create steam–only a few tablespoons, so the gallon jug of distilled water I'm using will last a very long time.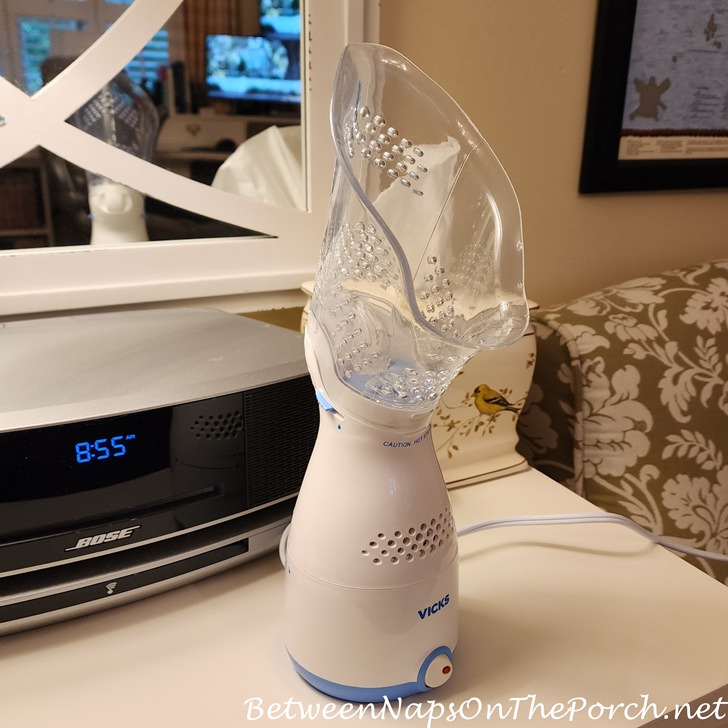 I've been keeping it on my desk in my office so I don't forget to use it at least once a day. I normally use it right before bedtime since that's the time my sinuses seem to usually block up. Right now, I'm not having any issues, which is wonderful! I'm hoping if I get a cold this winter, this little steamer will keep it from turning into a full-blown sinus infection. Just had to share how much I'm enjoying this little sinus steamer/inhaler since it has helped so much! I purchased my steamer here: Sinus Steam Inhaler.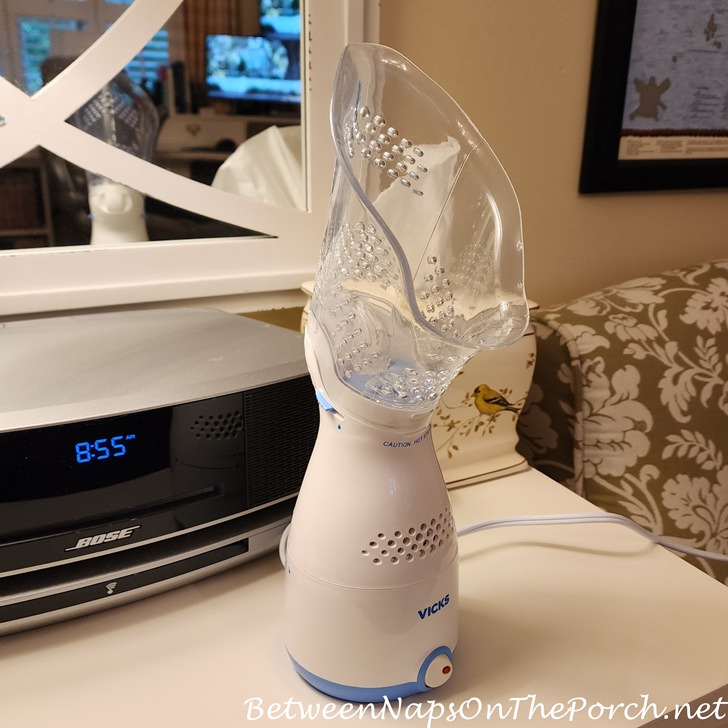 Looking forward to all the great Before and Afters linked for this week's Met Monday! Pssst: Did you know Between Naps On The Porch is on Instagram? You'll find me on Instagram here: Between Naps On The Porch. Like to know when a new blog post is up? Subscribe for email updates (it's free) and your e-mail will never be shared. Subscribe for free post updates here: Subscribe.
Metamorphosis Monday: Metamorphosis Monday is a party that's all about Before and Afters. Please link up your Before and After projects like DIY projects, room makeovers, craft projects even recipes. Please do not link up Table Settings, save those for our Tablescape Thursday party on Thursday. If you are participating in Met Monday, you'll need to link your post to the party using the "permalink" to your MM post and not your general blog address. To get your permalink, click on the name of your post, then copy and paste the address that shows in the address bar at the top of your blog, into the "url" box for InLinkz when prompted. NOTE: Please do not link up more than 3 posts from your blog. In order to link up, you'll need to include a link in your post back to the party so your readers can find the other party participants. When linking up to the party, give the InLinkz system time to find the link in your post to avoid having your link held for moderation/approval. Thanks!
You are invited to the Inlinkz link party!
*If a post is sponsored or a product was provided at no charge, it will be stated in post. Some links may be affiliate links and as an Amazon Associate, I may earn from qualifying purchases. *