Welcome to the 775th Tablescape Thursday! A few days ago I shared this yummy La Fermière yogurt that I discovered while visiting family in Ohio during the month of July. The glazed terra cotta pots that it comes in were way too cute to toss out, so I kept making trips back to Dorothy Lane Market in hopes of collecting a few to use in a future table setting. I managed to collect 7 adorable little pots before returning home, but once home I discovered the Whole Foods and Sprouts near me also carries this yogurt.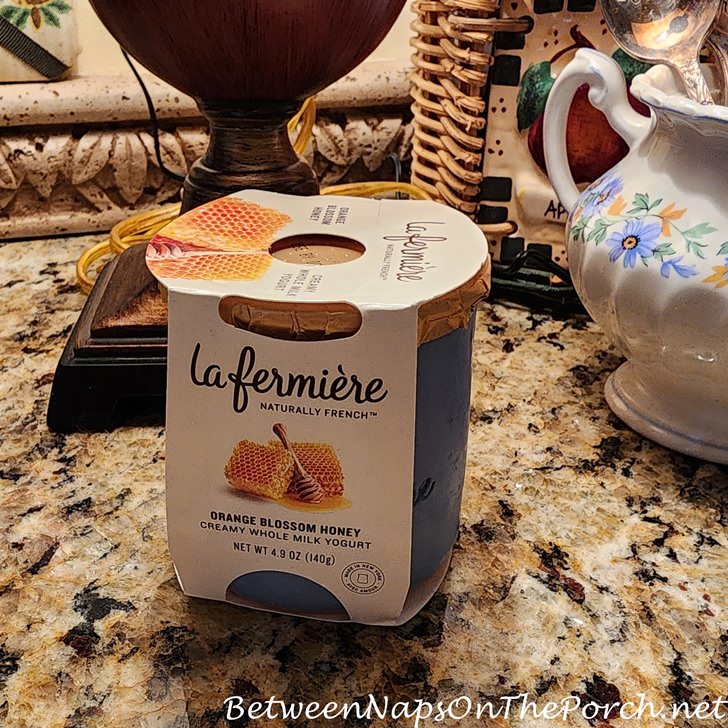 A few days ago my daughter-in-love sent me this photo sharing how she was using some of the little pots she's collected. Her beautiful Limelight Hydrangeas are in full bloom right now. My grandsons love this yogurt and she was kidding me about getting them hooked on"fancy" yogurt. Ha! Isn't that what grandmothers do–spoil their grandchildren, then leave them for the parents to sort out! Hee, hee.
My standard Limelight Hydrangeas are currently in bloom, although they aren't near as full as they were in this previous photo. Yesterday I snipped a few blossoms for today's table setting.
After some seriously hot, hot weather over the past few weeks, the last few days have actually been really nice. I've missed putting a table out here on the porch, so it was time!
The trees in my backyard have grown so much over the 30+ years I've lived here, so it's super shady on the porch. That definitely helps with the heat, but not very helpful for taking photos.
A fun perspective from above…
For this summer table, I pulled out my favorite dinnerware for porch dining–Ma Maison. I can't let summer get away without setting at least one table with this whimsical, dreamy pattern.
Lots of little La Fermière yogurt pots have become vases for this table. I was just thinking how cute it would be to set a table and place one filled with flowers atop each place setting.
I pulled my colors for this tablescape from the Ma Maison design.
This is one of the few dishware patterns that I have with lavender/purple colors in the design. The beautiful imagery in this pattern is the work of Dario Farrucci.
Occasionally, I will still see a few pieces of this dinnerware on eBay. I stumbled across it in HomeGoods many, many years ago and visited 3 different HomeGoods that day collecting as many dinner and salad plates as I could find. There were only a few pieces in each location. Kinda wish I had visited even more HGs that day since this dinnerware is so difficult to find.
The salad plate…I want to live in this adorable cottage with at least 5 cats! This pattern also included square-shaped, salad-size plates that are perfect for serving dessert.
The dinner plate…
I love that they took the effort/time to create the dinner plate with a different design. The charger is from Horchow online, purchased in 2008. I wonder if Horchow has any physical stores or if they are just online?
All the pieces in this collection, including the bowls, have a blue sky and white puffy clouds background. ♥
It's not often that I get to use these pretty, floral napkin rings in a table setting. I am having trouble remembering where I found them–most likely Pier 1, back in the day. The white napkins are vintage, found while antiquing many years ago. The green chiffon covers are from a local antique shop called The Magnolia Room–I think that's the name of it. It's been ages since I visited that shop, wonder if it's still there. Update: Napkin rings are from Pier 1–they were $3.95 ea. I just found a little tag in the bottom of the box where I store them. I should start doing that with all my napkin rings and flatware that I store in boxes–keep one of the tags from where they were purchased since my memory for that kind of thing is not great!
They also came in a soft green and white color with little touches of pink. Those would have worked well in this table, too…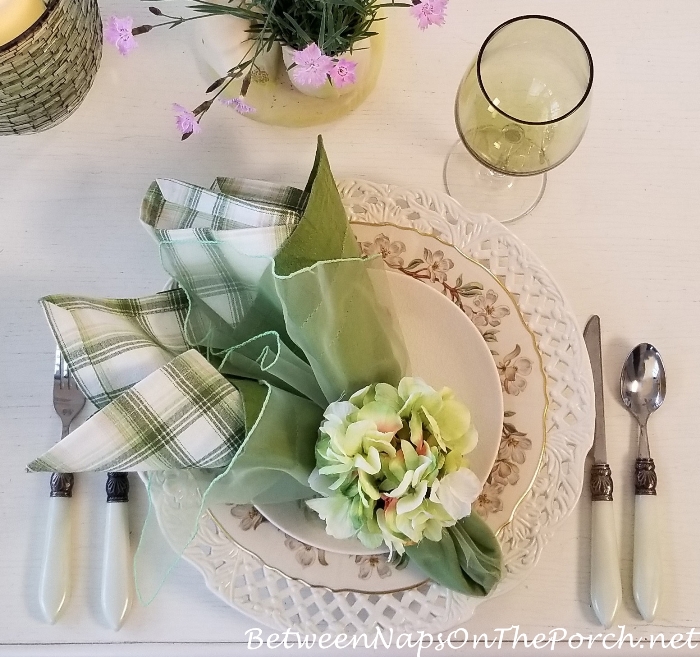 …but I loved how the purple/lavender hues in the napkin rings pulled those colors from the dinnerware.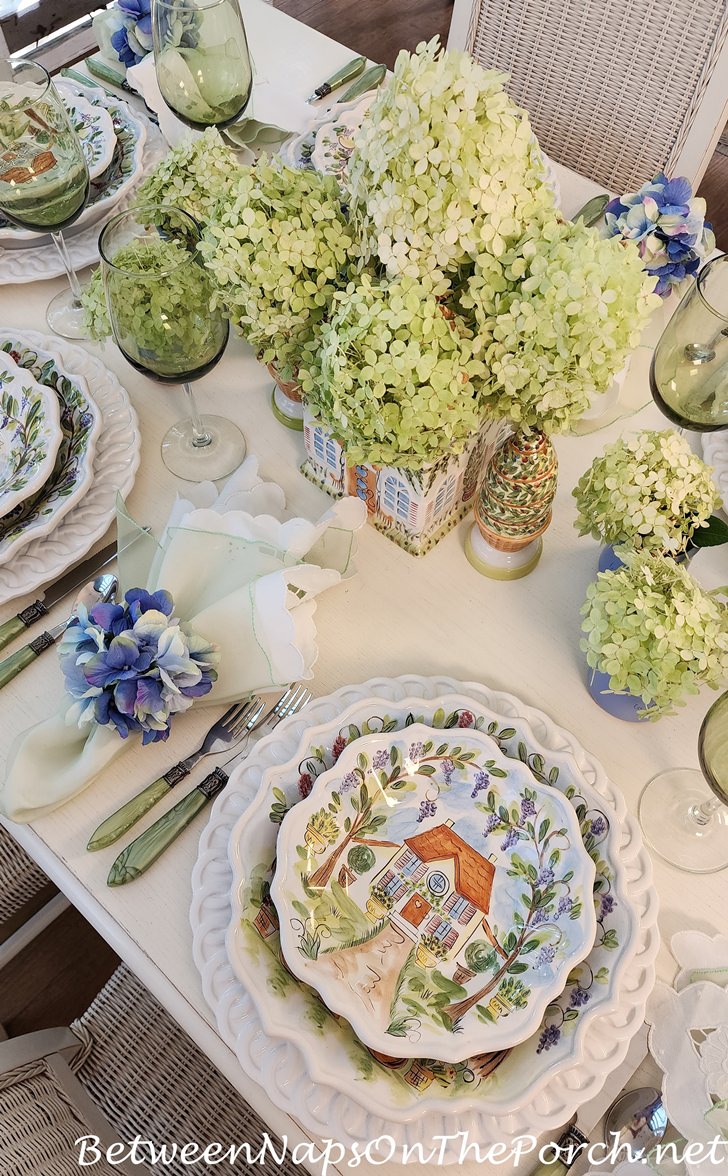 A few more views of the centerpiece…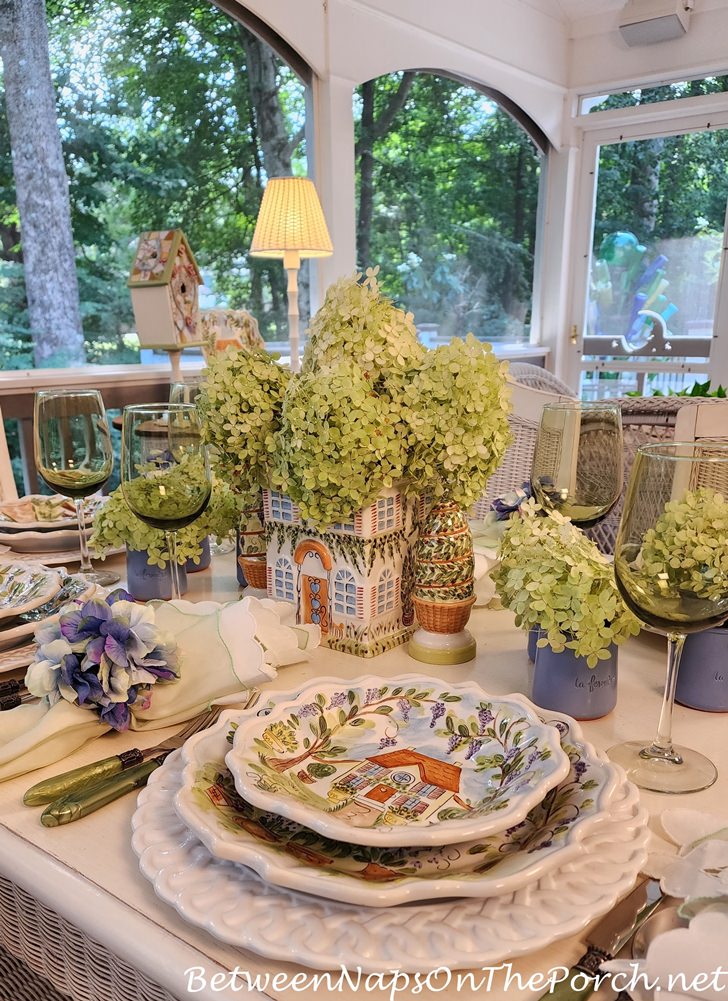 This adorable cookie jar rarely has cookies inside, but it worked beautifully as a vase for the Limelight Hydrangeas. The cute topiaries on either side of the "house" are salt and pepper shakers. They each have a different design so it's easy to tell them apart.
I know several of you have mentioned that you would like to collect a few of these cute yogurt pots. If you don't live near a grocery store that carries La Fermière yogurt, check on eBay. I saw quite a few for sale there in a lot of different colors. La Fermière periodically changes the colors of their yogurt pots and releases fun additions for holidays. Wish I had discovered it before now, they've done some adorable designs!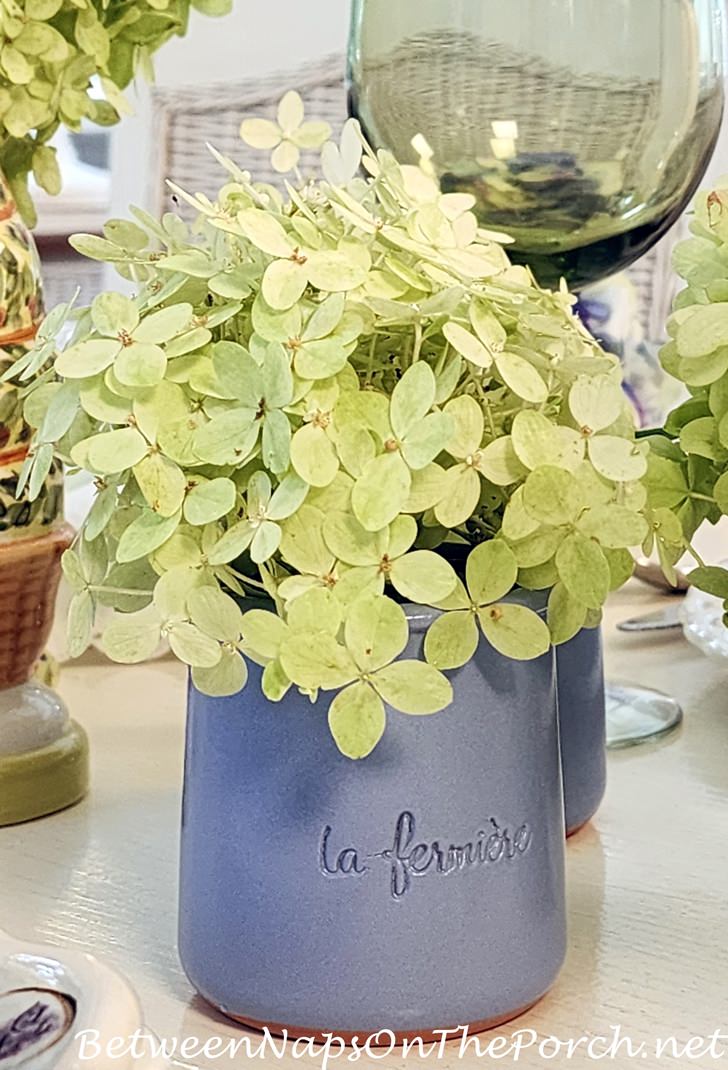 Happy summer!
Looking forward to the beautiful tables linked for this week's Tablescape Thursday! (If you enjoyed this post, subscribe for email updates when a new post is up here: Subscribe for post updates.)
Tablescape Thursday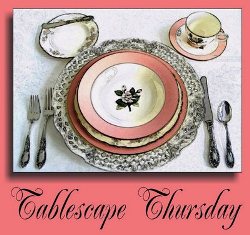 If you are participating in Tablescape Thursday, please be sure to add your permalink below, and not your general blog address. To get your permalink, click on your post name, then copy and paste the address showing in the address bar, into the "url" box when you link up. You'll need to include a link in your post back to the party to link up and participate. That's so visitors to your blog will be able to find the party and the other Tablescape Thursday participants. Please link up table-setting-related posts only for Tablescape Thursday. Please link up table-setting-related posts only for Tablescape Thursday.
You are invited to the Inlinkz link party!
*If a post is sponsored or a product was provided at no charge, it will be stated in post. Some links may be affiliate links and as an Amazon Associate, I may earn from qualifying purchases. *