This is the state of my kitchen right now, after multiple attempts to purchase and have a microwave installed. When it comes to buying appliances, I'm snakebit and starting to develop a case of ASPTSD–Appliance Shopping Post Traumatic Stress Disorder. If that's not an actual medical diagnosis, it may be time to suggest it.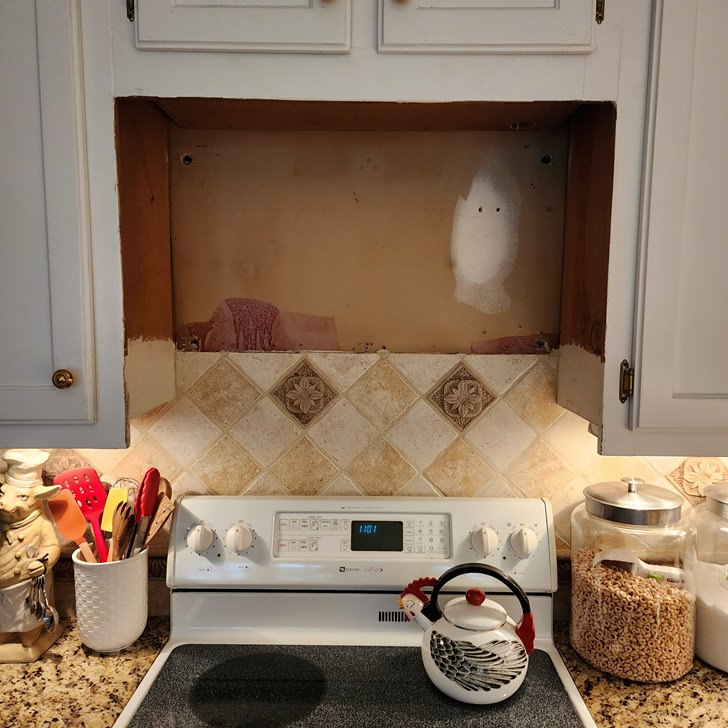 In June, my microwave started making bizarre noises, like a grumbling, angry ogre had moved in and was passing the time throwing tennis balls around. I've never heard noises like that coming from any appliance. After assessing the microwave, previously purchased at Best Buy, was just a few months out of warranty, I started shopping online for a new one. I decided to go with an Amana microwave, having had great luck with those in the past. My first ever microwave was an Amana, purchased in 1980 from Davisons Department Store (which later became Macy's) for the cost of around $600. Another reason I wanted to go with Amana is because I like how their microwaves are designed so you can easily turn off the annoying and incessant beeping that occurs when the cooking is done. That's always the first thing I deactivate when I purchase a microwave, except a lot of microwaves don't have that feature–like the GE that I'm currently replacing.
Having ordered the last microwave from Best Buy, I decided to give another store my business this time. I found an Amana microwave I liked at Home Depot, but delivery was showing several weeks out as it was currently out of stock. I checked a few other stores and Best Buy was the only store showing it in stock. Not wanting to wait for weeks, I went ahead and ordered it there on June 23rd. The very next day I received an email stating that it wasn't available and my installation was being moved 5 weeks out to August 1st. Argggh–the old bait and switch strikes again!
Thankfully, I use my air fryer way more than my microwave these days so I managed without it during the month of July. On August 1st, the day of the appointment, I received a text stating the microwave would be installed between the hours of 2:00 p.m. and 6:00 p.m. That time frame came and went, and still no microwave.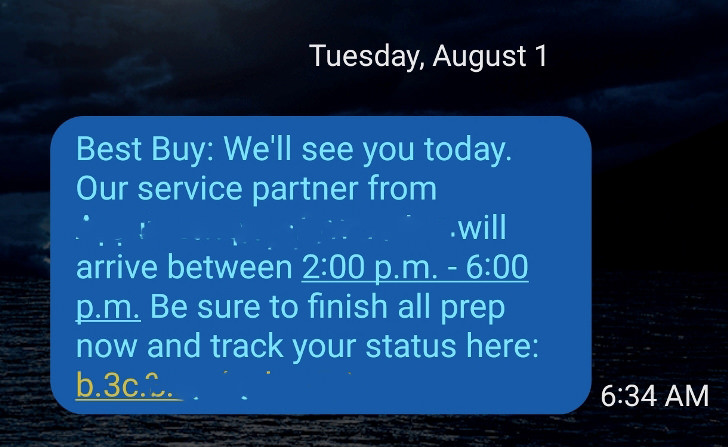 The installers finally arrived late that evening just before 8:00 p.m. As one of the installers was removing the new microwave from the box, he noticed a big dent in the side toward the front edge. The dent was large enough that it actually caused the side panel of the microwave to angle outward, creating a gap between the side panel and the front panel of the microwave.
The installers went ahead and completed the installation saying, "I'd at least have a microwave while a new one could be ordered." Side note: I used that microwave a handful of times over the coming days and it worked fine–if only it hadn't had a big dent on the side.
I was told someone would be calling shortly to schedule another delivery. Someone did call that day, but they sounded as if they were in an automobile based on all the wind noise and commotion in the background. The call ended up being dropped and they never called back. Having heard from no one, two days later I called Best Buy, and a new appointment was scheduled for Saturday, August 5th. The morning of August 5th, I received a text saying my appointment was scheduled between 8:30 a.m. and 12:30 p.m.
By 1:30 p.m., the installers still had not arrived and I had not received any calls or texts. I called Best Buy and was told that they had no additional information since the company that was supposed to do the installation was closed on Saturdays. Later that day, I received a text saying the installers were en route. They finally arrived at 4:43 p.m., over 3 hours outside the installation window, offering no explanation or apologies for being late.
I asked the installer who seemed to be the lead, why they were so late. He said that his paper schedule had shown one route and a second schedule he was given had shown an opposite route, so he looked at both and chose the one he wanted to do. Knowing I had been scheduled for a morning appointment and ended up being his last appointment for the day, I asked if that meant he had done every appointment in the reverse of how it was actually scheduled. He replied, "Yup!"
The installers shoved the microwave into place and were gone in a matter of minutes. They had only been gone a few minutes when I gave the microwave its first test run. It ran for maybe 2 seconds, made a very loud thud noise, shut down, and never worked again. I checked my electrical panel and all was well. The next day I called the company I've been using for all my electrical updates in the basement recently and described the situation. They had me test the outlet the microwave was plugged into (in the cabinet above) with a blow dryer. The outlet worked fine. The electrician said it sounded like the issue was a defective microwave.
That day, I called Best Buy and asked them to schedule an appointment to have it removed. During the call, they told me they didn't have any more of that particular microwave in stock. I liked the microwave, at least the one that had worked with the dent in the side, so I ordered the microwave again, this time from a different store–The Home Depot. It's out of stock there too, so the installation appointment is set for August 24th.
Yesterday was the day the dead microwave was set to be uninstalled. In the morning I received a text saying my appointment window was between 3:00 p.m. to 7:00 p.m.
The installers never showed and at 8:00 p.m. I gave up and put on my pajamas. At 8:35 p.m. I received the following email. What?! All I could think was that this had to be a mistake–surely they weren't going to show up at 9:45 at night to uninstall a microwave!
I seriously thought about not answering the door if they actually showed up–but then, at 10:05 p.m. my phone rang and it was the installers asking if they could still come and uninstall the microwave. Since I was still up and really just wanted to get this whole nightmare over once and for all, I agreed. I turned on the porch light and the installers arrived at 10:37 p.m. I asked why they were so late and they gave vague excuses about running into issues throughout the day with other installs.
The installers, or I guess I should call them the uninstallers, had a very difficult time getting the microwave out. After loosening the screws in the cabinet above, they struggled mightily trying to lift the microwave up and out. As the struggle ensued, multiple large screws and other hardware came crashing down onto the top of my glass-top stove. At one point, a screwdriver fell from above onto the porcelain edge of the stove, but luckily it didn't chip it. The installers briefly paused for a moment as I attempted to place a dish towel over the glass.
The process got really intense with the lead installer repeatedly telling his helper to lift up on the back of the microwave on his side, but he just wasn't understanding. Finally, the lead installer, balancing the half-uninstalled microwave on one hand, used his other hand to show his assistant where to lift it. There were horrible ripping sounds and in the midst of the chaos, they ended up ripping the metal mounting strip half off the back wall. When it was all over, the lead installer complained that the previous installer had just "jammed it in there," saying that it wasn't hanging correctly on the metal mounting strip. I asked what had kept it from falling out and he said "just the screws in the cabinet above."
Per my Ring doorbell, the installers left my home at 10:53 p.m. I didn't go to bed until well after midnight, too wound up from the events of the evening. Do you sometimes feel like life is testing you?! Do you have any appliance installation horror stories or un-installation horror stories to share? If so, I'd love to hear them–please share them in a comment below! I'm sure I can't be alone in my Appliance Shopping-Post Traumatic Stress Disorder!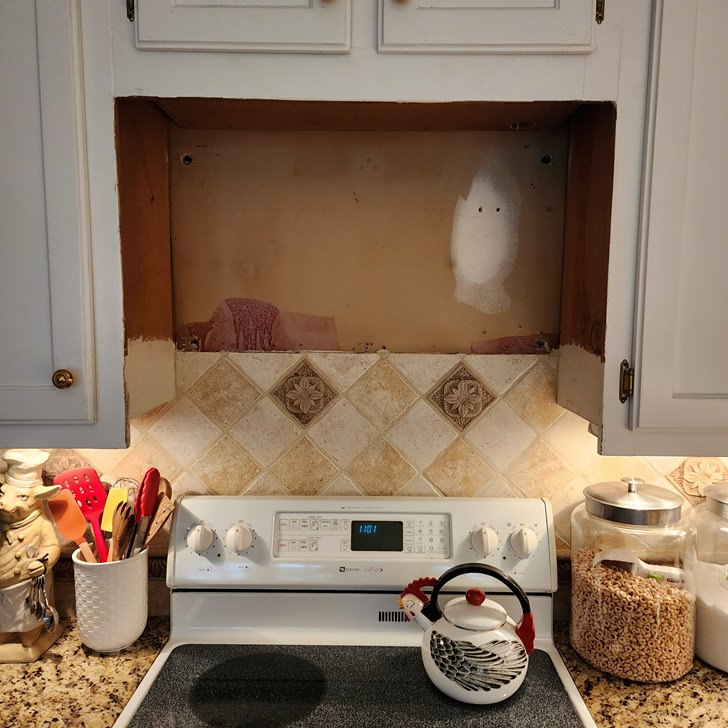 *If a post is sponsored or a product was provided at no charge, it will be stated in post. Some links may be affiliate links and as an Amazon Associate, I may earn from qualifying purchases. *