Over the years, Kate Spade has produced some of the cutest, most adorable handbags you can imagine or dream up. As much as I have always loved them, I've been able to resist getting one. Until now.
When I saw this enchanting Gingerbread House bag, it was instant love and I knew I had to have one. Of course, it didn't hurt that it's on sale 50% off right now! (Gingerbread House Bag is available here: Gingerbread House Bag.) The Black Friday sales are starting early this year!
The details of this bag are amazing! Even the sides and the back are super detailed. ♥
Here's a view of the back…I love the shingled roof, the shutters–just everything!
And the clasp that you use to open it is a chimney! Gahhhh! I can't stand it! LOL It comes with a leather strap so it can be worn on the shoulder or crossbody, but I plan to just use the top handle when I carry it.
I was surprised by how roomy it is inside! Even my big Samsung Galaxy S22 Ultra phone fits inside with no problem. Actually, I can get all the things I normally carry inside: phone, small accessories bag, compact wallet, lipstick, 4-ring key holder, and key fob case.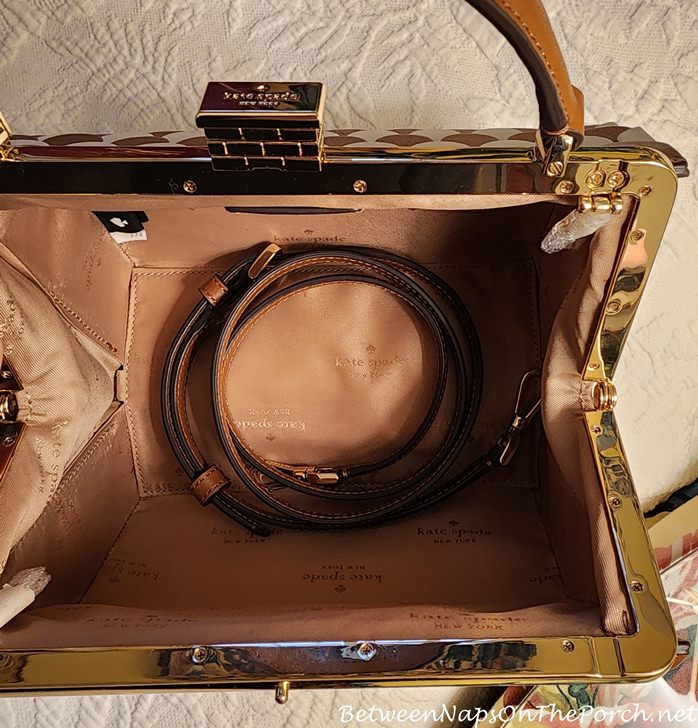 I love the little spade-shaped window in the front door. So dang cute!
Since everything is on sale, I had to get the cardholder, too.
On the cardholder, the front door has a wee doorknocker. They really put so much thought into these pieces–the details make it so special! (Cardholder is available here: Gingerbread House Cardholder.)
This is going to be such a cute bag to carry throughout the holidays, especially to Christmas parties and holiday outings. If you love it, I would not wait too long to get it. The sales associate who helped me with this piece told me that the bag sold out early last year, so that's why they brought it back again this year. She added that they were starting their Black Friday pricing early this year, so I don't know if it will be further reduced for Black Friday or not. I kinda doubt it since it's already on sale 50% off. You'll find both the handbag and cardholder on sale here: Gingerbread House Handbag AND here: Gingerbread House Cardholder.
Update: There's also an adorable Gingerbread Man that can be clipped to the outside as a bag charm or it can be used as a keychain. I didn't pick him up when I purchased my bag because I thought he was just a key chain, but he's actually a bag charm for the outside of the bag. He could possibly work as a key chain, but since he's kinda chunky/thick, I think he would be a bit too big to put inside the bag along with the other things we need to carry. But he's definitely an adorable bag charm! Update: Had to go back for the bag charm–just too cute to not get him while he's on sale. You'll find him available here: Gingerbread Man Key Ring/Bag Charm.
Here's how he looks worn on a different bag–I absolutely love him! I may have to keep him on this bag even past Christmas. Ha! Definitely recommend getting him to wear on your bags through the holiday and winter season.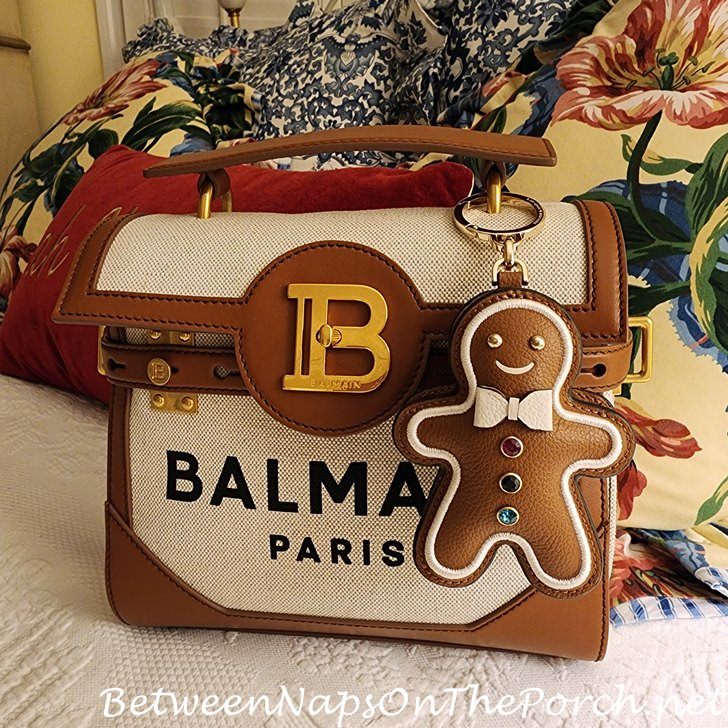 *If a post is sponsored or a product was provided at no charge, it will be stated in post. Some links may be affiliate links and as an Amazon Associate, I may earn from qualifying purchases. *