I am counting the days until it's time to put my wreaths up in the windows. It's always my favorite way to decorate for Christmas. I used to wait until the day after Thanksgiving to hang the wreaths, but now I put them up a few days earlier so I can enjoy them a little bit longer.
A few years back, I changed out all the ribbons/bows on my wreaths. The old ones had lasted for many years–at least 20+ years, but it was time for a refresh. I found beautiful ones with long streamers–which is just the way I love them. I love looking out through the windows and seeing those pretty long tails hanging down, moving with the breezes.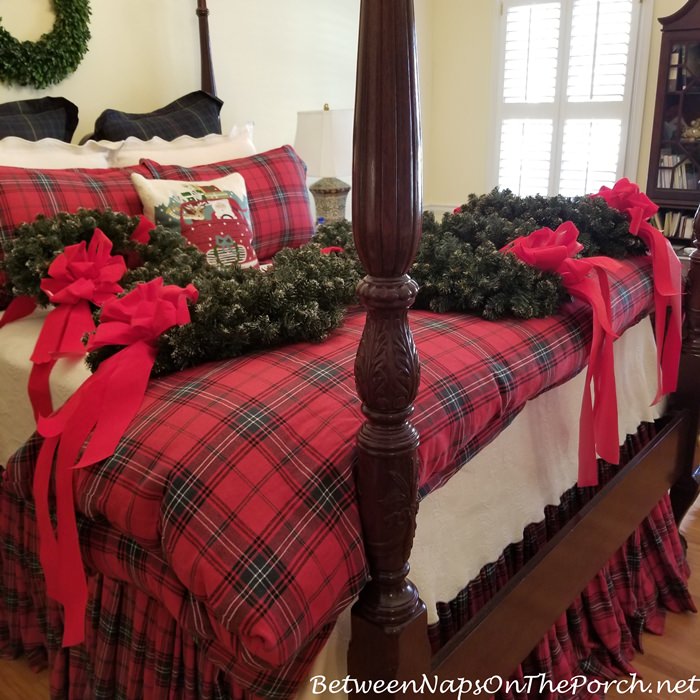 I needed a lot of bows which can sometimes be expensive, but I lucked out and I found them for a great price here: Exterior Bows with Long Streamers. They are also available with gold edging here: Exterior Bows with Gold, Wired-Edge Ribbon.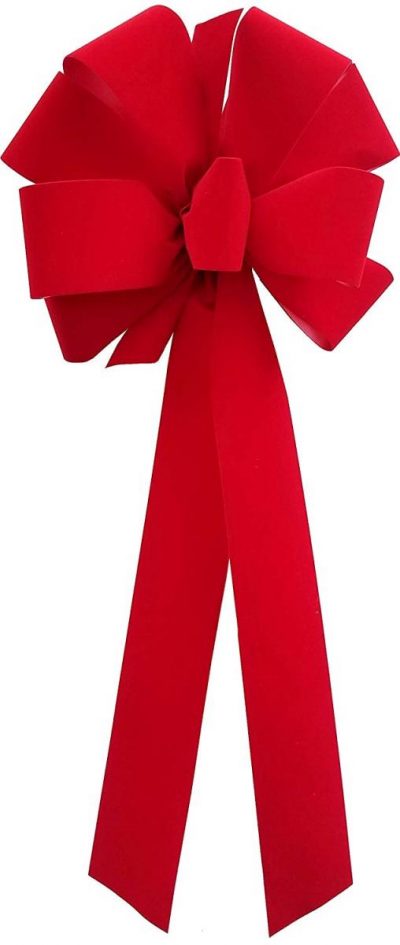 The BEST Mock Turtleneck…LOVE! If I had to pick just one favorite item that I purchased last month, it would without a doubt have to be this mock turtleneck. If you've been reading BNOTP for a while, you know I love sweaters and hoodies. I love wearing a turtleneck under my sweaters, but I've often had trouble finding ones that didn't feel too tight around the neck, which always seems to correlate with them coming up too high, as well. I decided this year to look for a mock turtleneck, a style that I've liked in the past. On a lark, I ordered this one in white. The minute I put it on, I was in love! I could not believe how incredible it felt, the weight and softness of the fabric were wonderful. If someone told me this top was from Ralph Lauren or another high-end luxury store, I would completely believe them! It fits perfectly and the neck is not at all too tight–it's just right! (Mock turtleneck is available here: Wonderful Mock Turtle Neck.)
I immediately ordered another one in white and once I was back home from visiting family, I ordered two more because I know this top is going to be a staple in my winter wardrobe. I also ordered it in black and burgundy. I will probably end up ordering another black one–I just can't get over how wonderful they feel and the quality of the fabric is sooo nice! Note: This top is 95% cotton (which is probably why it feels so wonderful!) so I ordered one size up to allow for some shrinkage. I'm glad I did because it did shrink just a little through the body even though I hung it up to dry. So you may want to order one size up. Love this top! You'll find it available here: Wonderful Mock Turtle Neck.
So you know how my daughter-in-law and I love using Cutemol on our hands throughout the winter months…actually, she and I both use it all year long, but we truly can't make it through the winter without it or we both get splitting fingertips. (Cutemol is available here: Cutemol.)
We were talking recently about how we like having Cutemol in the smaller, 2 oz tube size in the kitchen to use after washing dishes, but Cutemol is way more expensive in that size–so she and I always buy the larger 8 oz tub. That got me thinking about trying to find a lotion dispenser that could handle a thicker lotion like Cutemol.
Cutemol is super rich, but once it dries (which takes a few minutes) it doesn't feel slimy on the hands when wet–so it's incredibly rich/thick when you first apply it. I decided to see if I could find a dispenser that would work with Cutemol so we could continue purchasing the larger 8 oz size, but have an attractive way to keep it available in the kitchen. I think I found the dispenser! So far, this one is working great for both of us! (Dispenser is available here: Lotion Dispenser for Thick Lotions.)
Note: If you buy this dispenser, don't do what I did and try to screw off the top. It doesn't screw on/off, it just pulls up and off. I kind of goofed up mine by turning the top, thinking it screwed on, but once I realized my mistake and turned it back down, it worked great. I've purchased two of these (one for the kitchen and one for my office) and I love being able to use Cutemol this way. It's so convenient–and attractive, too! This dispenser is available here: Dispenser for Thick Lotions.
Christmas Gift Idea: While I was in Ohio, I bought these flannel "University of Georgia" pants for my son and he loved them! They have them available for a variety of colleges/universities here: Flannel Pants for Men.
My grandsons love these Merino wool socks that I purchased for them last month. My DIL said my oldest grandson didn't want to take them off because they are so cushy and soft. lol They are also incredibly warm. They are available here: Kid's Merino Wool Socks.
Another big hit item this past month was L.L. Bean slippers. It's kinda become a tradition that I gift Wicked Good Slippers to my son and daughter-in-law for Christmas each year. This year I purchased pairs for my grandsons and they are obsessed! They now understand why their parents pretty much live in them when they are at home! My daughter-in-law said the boys can't wait to put them on the minute they walk in the door from school each day. I very much recommend these for anyone on your Christmas shopping list! Update: I just noticed they are offering 10% off with the code: SAVE10 at checkout. You'll find the slippers for women and men here: Wicked Good Slippers. The ones I purchased for my grandsons are here: Wicked Good Slippers for Kids
Happy Weekend!
*If a post is sponsored or a product was provided at no charge, it will be stated in post. Some links may be affiliate links and as an Amazon Associate, I may earn from qualifying purchases. *