Welcome to the 697th Metamorphosis Monday!
Wow, what a week it's been here in Birthday Land! Things are beginning to wind down a bit, but the partying isn't over quite yet–we still have one more birthday to celebrate. Speaking of birthdays, you may remember last year I gave my son a Yeti Cooler. I can't remember now if that was a birthday gift or an early Christmas gift, but it was still summertime…that part I do remember.
It gets tons of use, especially on the weekends.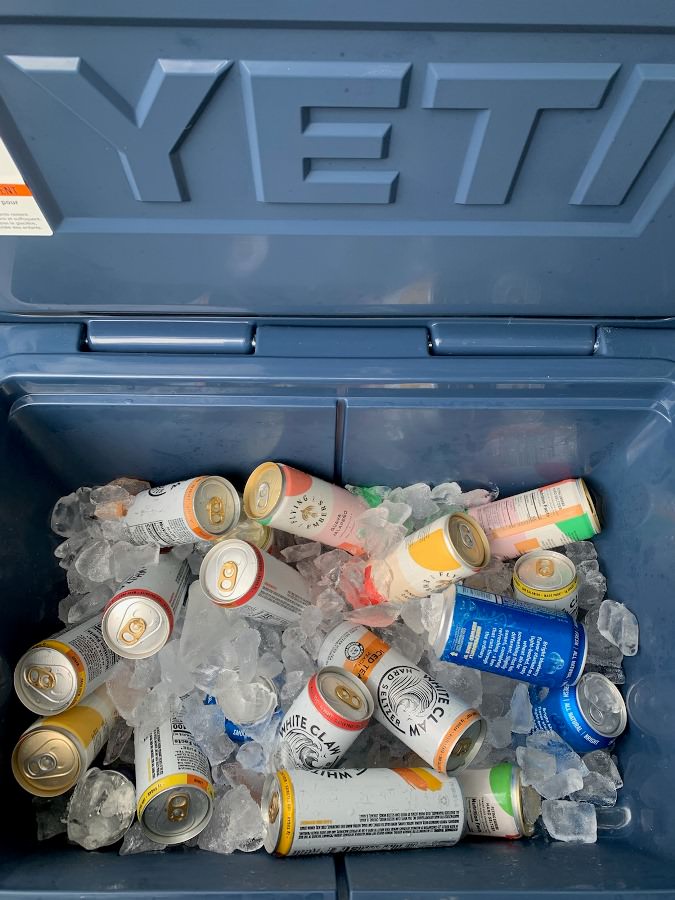 When I was asking my daughter-in-love, Nancy, for birthday gift suggestions for my son, she suggested a Yeti Cooler Backpack since they love hiking and go hiking as a family almost every weekend. A sporting store near me had it in gray but I thought he would possibly want it in navy blue since that's the color of his Yeti cooler. I found it in another location in blue and purchased both so he could choose the color he wanted.
It turned out that he loved the navy and they used it on Saturday for their first hiking adventure. If you need a great birthday or Christmas present idea for the person who loves hiking or camping, this backpack makes an awesome gift. You'll find it available here: Yeti Backpack. It's also available at Dick's Sporting Goods and on the Yeti website.
I purchased a couple of these gigantic gift bags. It turned out that both coolers fit inside one bag, that's how big they are! If you ever need a gift bag for a really big gift, you'll find this one here: Extra Large Bag. I'm going to buy a few extras to keep on hand, I love the design!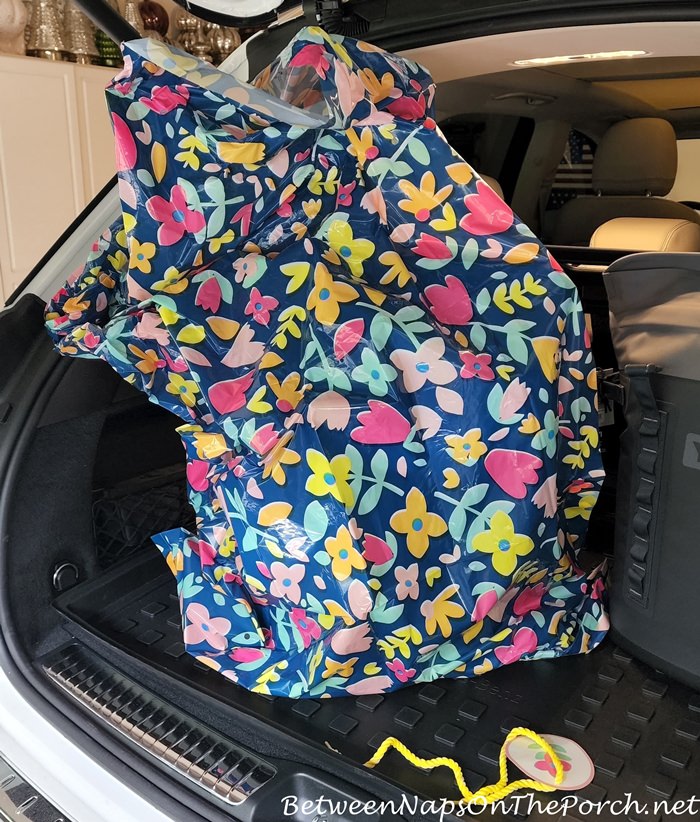 Watering Potted Plants/Flowers While On Vacation
Sooo, remember the pretty geraniums I have growing in flower pots on my deck?
A squirrel or raccoon (or something) must have jumped or landed on one of them because I found a couple of big stems broken down recently. There were no tree branches nearby so nothing fell out of the trees on them. I'm guessing it was a squirrel because they love climbing on my decks and eating the buds off my Knockout Roses that I have in large urns on the other deck. This photo was taken before the damage occurred.
While I'm visiting family, I was thinking about how to keep them watered. I brought them all out to the front of the house which is north facing and a bit shadier and I'm giving these plant watering spikes another try. I tried them once before and they drained quickly, pretty much overnight. I think it may have been because I had the bottle in the spikes at a slant instead of completely upright which is how the instructions recommend. I placed the geraniums on this bench in my front yard. It dawned on me yesterday, that location may not have been the best spot since the bench is kinda underneath the eaves of the house, so they may not get a lot of rain unless it's a big storm. I probably should have pulled the bench further out and away from the house.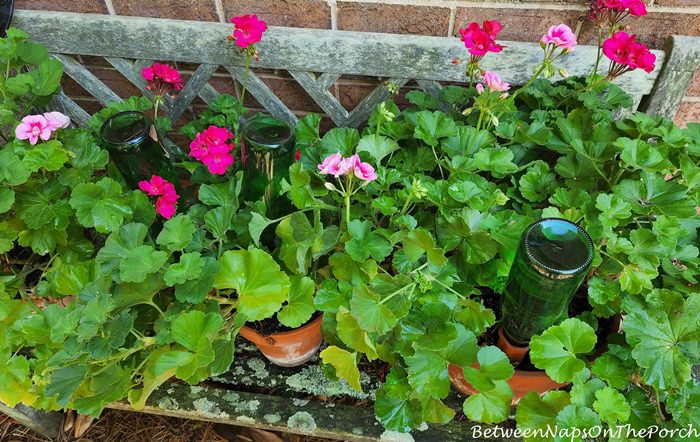 Here's a better view of the watering spikes. I watered the plants thoroughly before inserting the spikes/bottles. I should probably have placed 4 in each of the two hydrangea pots since they are so big. If this works, I need to buy more spikes since I barely had enough for all the flowers.. (Watering spikes are available here: Terracotta Watering Spikes.)
I'll give you an update on how they worked.
Remember the little Dharuma Hydrangea I planted behind the mailbox a few years ago?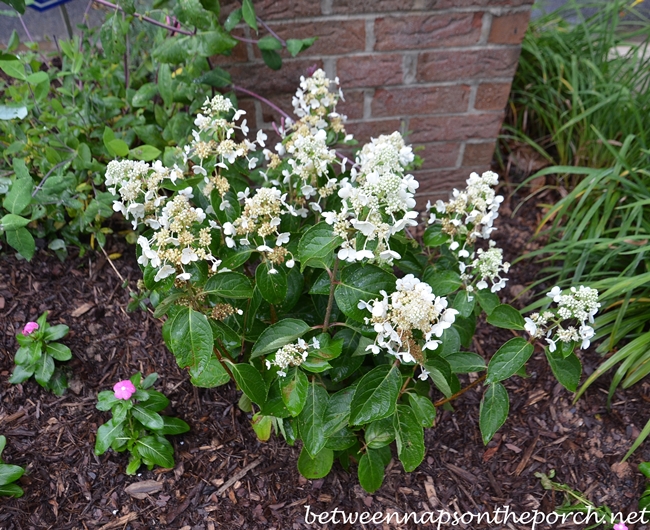 It's not so little anymore! I usually cut it back a good bit in late winter but I waited too long this year and it was starting to set buds everywhere. I trimmed what I could without cutting off the buds and this year it's definitely bigger than I would normally let it grow. It's so beautiful…and so hardy!
I definitely recommend this hydrangea if you have an area that gets full sun. It flourishes beautifully in full sun!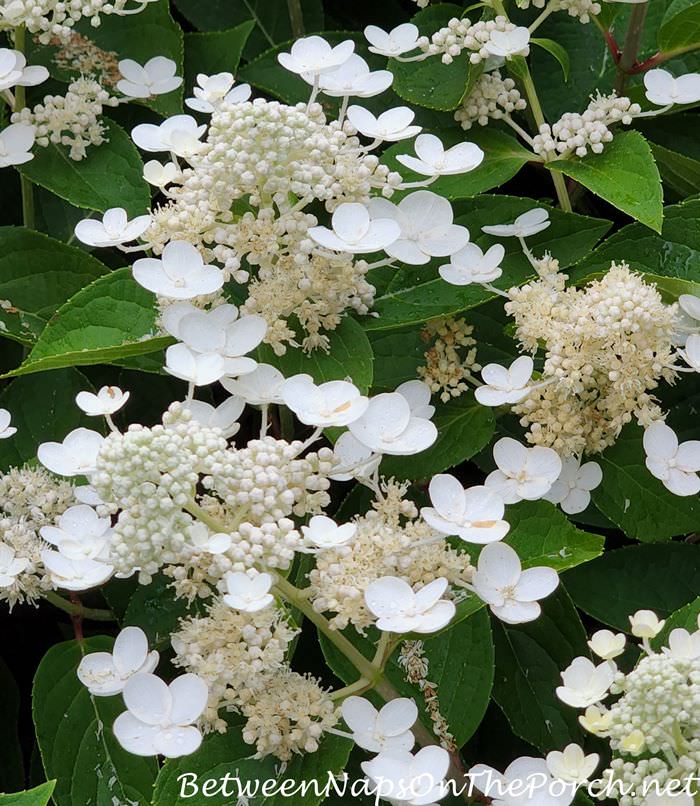 Looking forward to all the wonderful Before and Afters linked for this week's Met Monday!
Pssst: Did you know Between Naps On The Porch is on Instagram? You'll find me on Instagram here: Between Naps On The Porch.
Like to know when a new blog post is up and available to read? Subscribe for email updates, it's free and your email will never be shared. Subscribe for free post updates via email here: Subscribe.
Metamorphosis Monday
Metamorphosis Monday is a party that's all about Before and Afters. Please link up your Before and After projects like DIY projects, room makeovers, craft projects even recipes. Any Before and After is great! Please do not link up Table Settings, save those for our Tablescape Thursday party on Thursday.
If you are participating in Met Monday, you'll need to link your post to the party using the "permalink" to your MM post and not your general blog address. To get your permalink, click on the name of your post, then copy and paste the address that shows in the address bar at the top of your blog, into the "url" box for InLinkz when prompted.
NOTE: Please do not link up more than 3 posts from your blog. In order to link up, you'll need to include a link in your post back to the party so visitors to your blog can find the other party participants. When linking up to the party, give the InLinkz system time to find the link in your post to avoid having your link held for moderation/approval. Thanks!
This party has ended, click button below for the links to all who participated.
*If a post is sponsored or a product was provided at no charge, it will be stated in post. Some links may be affiliate links and as an Amazon Associate, I may earn from qualifying purchases. *