Welcome to the 700th Metamorphosis Monday!
This porch-loving woman sure does love it when you share your beautiful porches and outdoor spaces with me! I get so excited when I get an email from a lovely BNOTP reader with photos of a wonderful, relaxing, outdoor space they've created for their home.
Recently I received an email from Mary Anne who said, "A few months ago I mentioned to you what an inspiration you and your porch were to me and that I was in the final stages of converting a deck to a screened porch on my Connecticut home. Well at long last the screen porch is done and I'm ready to share."
Mary Anne had a large deck on the back of her home but since her home is surrounded by trees, it created an ongoing maintenance issue. I totally understand that issue because I deal with the same thing with my two smaller decks.
Mary Anne said, "The deck was okay but I got to the point where I was so sick of everything being covered with pollen in the spring, and the bugs and bees, and stuff falling from the trees (my house is surrounded by trees on 3 sides). I was constantly cleaning! And it also required refinishing every couple of years. And it was just so much brown! Here is a "before" photo after all the furniture was removed."
Mary Anne came to the same conclusion I did about my previous large deck and decided to convert her deck into a screen porch. Mary Anne said, "So, one day I had a BNOTP epiphany (LOL) and from that point forward, I was so impatient for it to be done. Construction began on March 29th and just finished this week. Sigh. It seemed to take forever!
I shared photos of your porch with my contractor. I wanted it to be light and airy, very white, and those arched pieces at the top of each section of the screen were important to me too. Having balusters and a solid bottom half for the door was important for protection since the porch is about seven feet off the ground and I didn't want my new puppy to run through a screen!"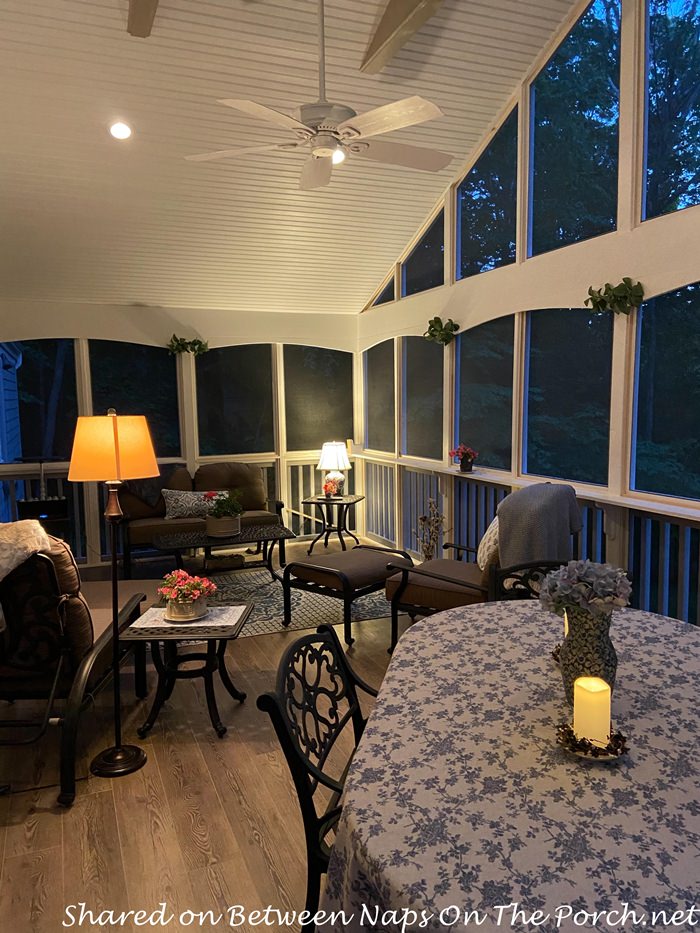 "My house is a saltbox style, pretty common here in New England, and all of the light in the living room comes in through sliding doors that lead to the porch, So the light factor was important to me and I wanted the walls to be as high as possible for that reason."
"I also like the lush green of the surrounding woods and wanted to be sure sight lines weren't blocked. I'm so happy that there is tons of light because of all the screens, and the upper screens near the cathedral ceiling. I don't have glass on the windows – just screens, so this will be a 3-season room only. Rain does come in if it is windy while raining, but fear not! I have a Mopnado, thanks to you–another inspiration! Ha!" (You'll find the Mopnado Mary Anne mentions here: Mopnado.)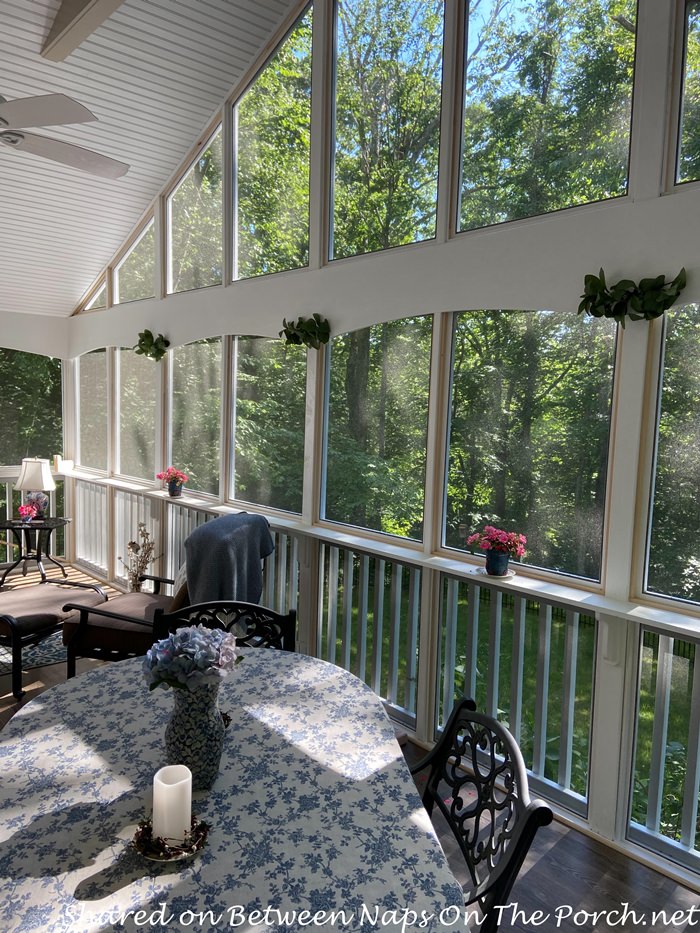 Mary Anne continued, "I picked all-weather, locking flooring planks because I didn't want bugs to come up between spaces like they do with a deck floor. The flooring is from a company called CaliBamboo, and I have recently noticed that it is now carried in Lowe's and Home Depot, too. The color is called, Longshore Pine. I chose it specifically to go with my furniture cushions. I didn't want to buy all new furniture."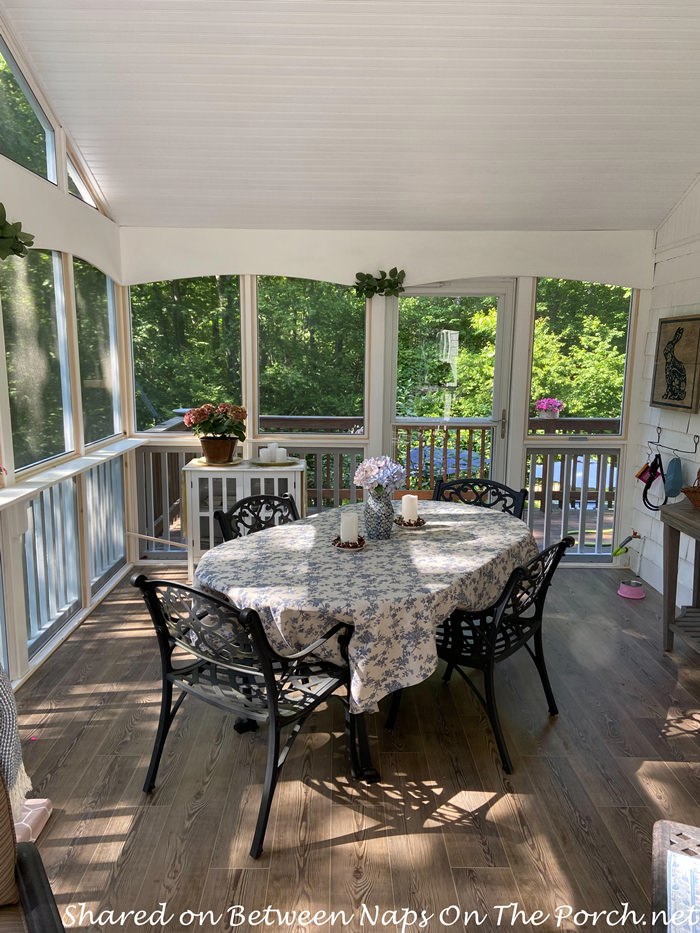 "The buffet table under the dining room windows is new, though. I saw that in a Grandin Road catalog and thought it would be perfect color-wise since it's kind of a taupe-gray."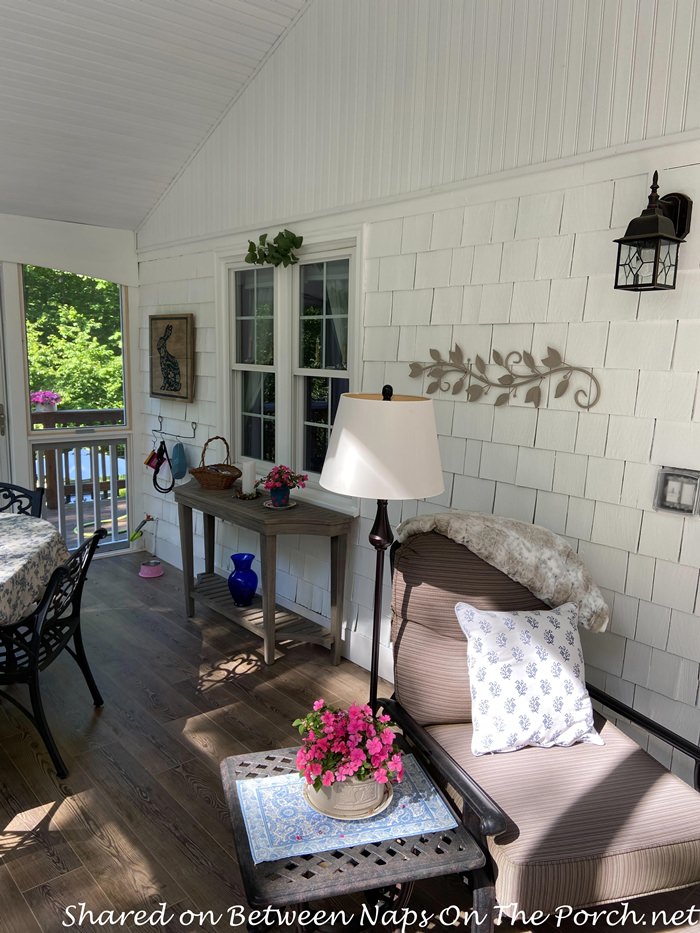 "The recessed lights in the ceiling are dimmable, and the speed of the ceiling fan is controlled right on the wall switch. That was a new one to me. I have only had remote-controlled ceiling fans up to that point."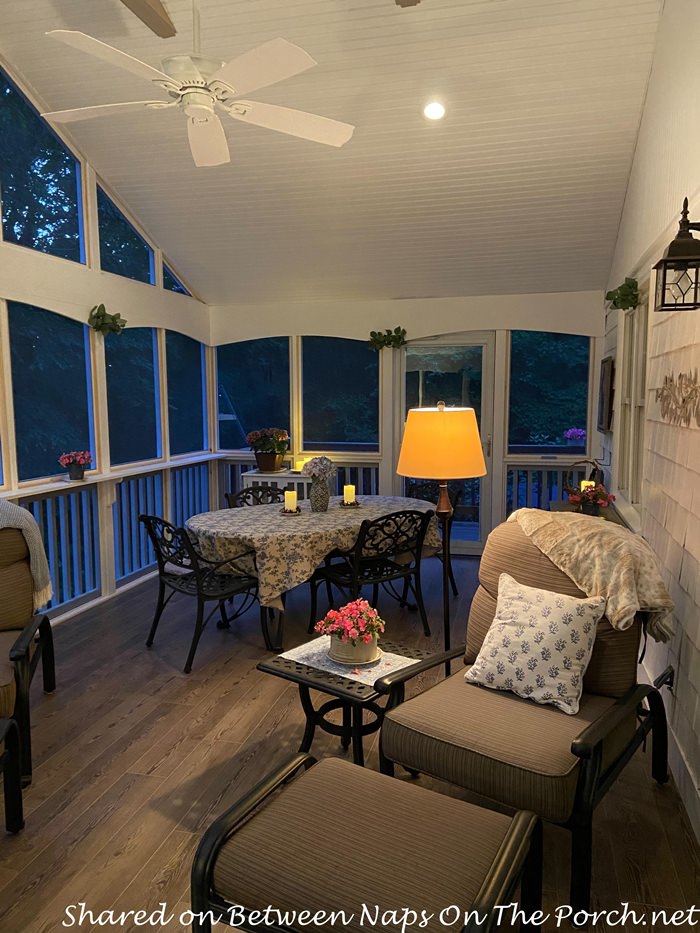 "There is some ugly metal flashing that runs along the top of the sliding door since that door used to be an "exterior" door. We couldn't remove it without it turning into another big fill/paint project, so I decided to get some garland at Michael's and covered the flashing with that."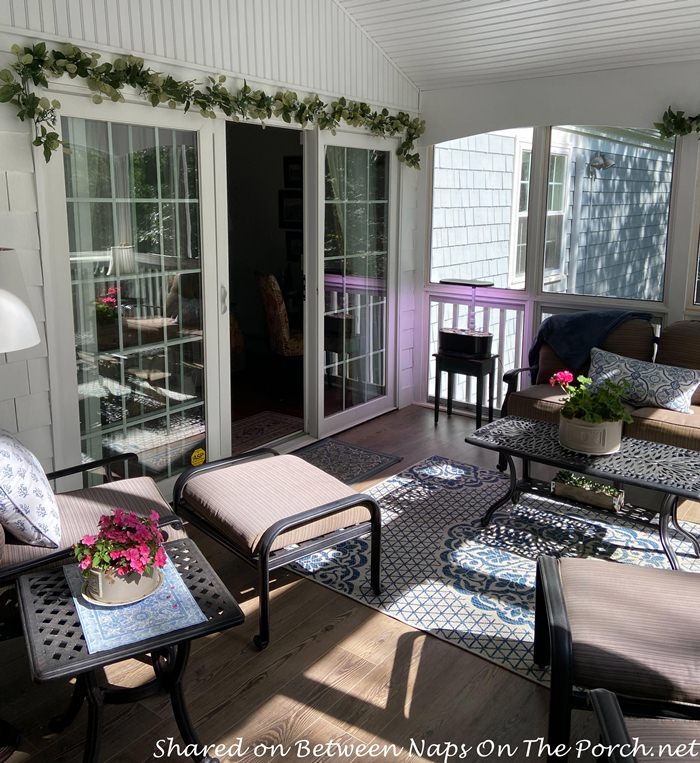 "You can also see that I bought sprigs of greenery at Michaels and wired two together to make individual sprays for the wider dividers between screens. I thought it needed a little splash of color up there against all that white."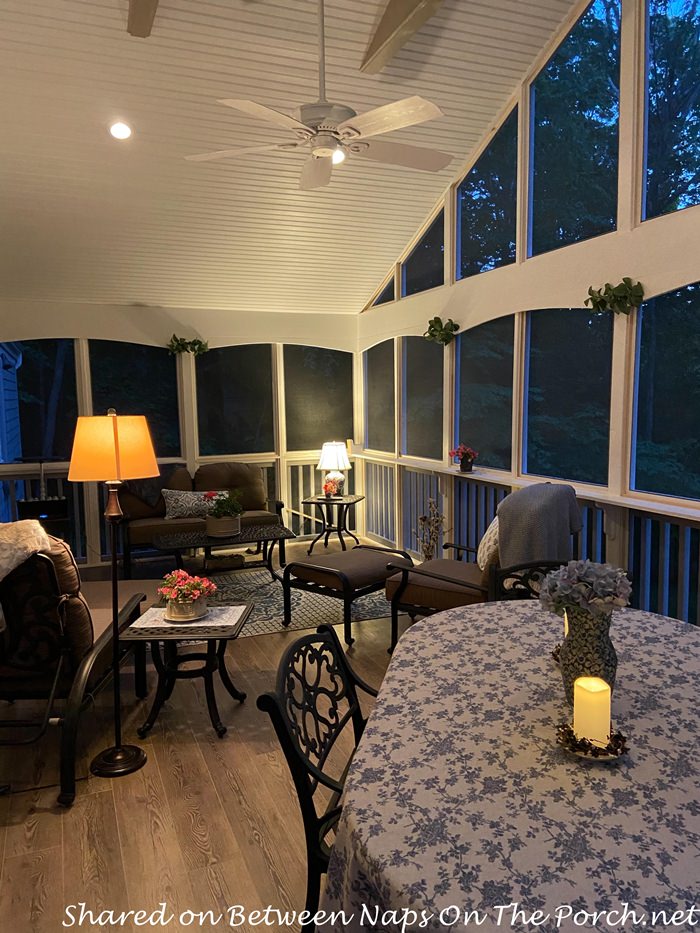 Mary Anne ended her e-mail by saying, "So, thank you for being such an inspiration!" Mary Anne, thank you so much for sharing these wonderful photos and all these great tips regarding how you designed your wonderful screened porch. No doubt, you've provided tons of inspiration to those who have been thinking about adding on a screen porch to their home!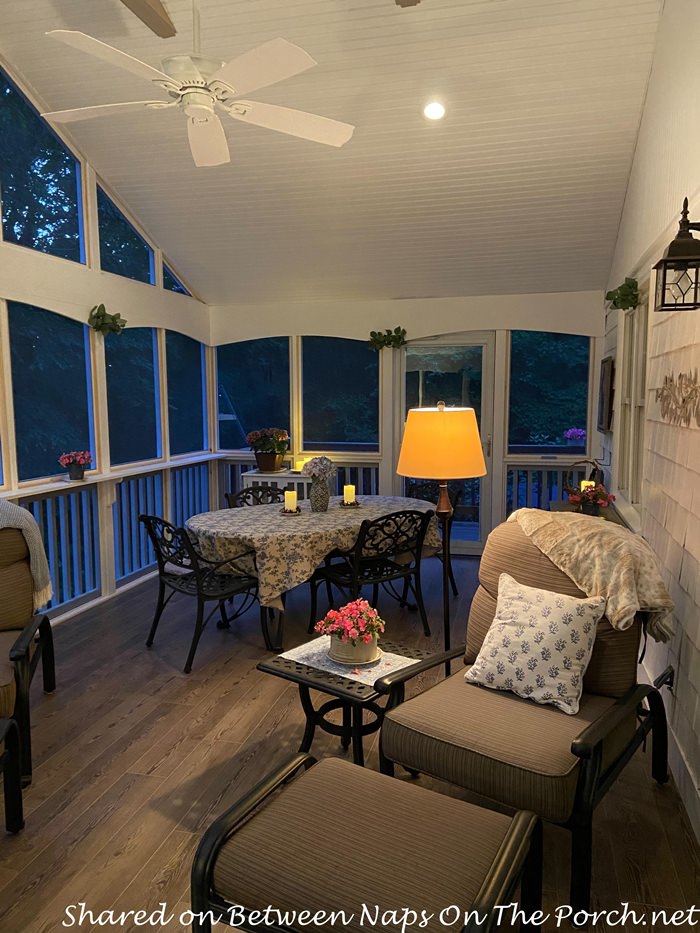 Looking forward to all the wonderful Before and Afters linked for this week's Met Monday!
Pssst: Did you know Between Naps On The Porch is on Instagram? You'll find me on Instagram here: Between Naps On The Porch.
Like to know when a new blog post is up and available to read? Subscribe for email updates, it's free and your email will never be shared. Subscribe for free post updates via email here: Subscribe.
Metamorphosis Monday
Metamorphosis Monday is a party that's all about Before and Afters. Please link up your Before and After projects like DIY projects, room makeovers, craft projects even recipes. Any Before and After is great! Please do not link up Table Settings, save those for our Tablescape Thursday party on Thursday.
If you are participating in Met Monday, you'll need to link your post to the party using the "permalink" to your MM post and not your general blog address. To get your permalink, click on the name of your post, then copy and paste the address that shows in the address bar at the top of your blog, into the "url" box for InLinkz when prompted.
NOTE: Please do not link up more than 3 posts from your blog. In order to link up, you'll need to include a link in your post back to the party so visitors to your blog can find the other party participants. When linking up to the party, give the InLinkz system time to find the link in your post to avoid having your link held for moderation/approval. Thanks!
This party has ended, click button below for the links to all who participated.
*If a post is sponsored or a product was provided at no charge, it will be stated in post. Some links may be affiliate links and as an Amazon Associate, I may earn from qualifying purchases. *