Welcome to the 158th Tablescape Thursday!
A few years ago I attended an historic home tour that was by far, the very best home tour I've ever been on. It was in Newnan, Georgia and was sponsored by The Georgia Trust. If you ever have an opportunity to go on one of their home tours, be sure to go. They are well organized and the homes are always absolutely amazing!
On this particular Newnan tour, we visited a home where a china pattern completely stole my heart. The homeowner remembered the maker was Herend, but she couldn't remember the pattern. After a little research, I discovered it was, Rothschild Bird-Green Border. Unfortunately, the Rothschild Bird Green Border is a bit too expensive for my china budget. A place setting is over $1,300! But I was able to find a few salad plates on eBay of the regular Rothschild Bird (no border) at a reasonable price. (You can view that tablescape, HERE.)
Recently, my friend Cornelia, shared a gorgeous tablescape she created using beautiful Herend china. She even mixed in a bit of my favorite Rothschild Bird…be still my heart!
Cornelia dined in her garden this day.
Come a little closer…
Already the beautiful floral centerpiece captures your heart…
Cornelia said, "The tablecloth was made by Solenzara in Hamburg using a French fabric, a Toile de Jouy pattern called "Artemis."
Cornelia created this tablescape using several different Herend patterns. I love that! Table settings with mixed patterns are always a big favorite of mine.
Cornelia said, "The china is entirely Herend; I mixed several patterns together. Here you see two plates of Apponyi pattern (Flowers of the Indies)."
The cutlery is silver by Jezler/Switzerland. The pattern is called "Centenaire." The napkins are hand-embroidered vintage linen.
Cornelia said, "The champagne glass is German, hand-cut crystal. The wine glass is by Theresiental. The patten is called Minton. The small glass is French hand-cut crystal by la Cristallerie Lorraine.
Gorgeous floral centerpiece!
I wish we could breathe in the scent of these beautiful roses.
This vase is by Meissen…stunning!
Beautiful tablescape!
Cornelia set another lovely table in the garden for the coffee and dessert.
Another beautiful centerpiece of roses…
Cornelia shared, "The crystal liquor glasses are vintage."
"The cutlery is Silver by Jezler/Switzerland. The pattern is called Centenaire. The tablecloth is hand-embroidered and vintage as well. This pattern by Herend is New Osier."
"This pattern is called Persil. On the right is a plate called Verger and on the left you see the famous Rothschild pattern."


Which setting would you choose for your coffee and dessert? Would be a difficult choice, wouldn't it? They are all so beautiful!
The coffee pot is in the Rothschild Bird pattern. You can read all about the history of Rothschild Bird pattern HERE. Do you see the Baroness Rothschild's necklace? Those naughty birds have taken it high up into the trees. Love the story behind this pattern. Love!
Cornelia, thanks so much for sharing these beautiful table settings all the way from your lovely garden in Switzerland.
To view another table setting using beautiful Herend, Rothschild Bird, click on Herend, Rothschild Bird.
Reading this post via e-mail or RSS feed?
*If you are reading this via email or RSS feed, you'll need to click HERE to view all the tablescapes linked for Tablescape Thursday.
To receive the latest posts, as well as updates about upcoming blog parties, subscribe via an RSS Reader or have BNOTP delivered right to your Inbox. You'll find links to subscribe via RSS and/or e-mail on the sidebar to the right. Thanks so much for visiting and reading; so glad you are here!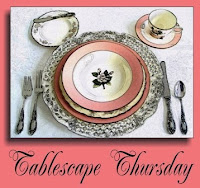 Please Read:
If you are participating in Tablescape Thursday, please be sure to add your permalink below, and not your general blog address. To get your permalink, click on your post name, then just copy and paste the address that shows up in the address bar, into the "url" box when you link up.
If you would like to use the Tablescape Thursday logo button in your post, just copy and paste it to your computer and upload it to your post as you would any photo. Or, grab the html code you'll find under the "Join a Party" heading at the top of this blog.
Please link back to the party so your regular readers will find all your fellow Blogger's tablescapes, too.
Please, don't add your post name/blog name ALL IN CAPS…it tends to create big spaces between the rows of links. Thanks!




Welcome! Thanks for coming to the party!